ALEXANDRIA BAY — Hundreds of antique boat lovers from across the U.S. and Canada flocked to the village to display their 20th century watercraft for the International Boat Show this week.
Members of the Antique and Classic Boat Society, which has 53 chapters, filled the dock slips of Riveredge Resort and the upper James Street dock with their Chris Crafts, Gar Woods, Lymans and other antique watercraft, eager to welcome enthusiasts from the general public for the show Friday and Saturday. They arrived Sunday for a week of fun festivities hosted by the society's Thousand Islands Chapter, including a tour to Singer Castle from Uncle Sam Boat Tours, a cruise around Wellesley Island and a welcome reception at the Antique Boat Museum.
The event this year attracted 580 participants from 30 states, several Canadian cities, and in one couple's case, Australia, all of whom registered 151 wooden, fiberglass and metal boats, said Dan Gyoerkoe, executive director of the society. Attendance exceeded an average turnout for the society's annual show, and exceeded attended for last year's event in Port Huron, Mich., which drew 440 participants
"I think people are excited about coming to the Thousand Islands region," Mr. Gyoerkoe said, "many people have heard of it, but they've never seen it."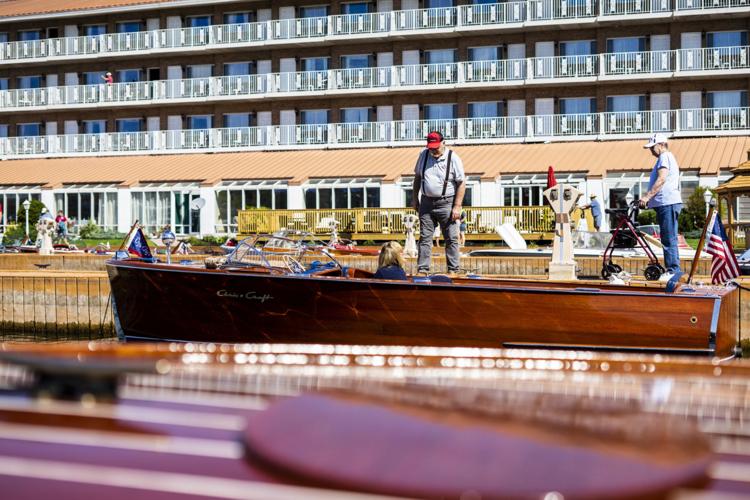 The passion for historic watercraft, whether it derive from their legacy, style, bygone culture they evoke, or they way they ride, and the chance to share that love with other enthusiasts draws many to events hosted by the Antique and Classic Boat Society. While some attended the roundtable and annual society meeting Thursday morning at Riveredge, others strolled across the docks marvelling at their fellow members boats, asking questions and complementing them as their hulls glowed in the sun.
Howard Johnson, who owns the antique boat and car museum Old Time World, Upper Marlboro, Md., said he hoped to learn more ways to teach people about antique boats and the craftsman who built them. The museum displays 60 of the 105 antique boats he owns. Mr. Johnson, author of "Wild About Whirlwinds," a book about Whirlwind boats, said he last visited the Thousand Islands in 1994, and fell in love not only with the region, but the Antique Boat Museum, where he volunteered during his week-long stay.
"It changed my life, and I decided to have my own antique boat museum in Maryland," he said.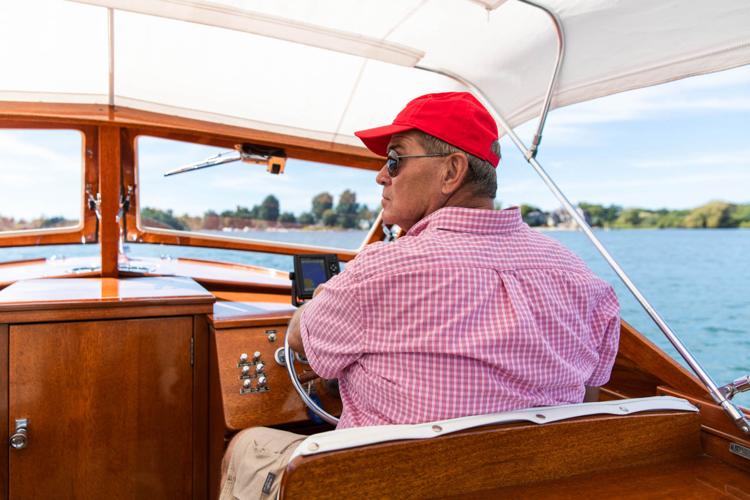 Dr. Michael Epstein, from Maryland, Mr. Johnson and his wife, Cheryl, who are members of the Chesapeake Bay Chapter of the society, showcased a 1963 Chris Craft Sea Skiff owned by Dr. Epstein's wife, Kim Williams, at Riveredge. Dr. Epstein said he considers the boat "the last gasp" of the wooden boat era, particularly because the last one was built in 1968.
"This is our first time in the Thousand Islands," he said, referring to him and his wife. "It's probably the greatest boating in the world. The museum is spectacular."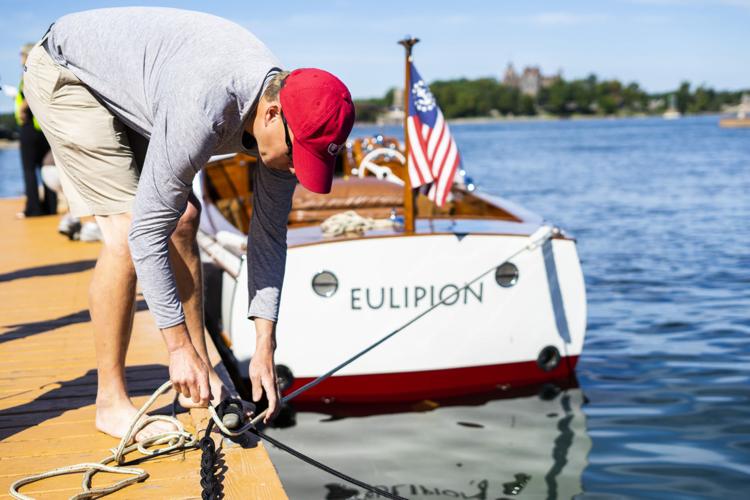 The event not only fosters the camaraderie among antique boat lovers, but also helps bolster local businesses and extends the tourism season in the Thousand Islands.
Members booked stays at the Riveredge, Bonnie Castle Resort and Marina, Edgewood Resort, the 1000 Islands Harbor Hotel, Swan Bay Resort & Marina, and even hotels in Watertown, Mr. Gyoerkoe said. Some also rented homes and cabins in the area. Mr. Gyoerkoe said he estimates that the event should generate more than $500,000 in local spending from society members alone, based on the assumption that every member spends an average of $200 per day.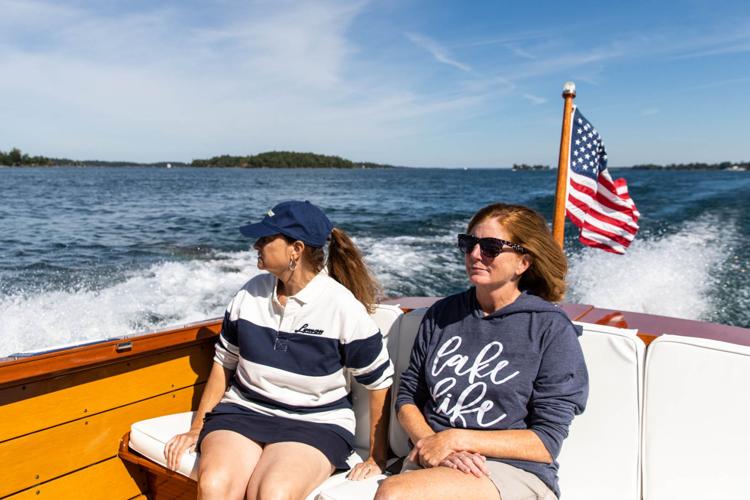 Ronald G. Thomson, owner of Uncle Sam's Boat Tours, said the event helped him book all rooms at his hotel, Capt. Thomson's Resort, and increase occupancy at his motel, Capt.'s Inn & Suites, by 20 percent for this time of year. Bring 250 people on his Singer Castle boat tour was "a nice shot in the arm," Mr. Thompson said. Local entrepreneurs typically experience little customer traffic between Sunday and Thursday in the fall, he said, so having the International Boat Show provides a boost for them.
"It's all very positive," he said.
Members of the public can peruse through the 151 boats on display at the Riveredge and village dock from 9 a.m. to 5 p.m. Friday and 9 a.m. to 4 p.m. Saturday.
Other notable north country events:
— 15th annual Cream Cheese Festival, Saturday, Lowville: The event offers a chance to sample a giant cheesecake created by Kraft Heinz, as well as other food, entertainment, vendors and wacky cream cheese contests for children and adults with cash prizes. Musical entertainment will kick off at 11 a.m., and the Children's Discovery Park, will return with a zip-line, rock climbing wall and bounce house.
— 11th Annual Cape Vincent Oktoberfest, Saturday: Attendees can enjoy authentic German beers and wines from the beer garden, along with traditional Bavarian fares such as bratwurst, sauerkraut, German potato salad, black forest cake, apple strudel and more sold by the Cape Vincent Fire Department. The eight-piece Enzian Bavarian Band will perform German songs complete with authentic dancers.
— Sixth Clayton Jazz Festival, Friday through Sunday: Clayton will come alive with performances from several jazz acts at businesses and the Clayton Opera house, including the Jerry Vivino Quartet, which is the headliner, the Mike Wills Quartet, keyboardist Jim Burr, guitarist Brittany Clean, the Chris Conte Trio, keyboardist Terry Falzano, Steve Daniels Jazz Duo and much more.
— Sackets Porch Music Fest, Saturday, Sackets Harbor: Enjoy a myriad of musical acts from the porches of homes and businesses including folk and soft rock musician Scot Zaffora, guitarist Jimmy G, the Oswego County Fiddlers, violinist Kathy Sommer, country rock musician Brian Topping and much more from 12 to 6 p.m.