HENDERSON — A hobby that began thousands of miles away may have led to the discovery of a piece of history lost to the waters of Henderson Bay generations ago.
It all began when one of Daniel J. Gildea's friends mentioned to him that his anchor had gotten stuck on a piece of wood that looked "like an old dock or something."
Curious, knowing while ice and other things move docks, the chances it would be in that area were slim to none, and having conducted previous research to see if there was any historical structures in the area that could have accounted for the wood — of which he could find none — Mr. Gildea donned his scuba gear and went to check it out for himself.
With a general area in mind to explore, he slipped below the depths of the bay to see what he could find.
After about 120 feet of swimming underwater, Mr. Gildea came in contact with a ship: a three-mast wooden schooner that most likely dates back to the mid- to late-1800s, sitting down about 20 to 30 feet on the bottom of Henderson Bay. He noted it has the same hull style and construction as the recently discovered Hartford or the John Burt wreck.
"You get a sense of accomplishment because you did the research and you kind of get to reap the reward, but you forget to breathe for a minute because you're just in shock and awe ... it's like, 'Wow that thing has been underwater for 100 plus, if not 200, years," Mr. Gildea said. "It's crazy to even fathom. Not to mention you don't know the story behind it. Did somebody die on it? Was it purposely scuttled? There are a lot of questions that come about in a matter of seconds."
Wanting to find answers to those lingering questions, Mr. Gildea reached out to a few maritime historians to see if they might be able to help with the identification of the ship, which would in turn uncover answers about its past.
Next week, Prudent Engineering will be conducting a survey of the site, which will entail a bathymetric survey to show depth of water and height of the object, a 3D scan of the wreck, and a side scan sonar "structure scan." Mr. Gildea said he thinks the survey will help in narrowing down the list of potential names of the ship.
"Maybe somebody did, God forbid, not come back with the ship, and there's an ancestor out there wondering if anyone will ever find the ship, and then here it is," he said.
Stationed with the Army in Guam about eight years ago for a peacekeeping mission, Mr. Gildea, now a construction superintendent for the state Office of General Services Design and Construction, ran out of hobbies to do on land, so he started picking up underwater hobbies, including scuba diving.
In the year he was stationed in Guam, he said he pursued scuba diving as far as one can take it recreationally. When he returned to the states, he was stationed in Alaska. While the colder waters may deter some, Mr. Gildea kept diving.
Originally from Pennsylvania, Mr. Gildea was eventually stationed at Fort Drum and retired from the Army in 2018. Once he was sent to the area, he decided to pursue freshwater diving and has been doing it ever since. Good friends with Dana Hunt of Hunt Underwater Specialties in Clayton, Mr. Gildea said he does a lot of dive charters with them to see the different shipwrecks in the St. Lawrence River.
Since Guam, Mr. Gildea hadn't done any video footage of his dives, and is just recently getting back into it. He now takes his GoPro anytime he dives, noting he never knows what he's going to find.
This currently unidentified wreck is the first full on ship he's found while out diving, previously finding things like rowboats or people's kayaks, but never something of this size.
Mr. Gildea believes he was the first person to find it due to the attention the discovery of the Hartford, another three-mast wooden schooner, drew when a piece of it washed ashore at North Sandy Pond recently. The fact that he's heard nothing on this other wreck solidifies his belief that no other has come across this shipwreck.
"You're looking at it, and it's like, first things first, you've got to remember to breathe," Mr. Gildea said of finding the wreck. "It's kind of like the rush of excitement just takes over for a minute."
Right now, Mr. Gildea's list of potential names for the wreck is down to 62 ships of the same type that were lost in Lake Ontario. Out of that, he said maybe two dozen were lost on the eastern side of the lake up to the St. Lawrence River.
As for finding the specific name to associate with a shipwreck, Mr. Gildea said it's not an exact science.
"It's not like you go down and say, 'Well this one is made of oak, so it's this ship,'" he said. "It's looking at the construction and age of it and the design, you can pinpoint what type of ship it was and what ones were lost in that area from as far back as the maritime history goes and say it could be any one of these five ships, or it has to be this one because no other ships that sank in this area sank with this type of design."
Measuring 116 feet in length and roughly 20 feet in width, judging from the hull piece Mr. Gildea found, the ship is missing its stern and bow sections. He said the hull itself is jagged on the ends because those vertical sections would have broken off and been carried away with the current.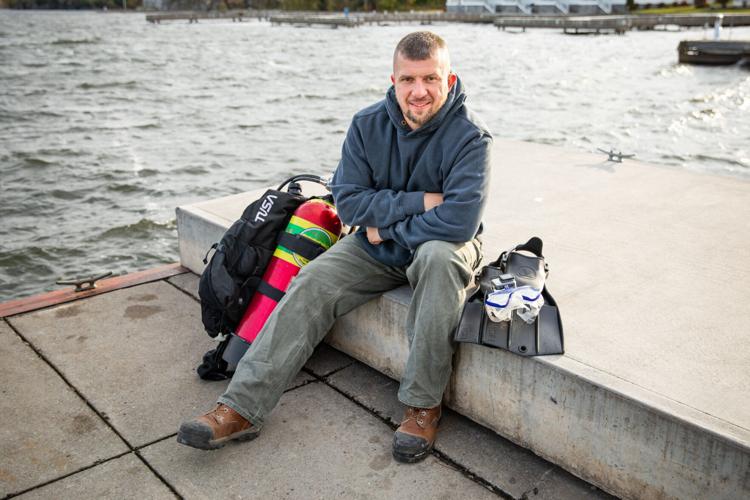 Tying a diver's buoy off to it to mark the spot of the wreck after he found it, Mr. Gildea returned to the surface to grab his camera and float around for a bit before he could start breathing compressed gas again. Ready to go, he swam back to the wreck, recording his journey as he went.
He since visited the wreck one other time to gain a better understanding of its measurements.
Perusing historical records and old newspaper clippings, which would often record various ships that did not make it to their destinations, sets the stage for the lost ship, Mr. Gildea said. Whenever one is found, it's a matter of finding out how many other ships were lost on that same route built to that same type of construction and design.
"Then you kind of start putting together the old shipping routes and the way that they navigated using the lighthouses and regionals," Mr. Gildea said.
Though he came across the wreck in early September, Mr. Gildea held off on mentioning it to people for a while, until waters became too cold and dangerous for diving, which will keep away those who may be curious to go out and try to find it themselves — at least until the spring. This way, the wreck will remain safe until it can be identified and documented.
As for the future, Mr. Gildea said he will definitely keep exploring beneath the waves to see what he can uncover next.
"There's enough history in this area that's kind of been lost to the newer generations because they just don't show the same love of history like some of us," Mr. Gildea said. "There's a lot of history to this area and the history of Jefferson County is very unique because not only do we have the industry of Watertown and the old paper mills and the more millionaires per capita statistic that this area held for a long time, but the maritime history is out there, you've just got to go look for it."