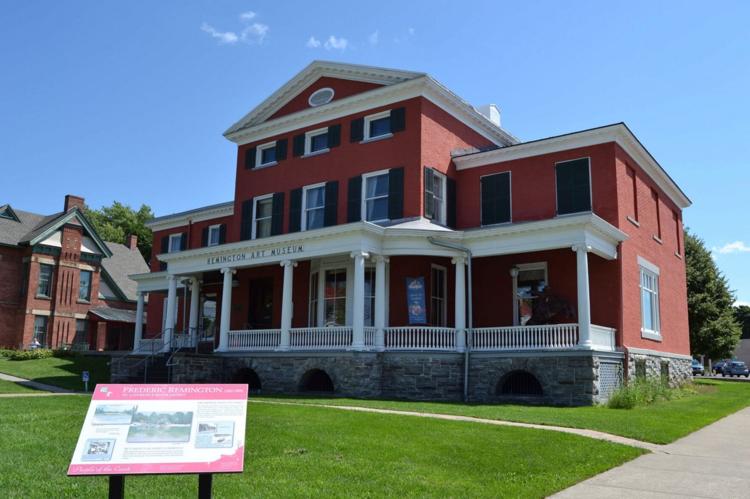 Aug. 2, 2010: The Frederic Remington Art Museum in Ogdensburg has gone online with the photo-sharing social media site Flickr. As Internet sites such as Flickr, Facebook and Twitter expand their influence, museums like the Remington are jumping on the bandwagon, establishing virtual museum exhibits and a powerful way to reach out to museum visitors and bringing up important questions about the future of museums.
Aug. 2, 1995: A waterfowl management group has pressed the panic button over the alarming population decline of Canada geese in the Atlantic Flyway by canceling the 1995 season for hunting the geese in New York and 16 other states. The decision of the Atlantic Flyway Council coincides with a decision by the state Department of Environmental Conservation to open more areas for hunting non-migratory geese. The 10-day hunting season in early September targets non-migratory flocks that cause nuisance problems.
Aug. 2, 1970: Lowville State Police have issued a warning to persons on the danger of climbing or touching the W.B.R.V. radio tower located just off Route 12D. Police said there have been several complaints about persons climbing the tower at night. Officials said these persons could be electrocuted. Apparently persons were climbing the tower a few steps each night and signaling their progress by placing pieces of cloth at the height reached.
Aug. 2, 1945: According to lockmen along the chain of canals which skirt the rapids of the St. Lawrence between Ogdensburg and Montreal, the surrender of Germany has had little or no effect on the steady stream of freighters carrying war materials from the middle-west to the Atlantic seaboard. There is scarcely a half hour of the day or night without a craft of some type entering the Cardinal lock.
Aug. 2, 1920: Comes on Fliverette: Hubert Smith made the 78 mile drive from Syracuse to Watertown Friday on a Smith Flyer in seven hours. The Smith Flyer is a miniature automobile about a foot high propelled by a Smith motor wheel. It is capable of making 25 miles an hour, but Smith says he did not travel at that rate all the way, and he had to stop to repair two blow outs.
Aug. 2, 1895: It now transpires that H. H. Holmes, the wholesale murderer, was once a resident of Clinton county.
Aug. 2, 1870: Mr. S. B. Upham, of Watertown, has just returned from Carlton Island, where he picked green apples that were fairly baked by the heat of the sun during the hot weather that has just passed. Not only are they baked, but burned to a blister on one side, and are quite a curiosity. The apple crop on the island will probably be a failure.
47: Caesar defeats Pharnaces at Zela in Syria and declares, "veni, vidi, vici," (I came, I saw, I conquered).
1589: During France's religious war, a fanatical monk stabs King Henry II to death.
1790: The first U.S. census begins enumerating the population.
1802: Napoleon Bonaparte is proclaimed "Consul for Life" by the French Senate after a plebiscite from the French people.
1819: The first parachute jump from a balloon is made by Charles Guille in New York City.
1876: Wild Bill Hickok is shot while playing poker.
1934: German President Paul von Hindenburg dies and Adolf Hitler becomes chancellor.
1943: Lt. John F. Kennedy, towing an injured sailor, swims to a small island in the Solomon Islands. The night before, his boat, PT-109, had been split in half by the Japanese destroyer Amagiri.
1950: The U.S. First Provisional Marine Brigade arrives in Korea from the United States.
1964: U.S. destroyer Maddox is reportedly attacked by North Vietnamese patrol boats.
1965: Newsman Morley Safer films the destruction of a Vietnamese village by U.S. Marines.
1990: Iraqi forces invade neighboring Kuwait.
1997: Author William S. Burroughs (Naked Lunch), considered the godfather of the "Beat Generation" in American literature, dies at age 83.
Love local history? Listen to the Watertown Daily Times audio podcast at wdt.me/secondlook to hear us discuss pieces of our past.