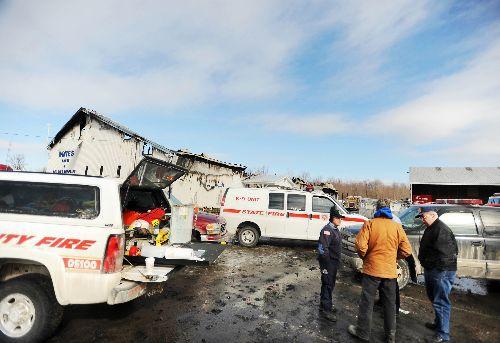 Feb. 12, 2010:White's Lumber in Pulaski went up in flames Thursday night, leaving only a shell of a building still ablaze, with white smoke billowing from where the roof once was. More than 14 fire departments from Jefferson County to Onondaga County responded to the blaze. The company, run by four siblings, also has stores in Watertown, Clayton and Gouverneur. The owners are confident that they will rebuilt in Pulaski.
Feb. 12, 1995: Unregistered north country voters are using expanded opportunities the recently enacted "motor-voter" bill offers and signing up at rates surprising local election officials. Besides creating more registration outlets, such as state and county offices that deal with the public, including the Department of Motor Vehicles, the new regulations started in January also keep people eligible longer. Rules preventing purging registered voters who cast a ballot only occasionally give people a longer lease on their right.
Feb. 12, 1970: This is moving day for Radio Station WWNY which is leaving the Hotel Woodruff after a 29-year occupancy to relocate in its newly constructed home in the WWNY Radio-TV Communications Center on Arcade Street. Segments of WWNY-TV Channel 7, located in the Hotel Woodruff, also are involved in the move-over to Arcade Street.
Feb. 12, 1945: Judy Garland, Margaret O'Brien and Tom Drake are featured in "Meet Me in St. Louis" which will open at the Avon theater Sunday and play for one week. The story of the Smiths in St. Louis makes for a heartwarming American family entertainment.
Feb. 12, 1920: An industrial boom of unusual propositions is promised in Carthage soon. The Reversible Table Corporation, with executive offices at Utica, has secured the factory and site formerly occupied by the Jefferson Chair company and will soon open the same for the manufacture of its well known reversible and collapsible tables.
Feb. 12, 1895: The pupils of the night school at 31 Stone street held a spelling contest Friday evening, which was very enjoyable as well as beneficial. The lesson of 200 words was completed, leaving several of the spellers still standing. Mr. Ernest Henderson and Master Raymond Snell, finally succumbed on the word guano.
Feb. 12, 1870: Parents who have small children should be very careful where they permit them to slide during these days of good sleighing. Yesterday a team came near running over four or five little boys and girls who were coasting in the street. They were frightened badly, and well they might be, for they barely escaped being trampled on.
1909: The National Association for the Advancement of Colored People (NAACP) is formed.
1924: George Gershwin's groundbreaking symphonic jazz composition Rhapsody in Blue premieres with Gershwin himself playing the piano with Paul Whiteman's orchestra.
1929: Charles Lindbergh announces his engagement to Anne Morrow.
1935: The Macon, the last U.S. Navy dirigible, crashes off the coast of California, killing two people.
1944: Wendell Wilkie enters the American presidential race against Franklin D. Roosevelt.
1953: The Soviets break off diplomatic relations with Israel after the bombing of Soviet legation.
1966: The South Vietnamese win two big battles in the Mekong Delta.
1972: Senator Edward Kennedy advocates amnesty for Vietnam draft resisters.
1974: The Symbionese Liberation Army asks the Hearst family for $230 million in food for the poor.
1980: The Lake Placid Winter Olympics open in New York.
1987: A Court in Texas upholds $8.5 billion of a fine imposed on Texaco for the illegal takeover of Getty Oil.
1999: The U.S. Senate fails to pass two articles of impeachment against President Bill Clinton. He had been accused of perjury and obstruction of justice by the House of Representatives.
Love local history? Listen to the Watertown Daily Times audio podcast at wdt.me/secondlook to hear us discuss pieces of our past.