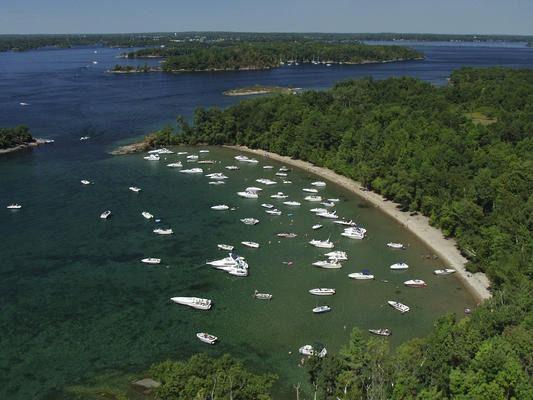 March 29, 2010: If you see a cloud of smoke rising from Grindstone Island Friday, don't panic, it's not a wildfire. A controlled burn of about 60 to 70 acres of farmland at the head of the island is scheduled for Good Friday to provide a better nesting ground for grassland birds.
March 29, 1995: North country residents facing black fly season can arm themselves with the most powerful bug juice on the market, thanks to new Health Commissioner Barbara A. DeBuono. Just six weeks after the courts declared New York can ban insect repellents containing more than a 30 percent concentration of the powerful insect repellent DEET, Dr. DeBuono asked the Department of Environmental Conservation to legalize the products. She contends that the benefits of DEET in preventing Lyme disease from deer ticks outweighs the risks associated with it.
March 29, 1970: Early risers in Northern New York can view a recently-discovered comet low in the eastern skies. John Bennette's Comet, named after the man who discovered it Dec. 28, 1968, was photographed by local amateur astronomer, John F. Rusho and photographer Gerald D. Godfrey. The comet will be visible only about one week longer before it fades away.
March 29, 1945: Coast guardsmen at the Galloups island station will soon begin a search of the Lake Ontario shoreline for any trace of wreckage of at least four airplanes believed missing over the lake within the past few years. Sheriff Brayton E. Peck, who has conducted searches in the past for missing planes in the lake, will cooperate with the coast guard in this work.
March 29, 1920: The new schedule of time, in which the clocks are turned one hour ahead, will be effective throughout the city of Watertown Sunday, generally speaking, as determined today by a canvas of the sentiment of the various institutions around the city. The banks, the greater number of manufacturing plants, mills, stores and shops, will adopt the new schedule. The Catholic churches will also adapt their services to conform to the daylight savings law. The schools and the Protestant churches, however, will continue on the old schedule, standard time.
March 29, 1895: Mrs. U.C. Walker went to Antwerp yesterday to investigate the cases of several disorderly and incorrigible children in regard to whom complaints have been made. One was sent to a reform school as a result of her visit.
March 29, 1870: A post office has been established at Worth Centre, with Edward Cornell post master. Snow is reported to be seven feet eight inches deep in that locality.
1867: The United States purchases Alaska from Russia for $7.2 million dollars.
1886: Coca-Cola goes on sale for the first time at a drugstore in Atlanta. Its inventor, Dr. John Pemberton, claims it can cure anything from hysteria to the common cold.
1903: A regular news service begins between New York and London on Marconi's wireless.
1961: The 23rd amendment, allowing residents of Washington, D.C. to vote for president, is ratified.
1966: Leonid Brezhenev becomes First Secretary of the Soviet Communist Party. He denounces the American policy in Vietnam and calls it one of aggression.
1967: France launches its first nuclear submarine.
1971: Lt. William L. Calley Jr. is found guilty for his actions in the My Lai massacre.
1973: The last U.S. troops withdraw from South Vietnam.
1976: Eight Ohio National Guardsmen are indicted for shooting four Kent State students during an anti-war protest on May 4, 1970.
1986: A court in Rome acquits six men in a plot to kill the Pope.
Love local history? Listen to the Watertown Daily Times audio podcast at wdt.me/secondlook to hear us discuss pieces of our past.