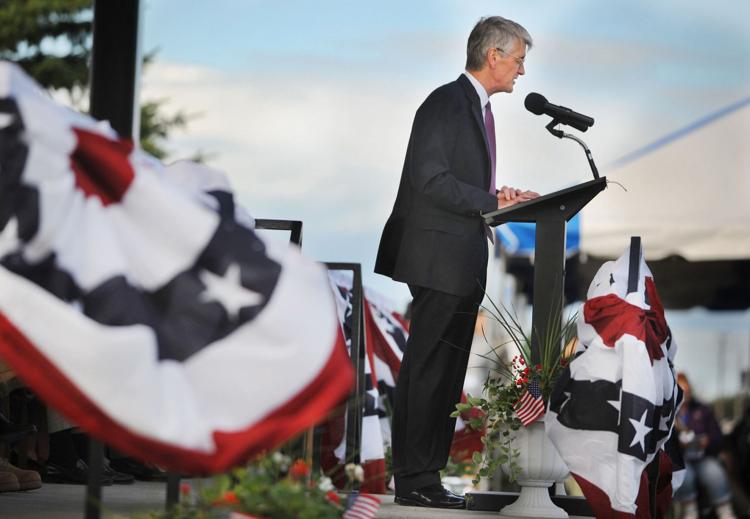 May 17, 2010: Army Secretary John M. McHugh skipped the SUNY Oswego commencement Saturday because a planned protest against the military's "don't ask, don't tell" rule might have disrupted the ceremony. Mr. McHugh, a Watertown native who represented Northern New York as a Republican congressman, was to receive an honorary degree. In March, he mistakenly suggested the ban had been suspended. He quickly backtracked, saying the Army will uphold the policy as long as it's the law.
May 17, 1995: State police were notified Tuesday afternoon about the apparent shoplifting of items valued at $1,746 from Wal-Mart, outer Arsenal Street. Troopers are investigating the theft of two "palmcorders," which were tagged to sell at $696.84 and $689.84. Also discovered stolen were two Sony cordless telephones with answering systems, selling at $179.95 each.
May 17, 1970: Only a couple of charred walls remain standing this morning after an early morning blaze destroyed the 65-year-old Edwards Hotel. Vernon Rice, operator of the hotel, his wife, two daughters and two grandchildren were taken from the wooden building by Edwards firemen when the fire blocked their escape.
May 17, 1945: Dr. Hans Hansen, superintendent of the Canandaigua veterans' facility, this afternoon began a survey of the Madison Barracks army post to report on its adaptation for utilization as a veterans' facility. "Madison Barracks is in much better condition than I anticipated," said Dr. Hansen. "It has many permanent buildings. I am impressed ..."
May 17, 1920: A Dolly Madison party, in which the guests appeared in costumes of the type worn in this country in the days of that first lady of the land, was held at the home of Mrs. Eli W. Herrick, 255 Mullin street, this afternoon by the Northern Frontier chapter of the Daughters of 1812.
May 17, 1895: While Excavating for a cellar on Pawling Street, Levi A. Sheldon discovered the petrified body of a human being between two tiers of stone, three feet below the surface. The body was of a slate color. The head and limbs had crumbled but the trunk remained intact. It is probable that a geologist will come and examine the body. Mr. Sheldon also found three bushels of petrified walnuts. Some of these crumbled to sand.
May 17, 1870: Sandy Creek is a flourishing village. Since it was determined to build a railroad from Syracuse here, real estate has had a decidedly upward tendency. Land situated between the village and the depot, a distance of three-fourths of a mile, is now selling at from five to six hundred dollars per acre, increased ten per cent in value since the projection of this road.
1792: Merchants form the New York Stock Exchange at 70 Wall St.
1881: Frederick Douglass is appointed recorder of deeds for Washington, D.C.
1954: The U.S. Supreme Court unanimously rules for school integration in Brown v. Board of Education.
1973: The Senate Watergate Committee begins its hearings.
1987: In the Persian Gulf the American guided missile frigate USS Stark is struck by 2 Exocet missiles fired by an Iraqi aircraft; only one detonates, but 37 sailors are killed and 21 are wounded. Whether the launch was deliberate or a mistake is still debated.
Love looking backward? Listen to the Watertown Daily Times audio podcast "Second Look" for more.