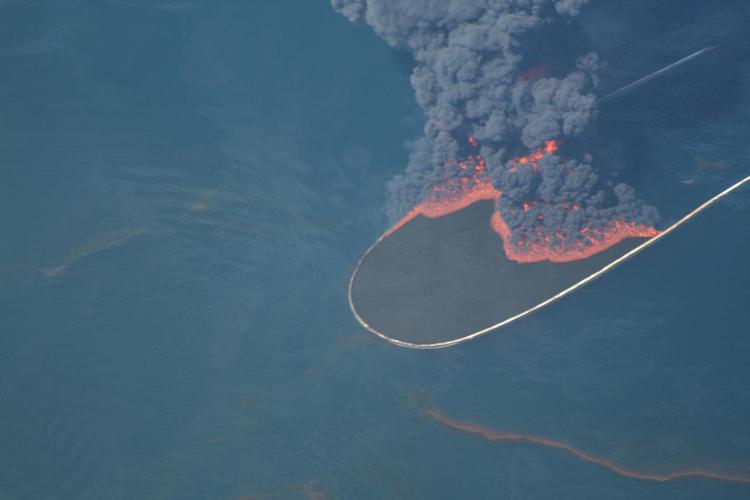 May 24, 2010: While there is no end in sight to the Deepwater Horizon oil spill in the Gulf of Mexico, a local tent manufacturer is "working like crazy" to build booms to help contain it and prevent further damage to the environment. Ridgeline Industries, Clayton, is manufacturing about 40,000 feet of boom every week, with a goal to build about 200,000 feet of boom in four to five weeks. Ridgeline has been manufacturing military tents for more than 20 years, and most recently had a $1 million contract to manufacture solar tent covers for Fort Drum in 2006.
May 24, 1995: A new "on ramp" to the information superhighway may be built to increase the number of phone lines available to computer users in St. Lawrence county who cruise the Internet. Five people have formed Seaway Internet Resources and are considering setting up a local provider of Internet access. If the project is developed, the company would compete with NorthNet and NYSERNet — the only other locally-based public routes to the Internet in St. Lawrence County.
May 24, 1970: The St. Lawrence Seaway Port of Ogdensburg's $2,500,000 general purpose marine terminal will be completed by the end of December, according to the Ogdensburg Bridge and Port Authority. The terminal layout was planned to provide an "easy-in, easy-out" port directly on the major Seaway traffic lane.
May 24, 1945: Watertown Police Chief Edward J. Curtin today issued a stern warning to members of the department that the practice of walking and conversing, either together or with pedestrians while on duty must be halted. He has been receiving numerous complaints about such a practice by uniformed officers.
May 24, 1920: The Carthage Machine company has received large orders for machinery for a pulp and paper mill to be built in Manchuria. Orders for the machinery, including wood chippers, pulp grinders and other equipment were placed recently by Russian engineer John V. Speilmans. Mr. Speilmans, who owns several paper mills in Russia, planned to build another in Siberia, but because of the conditions there and the danger from the Bolshevists, the plan was abandoned.
May 24, 1895: Saturday evening the Croghan brass band, George Bach leader, inaugurated the summer concert season. The band stand was ablaze with torches. The entire village turned out, and the hearty applause was an evidence of appreciation. The band will play every Saturday evening during the season.
May 24, 1870: Those who enjoy short rides, good roads and an interesting place to go should not fail to visit Huntington's trout ponds about two miles outside the city. The best route to get there is by Cold creek, the pond being only a short distance toward Burrville from State st. No one can miss the place.
1738: The Methodist Church is established.
1764: Boston lawyer James Otis denounces "taxation without representation," calling for the colonies to unite in opposition to Britain's new tax measures.
1844: Samuel Morse taps out the first telegraph message.
1846: General Zachary Taylor captures Monterey.
1861: General Benjamin Butler declares slaves to be the contraband of war.
1863: Bushwackers led by Captain William Marchbanks attack a Federal militia party in Nevada, Mo.
1878: The first American bicycle race is held in Boston.
1930: Amy Johnson becomes the first woman to fly from England to Australia.
1941: The British battleship Hood is sunk by the German battleship Bismarck. There are only three survivors.
1951: Willie Mays begins playing for the New York Giants.
1961: Civil rights activists are arrested in Jackson, Mississippi.
Love local history? Listen to the Watertown Daily Times audio podcast at wdt.me/secondlook to hear us discuss pieces of our past.