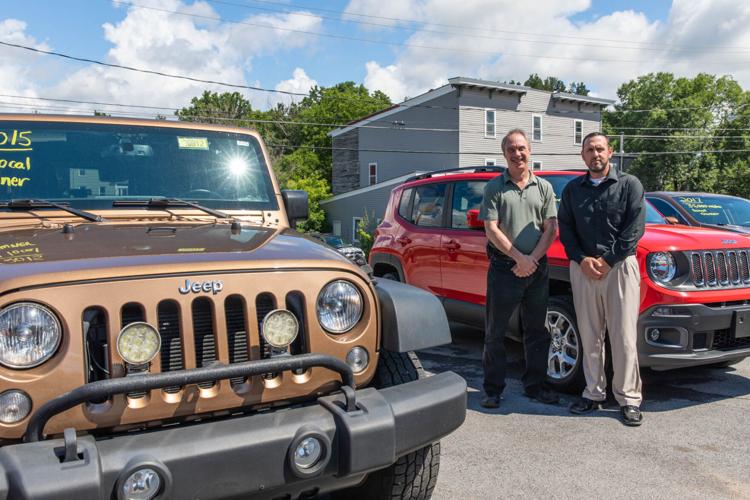 LOWVILLE — After being in business for three generations, a local car dealership is putting another third generation family businessman in the driver's seat.
Ryan Payne and his father, David, effective July 16, have purchased the Gerald A. Nortz Inc. franchise, 7490 S. State St., from Gerald A. Nortz II, grandson of the founder and its namesake.
The younger Mr. Payne is the third generation of his family business — the W.B. Payne Co. Inc. — a family-owned and -operated independent insurance agency founded in Boonville in 1958 by the late William B. Payne. The company, one of the largest of its kind in north central New York, now operates in three locations — Boonville, Lowville and Utica.
Mr. Nortz said Mr. Payne approached him about selling the family vehicle sales and service business about two years ago.
"We are car nuts," Mr. Payne said. "For some time we have wanted to own a franchise."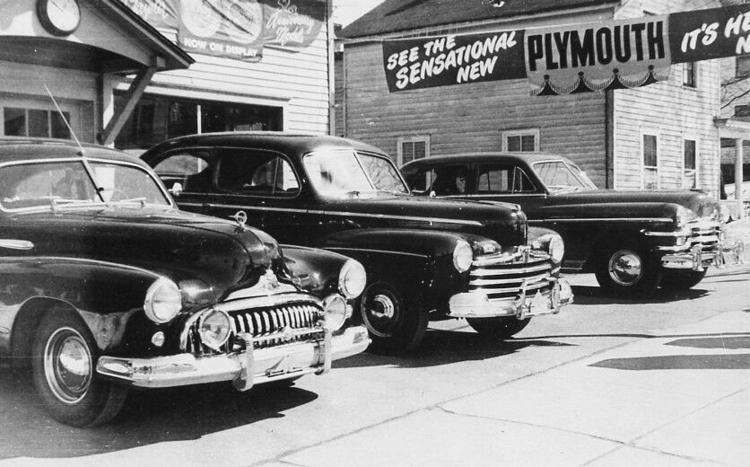 Mr. Nortz said although he had not planned on retiring or selling the business, the idea of selling to someone local who was also a third generation of a family business appealed to him.
"We didn't want to sell to some big conglomerate," said Mr. Nortz, noting that neither his children nor any other family member was interested in taking over the business.
His wife, Kristy, who has helped with the business over the years, supports her husband's decision.
"I'm all for it," said Mrs. Nortz, a Head Start teacher who helped at the dealership every Saturday for the past decade. "I like Ryan's plans to expand and modernize."
Mrs. Nortz pointed out that once the franchise moves out they will probably sell the South State Street building and have had some interest in the property.
Mr. Nortz also credited long-term employees as contributing to the success of the business. Namely, the late Robert Ross who retired about four years ago after 53 years as the service manger; mechanic Henry Nortz who recently retired after 40 years and current employee Timothy Roggie who has been a Nortz mechanic for more than 40 years.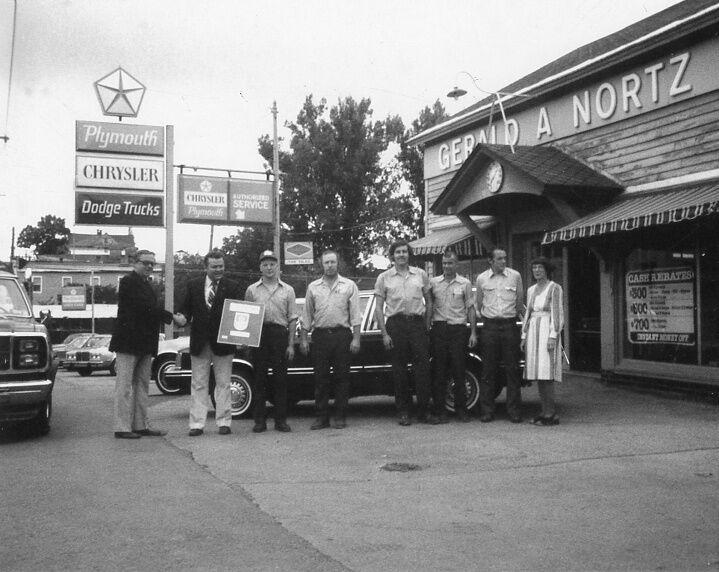 A FAMILY BUSINESS
Mr. Nortz has memories of growing up with the business.
"When I was 14 I was down here every Saturday washing the whole car lot," he said.
His family members also have fond memories of the family business.
"One of my oldest memories of my grandfather's garage was that he kept Hershey chocolate bars in his safe," said Margaret Lynch Lohmann, the current owner's cousin who now lives in New Hampshire.
Another cousin, Ellen Dillen, who now lives in New Jersey, recalls watching for a sign on the road when coming to visit her grandparents.
"There was a sign — can't remember if it was on the high or low road — heading into Lowville. 'We sell the best and scrap the rest!' We used to look for it each time we came for a visit," she recalled. "The garage was always the first stop, so we could say hi to Grandpa and later, Uncle Tom, before heading to see Grandma. So many wonderful memories of Lowville. Special people, special place!"
Mr. Nortz said he never considered doing anything else for a career. He obtained a business degree from SUNY Canton and a degree in automotive marketing and management from Northwood University in Michigan.
"I grew up around cars, loved the whole thing — the design, the engines, the driving," Mr. Nortz said. "I have friends who can attest to my fast, skilled driving in my younger days. Working with my dad had some bearing on my decision for college; it would be the car business."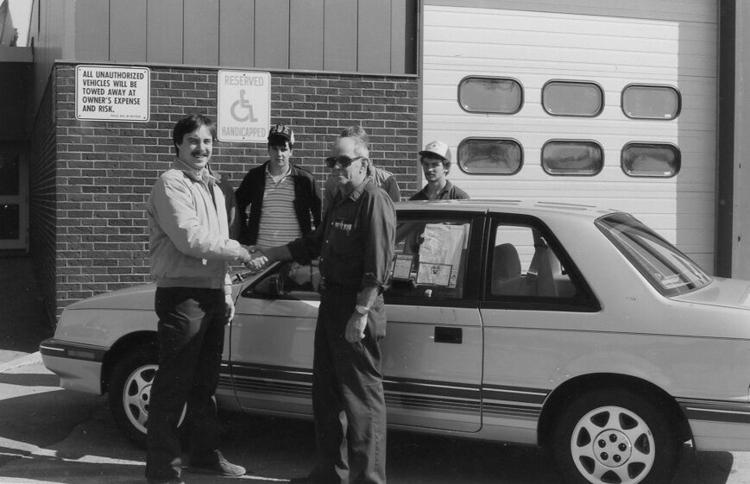 Mr. Nortz noted that owning the franchise allowed him to remain in and be part of the community.
"Now, as I reflect and get ready to work with Ryan, I'm thankful," he said. "A lot of my friends and family moved out of the area. I was able to stay, in a community I love, raise my girls here, take care of my parents."
Mrs. Nortz said Gerry and his father both had a good sense of community, volunteering and giving back.
"Gerry is a member of the fire department and Tom supports Special Olympics and was a booster for the Lowville Academy," she said. "We are also firm believers in shopping local."
She credits being family-oriented and community-minded as contributing to creating loyalty with their customers. Mr. Nortz pointed out that they had many loyal customers over the years that counted on them to find them the right cars and keep it running.
"As we got closer to completing the sale, I can't tell you the number of customers who have stopped here, on the street, out socializing, asking if I was going to continue to be involved," Mr. Nortz said. "Listening to all of those customers lately, telling me that they trust the dealership and its staff, makes me feel better about our decision to turn things over to Ryan because of his history with family business. I'm confident that he will move forward and improve the business while keeping its integrity to customers and the community. My grandfather and father would approve. It's nice to know that people want to keep coming to do business with me and everyone here and that we are a trusted and respected business 96 years later. It makes you think you've done things the right way for people."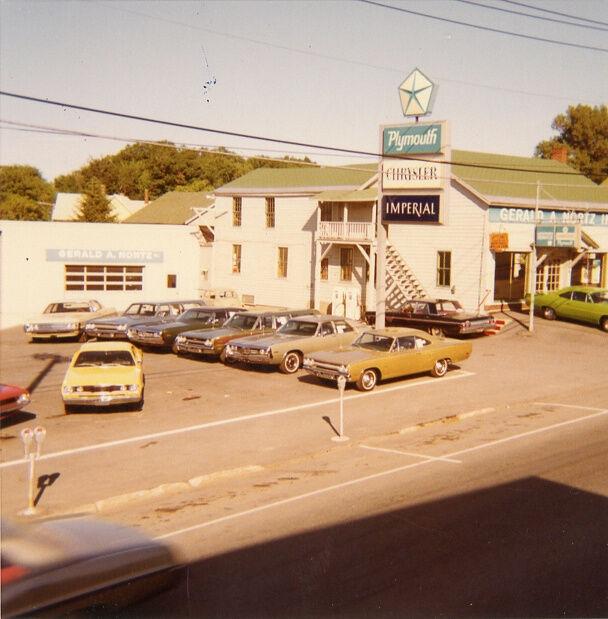 HISTORY OF NORTZ
Gerald A. Nortz Inc. has been in business for 96 years.
Founded in 1924 by Gerald Nortz, Packard, Chrysler and Stewart trucks were sold at the downtown location.
The second generation, Thomas Nortz, purchased the store in 1975. Over the years, he expanded the facilities and added the Dodge franchise.
The third generation, Gerald "Gerry" Nortz II, began working with his father in 1983 and purchased the franchise from him in 1999.
In January 1999, Gerald A. Nortz Inc. added a Jeep franchise to the dealership.
During the past year, as the business transitioned from the Nortz to the Payne family, changes have occurred. A Facebook page has been added and the website has been updated through which customers can search for new or pre-owned vehicles and research updates, rebates and incentives.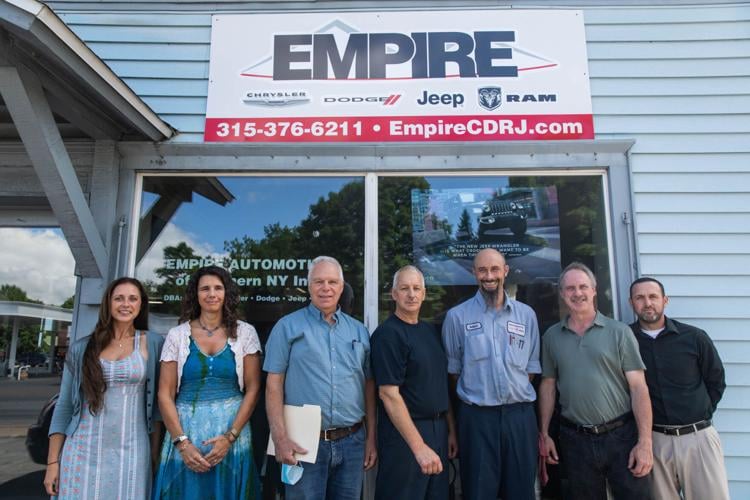 LOOKING AHEAD
Although the name has changed — Empire Chrysler, Dodge, Jeep Ram — the staff and the service will remain the same. Mr. Nortz will continue with the franchise as general manager, and the current employees will remain in their positions.
Mr. Payne said Empire comes from New York's nickname — the Empire State. The senior Mr. Payne said they had another car business, Empire Corvette of America. The Paynes also own Sliders convenience stores in Beaches Landing, Harrisville and Croghan.
The father-son team has plans to build a new, larger facility within the next year and a half on Number Four Road. With the larger facility, more inventory will be added as well as more sales representatives and more lifts in the service department.
The senior Mr. Payne said the new building will comply to Chrysler's requirements and have a more modern look, but will still offer hometown services.
The Nortz family has been proud of its five-star customer satisfaction award for sales and service.
"We want to grow in the community and continue with the quality service," Mr. Payne said.