As we prepare to put another year in the bag, it's an appropriate time to recall Watertown's connection to the paper sack.
The paper bag has major roots in the city. The inventor of one of the first paper bag machines lived here for about three years and the city once made tons of the carriers.
Times' features editor Christina Knott recently came across the Dec. 2, 1919, Watertown Daily Times headline: "Bag Machine Inventor Who Formerly Lived Here Dies."
Charles B. Stilwell died Nov. 25 in Bryn Mawr, Pa. The inventor lived in Watertown in the 1800s while his invention was being developed and manufactured at the Bagley & Sewell plant. In 1883, he patented his automated machine, "The Stilwell," which could make a bag from a roll of paper.
An alternative to all that, mass produced, was revolutionary.
The person first credited with the development of a paper bag is Francis Wolle (1817-1893) of Pennsylvania. In 1869, he co-founded the Union Paper Bag Machine Company. One of his business partners was George West of Saratoga County, who became known as the "Paper Bag King." He would also become a state assemblyman and U.S. Congressman.
Mr. Wolle's design wasn't too convenient because it was in the shape of an envelope and didn't have a flat bottom. Margaret E. Knight, with U.S. patent number 9202 in 1871, solved the problem. She was working in a Massachusetts bag factory and was also frustrated at the slow process of creating the envelope/wedge design; narrow at the bottom, wider at the top. A 2018 Smithsonian magazine article called her the "inventor behind mass-market paper bags."
Mrs. Knight (1838-1914), a native of Maine, invented a machine that could automatically cut, fold, and glue flat-bottomed paper bags and creating a flat bottom. It revolutionized the industry.
Patents from women were unusual in the 19th century; something someone tried to take advantage of.
"Not only did Knight file for a patent, she rigorously defended her ownership of the bag machine idea in a legal battle with a fraud who had copied her," the Smithsonian article reported. "Having gotten a glimpse of Knight's machine in its development phase, a man named Charles F. Annan decided he would try to pull the rug out from under her and claim the creation as his own."
Mr. Annan lost his battle after Mrs. Knight presented her detailed documents.
Mrs. Knight, who is credited with more than two dozen other inventions, was inducted into the National Inventors Hall of Fame in 2006.
"Before Knight invented her paper-bag machine, flat-bottomed bags could only be made manually and at great expense," according to the NIHF website. "With her innovation, flat-bottomed bags could be mass manufactured, replacing less useful v-shaped bags."
She founded the Eastern Paper Bag Company in Hartford, Connecticut.
STILWELL'S VERSION
Mr. Stilwell came to Watertown in 1880 from New London, Conn. He invented his paper bag machine in another city, but came here to have his invention turned into a reality.
The design his bag machine created was noted for its square bottom and pleated sides. He called it the S.O.S.: a "self-opening sack." It could be activated with a snap.
"The paper bag gained increased popularity because in addition to its usefulness as a container for goods, merchants could now use the bag as advertising by printing their logo and brand name on it," according to the Museum of Modern Art.
The Watertown Daily Times reported, "Several machines were manufactured here, and many were installed in local paper mills at the time,"
In Watertown, Mr. Stilwell boarded at the home of a Mrs. Joanna Johnson, 251 Washington St. He later moved from here to Philadelphia, Pa.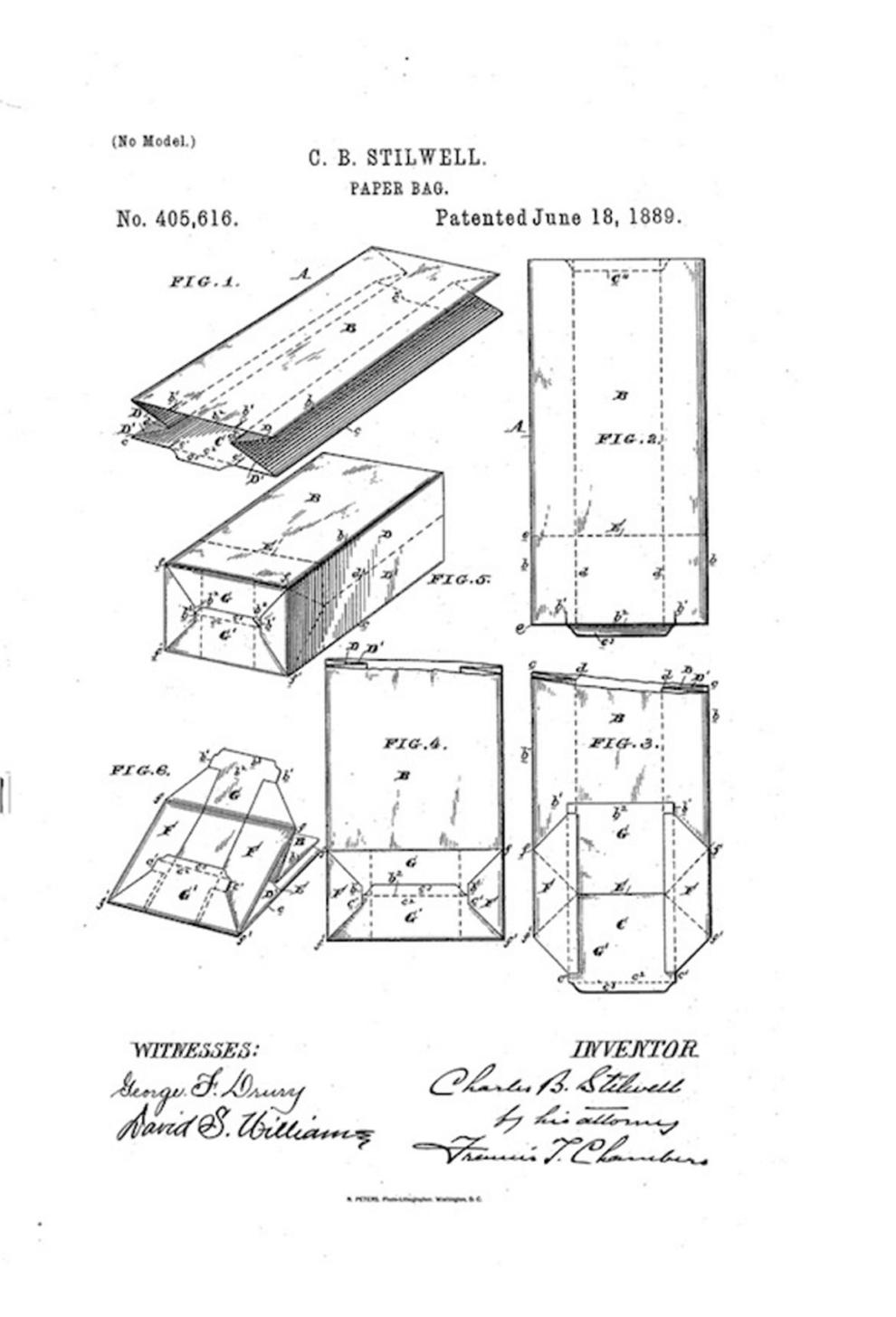 A Watertown "paper king," Byron B. Taggart, saw the potential in Mr. Stilwell's invention and the city's reputation as a big-time paper bag manufacturer was soon, ahem, in the bag. Mr. Taggart made so many of the items that he became known as "father of the paper bag."
Taggart Bros. had been turning out paper bags made by hand since the Civil War. The war had created a shortage of cotton, which inspired Mr. Taggart to originally make his bags out of manila rope fibers.
In 1865, Byron and his brother, William, started making paper bags on Beebe's Island in a small shop.
They would eventually operate bag manufacturing mills in Watertown, Felts Mills and Oswego.
Once the Stilwell automation came along, Taggart Bros. "could speed up bag making to 3,600 finished bags per hour," Times files say.
The paper bag machine was perfected further by Coty Bag Corp. of Watertown in the 1930s with a machine which did "three operations in one at speeds several times greater than the average separate process machines," according to Times' files.
Mr. Stilwell would find more success in Ohio. The website Ohio History Connection notes his connection to the paper bag: "Paper or grocery bags already existed, but they were not easy to fold or to store," the OHC site says. "They also could not stand on their own because of their v-shaped bottom. On June 12, 1883, the U.S. Patent Office granted Stilwell a patent for a machine that manufactured a square-bottom bag. The bag also had pleated sides."
In 2000, OHC says, "Americans used approximately 40 billion grocery bags based on Stilwell's original design."
In the early 1960s, the plastic bag was invented and paper bags were eventually largely sacked as a selection for shoppers. But that is changing. States like New York have banned plastic bags for stores. New York State's ban on plastic bags takes effect March 1.