MASSENA — A few years ago, downtown Massena seemed like it was on life support.
A February 2008 project had taken down three buildings in the heart of downtown — Tony's Pizza, the former La Bottega and Novosel Associates — leaving a gaping hole.
At the same time, storefronts were vacant. Buildings were beginning to deteriorate because the owners, in some cases absentee landlords who lived out of state, didn't keep them up to code specifications. Nobody was opening up new businesses, but instead closing the doors.
"I think it's fair to say that we neglected downtown for decades," Mayor Timmy J. Currier said Friday in an update about the state of the downtown Massena corridor.
He said, like other areas around the country, the introduction of malls had a hand in the decline. Locally, the St. Lawrence Centre mall opened its doors in 1990 with a capacity of 90 stores.
"It was the trend," Mr. Currier said.
The opening of the mall initially had a minimal impact on downtown businesses. According to an August 1990 Watertown Daily Times article, businesses like Peets Jewelers and the former Craft Carousel and Dixie Lee restaurant saw an upswing in business, thanks in part to the Canadian traffic that crossed the border to shop in Massena.
Over time, however, business in the downtown corridor declined until village officials began rebuilding the community, in part by rebuilding downtown. That was not only a village effort, but also one from the state level, Mr. Currier said..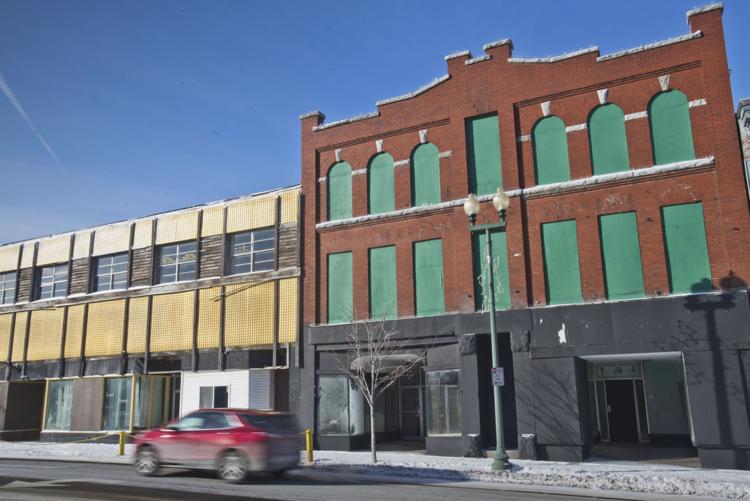 "Particularly the governor's current administration," he said. "Five years ago there was a considerable amount of blight. The Slavin's building is a great example. Back in 2009, when the Village Board said, 'Let's not tear that structure down,' it was a good vision on their part because you tear it down, you have empty space forever."
A portion of the building that once housed a furniture and jewelry business on Water Street was declared unsafe and did come down, but the remainder was eventually put to good use, thanks to public and private investment
"You have to give the BDC (Business Development Corporation) credit on that building. They formed the Downtown LLC, which started to work on some ideas," he said.
The Massena Downtown LLC, consisting of Daniel Pease, Ronald Bacon, Michael Almasian and Vance Fleury, formed and began searching for a building that needed a tremendous amount of rehabilitation. They chose the former Slavin's building, which was owned by the village. They entered into an agreement with village officials in May 2013 to find tenants and redevelop the property to put it back on the tax rolls.
Businessman Rick Hamelin agreed to invest in the public-private partnership to put the building back on the tax rolls, and today it's a multi-use building with three luxury apartments and future office space.
Meanwhile, GoCo Adventures, owned by William and Susan Fiacco, has also entered into a public-private partnership. They're turning a former Water Street grain mill into a brewery and pub that will also include apartments.
They're also acquiring and renovating the building that once housed the Department of Motor Vehicles and International Brotherhood of Election Workers, with plans to transform it into a mixed-use building that will contain a local creamery, complete with a retail front, capacity for light manufacturing and residential units.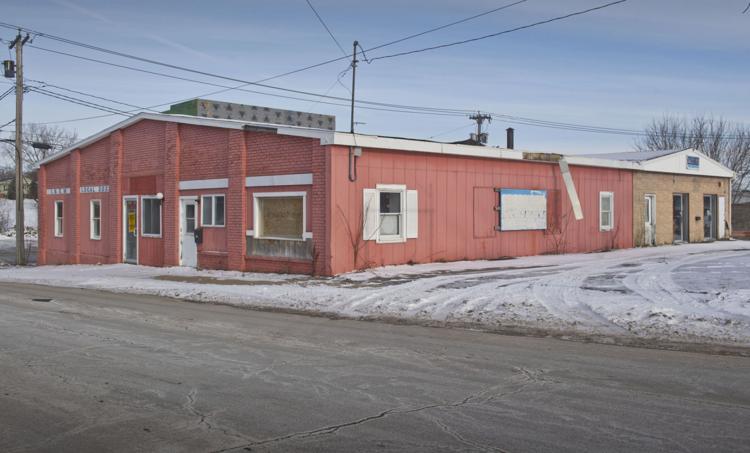 "He's purchased that building. He owns it now. He's going to bring light manufacturing, a storefront and seven to nine employees into the downtown. That will be a game-changer," Mr. Currier said.
The former Amici's restaurant, which was also located on Water Street, was another business that was able to take advantage of a public-private partnership. The restaurant has since closed.
"They redid their back room overlooking the water. That money was the difference in them being able to do that," Mr. Currier said.
If it sounds like there's been a focus on the Grasse River, he said that's correct.
"There's been millions of dollars of investment on the Grasse River," he said.
But that's not to say the rest of the downtown corridor is being neglected. Village officials took the initiative with the former Massena School of Business after they were unable to contact the current out-of-state owner to resolve code issues.
"We were dealing with trying to get that resolved for the three years, four years since I've been sitting here," the mayor said.
They hired a contractor to address code violations and spruce it up in 2018. Some vinyl siding was removed to bring back some of the building's natural look. Brick was restored, and damaged plywood was replaced. Pigeon spikes were placed on the roof and ledges. Windows are now boarded up and painted, code violations have been addressed, and the building looks more appealing from the street level.
Today, one of the owners of a building that burned down in 2008 is rebuilding.
"She's done the best she can. She's not abandoning it. She's paying her taxes and she's working on it. She's communicated with us along the way," Mr. Currier said.
Meanwhile, other businesses are either opening or moving downtown. Two Mama Birds opened its doors, Tom Post moved his insurance agency downtown, and the Vino Vidi Vici restaurant moved from the Harte Haven Shopping Plaza to the Quality Inn.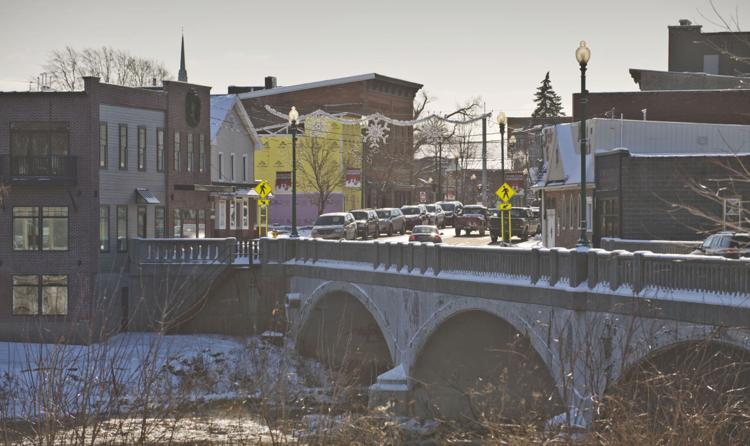 "There are 17 businesses that have either opened or relocated downtown in the last two to five years. That's substantial," the mayor said.
Horizons also opened up a youth clubhouse next to the Massena Town Hall.
"These are 40 to 50 to 60 kids a day coming to the downtown. Hopefully that will be a trend that continues," Mr. Currier said.
And, across the street, the Massena Arts and Theater Association has contracted to remove asbestos from the former Schine Theater, another step in the process of bringing it back to life.
Village officials have also worked with St. Lawrence County and the state Comptroller's Office on other work.
"We've cleaned up three sites on Water Street. They were contaminated properties," he said.
In addition, they have developed renovation standard guidelines to make the downtown more uniform and attractive.
"We're working with the owners of a couple of blighted properties right now. Code sits down with them. Just show some progress. We know these are daunting tasks. Much of the blight we've had in the downtown and in the community has been caused by financial conditions. You can legislate all you want, but it someone doesn't have the money, you're better off to sit down with them, work with them try to find a path for them and develop a plan," Mr. Currier said.
Change hasn't happened overnight.
"One of the key things we did is we changed the narrative. We started focusing on downtown. We started talking about positive things. I think we reversed the blame game. Instead of blaming people for our failures, we took responsibility for them," he said.
Strategic plans that were gathering dust on a shelf were reviewed and the key recommendations pulled out.
"You just take the pieces out of those plans that work. Whether it's the strategic plans or downtown plans, just pull some stuff out. Rather than invest millions of dollars in a plan that typically sits on a shelf and gathers dust, we want actual plans that we can accomplish," he said.
Among their strategies was to hire a grant writing team and develop a Strategic Development Team. They also have a Core of the Community Committee and Downtown Committee that look at future possibilities for the downtown corridor.
"Everything to us is mostly a strategy — what is our real strategy, what pieces of funding and developers are available, and how we match those things up and how we work real projects into it," Mr. Currier said.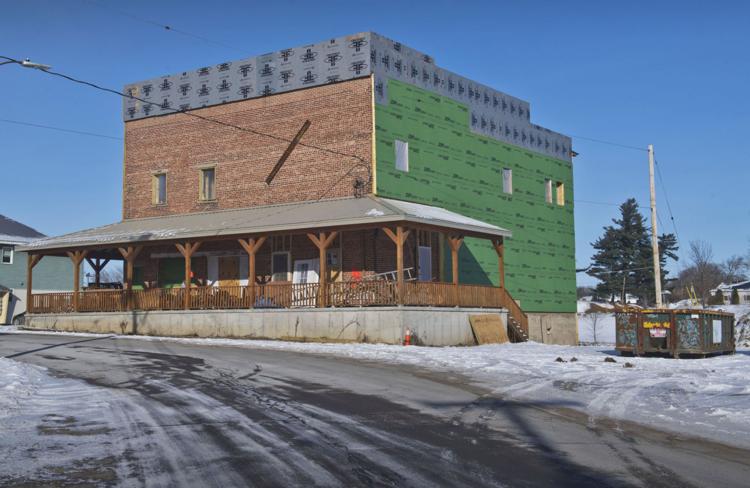 To help entice more businesses to open up, the Village Board and Massena Central School Board passed a 485-A exemption. That's geared toward any person or corporation interested in converting a commercial property into a mixed-use business and residential usage.
Owners who convert their buildings to mixed use — a business on the bottom floor and apartments on the second floor — could be eligible for the exemption from any increase in the building's assessed value. With the 485-A exemption, if the assessed value of the building increased, the owners would not pay on the increase for eight years. Then they would be responsible for 20 percent in the ninth year, 40 percent in the 10th year and 80 percent in the 12th and final years.
Building owners can say, "This is a better fit for me because I can invest this kind of money because I know I'm not going to immediately have to pay additional taxes on it," Mr. Currier said.
"That makes it more attractive," he said. "There's grant money attached to that, but there's a substantial commercial investment by the developer."
The Mercantile and GoCo Adventures projects have taken advantage of that exemption.
"The developers are investing several thousand dollars of their own money. There's a lot of personal investment," he said.
Partnerships have been an important part of rejuvenating downtown, according to the mayor. He said, without support from the state and the governor's office, "those projects wouldn't be possible."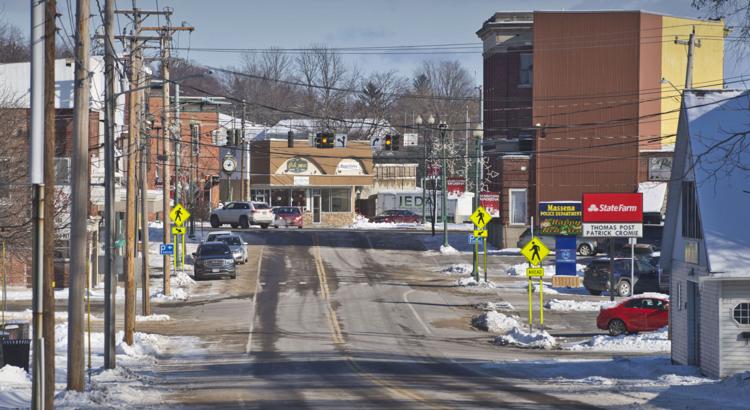 Funding from one grant was made available for businesses to do up to $20,000 of facade work, interior build-outs, signage or rent subsidy. Other grant funding was available for building renovation, providing up to $50,000 in matching grants to building owners for renovation of mixed-use buildings.
The St. Lawrence County Industrial Development Agency has been a valuable partner, as has the Development Authority of the North Country, Mr. Currier said.
"Really, it's all about partnerships with the state, locally, with developers, with the town of Massena. The town's been great," he said.
"It goes back to stop blaming people and start developing relationships, something I try to work really hard on. We've developed strong relations with Empire State Development, the governor's team, our elected legislative officials. We communicate with them to tell them what's going on and keep them in the loop, to just kind of tell them the exciting things we're working on so they understand the total vision," Mr. Currier said.
Part of the village's success has been a focus on smaller projects.
"We're never going to be what we were. We're not going to have thousands of industrial jobs here. So it's the small wins. It's those businesses that bring 30, 40 jobs. That's what we're focusing on," he said. "It's slow progress. We're not going to reinvent or return the downtown after 30 years of neglect. It's a couple of businesses at a time each year if we can get one or two new ones," he said.
There are some attractive benefits to coming to Massena and the downtown area. Among them, high-speed internet is available, thanks a grant from the Northern Border Regional Commission, and the Massena Electric Department provides reliable, affordable power.

"We reversed the attitude about this is the reason why we can't, this is why this can't happen. These are all the good things we have in this community and we should leverage those to bring in developers and outside resources, developers who want to put their own money on the line, their own time and talents. We have been successful in being able to partner with those people. It's not just, 'Hey, this is a nice building,'" he said.
"We're ahead of where we were five years ago. We'll continue the path slowly and be patient with it. Let's make Massena the best community we possibly can so people want to come here, live here, visit, shop and open a business," he said.