(Originally published Feb. 17, 2008)
As a train pulled up to Watertown's New York Central Railroad depot north of Public Square, members of the Jefferson County Children's Home brass band pressed their instruments to their lips and began to play. A throng of city residents readied for a great arrival that Sunday afternoon, Dec. 16, 1934. The welcoming party surpassed any previously enjoyed here by governors, presidential candidates and other dignitaries, the Watertown Daily Times said.
After an 11-year absence, "Scotty The Fat Boy," as W. Scott Mattraw called himself, was coming home, if only for a day.
Back in 1923, this funny guy, who tipped the scales at as much as 362 pounds, had left behind his business endeavors in Watertown to take on the challenges of Hollywood. Winning the friendship of such standouts as Douglas Fairbanks and his wife, Mary Pickford, Scotty had quickly crashed onto the silver screen.
Taking advantage of a short break in a Midwestern show tour — he was performing in Max Reinhardt's production of Shakespeare's "A Midsummer Night's Dream" — the 54-year-old entertainer boarded a train in Milwaukee to make a whirlwind visit to Watertown. Police Chief Edward J. Singleton, one of Mr. Mattraw's friends, hustled to organize a small reception in Mr. Mattraw's honor, but the gathering took on a life of its own.
"I had planned at first to have about 10 of the old gang get together with Scotty for the dinner this evening," the chief told a reporter. "During the evening a number of friends of Scott's said they wanted to be included. At the present I have reservations for about 50, and the way fellows are calling up and asking that they be included, I believe we will have about 100 in attendance.
Dismounting the New York Central train, Mr. Mattraw found himself continuously shaking hands in the crowd of several hundred people as he slowly worked his way to the Hotel Woodruff, where dinner awaited.
"There is no town like Watertown anywhere in the country," Scott told his well-wishers, "and there are no friends like Watertown friends."
The next day he boarded the 10 p.m. train, heading to St. Louis for a return to the stage.
Scotty Mattraw seemed almost destined for Hollywood. "Can he succeed Roscoe Arbuckle as the funny man of the films?" the Times asked way back in 1916, seven years before he headed west.
Winfield Scott Mattraw was born Oct. 19, 1880, at Black River, a son of William Henry and Philamon Dano Mattraw. His father, a Civil War veteran, had moved from Chateaugay to operate a farm and work at New York Air Brake Co.
Having attended school in Black River, Mr. Mattraw appeared on the Watertown scene around 1900. The Polk City Directory listed him as a clerk. While employed as a driver for American Express Co., he married on June 25, 1903, the former Edna Hunter of Watertown.
His road to the big time started on Aug. 15, 1908, when he took a new job as manager of the City Opera House, 32-34 Arsenal St. At 27, he was "well known here as an amateur comedian of ability and as manager and promoter of amateur dramatics," a newspaper reported the same day.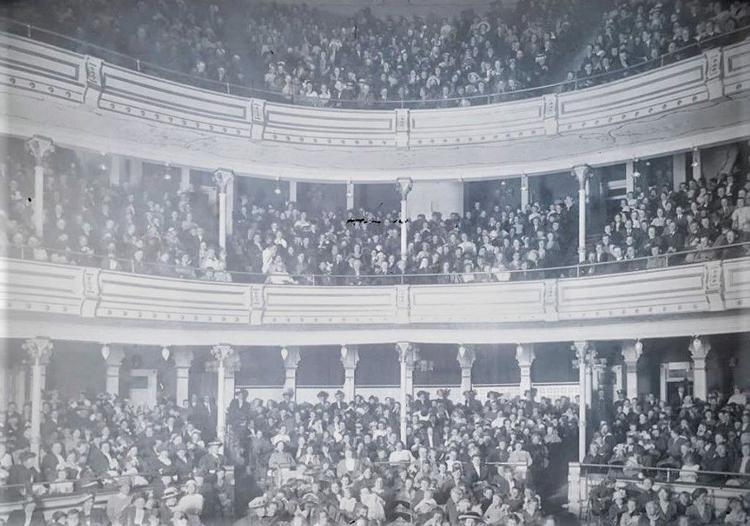 That very night, he departed for New York City to book shows for Watertown. In the 12 years of his management, he brought in a number of vaudeville acts. The Al G. Fields Minstrels, with whom he performed on occasion, were an attraction almost annually, and in 1911 he booked a tour group featuring Bessie Abott, a renowned opera singer who grew up in Heuvelton.
Perhaps his biggest coup was bringing in Harry Lauder, an internationally famed Scottish singer and comedian who came to Watertown on Jan. 31, 1916. The house was packed with some 1,400 people, a large portion of whom were reported to be of Scottish blood.
"My first visit to Watertown," said Mr. Lauder, "and they are doing me vurry well here — the hoos is sold out, and there could be no better hospitality than that," the Times quoted him, trying to echo his accent.
In 1916, Scotty wasn't just managing the Opera House. He was appearing on stage now and then. He was also the exalted ruler of the Watertown Lodge of Elks in 1916 and in 1920 was elected third vice president of the New York State Association of Elks. At the end of the year, the entertainer was knighted Sir Henry McLennan Lauder by British King George V.
Ownership of the Opera House changed hands late in 1919, and plans to remodel it into a movie theater — the Avon — were disclosed. Any questions about Mr. Mattraw's future with the business were resolved on Nov. 18, 1919, when he announced his resignation. He was going into business for himself.
Scotty's Eatable Eats, a rotisserie-delicatessen, opened late in February 1920 at 121 Arsenal St. Mr. Mattraw said he was responding to an ever-increasing servant problem. Servants were difficult to find, and their demand for one day off each week was causing families to suffer inconvenience at least once a week, he said.
By the end of the year, he had moved his restaurant to 117 Arsenal St., providing a larger floor space and two entrances. His business was plagued, however, by his own "mismanagement or over-stimulated ambition," he admitted in a letter to Harold B. Johnson, publisher of the Times. He had to "get out from under in order to pay up," he wrote.
His Opera House position was helping him make contacts in the entertainment industry, and he was approached by a film company. But it was not until March 1922 that he took his first step. He accepted a three-day engagement with a vaudeville show right at home, at the Avon.
"No, this doesn't necessarily mean that I am going out of the restaurant business," he said. "I shall try the vaudeville stunt out here, and if it works I may go onto the circuit." Another year passed, and finally he gave in.
"I'd like to go to Hollywood and try my luck in the movie game," he told the Times in March 1923. Two months later, he was on his way ... and in a big way.
"W. Scott Mattraw, better known as Scotty, made his initial appearance in the motion picture world last Sunday in connection with a large barbecue held by the Elks at Universal City, Cal." the Times reported on June 15, 1923. "So good were the scenes that the film directors present decided to make a two-reel Western comedy of it. He had the lead role, that of sheriff, and carried it out with great success."
Now befriended by actors Fairbanks and Pickford, he was quickly moved the same summer into a lead comedy role in "The Thief of Bagdad," a Douglas Fairbanks Picture Co. production.
His wife and their children, W. Scott Jr., 10, Rosalind, 14, and Ada, 18, had stayed behind in Watertown, but now he was able to bring the family to California. All but one headed out on a cross-country train ride in November. Ada was attending college.
From sunny Southern California in February 1924 came an open letter to "our dear old neighbors of Watertown and frozen New York." Scotty Mattraw wrote about a little bit of Watertown in Los Angeles. He dropped some familiar names for the folks back home and told how they had formed a club "to lend mutual assistance to all Watertown residents of California and for social fellowship."
Although he was keeping ties in Watertown, all was not so sunny for him back here. An announcement in July 1925 disclosed the sale at public auction of his former home at 328 Winslow St. under a mortgage foreclosure judgment.
He filed a petition of bankruptcy in U.S. court in Los Angeles in fall 1926. But in the meantime, he was building his "filmography," as an actor's résumé is called, playing a fat butcher in "Dorothy Vernon of Haden Hall" and an automobile racer in "The Go Getters."
The discovery of Scotty Mattraw, Universal Weekly reported in 1926, was a "direct stroke of providence" to fill fat-man roles. Universal film writer William Lord Wright referred to him as "the world's heaviest and funniest man."
As these plaudits were coming out, Mr. Mattraw was appearing as a bailiff in a John Barrymore movie, "The Tavern Knight," and had roles in "The Return of the Riddle Rider" and "Volcano." The latter film had Watertown residents delighting at seeing him onscreen at the Avon in December 1926.
Come 1927, Scotty was a cowboy ... on the movie screen, that is. In a series of westerns, he provided comic relief while attired in colorful regalia and riding his mule Johnny. He starred in other westerns as well, including "The Arizon Cyclone" in 1941, often called the best of Johnny Mack Brown's Universal western series.
His arrival in Hollywood coincided with the dawn of "talkies" in the film industry. Perhaps his most memorable role, in all of some 600 movies in which he appeared, featured not his happy face or his round physique, but only his voice. In Walt Disney's "Snow White and the Seven Dwarfs," released in 1937, the dwarf Bashful spoke his "Aw, gee" in the voice of Scotty Mattraw.
After an earthquake struck Los Angeles early in the evening of March 10, 1933, Mr. Mattraw served as a courier of good news for the Watertown Daily Times. None of the former Watertown residents then living in Los Angeles had been harmed, he reported.
He wrote that he was home with his wife, preparing dinner.
"We shook and then we shook some more. We were directly under the chandelier which was swinging like a trapeze performer, and as I quietly drew her out from under the acrobatic globes, pictures swaying, vases and bric-a-brac fell from the shelves, the floor rolled seemingly, and although I have never had the D.T.'s, I saw and felt things that I never thought could happen except with this disease."
Life ended after 66 years for Scotty Mattraw on Nov. 9, 1946, at his Hollywood home. He never rebounded from a stroke he had suffered in 1938. Edna Mattraw was 86 when she died in October 1964 in Santa Monica, Calif. Their daughter Ada Kambour was a resident of Livingston, N.J., when she died at 79 in 1984.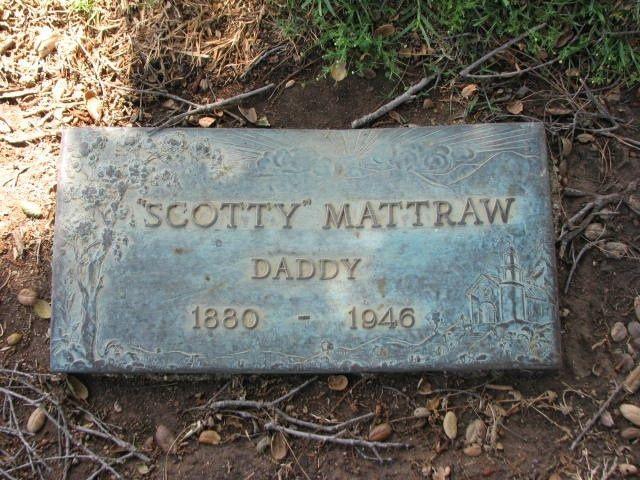 We thank city clerk and historian Donna M. Dutton and Timothy J. Abel, director of the Jefferson County Historical Society, for assisting with material for this story.