At one point or another in our lives, we may strive to be a hermit.
If seeking inspiration, the north county had a famous one.
The life of Noah John Rondeau is well documented. If alive today, the north country legend would likely be a leader, or perhaps a guru or political leader.
He was born in July of 1883 and raised near Au Sable Forks. He moved to the high peaks section of the Adirondacks around 1916 and lived there for more than 30 years.
We know his camp, part of which now is on permanent display at the Adirondack Experience, the Museum on Blue Mountain Lake, was about 20 miles from Saranac Lake, where he trekked to a few times a year to visit friends and to pick up supplies. He was 5 feet, 4 inches tall and welcomed guests to his camp, which besides the main cabin, consisted of several wigwams.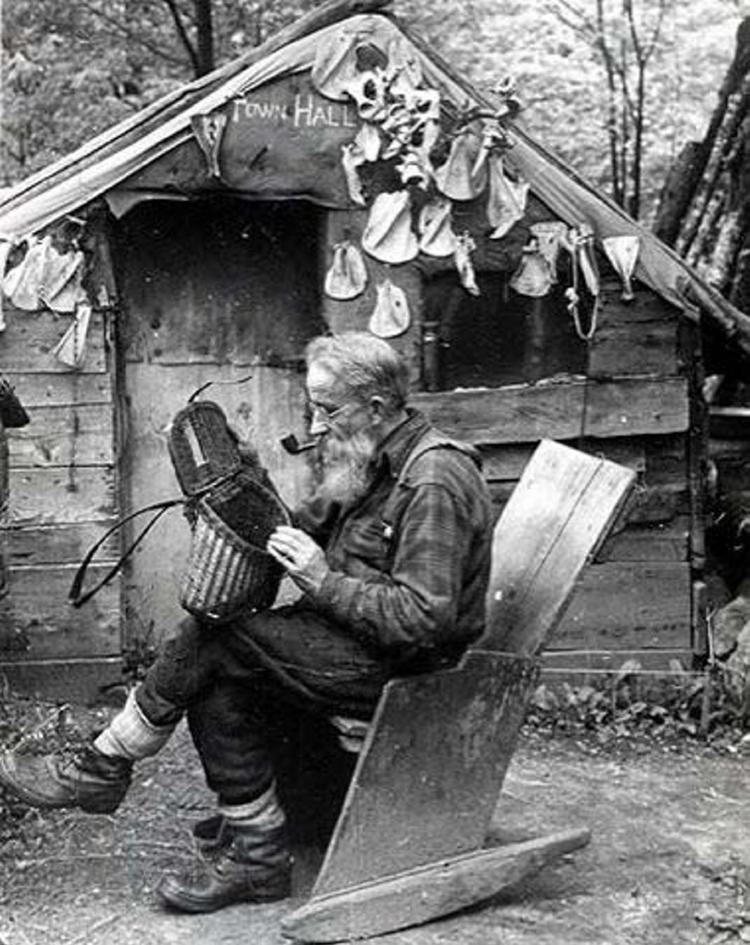 He made about $100 a year by trapping and guiding. He became a hermit, according to Times' files, to escape "the slavery of industrialism." But he became a minor celebrity in the U.S. in 1947, one year after The Conservationist magazine profiled him. He was invited to talk at sports shows in New York City, Buffalo, Rochester and other cities and was paid hundreds of dollars for each appearance.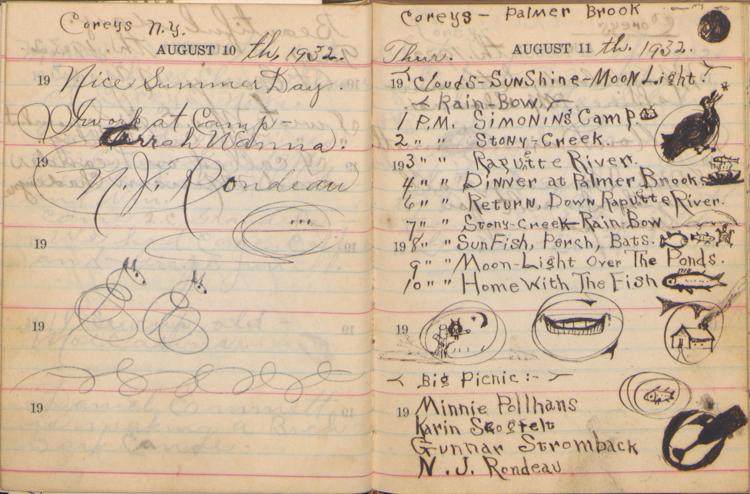 Mr. Rondeau died in 1967 at the age of 84. His last years were spent on a friend's property in Wilmington, where he lived in a former chicken coop that was converted to a hunting camp.
His related exhibition at Adirondack Experience is part of the museum's Woods and Water exhibit, and remains very popular, said chief curator Laura Rice.
"We have one of his buildings, a chair that he made, a painting, and his diary that has this code he used," Ms. Rice said. "It's sort of a little bit of everything."
A SECRET CODE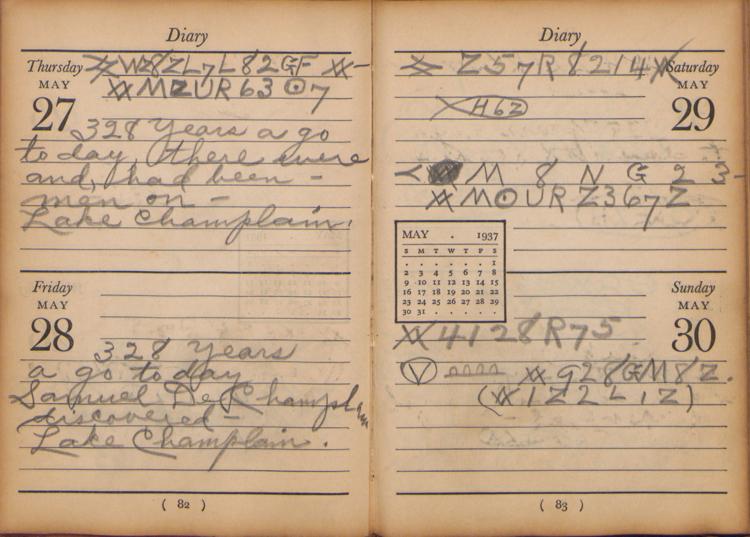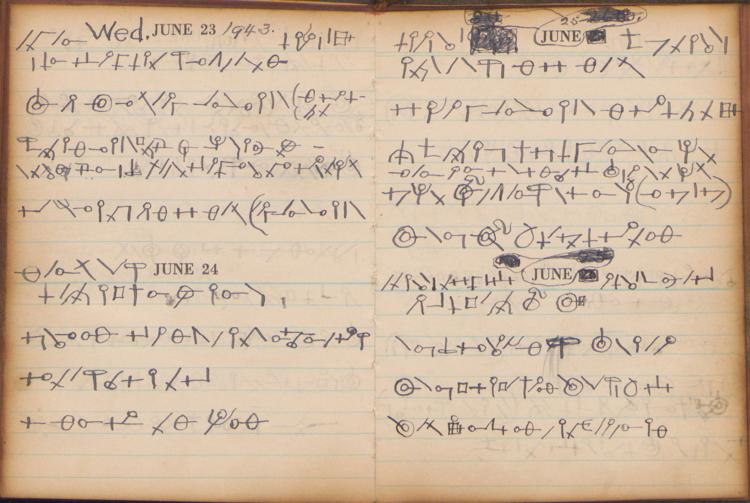 The recluse, known as the Hermit of Cold River Flow, kept journals to document his wilderness experiences. In 1942 and in 1946, he wrote those journals in a code he created. In 2009, that code was broken in the book, "Noah John Rondeau's Adirondack Wilderness Days — A Year With the Hermit of Cold River Flow" by William J. O'Hern of Cleveland, Oswego County.
Previous attempts to break the hermit's code ended in failure until David Greene formerly of Johnsburg, Warren County, who later moved to Syracuse, discovered a key and shared his findings with Mr. O'Hern.
In his book, Mr. O'Hern wrote that Mr. Greene discovered the code's key was based on a compass "with the addition of some astrological signs, lines, crosses, squiggly lines and basic shapes." He also added "some stick figures and strange hieroglyphic symbols."
Mr. O'Hern is an expert on the hermit. In 1997, he wrote "Life With Noah: Stories and Adventures of Richard Smith With Noah J. Rondeau."
Mr. O'Hern, in a 2009 interview with the Times, suspected Mr. Rondeau kept some things in code because of some run-ins with the state Conservation Department. In 1924, he was arrested for allegedly trying to shoot a game protector. Acting as his own lawyer, Mr. Rondeau called 22 witnesses and was found not guilty.
"Each one testified that Rondeau was such an excellent shot that had he wanted to shoot (the game protector) he would have killed him," the Times reported.
The code also may have been fueled by a mistrust of the government. ("When the president of the United States digs his own potatoes then we could have good government," the book quotes him as saying.)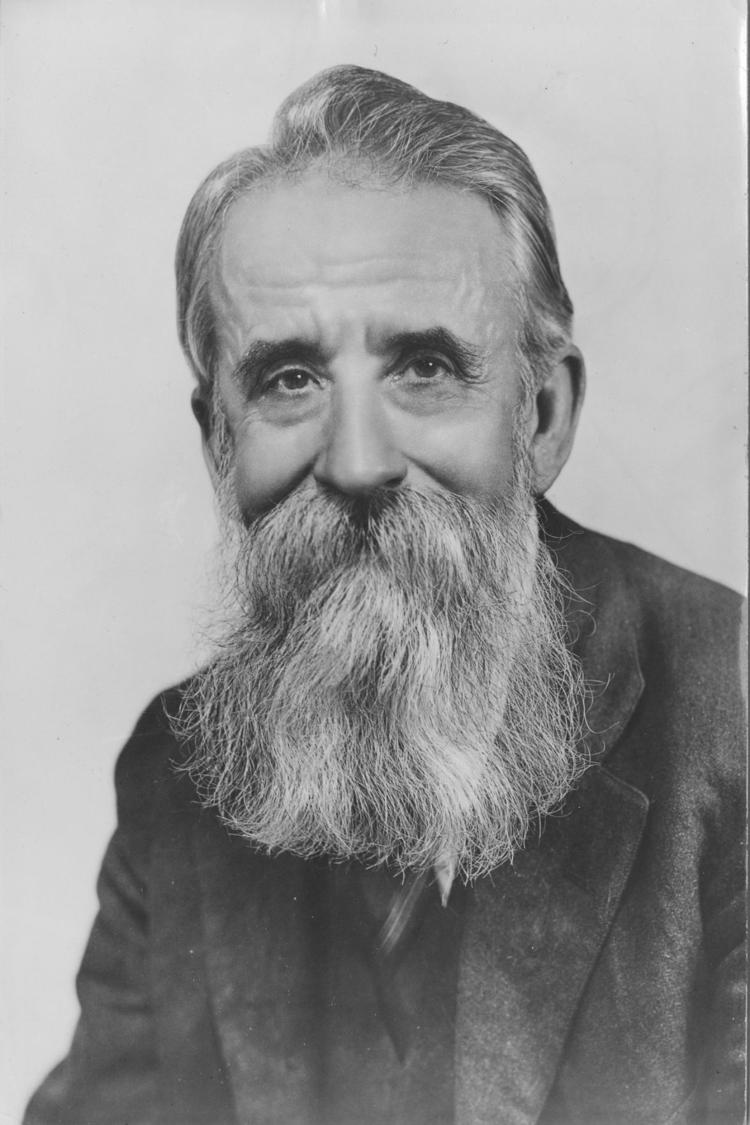 "Noah John Rondeau's Adirondack Wilderness Days" is divided into four seasons featuring Rondeau's writings. The author added letters, photographs and reminiscences from friends who visited the hermit.
The 1946 journal doesn't contain any Thoreau-like reflections, but rather "peculiar and interesting anecdotes about a person who was a successful woodsman — mildly energetic, very observant and not easily discouraged," Mr. O'Hern writes.
Mr. Rondeau was well read, despite leaving home and school in Ausable Forks at the age of 15. "Many books line the walls of his hermitage," the Times reported in 1941. "Among them are two well-rounded Bibles, a dictionary, Wells's 'Outline of History' an elementary treatise on astronomy and Parkman's 'Conspiracy of Pontiac.'"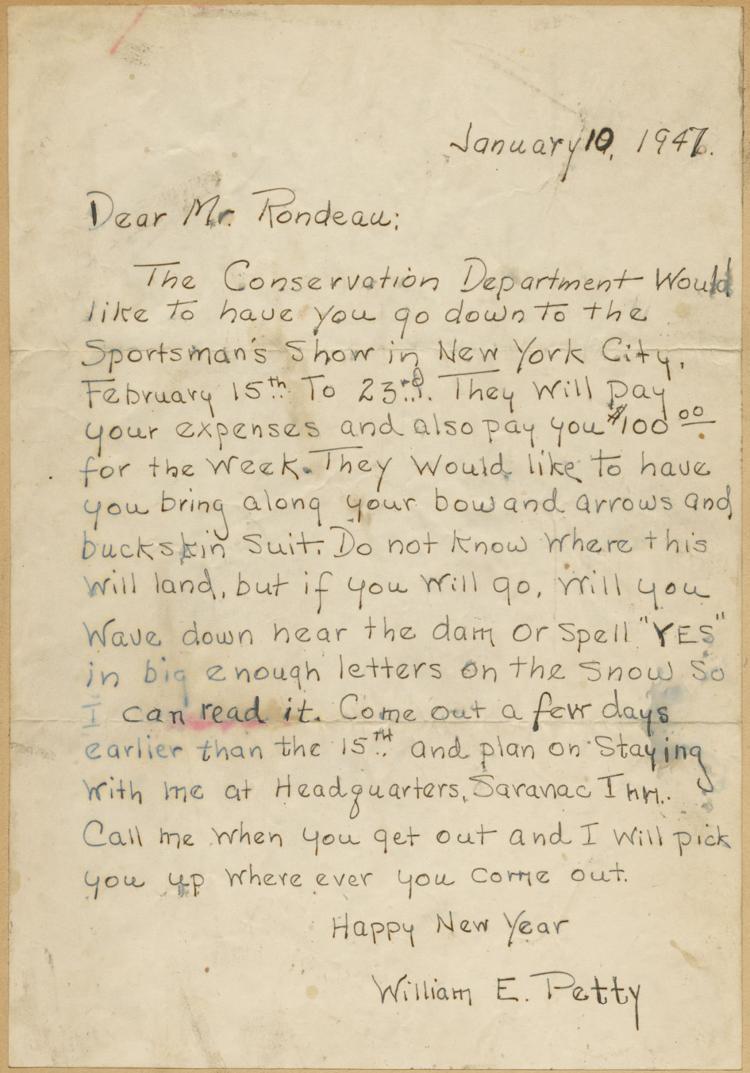 HERMIT IN THE CITY
In January of 1947, a state Conservation Department airplane flew over Mr. Rondeau's camp and dropped a note attached to a parachute asking the hermit if he wished to appear at the National Sportsmen's Show in New York City. Mr. Rondeau trampled out his acceptance ("yes") in the snow and in February a helicopter landed and picked him up. The helicopter made a handful of other trips to the encampment to pick up Mr. Rondeau's supplies, which were displayed at the sportsmen's show.
The Times reported he brought his compass to the big city but found he didn't need it. On a national radio broadcast in May of 1947, Mr. Rondeau noted he had received more than 1,000 letters from people asking how to become a hermit, which he found strange, since he had not written any letters asking how to become a New Yorker.
RESTING IN NORTH ELBA
Mr. Rondeau died in the summer of 1967. He wished to be cremated at his Cold River hermit base with his wigwams fueling his funeral pyre. It was a desire that went unfulfilled. He's buried at North Elba Cemetery. A Cold River boulder, brought there be the Department of Environmental Conservation, is his headstone.