HENDERSON HARBOR — About 40 years ago, Andrew J. Ditch bought the last permit allowing him to catch fish by anchoring nets to the bottom of Lake Ontario, a method that will die with him and possibly just one other person in New York state.
He knows many in the fishing industry don't agree with gillnetting, but he'll always come to its defense — especially after it appears more than 300 yards of his net was recently stolen.
The net was suspectedly stolen from Chaumont Bay, near Long Point State Park, on Oct. 4, and it's no accident that the state Department of Environmental Conservation issued a release on the alleged larceny this week, nearly two weeks after the fact.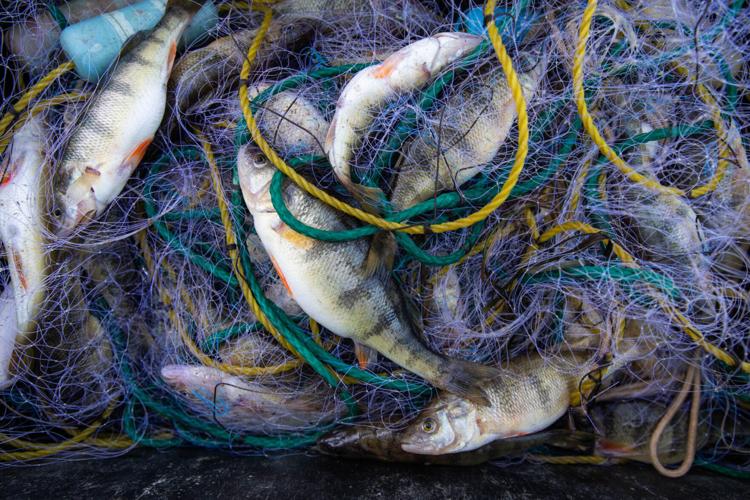 Within the news release is a $1,000 reward for information that leads to the arrest of those involved. The owner, Mr. Ditch, decided to wait to offer a reward. In theory he hopes it gave whoever did it time to tell someone about it, and perhaps whoever was told will like the looks of $1,000.
But catching whoever did it wasn't the only reason. There's a lot of principle involved here for Mr. Ditch. About 40 years ago, he remembers loving to fish, and he saw an opportunity to make a living with gillnetting. So he bought that last permit that was offered, and the state made it so anyone who had one would be able to use it until they died, and no more would be issued.
So that's what he's done over these years. Gillnetting is his livelihood, and when he dies, he won't be able to pass it down to his son or daughter. According to the DEC, it's estimated that he's one of two active gillnetters left in the state, coming after the decision to stop issuing permits in 1980.
"People have a big misconception about gillnetting," he said. "They think you're killing everything in sight."
Mr. Ditch, who said he studied environmental conservation in college and translated that into fishing, said gillnets are rather selective. How it works is Mr. Ditch sets his 600-yard net by anchoring it to the bottom of the lake, with buoys that float on each side. The netting, a mesh-like material, sits across the bottom 18 inches above the ground floor.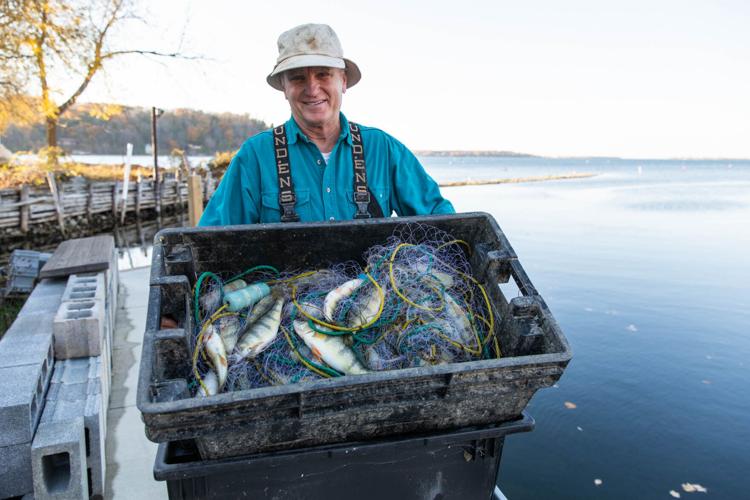 "So you could run over them back and forth with a boat and not even see them or be bothered by them," he said.
The mesh is selective in what it catches, he said, and the fish — mostly perch — that get trapped are at the last legs of their life cycle.
He uses a volleyball net as an analogy and balls as the fish.
"If you've got a volleyball net, or a net hanging between two poles, and you take a golf ball and throw it at it, it will just go right through," he said. "If you throw a basketball at it, it bounces right off. If you throw a football at it, it's going to get stuck."
The idea is the net will trap adult fish, which are then distributed to local restaurants and businesses, as well as to Ohio, he said, where there's high demand.
"It's just not a popular thing with the general fishing public," Mr. Ditch said. "They think you're taking more than your fair share, but what I take is not even measurable, it's such a small percentage of the biomass that's out there."
Mr. Ditch said the state's decision to stop issuing permits was more political than anything else.
"Environmentally, it didn't really make sense at all," he said. "The DEC just got tired of getting however many phone calls a day of people complaining."
But he's not necessarily out there voicing protest against moratoriums on certain types of fishing. He really thinks it is what it is. What he takes issue with is someone deciding to steal his legally owned and operated material, which the DEC suspects was done out of opposition for gillnetting.
Mr. Ditch said he set 600 yards of net at about noon the day before it was stolen. He said he tries to avoid setting nets near the hook-and-line commercial fishermen in the Henderson Harbor area, and this day was no exception. He said when he went to retrieve it at about 8 a.m. the next morning, roughly 310 yards of the net was gone, along with one buoy and the DEC tag on it with his information.
"There were 20 feet of water over top of it," he said. "It was buoyed on both ends, it had anchors on both ends and it was cut in the middle."
He doesn't know who might do this, but he said the DEC officer who's investigating it has some ideas.
This isn't the first time a net has been stolen from him, he said. It happened last year as well, but he didn't report it. This time he was sick of it. He said he thinks there were two reasons why only half was stolen: whoever did it could have hauled all their boat could handle and then cut it off, or someone else came along during the alleged larceny and they split before they were caught.
"It was one of those two scenarios," he said. "It was fairly obvious to me that someone saw the off-shore buoy and decided they would have some reason to be able to mess with something that didn't belong to them."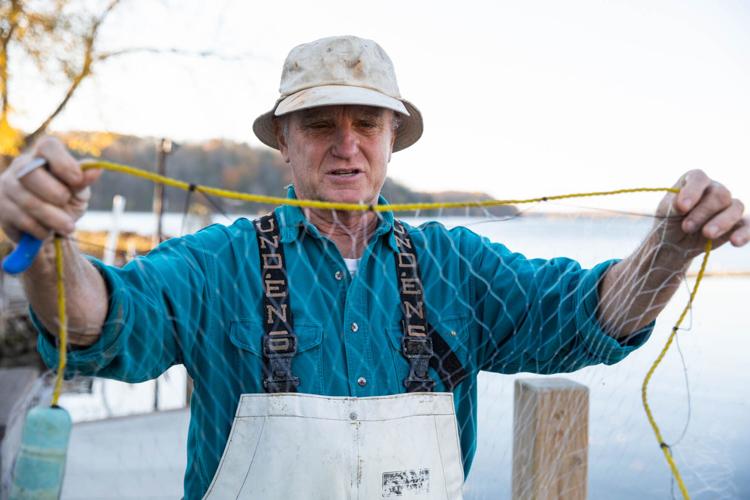 The decision to offer a $1,000 reward was three-fold: to catch the person who did it; to get his net back; and to raise awareness that people can't just take what doesn't belong to them. The amount of net that was stolen was worth more than $1,000, and the fish he would have taken out of it were worth more than that, too, he said.
"I build all my own nets. I've got hours and hours and hours into it," he said. "I just think that there are a lot of people out there who will steal, and they think they have some right to anything that's left around."
He hopes the public can be of assistance in the case. Anyone who might have information is encouraged to call Investigator Mark Malone with DEC Police at 1-877-457-5680, or email r6.dispatch@dec.ny.gov and reference case number 20-058814.
Above all, Mr. Ditch is going to continue what he's done for nearly a half century, until he takes an era of fishing with him to the grave.
"I do have family members who would take it over," he said. "But it supposedly dies with me. They'll have to find something else to do."