SACKETS HARBOR — Driving through the village, common sights include the towering United Presbyterian Church, the Seaway Trail Discovery Center and various other buildings along the way, all lending their stories to the rich history of Sackets Harbor. On Thursday, another sight drew attention as about 25 uniformed soldiers marched through the village on their way to the Sackets Harbor Battlefield State Historic Site.
Beginning at 9:30 a.m., soldiers with Fort Drum's 3-10 General Support Aviation Brigade, 10th Combat Aviation Brigade, were dropped off via helicopter at Westcott Beach State Park in Henderson and commenced rucking, marching in uniform with backpacks, to the Battlefield for a modified staff ride to learn about the village's part in the War of 1812.
Staff rides, historical studies of military campaigns, are an educational tool used by the Army to illustrate how military history can help leaders shape future decisions. This staff ride featured local guide Clayton F. Nans, a retired Marine colonel who has been giving tours for about 15 years, leading the soldiers through the historic battlefield.
The 3-10 GSAB, which recently came back from a 10-month deployment to Afghanistan in July, came not only to learn about the village's role during the War of 1812, but also to foster the community relations they missed while they were away.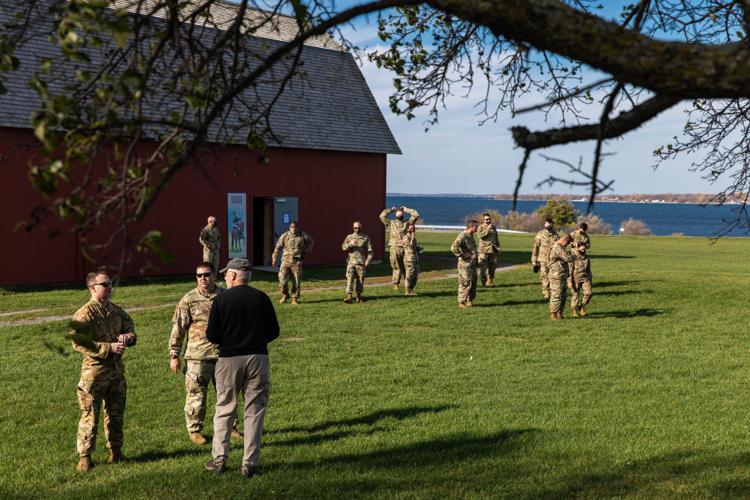 "It's important for our soldiers to understand history ... and what better way to do it than to learn from other people's mistakes?" Mr. Nans said. "Nobody learns anything from when everything goes well, you learn your best lessons from failure."
When war broke out between Great Britain and the United States, both sides started to build their naval forces on the Great Lakes, which were needed highways for troops and supplies. Following the buildup, Sackets Harbor became the main U.S. shipyard on Lake Ontario.
On July 19, 1812, American forces repelled attacks on the village and its shipbuilding yard. Again on May 29, 1813, a British force attempted to capture Sackets Harbor, but was repulsed by American regulars, militia, marines and sailors.
Though these events occurred more than 200 years ago, important lessons can still be learned today.
Lt. Col. Ryan P. Hanrahan, commander of the 3-10 GSAB, came into command in August. He said the staff ride, which is the first many of his soldiers have been on, was a great opportunity for them. Though they didn't quite know what to expect, he said when they showed up to their classroom Thursday morning for a lesson on the war before heading to Sackets, they were smiling from ear to ear.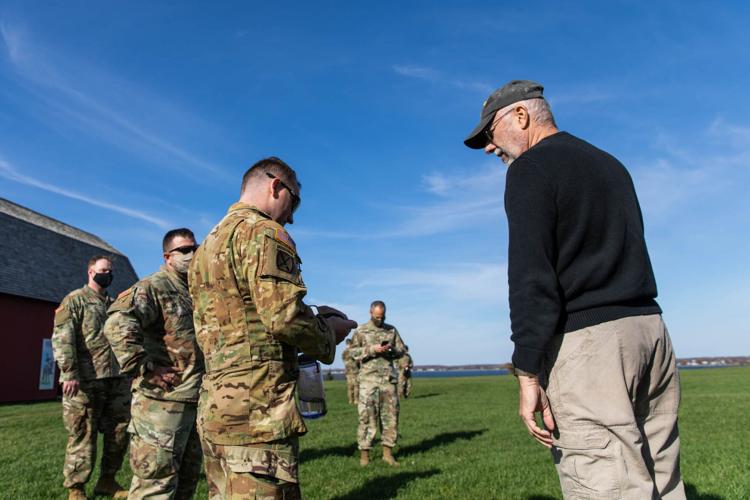 "Fort Drum is an amazing organization, especially the Aviation Brigade," he said. "We'd definitely like to work more with the community and build a partnership and a strong bond."
According to Mr. Nans, after World War I, there wasn't a lot of money for the military, and it was obvious that after fighting World War I, there was a renewed interest in professional development of young officers and leaders within the Army and the Marine Corps.
There happened to be a lot of Civil War battlefields all around the Army War College in Pennsylvania, and Quantico Marine Base in Virginia, so the services would study various battlefields and aspects of the battle, then they would go out to the sites. They'd call it a staff ride because officers during that time period were still on horseback.
They would study every aspect of the battle, looking at terrain, the forces involved, their strengths and weaknesses, and talk about the leadership of the various forces. Then they would review what happened, what their plans were going in, what changed during the battle, how were plans modified and what the results of the battles were.
Today, staff rides are still alive and well, though no longer conducted on horseback.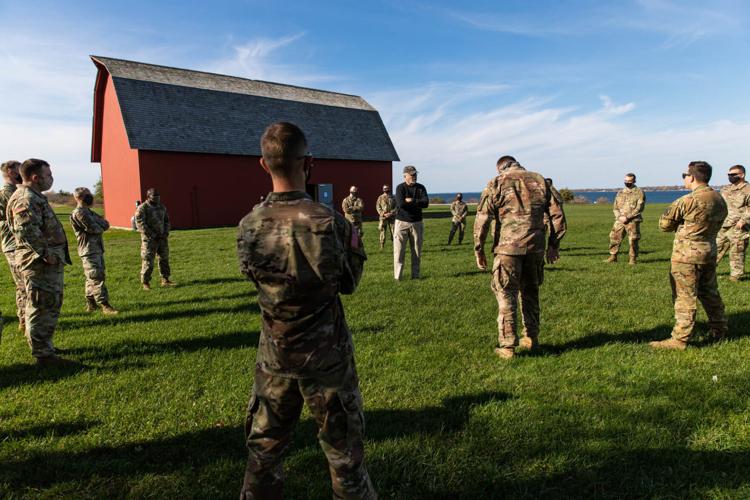 According to Constance B. Barone, site manager of the Sackets Harbor Battlefield, staff rides have been conducted in the area since the 1980s or earlier, but Thursday's event looked a bit different from years past due to the COVID-19 pandemic.
Normally, Mr. Nans would have the soldiers seated in the site's large, red barn for about half an hour to give background on the War of 1812 and put the role of Sackets into context, then a walk would begin to the Horse Island Landing and back. This time, a brief overview was given to the masked soldiers outside of the barn, which served as a storeroom for their rucks as they went about their tour, and further information was given as the tour was being conducted, keeping everyone from crowding into a room together and allowing for social distancing outside.
Maj. Matthew R. Stockton of the 3-10 GSAB noted Thursday's group consisted of almost the whole battalion command team.
"We're just returning from deployment," Maj. Stockton said. "We're really looking to rebuild and rekindle the partnerships and the relationships with the communities that make Fort Drum strong, and Sackets Harbor is one of those."
As the soldiers were coming into the village, they were happily surprised to not have to explain themselves, instead receiving honks, waves and even a few salutes as they continued their journey. Following the staff ride, the soldiers stopped for lunch at Sackets Harbor Brewing Company before re-tracing their route back to Westcott Beach to be picked up by an Army Chinook helicopter.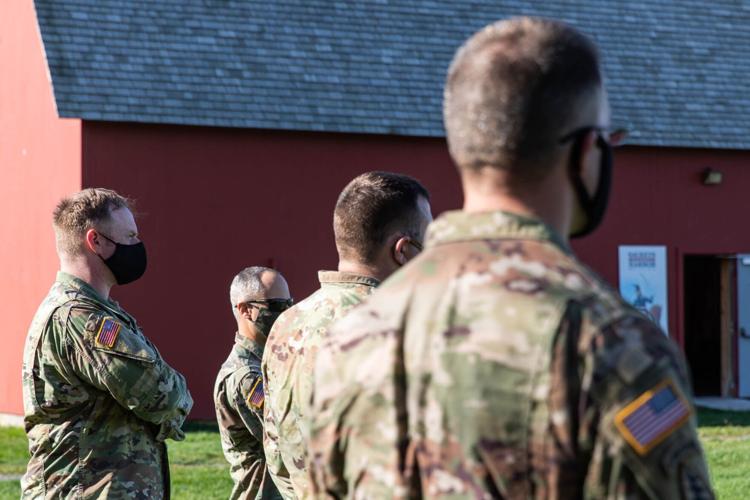 According to Captain Veronica B. Bean, a public affairs officer, rucking is a regular occurrence on Thursdays at Fort Drum, so the GSAB decided to continue it as an added element to the day's events, a throwback to the days when soldiers would march from Fort Drum, which at the time was known as Camp Pine, to Madison Barracks for training.
"It's so important to understand our history in order to solve complex future problems," she said. "When we do these, we're preparing for future battles by understanding the way we used to think, how that's evolved, and that helps us solve those more complex problems.
"The 10th CAB has been gone on deployment for so long, it's kind of nice to reintegrate ourselves into the Sackets Harbor community. We have a lot of soldiers who live here with their families. We're very grateful for Sackets Harbor for allowing us this opportunity," she added.