CANTON — They ornamented every wall, were layered in display cases and were adorned on culinary treats — squared pizza, cakes and cookies, decorated with geometric style.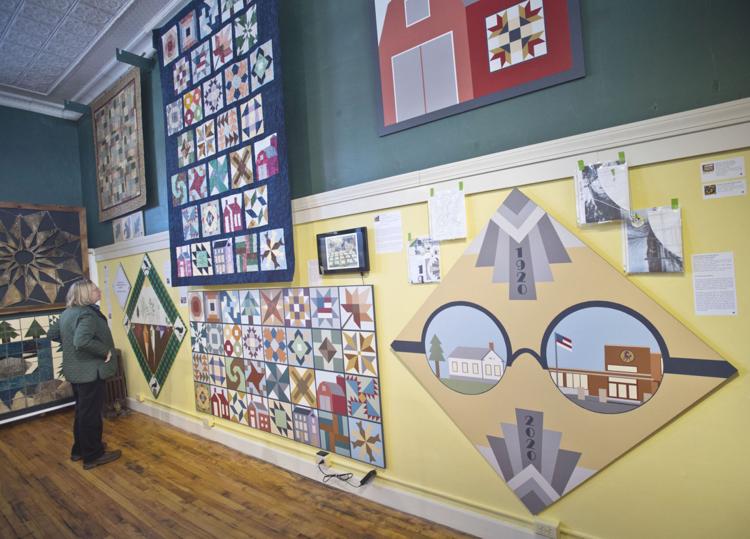 More than 100 people gathered Saturday afternoon at Traditional Arts in Upstate New York, 53 Main St., for the opening reception of TAUNY's 2020 main exhibit, St. Lawrence County Barn Quilts, which will be open through Oct. 24.
Featuring more than 60 pieces — traditional barn quilts, contemporary interpretations and barn-quilt inspired furniture — the exhibit celebrates the county's growing barn quilt scene through a Regional Economic Development Council Grant from the New York State Council on the Arts.
Andrew Edwards, a graduate of Colton-Pierrepont High School and now a first-year student at Carleton University, Ottawa, traveled home from school for the opening reception.
Mr. Edwards worked with TAUNY board member and exhibit co-curator Ruth McWilliams over the last year on barn quilt projects before he decided to create a barn quilt in honor of his grandparents, and it would be a surprise.
While his grandparents were traveling out of the state, Mr. Edwards got to work.
"I said, 'Let's just do it,'" he recalled telling himself.
After three hours, he had sketched a barn quilt design, featuring maple leaves for his family's Canadian heritage, local pines and rivers and hockey sticks with his grandfather's alma mater colors from St. Lawrence University.
The painting of the quilt took about 30 hours, he said, and now hangs on the side of his grandparents' Colton home.
"They absolutely loved it," Mr. Edwards said.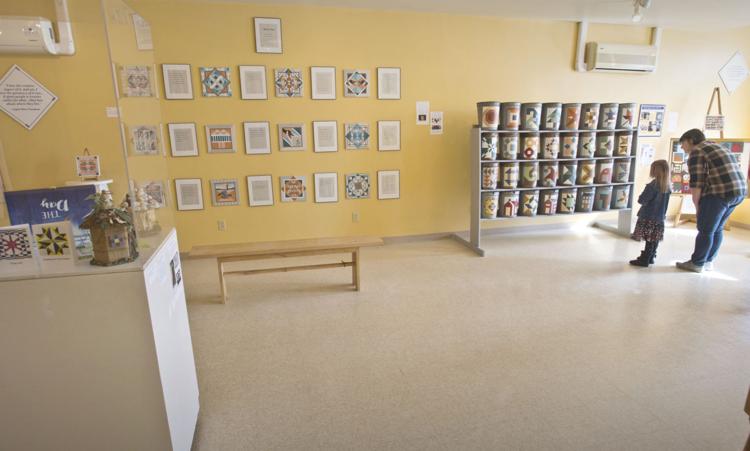 Dedicating hours to the design, painting and overall creative production of barn quilts is common, with many artists taking a conventional approach by sketching and priming the often wooden surface, then using tape to outline and grid the design before moving forward with paint.
And other pieces are painted on unconventional materials, like trays or sap buckets.
Shelli Prespare-Weston, Pierrepont, took inspiration from the county barn quilt mural, a quilt designed for each town in the county in 2019. Designed by Ms. McWilliams and painted by more than 20 volunteers, the mural took a new form with Ms. Prespare-Weston's sap bucket piece, each of the 32 buckets painted with a town barn quilt.
The Barn Quilt exhibit grew out of some local interest in barn quilts around 2015, co-curator and TAUNY Director of Research and Planning Camilla Ammirati said. By the spring of 2019, TAUNY had launched its Barn Quilt Tourism Project with programs across the county, including barn quilt tours, barn quilt studio workshops and the development of an online map of county barn quilts accompanied by stories.
Support for the Tourism Project was provided by the county Chamber of Commerce, the county Arts Council, the Hammond Barn Quilt Trail Committee and the town of Colton Tourism and Community Beautification Committee, among several other community partners.
Programs associated with the Barn Quilts exhibit include workshops in March and several three-day classes in the coming months. More information can be found online at tauny.org.