WATERTOWN — Stacks of bound copies of 1969 issues of the Watertown Daily Times have yet to settle back into their places at the paper's library after they acted as a launching pad for a new commemorative publication published by Northern New York Newspaper Corp.
It's as if the whirlwind year that was 1969 returned to the library and swirled things into disarray. But the books acted as a starting point and provided inspiration for the special publication, "1969: From the North Country and Beyond."
Providing research for the publication was Times' archive librarian Kelly C. Burdick and features editor Christina Knott, who also designed the publication.
"Kelly literally looked through every single day of every newspaper published by the Watertown Daily Times in 1969," Ms. Knott said.
"That's why all the bound volumes are dotted throughout here, because I still have to refer back to them," Mrs. Burdick said. "I didn't want to miss any big local stories that happened. And there are some stories that don't seem very well known about."
The big stories from the momentous year of 1969 are well known. There was the first moon landing by humans. There was Woodstock and Chappaquiddick. The Manson murders and the Miracle Mets.
But there was much more, including local events. Those events were noted as Mrs. Burdick flipped through the pages of the Times and would not have been found in say, a Google search.
For example, she discovered that notable local buildings were built that year, a local "Woodstock" was in the works and it was the year that the first woman ran for Watertown City Council. It was also the year that Watertown Red & Black football team reorganized.
Such local tidbits along with wire stories are mixed throughout "1969: From the North Country and Beyond" with an array of photographs from the Times' files.
Mrs. Burdick jotted down a timeline, which Mrs. Knott translated visually. The timeline runs all through the production.
"I like timelines because visually, they're a good way to see the news and how quickly everything kind of happens and develops," Ms. Knott said. "It's almost like two books in one. You have your stories and pictures, but you also have a literal map of things that happened in 1969."
Ms. Knott and Mrs. Burdick, who began work on the project this past summer, became amazed at the events of 1969 as they further dug into the year.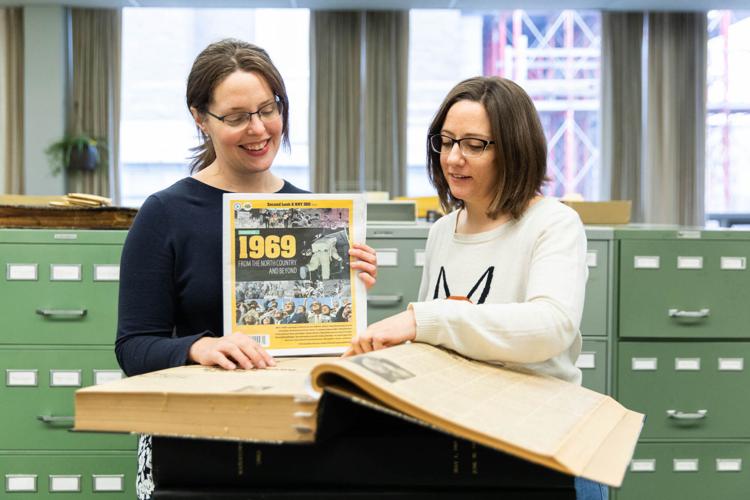 "I was surprised because obviously, when you think of that time period in general, I didn't realize how much of it was contained in one year, sometimes within a single week," Mrs. Knott said.
Mrs. Burdick, who has her pulse on local history through producing the Times' "Looking Backward" feature and other duties, said 1969 appears to have been an especially notable year for Watertown.
"I feel that was the big dividing line between old Watertown and new Watertown," she said. "For somebody our age that didn't know Watertown back then, Watertown, as we know it today, started in 1969."
The book has the markings of a keepsake.
"I think it's something that people can read and go back and read again," Ms. Knott said. "It has a lot of layers of information. It would be very easy to look at it five times and pick it up the sixth time and find something new that you didn't notice before."
"1969: From the North Country and Beyond" follows other successful Northern New York Newspaper Corp. history-related projects, such as 2018 projects commemorating the 80th anniversary of the opening of the Thousand Islands Bridge and the 50th anniversary of the assassination of Robert F. Kennedy. The Times also partnered with history publisher Pediment last year to produce the 136-page "Watertown Memories: A Pictorial History of the Mid-1800s Through the 1930s."
Gary C. Valik, Johnson Newspaper Corp. vice president of sales and marketing, said the publications take advantage of a key resource at the Times.
"We are one of the few newspapers in the country who still has a librarian and one of the few that opens up our library to customers," Mr. Valik said.
He said that a history-related podcast produced at the Times, "Second Look," has also become very popular.
"I've learned that the north country likes their history," Mr. Valik said.
"1969: From the North Country and Beyond," Mr. Valik said, combines the history resources at the Times.
"It's not only 1969, it's a north country perspective," Mr. Valik said.
He added that those perspectives also include newspaper advertisements from 1969. Some of those original ads will be featured side-by-side in new advertisements from companies looking forward to many more years of business.
"1969: From the North Country and Beyond" is a separate publication of the Times and not inserted into papers. It is now available at local stores and at the Times' offices at 260 Washington St., for $4.95.