DEXTER — On Sunday, Dec. 21, 1941, the parents of Navy Seaman 1st Class Lyal Jackson Savage of Pillar Point received a telegram from the Navy. Their son Lyal, the message informed Mr. and Mrs. Roswell Savage, "was missing following action in performance of duty and in the service of his country."
The telegram added, "The department appreciates your great anxiety and will furnish you full information properly when received."
On Friday evening, the remains of Seaman Savage returned home to Dexter, the village where the American Legion post shares his name. The journey home is the result of determined investigators at the Defense POW/MIA Accounting Agency.
"Now 80 years later, we're finally going to honor him," said Dexter mayor and Navy veteran James R. Eves.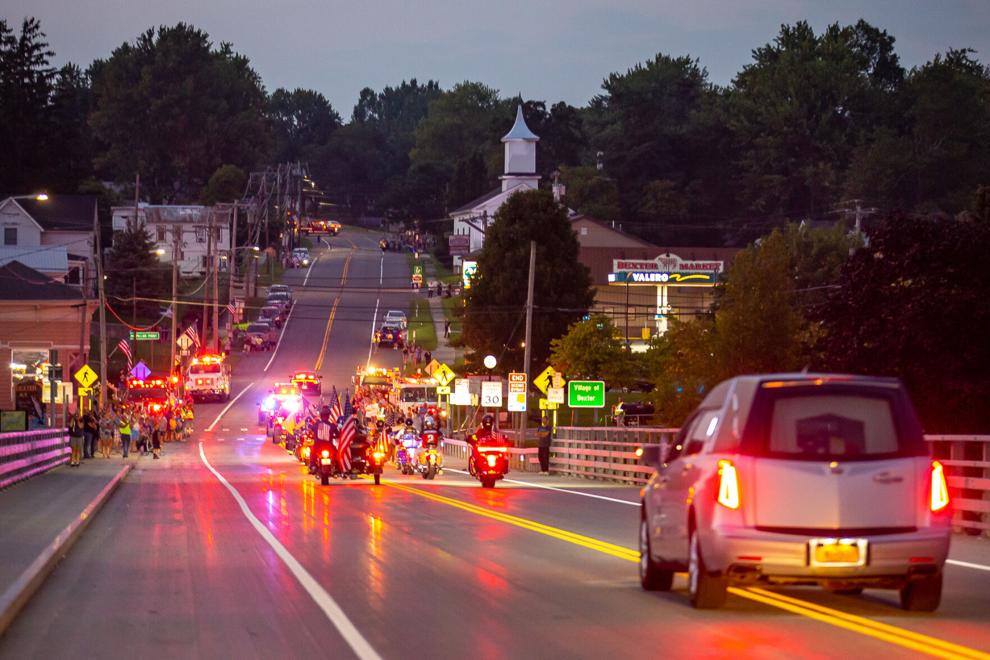 That ceremony to honor Seaman Savage is scheduled for Aug. 21, but his remains, to be cremated, arrived Friday evening at Johnson Funeral Home, 237 William St.
The telegram that snaked its way to Pillar Point on that Dec. 21 day was just one of many received across the country in the days following the Dec. 7, 1941, attack on Pearl Harbor, where 2,400 Americans lost their lives and brought the United States into World War II.
Among those casualties were three from the north country. In addition to Seaman Savage, 19, of the USS Oklahoma, two other sailors from the area and serving aboard the USS Arizona lost their lives: Seaman First Class George E. Phelps, 19, of Henderson and Pharmacist's Mate First Class Silas A. Wainwright, 26, of Gouverneur.
The USS Oklahoma, launched in 1914 and constructed by New York Shipbuilding Company, was moored at Ford Island, Pearl Harbor, when she was attacked by Japanese aircraft. After at least nine torpedo hits, and much of her port side torn open, it didn't take long for the ship to capsize. Many of the sailors who became trapped in the upturned hull were later cut free. The attack resulted in the deaths of 429 sailors and Marines, including Seaman Savage.
Navy personnel recovered the remains of the deceased crew, which were subsequently interred in the Halawa and Nu'uanu Cemeteries in Hawaii.
The ship itself was righted and refloated in 1943. According to Naval Heritage and History Command, the project was mainly to clear a key mooring berth and, secondarily, to recover some of Oklahoma's weapons and equipment. USS Oklahoma was decommissioned in 1944. She sank in May of 1947 during a storm while under tow from Hawaii to the west coast.
At Ford Island, there is a National Park Service memorial to the USS Oklahoma and the sailors and marines lost aboard it.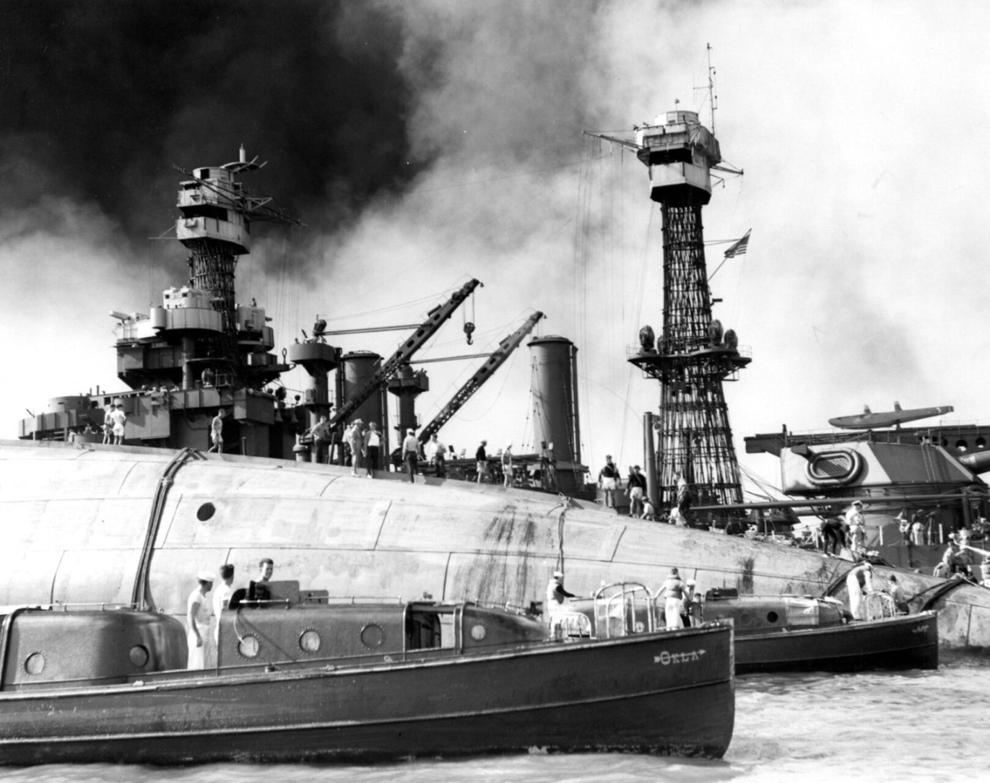 Identifying the unknown
In September 1947, tasked with recovering and identifying fallen U.S. personnel in the Pacific Theater, members of the American Graves Registration Service disinterred the remains of
U.S. casualties from the two cemeteries where USS Oklahoma crewmen were buried and transferred them to the Central Identification Laboratory at Schofield Barracks in Honolulu.
The laboratory staff was only able to confirm the identifications of 35 men from the USS Oklahoma at that time. The AGRS subsequently buried the unidentified remains in 46 plots at the National Memorial Cemetery of the Pacific, known as the Punchbowl, in Honolulu.
In October 1949, a military board classified those who could not be identified as non-recoverable — among them, Seaman Savage.
But working with new science and technology, between June and November 2015, DPAA personnel exhumed the USS Oklahoma unknowns from the Punchbowl for analysis. To identify Seaman Savage's remains, scientists from DPAA used dental and anthropological analysis.
Additionally, scientists from the Armed Forces Medical Examiner System used mitochondrial DNA, Y-chromosome DNA and autosomal DNA analysis.
Seaman Savage's name is recorded on the Walls of the Missing at the Punchbowl, along with the others who are still missing from World War II. A rosette will be placed next to his name to indicate he has been accounted for.
Mr. Eves, who served in the Navy from 1965 to 1971, said that Seaman Savage's brothers, Karl A. and Robert K. Savage, both of the Dexter area, were key to identifying his remains. Karl died in 2014 and Robert died in 2017.
"When they got the call asking for DNA, after 75 or 76 years, it was a shock," he said. "The whole family through the years, has been part of this community."
On Friday evening, Seaman Savage's remains arrived at Johnson Funeral Home after being received earlier in the day at Greater Rochester Airport. Johnson Funeral Home owner Jill Bruce Wiley said she has been working with Navy Mortuary Services during the process.
"It's such an honor, obviously, for Lyal Savage to be brought home," Ms. Wiley said. "It's an honor for the family and an honor for our community."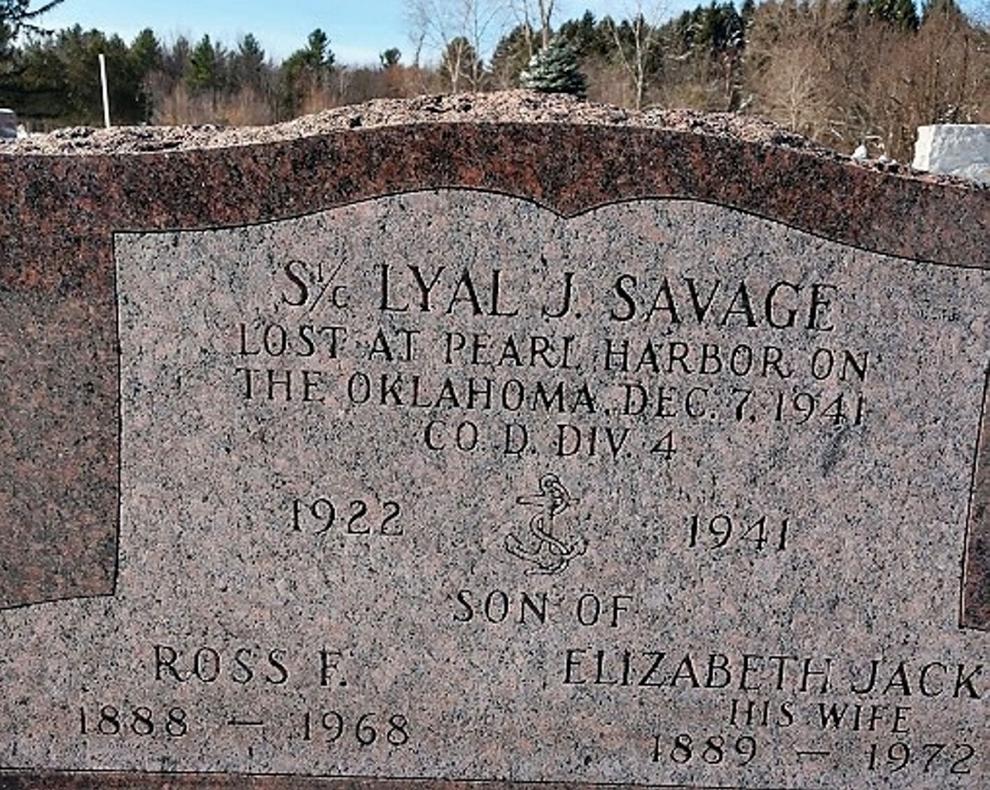 To rest next to parents
Lyal was one of seven children of Roswell Flower Savage and Elizabeth Reed Jackson, who are buried at Dexter Cemetery. On Saturday, Aug. 21, Lyal's remains will be buried near his parents.
"They never thought Lyal's remains would be coming home," said David Ross Bloom, son of Jean Bloom, 96, of Phoenix, Ariz. Jean is Lyal's only surviving sibling.
Mr. Bloom, also of Phoenix, is a nephew of Lyal Savage. He said his mom has some memories of her and Lyal playing at the Pillar Point family farm.
"It's hard to get her to talk about it anymore," Mr. Bloom said.
But the day the telegram about Lyal was received is etched in her mind.
"She does tell me about coming home and seeing her mother and father in the house in tears after getting the news," he said.
Lyal, Mr. Bloom said, enlisted in the service on July 29, 1940 — one day after his 18th birthday. He reported for duty aboard the USS Oklahoma on Oct. 12, 1940 and the ship arrived at Pearl Harbor on Dec. 6, 1940.
Mr. Bloom, his mom's power of attorney, has been designated Person Authorized to Direct Disposition of Human Remains by the military.
"Since they didn't expect to have Lyal returned, they had his name placed on their headstone where they're buried in Dexter," Mr. Bloom said of Lyal's parents. "In order to place Lyal at that spot with his parents, we're having the remains cremated because there's no room for burial of a full casket with them."
Mr. Bloom, speaking from Phoenix, said that because of his mother's age, combined with the renewed spread of COVID-19 and the coronavirus delta variant, they won't be making the trip east for the Aug. 21 ceremony, where Seaman Savage's remains will be ceremoniously buried with full military honors.
At that funeral ceremony, Mr. Bloom said that instead of his mom, the ceremonial American flag will be presented to another nephew — Vietnam veteran Lyal Edgarton of Fulton.
"It's our wish that everybody attending does everything possible to attend safely," Mr. Bloom said. "The last thing our family wants, our Lyal would want, would be for somebody to get sick and deathly ill at the ceremony after 80 years. He died a patriot defending our rights and our freedoms. I think the last thing he would want would be to know anybody got sick because of a ceremony around him."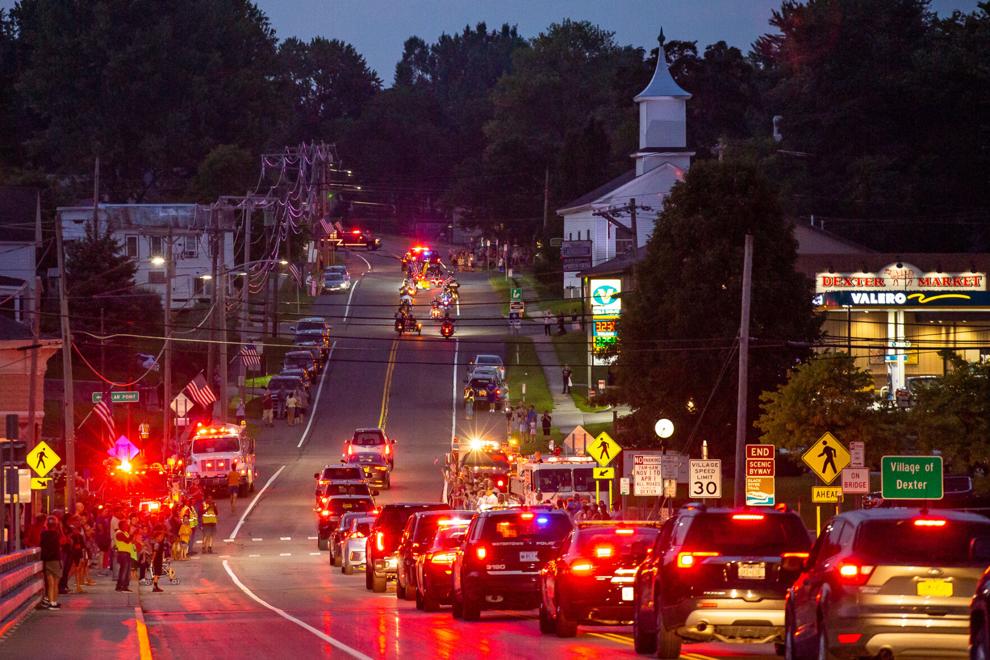 No 'greater love'
The Aug. 21 procession will leave Johnson Funeral Home at 1 p.m. and head down William Street to Canal Street, right on to Brown Street/Route 180, right on to East Grove Street then left along Cemetery Road to the entrance of the Dexter Cemetery. Village officials have urged hometown residents to line the procession route in Lyal's honor.
Two funeral services will be held at the cemetery; a public one, followed by a private, family funeral.
Officiating will be the Leon I. VanWie, Jefferson County fire chaplain and retired senior pastor at Asbury United Methodist Church. Mr. VanWie said he's not sure of what Bible passages he'll read from at the services, but mentioned one from the Scripture of John as one he'll likely include: "Greater love hath no man than this, that a man lay down his life for his friends."
"To me, it's looking at the big picture," Mr. VanWie said. "My dad was a World War II veteran. So a lot of heart strings are being pulled when you think about World War II. That whole generation is quickly coming to an end because they're aging out. To look around for people to share some memories just don't exist."
The whole experience, Mr. Bloom said, from getting word of the identification of Lyal's remains to reaching their final resting spot in Dexter, next to his parents, has been "bittersweet."
"Speaking for myself, being born and never having to meet Lyal, I kind of always felt robbed," he said. "His brothers, Karl and Bob, were always so kind and quite influential in my upbringing. I grew up in Syracuse and we spent summers on the farm at Pillar Point with my grandparents. I always felt something was missing. But I've also been extremely proud to be able to bring him home."
Due to a reporter's error, an earlier version of this story contained an incorrect middle name for Seaman Savage.
Times archive librarian Kelly Burdick contributed to this report.