ALEXANDRIA BAY — The postcards, historic snapshots of the Thousand Islands area, sat in Frederick H. (Frtitz) Hager's Wellesley Island basement for two decades — a treasure trove of river history entombed and hidden away in steel boxes.
Mr. Hager inherited the postcards from his grandfather, Bronson A. Quackenbush, who died in 1996 at the age of 89. Mr. Quackenbush's hobby of collecting postcards focused like a laser on one subject: the Gilded Age of the Thousand Islands, when America's wealthiest flocked to the area for rest, relaxation and to reap their successes by building grand homes and castles.
Mr. Quackenbush acquired about 3,200 postcards, with only a few duplicates. Postcard experts told Mr. Hager that it was an astonishing collection, considering that all the cards focused on one topic and one period of history.
In 2009, Mr. Hager donated the collection to the Antique Boat Museum in Clayton, where he served as executive director from January, 2012 to September of 2015. But in the back of his mind he had a notion: "That one of these days, I'll get that postcard collection out to the light of day and publish a book," he said.
The first book about the collection, "Postcards of the Thousand Islands," was published in 2009 by Arcadia Publishing, with "author" credit going to the Antique Boat Museum.
Now, Mr. Hager's postcards have embarked on a project of a more grand scale: the basis of a self-guided circumnavigation of Wellesley Island, featuring 122 points of interest, a brief description of each and antique postcards or period photographs from the Gilded Age in the Thousand Islands acting as enlightened tour guides.
"The Thousand Islands: 101 Points of Interest ... And Then Some" was co-authored by Mr. Hager and Judy Dickinson Keeler, historian at the Alexandria Township Historical Society.
"I'd had the book in my mind for some 40 years in one shape or another," Mr. Hager said. "I contacted Judy and she was the most enthusiastic of the local historians I talked to. I said, 'I need some help. I don't have time to dig through all this.'"
Mrs. Keeler, a retired speech therapist and school teacher, is used to digging through historical documents. She spent hours at the county clerk's office and other places for two editions of the book, "Meandering Among the Islands," co-authored by Daniel Miller. The first edition of the book, published in 2014 by the ATHS, was produced in conjunction with a "Search Light Tour'' the society hosted. The first edition's 500 copies sold out. The revised second edition, with additional research, was published last year.
The "prototype" for the "Meandering" books were booklets written in the late 19th century by George Rockwell (1821-1897) for Capt. Visger's scenic tours aboard the New Island Wanderer.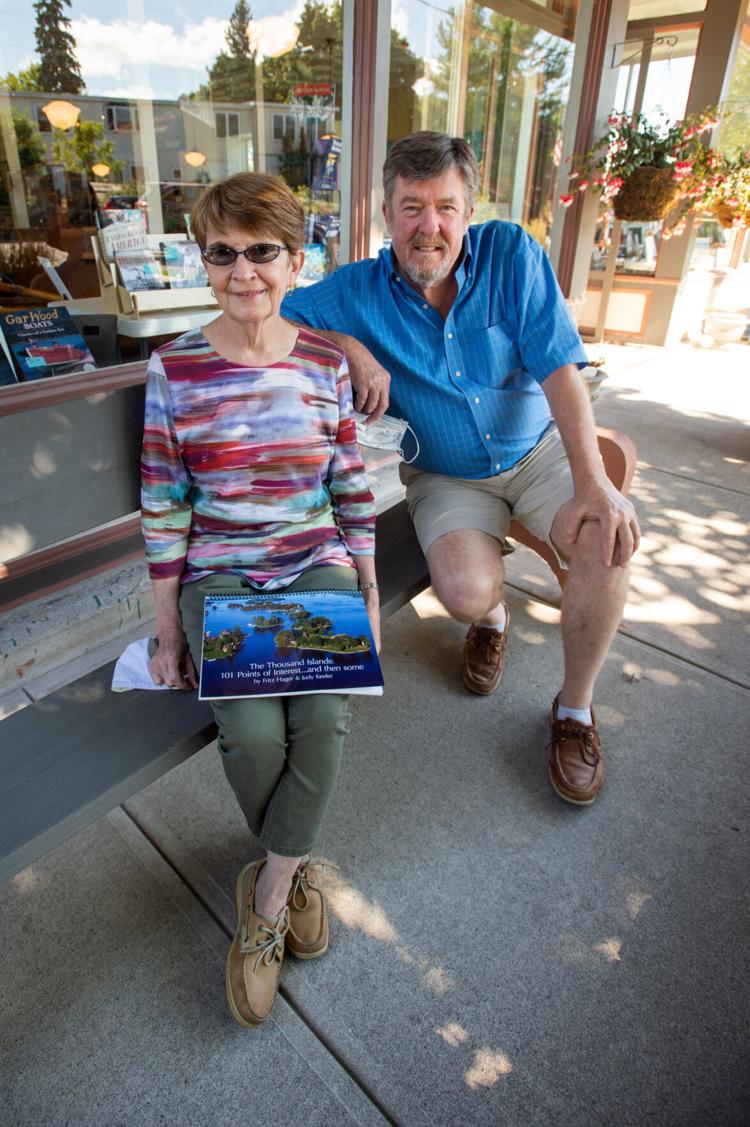 Mr. Hager's original plan was to produce a publication for use by attendees of the Antique & Classic Boat Society convention held last year in Alexandria Bay. Mr. Hager is president of the Thousand Islands chapter of the society.
"As we were producing that in the spring and summer of 2019, we realized this is something that would have widespread interest," Mr. Hager said.
The booklet published for the convention became the 86-page "The Thousand Islands ... 101 Points of Interest and Then Some."
Mrs. Keeler's work, Mr. Hager said, was a boon for the project.
"I don't exaggerate. I think she's one of the preeminent historians in the Thousand Islands today," he said.
"Points of Interest" is meant to be a companion book used with "Meandering Among the Islands." The image captions in the "Points of Interest" book are limited by space and more precise and comprehensive histories can be found in the "Meandering" book.
There are about 140 images in "Points of Interest." Nearly all are postcards, but it also includes photographs from the collection of the ATHS.
The highlighted points of interest in the book circumnavigate Wellesley Island. The 11-by-8½-inch book has a water-resistant cover and is spiral-bound with maps on the top pages, which refer to related postcards or photos on the bottom pages.
"It's something that everybody should take out when they go out in their boat," Mr. Hager said. "Whether you're a year-round river rat, a summer cottage owner or a person who keeps their boat in one of the many marinas, we've all been out there on the river and at times wondered, 'What's that place over there?' or 'What is that place's history?'"
The book is also useful in busting some myths. For example, the 32-foot long bridge at Zavikan Island is not the shortest international bridge in the world. The island is entirely in Canadian waters. The 10½-foot long El Marco bridge, between Spain and Portugal, is apparently the shortest.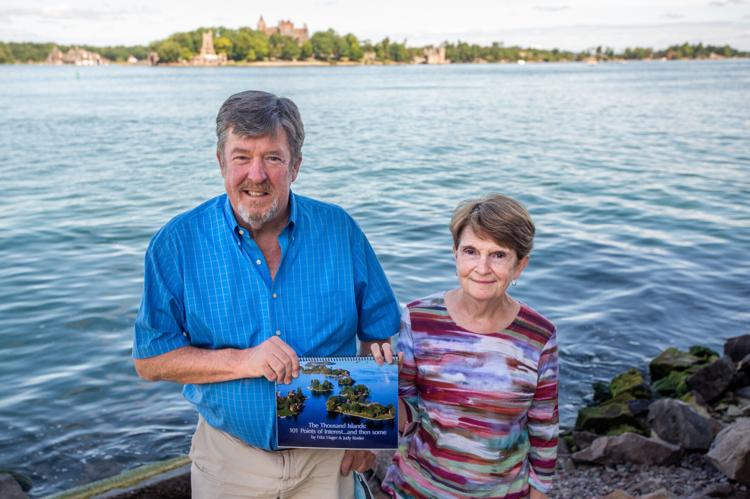 "We had some fun putting the book together and giving boaters something to take along and to learn something and to be able to explain things," Mr. Hager said.
"A lot of things have been taken for granted that aren't true," Mrs. Keeler said. "That became kind of a quest — a passion to find the real truth."
The rise in popularity of postcards in the 19th century coincided with the increased interest in the Thousand Islands area.
"It was the perfect coincidence, because of all the different things to see and natural and man made beauty," Mr. Hager said. "There were so many subjects, and it was perfect timing as the Thousand Islands was becoming a major tourist destination."
In 1861, Congress passed an act that allowed privately printed cards, weighing 1 ounce or under, to be sent in the mail.
"Before postcards, some people sent cards through the mail with attached postage. Because these cards are not actually postcards, they are typically referred to as 'mailed cards,'" according to Smithsonian Institution Archives. "During this period, envelopes were produced with pictures on them."
"Publicity resulting from a convention reception on Pullman Island in June 1872 and the visit of President Ulysses S. Grant to Pullman Island in August 1872 attracted an influx of visitors and new seasonal residents to the Thousand Islands," Mrs. Keeler wrote in the introduction to "Meandering Among the Islands."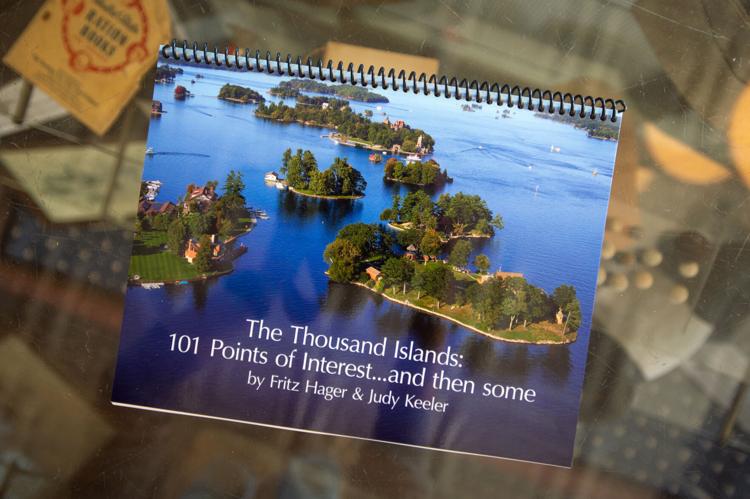 Matthew Macvittie, curator/collections manager at the Antique Boat Museum, said Mr. Quackenbush's donated postcard collection is invaluable.
"It's wonderful to have period images of many of the sites some of our objects no doubt visited and interacted with," he said. "I do believe at least one of our boats, if not more, are actually mentioned on one postcard."
The "Points of Interest" book is selling well at the museum and other locations.
"What people like is that it creates an experience," Mr. Macvittie said. "Many folks are buying the book and then using the maps on their boats to go view the sites of the now gone gilded age hotels and stately homes."
The museum, 750 Mary St., now has many of Mr. Quackenbush's postcards on display for an exhibition in its concourse gallery. The exhibit will remain through the 2021 season.
"It's a nice contrast, that though ties into the museum, attracts some patrons that might be more interested in Thousand Islands history than specifically boating," Mr. Macvittie said.
"The fact that my grandfather had 3,200 cards of one area is something," Mr. Hager said. "I don't think there's 3,200 cards of say, the Central Lakes of Wisconsin or Grand Teton mountains."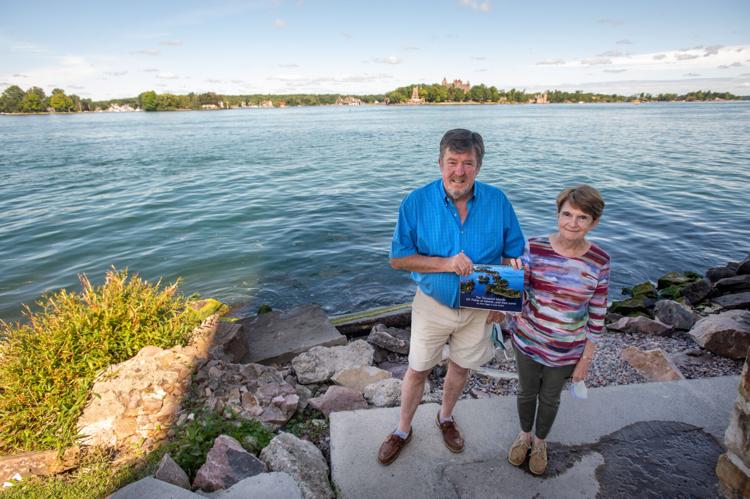 "It's a wonderful collection," Mrs. Keeler said. "It's a treasure to have them all in one place and to have something that was so well organized."
Mr. Hager was asked what his grandfather would think of what has become of his collection and the new book.
"I think he'd be pretty darn happy that all his time and effort went to this," he said. "Now, it's something for everybody. They're beautiful pictures and a spot we love to cruise through. Whether you live here or passing through as a tourist, everybody loves the Thousand Islands and this is something they can really get their arms around."