SANDY CREEK — Gary S. Waterman always wanted to go further and faster on skis, and his experiences in how he literally harnessed that gift inspired him to begin a book about it.
But at age 53 and in the summer of 2000, he could go no further — his final race run at Strong Memorial Hospital in Rochester due to the deadly stopping power of acute myelogenous leukemia.
After a second bone marrow transplant that failed to get the desired results and as he found himself about to be hooked up to a respirator and knowing the consequences, Gary asked his wife, Betsy B. Waterman to do a favor: Would she finish his book on their wonderful life with dogs and the sport of skijoring?
"Of course, I said, 'Yes,'" Mrs. Waterman said. "But my mind wasn't really on at the time. I hadn't read maybe a few words of it that he'd just written on his own. It was something that he seemed to be enjoying. He took notes, he did research."
But Mrs. Waterman and her adventurous spirit eventually prevailed, overcoming something that was at first too painful to consider. But now, nearly 20 years after her husband's death, her "Running Silently" has been published by Simply Pets Books, Seattle. It quickly climbed to the number one spot in the "New Animal Care" and "Pet Essay" categories last fall when it was released.
"Running Silently" documents how a one-dog family became a six-dog family and how the Watermans accidentally discovered the sport of skijoring, in which skiers are towed by dogs. It is also an equestrian sport.
The book is also an instructional manual on caring for active dogs, finding the right ones to skijor with and a primer on the sport itself.
Mr. Waterman was diagnosed with leukemia in 1999 and the book was a way to while away the hours while he was in the hospital. Mrs. Waterman is a New York State licensed psychologist and retired from SUNY Oswego after a nearly 20-year career there. She also worked as a school psychologist for BOCES, mainly in Sandy Creek and Pulaski schools, and once ran a private practice.
The Watermans would often find themselves writing for their different projects in the hospital while Gary was being cared for.
"I was writing some chapters for a book I was editing," Mrs. Waterman said. "We both had our computers, and sometimes we'd just write kind of side-by-side in the hospital."
She started work on "Running Silently" nearly 17 years after her husband's death as she began reading his humorous and poignant accounts of their life with dogs and how they first stumbled across skijoring. The book is broken into two parts. The first several chapters are by Gary. Betsy, relying in his notes, began writing in his voice.
"I wrote in his voice until chapter 11," Mrs. Waterman said. "At that point, he would not have known the dogs' story. But he knew the dogs' stories up to chapter 11."
From chapter 12 to 21, the book is in the voice of Mrs. Waterman.
Leo the lively
The Watermans' diversion to dogs and skijoring all began with a Belgian sheep dog, Leo, born in 1986, a "bright, lively and a little mischievous" critter. His love of skijoring was discovered by accident.
But to skijor, one has to learn to cross-country ski first. For the Watermans, that hobby came late in life, despite living near Winona Forest, a mecca for such outside pursuits.
The first time the Watermans skied, it was at the invitation of friends, on borrowed equipment, no dogs in the mix. It was love at first swish.
"I really like the outdoors," Mrs. Waterman said. "Gary always saw himself as more of a couch potato. But once he tried skiing, it was like it was in his soul."
They ended up purchasing their own skis and made trips to Winona Forest.
"Gary always wanted to go further," Mrs. Waterman said. "He trained to ski so he could be in good shape."
But he would worry about leaving his wife behind. That's when they turned to Leo.
"We were just going to take him along with us, and as soon as we got on the trail, he started running and pulling me," Mrs. Waterman said. "Both the dog and I discovered we loved it, and I could go as far as I wanted, then."
Also, with Betsy's new power boost, Gary didn't have to worry about leaving his wife behind.
They had no clue that what Mrs. Waterman and Leo were doing was an actual sport. Gary also took it up.
"The original setup makes me cringe," Mrs. Waterman said. "Leo just had a regular collar and a leash that I attached to it, so he was pulling with his neck, which you don't want him to do. But I didn't expect him to do that. Rather quickly, we knew we wanted to get that off his neck."
They went to the Agway store in Pulaski, seeking a solution.
"We got two different kind of harnesses, and the one we finally settled on, but still wasn't great, was one where we rigged it up so I could use my poles at least some of the time and put no pressure on Leo's neck."
The couple skijored like that for nine years, not knowing there was sport-specific equipment available.
Mr. Waterman wrote about the revelation that skijoring was a sport on page 16, when his wife "encountered a stranger on the trail who said, 'Wow — you're skijoring!' Betsy nodded yes and then went home to search for what the woman meant."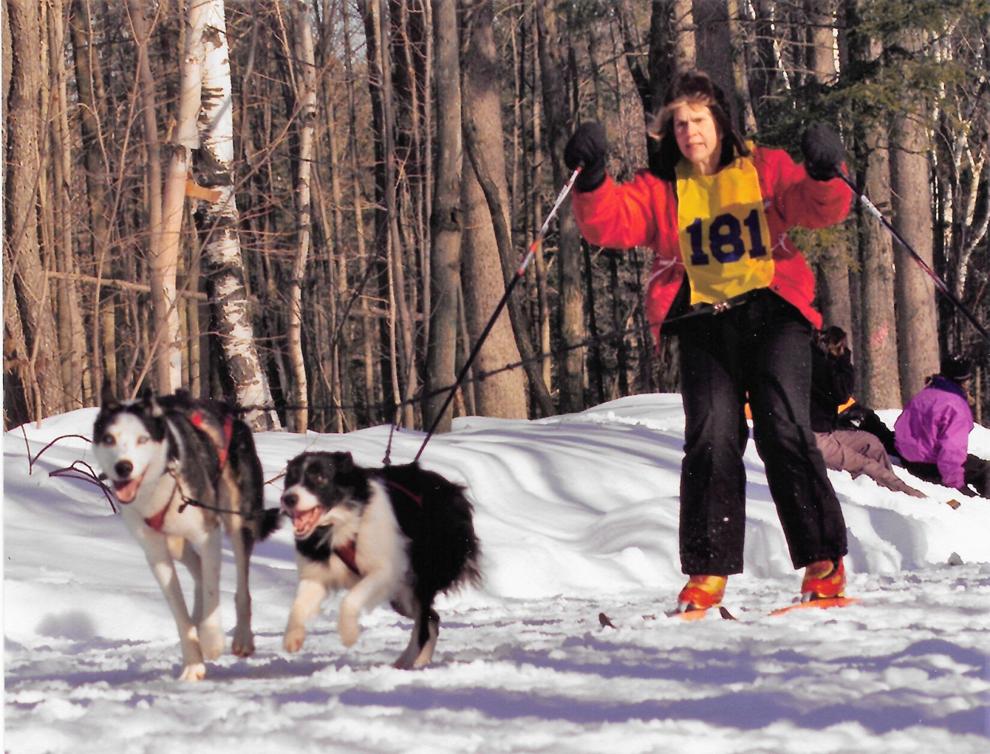 Mr. Waterman then purchased the book, "Skijor With Your Dog" by Mari Hoe-Raitto for his wife and they sought out the correct equipment. They fell further in love with the sport.
"First of all, the dog is delighted," Mrs. Waterman said. "You're outside and it's gorgeous. And you're moving silently along the trail. It's kind of like a private moment, and a connective moment, because you're connected to your dogs. It was exhilarating. I do miss that feeling."
She especially misses the excitement shown by her dogs. It was contagious.
"Even before we knew what we were doing, as soon as I would hook a dog up, Leo first, then our borders (collies) and huskies, they were so excited to get going as soon as you give them the command. They just launch into running and you're just there with them."
Feeling some need to express her appreciation, Mrs. Waterman often thanked her dogs for the experience.
"But in truth, I don't even know how much they knew I was back there. They were just going," she said.
Dog management 101
In the book, Mrs. Waterman explains the origins and explores the personalities of the six dogs she and her husband would procure from various sources. The dogs: Ichabod, Gracie, Sierra, Neeka, Bayley, Casper and Spirit. Some of the dogs took right to the sport, others needed encouragement.
"In my world, at least, you don't make a dog pull," Mrs. Waterman said. "A dog pulls if they want to, and if they don't, you don't go anywhere."
She explains how dogs were lost, escaped, shot, got sick and had moody bouts. All of them were relatively young when Mr. Waterman died.
"They all had such unique personalities," Mrs. Waterman said. "The borders were actually pretty easy to manage. The huskies were delightful in their independence. They would do what you wanted them to do if they kind of felt like it. They were so happy-go-lucky."
Mrs. Waterman continued to skijor after Gary's death.
"I was really into racing at that point," she said. "The dogs wanted to do it. It was good for me to do it and my granddaughter and a friend's son got involved and they ran some dogs with me."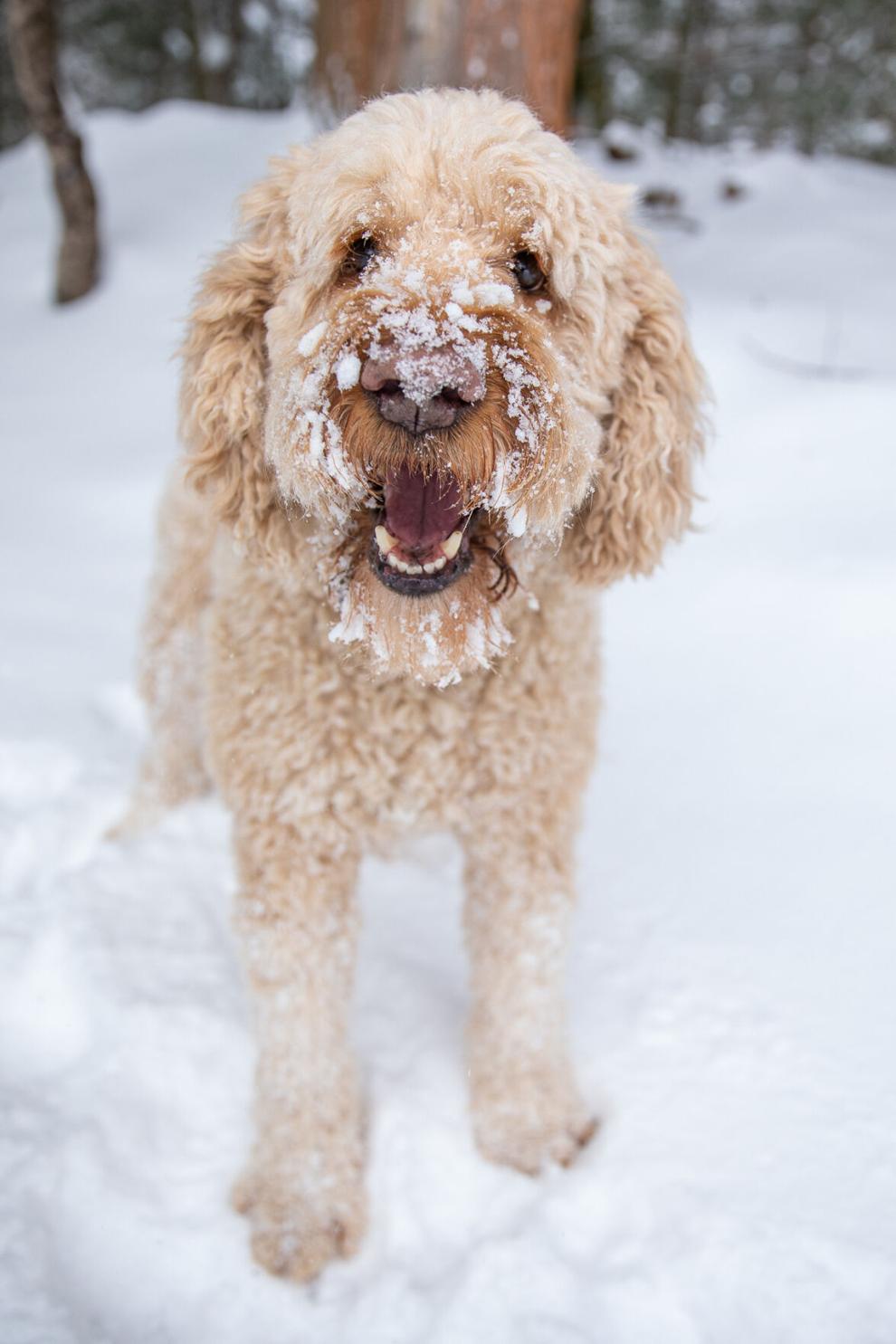 The biggest management issue with their dogs the Watermans came across involved feeding time, and how Neeka, a red husky, threw a wrench into meal times.
"She wouldn't let the others eat if she was anywhere near them," Mrs. Waterman said. "She'd take away their food and guard the food. We had to have them all in a different room for eating. I can't even remember how we did this, but they learned very quickly which room was theirs. They'd run in from the fenced area and go into their separate rooms for their food. And then, we'd stack up the bowls and they'd all come into the bedroom and sleep with us. It was all quite a cohesive group."
A cooperative community
"Running Silently" also explores the human bond with other skijorers that the couple, especially Mrs. Waterman experienced over the years at races and on the trails. It's been about a dozen years since she has raced, but Mrs. Waterman occasionally takes in a race at Winona as a spectator.
"There's still people who remember me," she said. "When you are racing, everybody helps everybody else. There's always someone there to hang on to your dog and to get them to the start line. Everybody cheers for everybody else. In my experience, it was less competitive and more cooperative."
Mrs. Waterman trained hard in her racing years, and in the warmer months, she trained her dogs and herself by having them pull her on a bicycle or later, while in a cart. In the book, she recounts one nasty crash when her dogs were hooked up to her bicycle. It was during one of her husband's hospital stays, and she was in pain for months.
"I had a lot of falls that were hurtful, but didn't do permanent damage," she said. "That fall, when I went over the handle bars and landed kind of on the bike as well as the ground, made me realize I shouldn't be out there alone with powerful dogs on a bicycle."
She ended up ordering a special scooter from Australia.
"That was a much safer way to train my dogs in the off season," she said.
Murphy, the reluctant puller
Mrs. Waterman still lives on the 40 acres just outside the village of Sandy Creek where she and Gary first settled, although now in a different and much smaller house — a cabin that sits closer to the road. In retirement she works on improving her photography skills and has learned to play the harp.
Mrs. Waterman lives with Gary Cranfield, also of Fair Haven. The two friends decided to ride out the pandemic together in the same home.
They share the Hadley Road property with three Australian Black Orpington hens.
"They have kindly shared their eggs with us throughout the pandemic," Mrs. Waterman said.
There is also a cat, named Mystery, because her origins are unknown. "She showed up at my house one frigid winter."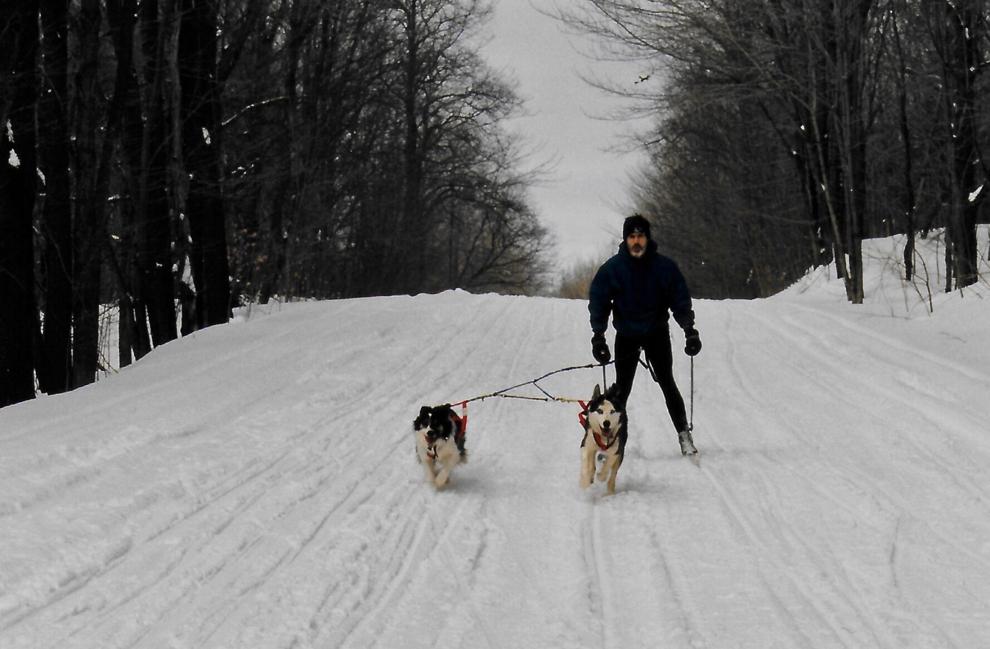 Her friend's dog, Peach, a partially deaf and blind 16-year-old miniature poodle, also leisurely roams on the property.
There is also her "crazy smart" and perky 8-year-old Goldendoodle, Murphy.
Mrs. Waterman skis recreationally and still has her skijoring equipment. She once hooked up Murphy to the rig.
The dog didn't quite know what to make of the situation.
"He very politely trotted alongside me, instead of pulling me," Mrs. Waterman said. "I said, 'No, no. You can run like crazy! Pull!'
"I think he doesn't realize he can pull me. Once dogs realize that, they really get going. I may have to hook him up to a dog that has already learned, that if you start running with a person on skiis, it's pretty easy to pull them. So, I might try that at some point. I'm a little worried about my body — a little more worried at 74 than I was at 50."