RENSSELAER FALLS — At 16, Robert "Bob" G. Poor joined Rensselaer Falls Fire and Rescue with a few of his friends, serving with his father, a former chief and active member himself, the late Clifford Poor.
Now 65 years later, Bob Poor continues to serve as an active member of the department — just last weekend, he climbed up to a hayloft, forking out hay from a barn ablaze near Crary Mills, his daughter Susan Huntley said.
"It's been amazing over the years," Mr. Poor said at a surprise recognition ceremony Saturday morning in the village. "I've been at it a long time."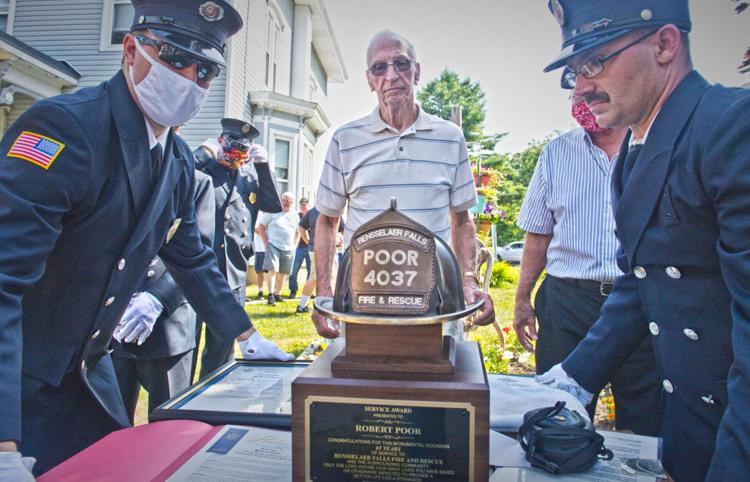 About 20 vehicles — a mix of fire engines, rescue vans and personal cars adorned with congratulatory signs — stealthily paraded from the fire station, 424 Rensselaer St., eventually along County Route 15 southeast of the village to Mr. Poor's Front Street residence, where fire and rescue personnel presented him awards for his 65 years of service.
Mr. Poor received certificates of recognition from state Sen. Patricia A. Ritchie, R-Heuvelton, state Assemblyman Mark C. Walczyk, R-Watertown, the state Office of Fire Prevention and Control, the village of Rensselaer Falls and a service award from Rensselaer Falls Fire and Rescue.
His service award, featuring a fire hat displayed on an end-table-sized wooden platform, reads "Only the Lord knows how many lives you have saved or otherwise impacted to provide a better life for a stranger."
Mr. Poor's recognition was originally scheduled for March at the annual fire banquet, which was canceled due to the ongoing COVID-19 pandemic.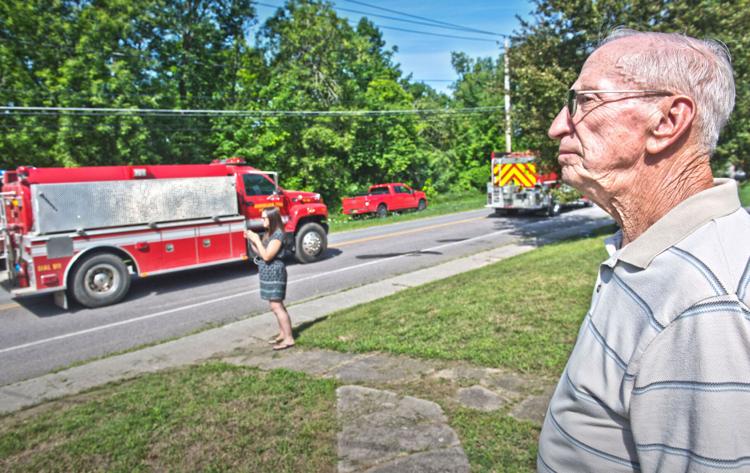 Family members and neighbors had already gathered outside the residence Saturday morning, taking photographs with Mr. Poor's granddaughter Mullen Gordon, a 2020 Canton Central graduate, "as a ploy" to convene at the house, Ms. Huntley said.
Led by a restored, original 1940s engine No. 1, the processing vehicles sounded sirens and horns as they approached the Poors' front yard.
Four of Mr. Poor's five children, his wife Betty, several grandchildren and friends celebrated the man described by village Mayor Michael S. Hammond as a "community pillar."
"His dedication and service to the community is like no other," Mr. Hammond told the Times. "He's an incredible example for others."
Founded in 1925, the village fire department has evolved over nearly 100 years, ordering engine No. 1 during World War II and adding ambulance services in the 1980s, Mr. Poor said.
With the department's growth, Mr. Poor has grown, too, family and friends said Saturday. Rising from firefighter, to secretary, to fire chief, calling BINGO at the fire hall for 25 years, and to his current position as buildings and grounds keeper with Alton Rayburn, Mr. Poor has become a go-to resource for the department.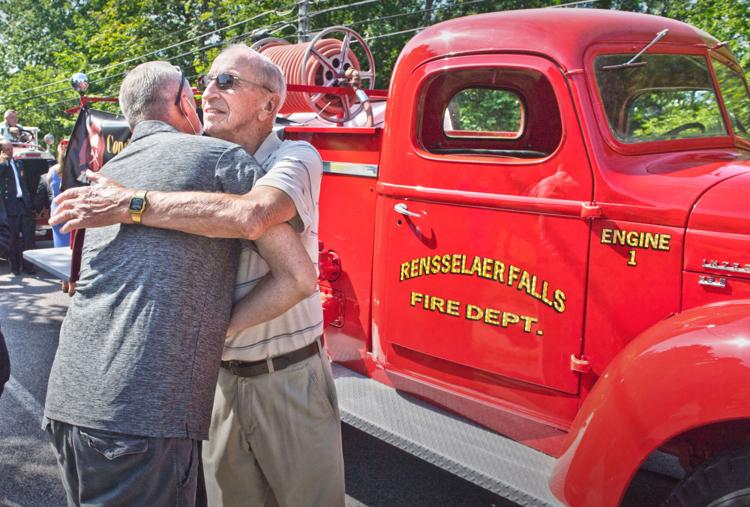 Over his more than six decades, Mr. Poor has responded to severe and devastating fires in the village and surrounding areas, and he distinctly remembers the North American Ice Storm of 1998 that killed a few dozen Canadians and Americans in the northeastern United States and left millions without power for weeks. Rensselaer Falls crews slept at the station 24/7 during the week-long storm and its aftermath, he said, providing constant aid to the community.
"His interest in the fire department has never wavered," Betty, Mr. Poor's wife of 55 years, said outside their longtime home. "His involvement in other organizations has come and gone, but he's always been at the fire department."
Though Mr. Poor is unsure how long he'll be an active member of the village fire and rescue squads, as long as he stays healthy, he said "I'll continue."