GOUVERNEUR — At the stroke of 4:10 p.m. Saturday, a 472-pound pumpkin fell from the sky.
From the hollowed pumpkin's flesh, more than 700 numbered golf balls rolled across a grassy meadow at the Gouverneur & St. Lawrence County Fairgrounds. A crane raised the pumpkin — weighing more than 600 pounds with water and golf balls — about 80 feet.
The farthest-landing golf ball secured the winning-ticket holder, Courtney L. Matice, $500.
The Great Pumpkin Drop closed the 2020 Gouverneur Pumpkin Festival, this year a one-day event for dozens of north country growers to enter pumpkins in youth and adult weight contests. Vehicles lined the fair grounds, and masked shoppers browsed local wares from outdoor vendors in Saturday's sun.
The dropped pumpkin, entered by Gouverneur & St. Lawrence County Fair board member Lyle R. Hotis, made the top five in the adult division, but the No. 1 pumpkin more than doubled the weight of the scattered 472-pound squash.
"It takes a lot of time and a lot of love for pumpkins," said hobby grower Christine Nolan, who brought the winning 1,108-pounder. "You have to love pumpkins."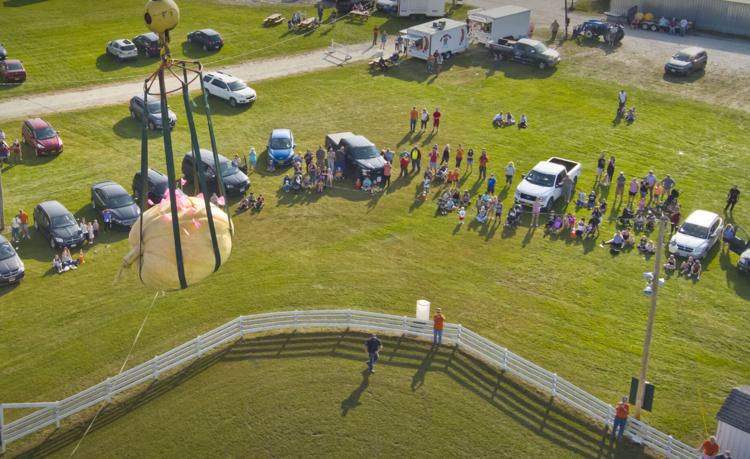 In partnership with the Gouverneur Chamber of Commerce, the ninth-annual festival has served as a fundraiser for building maintenance and projects at the fairgrounds since 2012. Typically a two-day event with live music and most vendors set up indoors, the festival was adjusted to comply with public health guidelines, Fair Manager Donald A. Peck said.
After much discussion this summer, the Fair board opted to host the festival for one day with limited activities.
"Canceling the Fair this year was a hard enough decision," Mr. Peck said. "So we didn't want to cancel the Pumpkin Festival if we didn't have to."
The Gouverneur Fair dates back to 1859, merging with Canton's even older St. Lawrence County Fair in 1934. The Fair board in June announced the cancellation of the 2020 events, which were originally scheduled Aug. 4 to 9.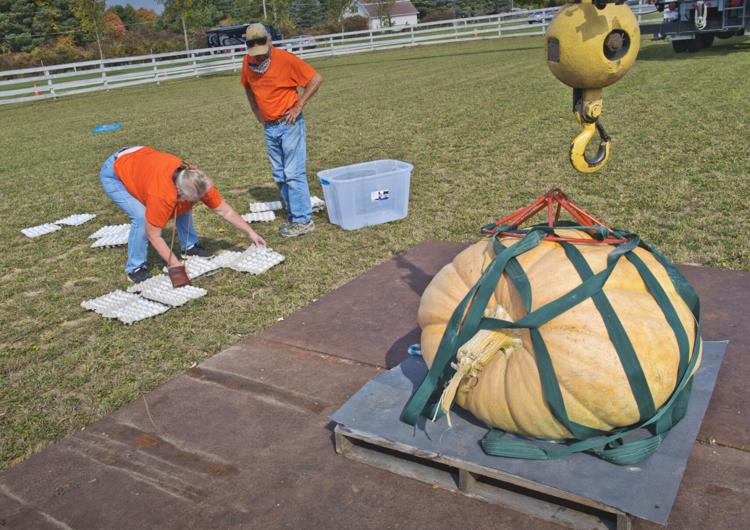 Gouverneur Chamber of Commerce Director Gale C. Ferguson said the festival brought some positivity to the community, now more than six months into the ongoing COVID-19 pandemic.
In what she described as a yearly "family competition," Ms. Nolan set a new Gouverneur Pumpkin Festival record, previously held by her son-in-law Travis J. Clemons, whose 2020 second-place pumpkin weighed 949 pounds. Mr. Clemons' son Brayden won the youth division with a 752-pound pumpkin.
"It takes a lot of fertilizer, it takes a lot of water," Mr, Clemons said. "And it takes a lot of luck."