Last week's up and down temperatures, wind and general messiness may have left many north country residents with forward thoughts of salubrious summer days.
But a team of researchers at Cornell University's Northeast Regional Climate Center in Ithaca has been looking back on our summers and finding no thoughts of relief.
The center reported last month that the year 2021 was the third-warmest since 1895, when its consistent record-keeping began.
The average 49.5 degrees Fahrenheit tied the Northeast average for 2020.
The month of August 2021, according to the NRCC, was ranked the warmest on record for Syracuse, Buffalo and Caribou, Maine.
"Unfortunately, the climate events of 2021 — with above-normal and record-breaking temperatures, along with intense precipitation events — are a harbinger of future climate conditions, as they align with climate-model projections in a world with increasing greenhouse gas concentrations," Arthur T. DeGaetano, director of the climate center and professor in the Department of Earth and Atmospheric Sciences at Cornell said in a news release.
For Watertown, according to the NRCC, the average 2021 temperature was 47.6 degrees. Figures were recorded at Watertown International Airport. Jessica L. Spaccio, climatologist at the center, said 2021 was the fifth-warmest on record since the airport began recording temperatures in 1950.
The warmest days recorded in Watertown in 2021 were 89 degrees, which the airport hit on June 27 and June 29.
Ms. Spaccio said that at the Massena International Airport, the warmest day in 2021 was on June 7, when the temperature reached 90 degrees.
Those "intense precipitation events" that Mr. DeGaetano referred to, related to global warming, are becoming more common, Ms. Spaccio said.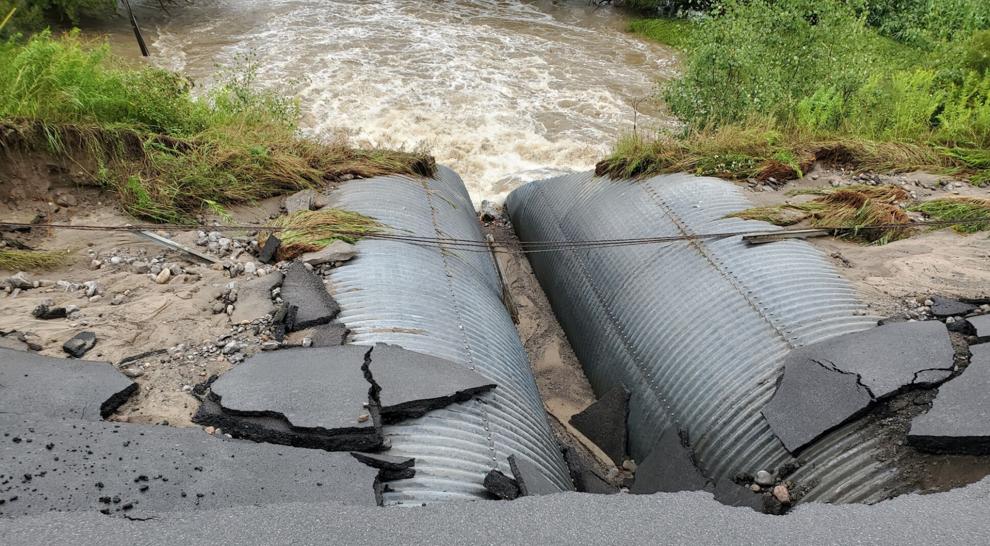 For example, Post-Tropical Cyclone Fred made its presence known in the north country in August when it left rivers swollen and moving fast, low areas flooded, many trees down, homes damaged and people stranded. A homeowner in Leyden reported the front wall of their house gave way and water was rushing into their basement, while another called because their well house water pump was underwater and couldn't be reached. Roads were flooded, people were stranded and the rain continued across the southern section of Lewis County.
According to the National Weather Service, about 2.25 inches of rain fell across the area on Aug. 19. While the NWS recorded the 2.5 inches figure, Lewis County Highway Superintendent Timothy Hunt told the Times after the storm that one town's public works superintendent in the storm area reported the rain gauge device on his lawn was full to its 5-inch capacity early on the morning of Aug. 19.
There was significant runoff down Tug Hill and into the valleys where the hardest-hit areas were identified.
It's not just summers that are bringing intense precipitation events. The Washington Post reported this month that scientists believe the recent "decadal surge" of Northeast winter storms is likely tied to climate change.
All together in terms of precipitation, the Watertown area was about average for 2021. On Dec. 31, the Watertown Water Filtration Plant, which records such figures, reported 35.93 inches of precipitation for the year, about 1 inch below normal. But July was a rainy month, hitting about 10 inches of precipitation for that month alone. The weekend of July 17 was especially rainy. City firefighters responded to 45 calls of flooded basements between about 11:30 p.m. July 18, and 2 a.m. July 19.
"We see increases in extreme events, flood-produced rains that are devastating to people," Ms. Spaccio said.
The weather patterns, Ms. Spaccio said, don't seem to be consistent anymore. Global warming, she said, "changes weather patterns and how things interact."
She added, "We're seeing more short-term droughts that are affecting us here in the Northeast."
Those droughts have serious implications for the north country's dairy and agriculture industry.
Kitty L. O'Neil, based in Canton, is a field crops and soils specialist and team leader for Cornell Cooperative Extension. Her coverage area involves six counties in the north country.
"The biggest impact of climate change to our region is erratic weather," Ms. O'Neil said. "It's more dry in the summer. It's more wet in the spring and fall. Neither one of those features are good for farming here."
Farmers tend to have delayed planting in the spring because the soils are too wet, she said.
"It's the same thing in the fall," Ms. O'Neil said. "The problem of heavy rains are greater in the fall now. Just when we need to get in the fields to harvest corn and maybe the last cutting of hay, it's really wet. And more often, we're having these hot, dry summers, which are not good for forages either."
Ms. O'Neil keeps a careful eye on a grid system that has temperature and other weather data made available through the National Oceanic and Atmospheric Administration and the NRCC.
From the grid, she can pick any spot on the map — 4 by 4 kilometers — and get daily maximum temperature and precipitation for that spot.
"The advantage of this system here in the north country is I'm not limited to only spots on the map that have weather stations, which we don't have many of in important farming areas," Ms. O'Neil said.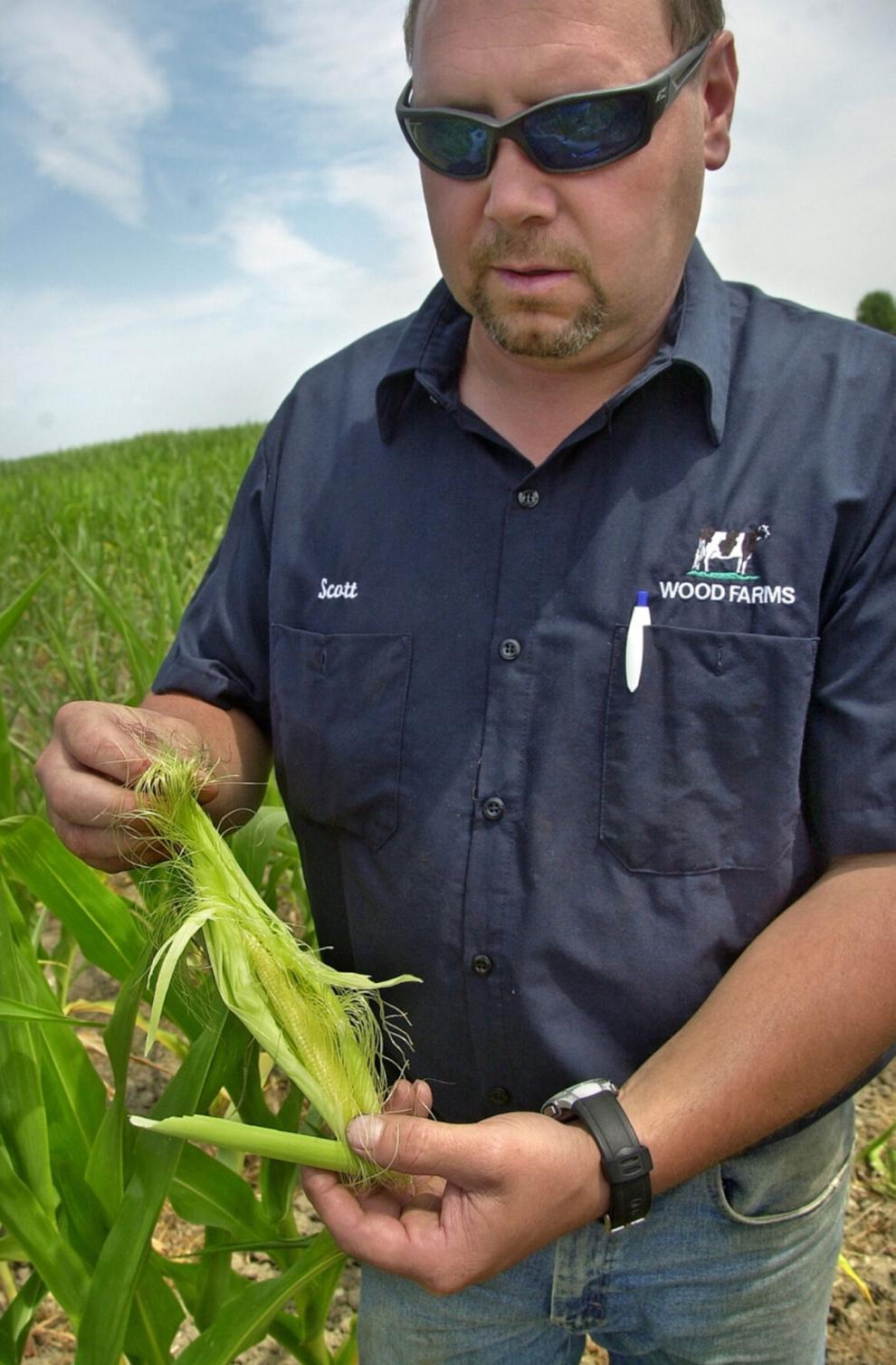 She also watches the U.S. Drought Monitor, created in 1999 and produced jointly by the National Drought Mitigation Center at the University of Nebraska-Lincoln, NOAA and the U.S. Department of Agriculture.
"We just got done with a two-year drought here in the north country that was very serious," Ms. O'Neil said. "Hay yields were half of what they normally are."
The 2021 growing season brought some relief.
"But it still affected 2021 because a lot of farms were running out of forage in the spring of 2021 because of what a crummy year 2020 was for forage production," Ms. O'Neil said. "They're still trying to replace inventory and get back up to normal. Most farms like to have some surplus forages in the bunks, barns and silos. They were unable to do that in 2019 and 2020."
In 2019, large amounts of precipitation throughout spring and early summer caused widespread flooding along Lake Ontario which also drenched farm fields across the north country and other areas.
The past six years in the north country have had droughts for half those years that have affected dairy farmers.
In August 2016, State Sen. Patricia A. Ritchie visited two Jefferson County farms to see how farmers were dealing with that summer's drought conditions. Ronald C. Robbins, of Robbins Family Grain and North Harbor Dairy in Hounsfield, said at the time that he had never encountered a drought as severe in his 40 years of farming.
In 2018, drought conditions hit Lewis County and parts of Jefferson County especially hard. It made farmers like John D. Peck, owner of Peck Homestead Farm in Champion, nervous. He told the Times at the time: "After four years of bad milk prices, if we add a crop failure now, I'm done for."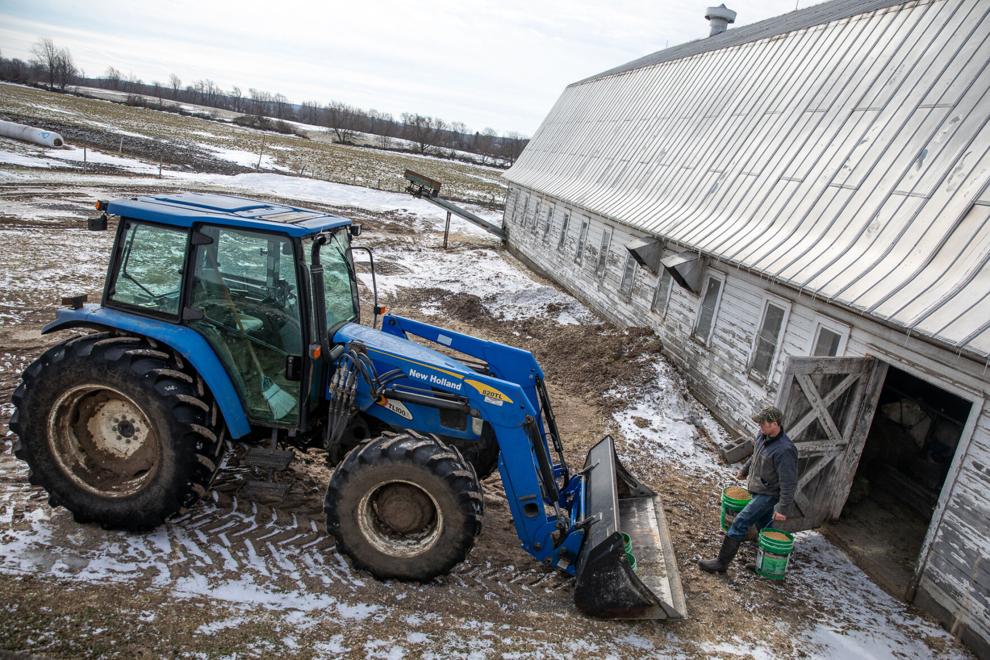 His crops came back, but any dairy farmer's worries aren't limited to summer days. Mr. Peck, who also represents the town of Champion and part of Fort Drum as county legislator for District 7, these days eyes the snow covering his fields. Snow, he said, is a key insulator.
"We're not getting as much snow pack during the winter time," Mr. Peck said. "Some times, we get massive snow events, but it's not as long duration of snow pack to what we're accustomed to. The ebb and flow of getting a lot of snow in late November and it sticks around through December, get a thaw a little bit in January and then some more snow in February — that kind of cycle has kind of been broken a little bit."
Bitterly cold temperatures and open, snowless ground are not a good mix, Mr. Peck said.
"That's one risk factor that can have an impact on your crop season before you even get to spring," Mr. Peck said. "It's when you get those 20 degrees below zero, several days in a row — that heavy intense cold. And if you don't have that layer of snow cover, you could have frost damage, cold damage, to your sensitive vegetation during the wintertime. Snow is an important thing to have, no matter how much of a nuisance it is to some people."
There's also the precipitation factor that snow brings.
"You haven't had as much precipitation in general in that three-month period — December, January and February," Mr. Peck said. "It hasn't been as much as in past years. That shrinks up your water table before you even get to springtime."
A wet spring, and those "intense precipitation events" in the spring can have different effects depending on where a farm is located in the north country.
"If you're in the northern part of the (Jefferson) county where it's really clay, it's difficult to get out and do your crop work," Mr. Peck said. "If you're in south Jefferson, you can get out, but you might tear up your fields a little bit. I'm kind of in a nice little spot. I don't have to worry about those issues until it gets dry. When it gets dry, where I'm at, on my grass fields and hay fields, if you get a lot of good rains in the spring, the first cutting will be good. Last year, there wasn't no second cutting until about July because how much lack of precipitation we've had."
He added, "Then, once the rains came, it came on with a vigor. But then, you're fighting rain storms to try to capture that hay crop."
Crops can also get too much of a good thing.
"If you get too much rainfall, a lot of those nutrients within your grass ends up leaching out of it," Mr. Peck said. "Instead of the grass and forages generating the good stuff that cows and animals need, to either produce milk or put on good fat if it's a beef animal, that stuff will end up getting leached out back into the soil because of too much rainfall."
Most commercial dairies rely on corn silage, alfalfa and grass as their main forage.
Last year was a much better growing season, Ms. O'Neil, the crops and soils specialist said.
"We had some wet periods that kind of helped us recover from that drought and replenish some of those forage inventories," Ms. O'Neil said. "But I'm sure some farms will kind of be catching up on some of that and getting back to a nice comfortable surplus."
The quality of the forage also wasn't great during the two-year drought, she said.
"You can compensate for some forage quality by feeding a little bit more grain or tweaking the grain mix a little bit," Ms. O'Neil said. "It makes it more expensive. And when you have poor yields, you have to feed a lot more of something else to meet animal nutritional requirements. That gets really expensive."
And sometimes, it's not even possible.
"You can only add grain to a dairy cow's diet up to a point," Ms. O'Neil said. "They need good forages. That's the base which all good dairy and livestock farms are formed."
And of course, dairy cows and cattle also take hits during the drought-producing heat waves.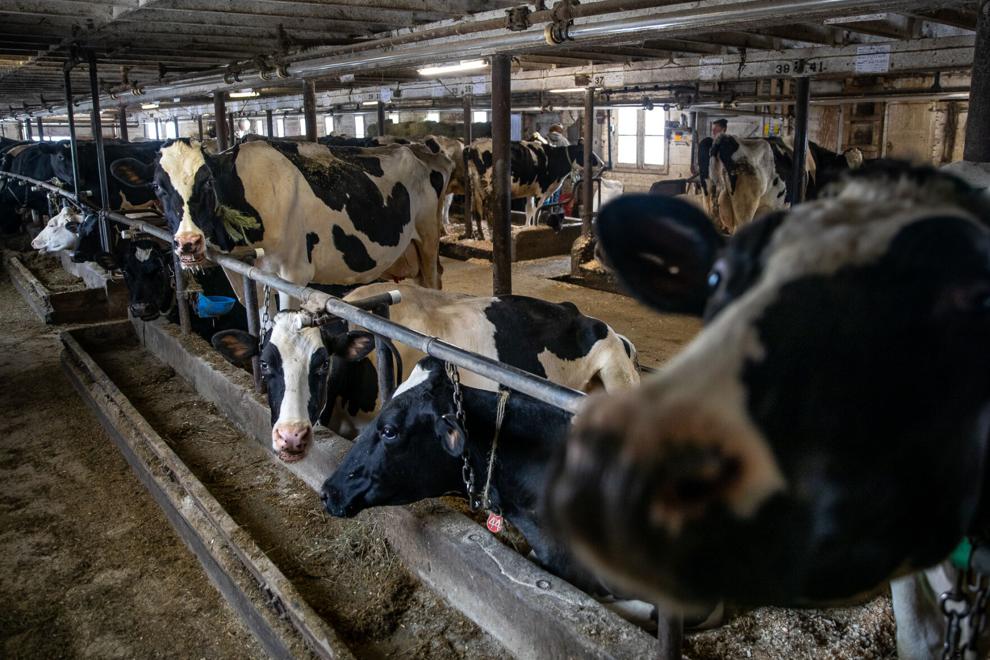 "When we have a hot spell, almost every farm will see depression in milk yields from those cows," Ms. O'Neil said. "Depending on how long that hot spell lasts, they may not bounce all the way back up when the heat spell is over with."
Lindsay Ferlito, regional dairy specialist for Cornell Cooperative Extension's North Country Regional Agriculture Team, said that when a heat wave hits, most dairies see a small drop in milk production — about 5 pounds of milk per cow, per day.
"For some herds it's minor and doesn't last long, but for other herds it's more noticeable," Ms. Ferlito said.
Those more noticeable figures can be up to 10 pounds of production per cow lost, per day, a situation that can last for days and weeks.
"When cows are heat stressed, they usually drop in feed intake and tend to stand more to try to cool off, leading to drops in production," Ms. Ferlito said, noting that lying time and rest for cows is key to maximize rumination, production and to keep feet and legs healthy.
"One longer-term side effect is that heat stress can also negatively impact reproduction and it can make it harder for cows to get pregnant when bred," Ms. Ferlito said. "Also, in the dry period (about the second month before a cow has her next calf and is not producing milk), if she is heat stressed, she can produce less milk in her next lactation and it can negatively impact the size of her unborn calf."
"It's harder to get cows bred when they're under heat stress," Mr. Peck said. "That puts you behind because you want to have cows bred at a certain period of time in their lactations so they'll continue to produce milk and calves."
To fight heat stress, Ms. Ferlito said the main thing that can be done is more heat abatement, such as more fans and sprinklers in all areas of a cow barn.
"They don't negate all the negative impacts of heat stress, but they do help a lot," Ms. Ferlito said. "More and more research is being done on the full impact of heat stress and how important fans and sprinklers are."
Cows, Ms. Ferlito said, prefer cooler temperatures — around 40 degrees is ideal.
"They are large ruminant animals and they generate a lot of body heat," she said. "To keep them comfortable in warmer temperatures, it's important to give them enough space, adequate access to fresh water and feed, and provide heat abatement."
Cows can't count on sweating to help cool themselves.
"Cows can only sweat to some degree, so it's not an effective method of cooling," Ms. Ferlito said. "To help stay cool, cows drink more water and will sweat a little and may pant or produce extra saliva, and they stand up more. Having fans and sprinklers helps cool cows through evaporative cooling and air movement."
Such as it is with humans, it's a problem when cows don't get relief from heat stress overnight.
"And again, that's why fans and sprinklers in the barn are so important," Ms. Ferlito said. "It's also really important to ensure cows have access to feed and water during the day and night, because when it's really hot during the day, they will tend to consume a bit more feed overnight when the temperature does drop a bit."
An average lactation cow drinks about 25 to 50 gallons of water per day, Ms. Ferlito said, but when it's hot, depending on the cow, her production level, the temperature, humidity and other factors, that consumption can increase anywhere from about 20% to 50%.
The majority of commercial dairy cows in New York, she said, are housed indoors.
"Some still offer access to pasture during the grazing season, but most cows are indoors during the day and night," she said.
Mr. Peck's dairy herd is pasture-based.
"They definitely get heat stress, even when they're outside," he said. "They'll crowd into fence lines, underneath trees when it's hot like that. And flies can get really bad."
Mr. Peck said that trying to get air flowing and circulating in a barn can be like putting "a square in a round hole" depending on the style barn and when it was built.
"My barn was built in the 1950s," he said. "It's walled up on the sides. It was built at a time when you had a lot more cold weather, cold winters and snow. Freestall barns were not the concept at that point and time."
Freestall barns are common now, but Mr. Peck said there can be a weather-related issue with them also.
"It's helpful in the summer when it's hot," he said. "It can be challenging in the winter and transition times when you've got these 50-degree highs and then crash down to single digits within days. That fluctuation in air flow can invite respiratory disease into a herd."
Jake Ledoux, spokesperson for Robbins Family Grain and North Harbor Dairy in Hounsfield, was a bit surprised when informed about the Cornell heat study.
"We're always a bit cooler or warmer because we're right on the lake," Mr. Ledoux said. "We do have that to kind of even it out."
The diverse Robbins agricultural operation includes a 1,200-cow dairy farm, North Harbor Dairy, and a 7,000-acre crop operation.
The biggest challenge in 2021, Mr. Ledoux said, was working around the weather.
"We had some really good weather with a kind of dry spell in late spring and early summer, and then it just got wet," Mr. Ledoux said. "But the crops grew. There were multiple people who had a really good year crop-wise. We were able to put up a fair amount extra. There were numerous farms that had a bunch of grain corn to sell because they had no place for it."
There was a hiccup in May when "stuff dried out like you wouldn't believe," Mr. Ledoux said. "We were trying to deal with that, but come July/August, here we are chopping third, fourth cuttings and having to use dump carts, when normally you drive trucks right out into the field for hay."
Flooding fields were an issue in 2021 on some of the land the business farms on, but not others.
"You get those extreme rain events that might change your plans for the day or week," Mr. Ledoux said. "It was one of those things where it could downpour here, where some of the land we farm up in Chaumont didn't get anything. We're on the lake and get extreme weather."
One can't control the weather, but Mr. Ledoux said there are ways to deal with the heat on a dairy farm, especially with investments in "cow comfort," such as using freestall barns and retrofitting old, tie-stall barns.
Fans, sprinklers and getting a good cross breeze are also key elements to manage the heat, Mr. Ledoux said.
Checking on people working on the farm and keeping an eye on equipment to make sure both don't overheat are also factors to manage during heat waves, he explained.
"It's the nature of the beast," Mr. Ledoux said. "I think a farm of any size, whether it be a vegetable operation or a dairy or crop farm, you have to look at the forecast, plan and do your best from there. You also have to make investments in your people so they understand what do we need to do and when do we need to do it. You also have to make investments in technology, whether that be dump carts or fans for your dairy or an irrigation system if you're growing vegetable crops."
He added, "We're very lucky to farm where we do. But being right next to the lake, it will sometimes throw a wrench in your plans, for sure."
Compared to the Southwestern U.S., local farmers may be thankful for the fluctuating nature of our local weather. The Southwest is continuing to experience a megadrought. A report published Feb. 14 in the peer-reviewed journal Nature Climate Change noted a drought in that area for the past two decades is of greater historical significance than previously thought. The Columbia Climate School reported that the journal's study confirmed the drought is now the worst in at least 1,200 years.
For the coming summer, according to the National Weather Service's Climate Prediction Center, the June, July and August temperatures for most of New York have an up to 50% chance of being above normal, with precipitation having equal chances of coming in either above, or below normal.
The "billion dollar question," Ms. Spaccio said, is whether the warming trend continues.
"It's a global issue, and there's lots of things that contribute to that — different countries and policies — and we really have to curb our greenhouse gas emissions to bring things back to a normal level," she said.
In the shorter outlook, as February concludes and with harbingers aside, Northern New York farmers are keeping an eye on their fields.
"It looks like we had a real winter and a fair amount of precipitation, so we're going to have moisture in the soil, which is good," Mr. Ledoux said. "If you don't have a lot of snow in the wintertime and have a dry spring, a lot of that snow covering our fields is moisture that the soil can retain for some amount of time."
Mr. Ledoux made those comments before last week's spring-like temperatures arrived, melting most of our snow. But snow returned Friday, providing hope — which for farmers, and especially nowadays — springs eternal.