MASSENA — Walking up to Kaneb Orchards off Highland Road on any given weekend, August through November, the smell of freshly-fried apple cider doughnuts hangs in the air.
Sold plain or tossed in cinnamon sugar, Kaneb's doughnuts have become a Massena staple. A decade ago, they were made and packaged in a small wooden shed on the Kaneb property. But the ever-growing orchard and business have since evolved.
One of the first visitors to the expanded orchard in 2009, Elizabeth M. Kaneb recalled, mentioned he had tasted fresh cider from every corner of the country.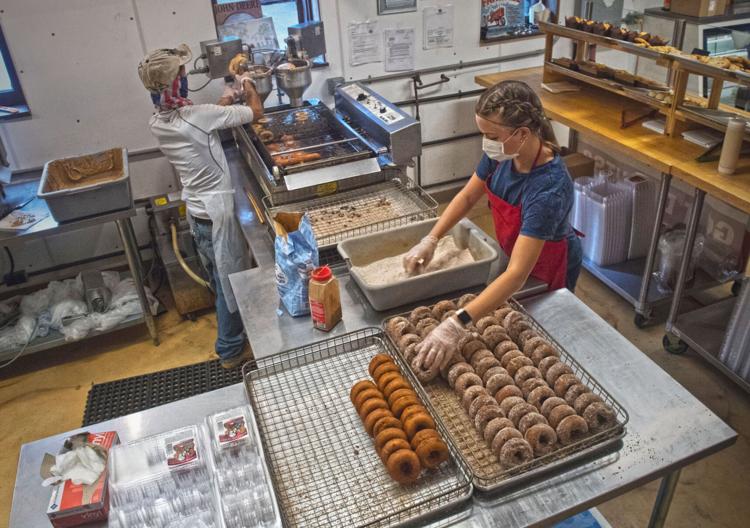 "I remember him telling me, 'who knew I could have the best cider in a little town called Massena, New York,'" Ms. Kaneb said.
Some 50 years ago, the late Edward J. Kaneb began planting trees on a patchwork of fields behind the current structures and store.
"And he just kept planting trees," Edward J. Kaneb Jr. said of his father.
Brother and sister Edward and Elizabeth began transforming the property around 2009, and 2020 marks their 11th season owning and operating the business.
Prompted by the Great Recession to expand and offer more than bushels of apples at area farmers markets, the Kanebs added on to the orchard's main facility and began learning about hard cider. They upgraded the cider press — the original press could hold 20 bushels, and the current press can take 100 bushels at once — and purchased a second doughnut machine. When at full operating capacity, the doughnut fryer used by staff Saturday morning can turn out 60 dozen in an hour.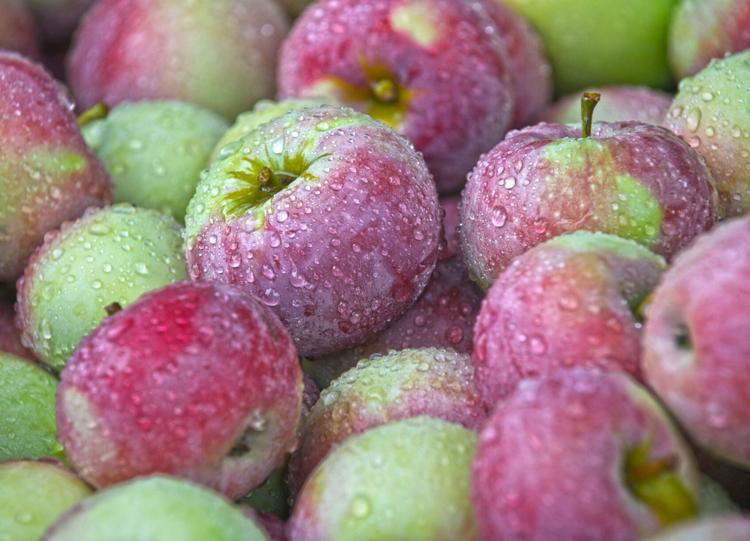 Now with about 1,200 standard-size apple trees producing 36 varieties, more than 5,000 square-feet of indoor space for pressing, processing and baking, shaded outdoor seating and a hard cider bar, Kaneb's is preparing for peak apple season. Pressing, Ms. Kaneb said, will begin next week, with the best cider pressed between mid-September and October.
Off-season field and maintenance work, Mr. Kaneb said, fuels the intense August through November season.
Masked and distanced outside the storefront Saturday, dozens of visitors passed through the grounds, leaving with doughnuts, cider slushies, cookies and pies. David Wells, Norwood, strummed acoustic guitar, and Gideon's Galley food truck served wraps and fries.
Saturday's intermittent rain, bartender Heidi Mauk said, wouldn't prevent regulars from stopping by.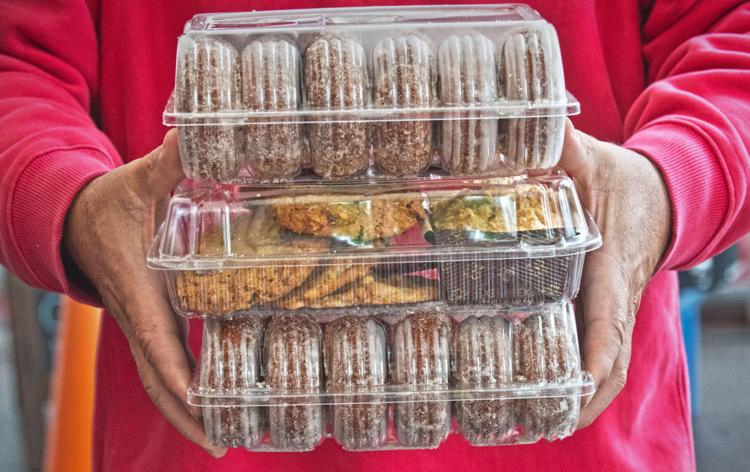 A Massena native, Ms. Mauk had lived out of the area for 45 years before returning to take care of her parents. She started working at Kaneb's about two years ago, tending the hard cider bar and greeting new and familiar faces alike.
"Working here has been an ideal way to get involved again in the community," Ms. Mauk said.
Kaneb Orchards is open from 10 a.m. to 5 p.m. Fridays, Saturdays and Sundays, 158 Highland Road. More information is posted to kaneborchards.com.