LOWVILLE — Being "put out to pasture" is both symbolically, and for horses, literally, what happens when one is no longer "useful."
That's if a horse is lucky. Many old or sick horses end up at auctions that lead to much less idyllic ends, unless a family like the Dietrichs of Rice Road in the town of Lowville have anything to do with it.
"I guess I think of us as more of a retirement home than a rescue," said Mickey Dietrich of his family's small, 2.2-acre hobby farm, Hyder Rock Ranch.
For Mr. Dietrich, massive work horses have the most allure.
Like with elders of the human species, he is quick to point out, "old" doesn't necessarily mean "over."
"What a lot of people don't realize is that these draft horses are extremely well trained and when they get older, they're the perfect horses to learn to ride on because of their calm and patience," he said, although he does note their size can be intimidating.
While old horses in need of homes have taken up the majority of the Dietrichs' focus for the past nine months, it wasn't always this way.
It all started with a rooster.
A hobby farm was not in the game plan for the Dietrich family, but a rooster cocky enough to leave home, go for a walk-about and peck around their property changed all that.
When the owner didn't want him back, the rooster stayed, earned the name Hyder and started a parade of other animals to follow.
Since then, five horses, two goats, two dogs, a slew of chickens and an elusive cat have all been welcomed from one source or another by the Dietrichs: Mickey, Adrienne and their daughters Denali and Aurora.
The ranch's rapid growth is a result of the Dietrich family's connection to the community both near and further afield.
Animals in need of homes have each found their way to the Dietrichs through neighbors, friends or friends of friends.
A feral cat, now named Luna, sneaked into the family's garage and has been there, with varying degrees of interaction, ever since.
"She's definitely not an indoor cat. I'm allergic," Mrs. Dietrich said. "She lives in the garage. The door is always left open, but she doesn't ever go out. We're happy to have her there. We don't have any mice since she's been there."
Mr. Dietrich trapped the cat and took her for shots last year, and that was the last time the cat trusted him.
Mrs. Dietrich has become Luna's new favorite, getting attention and affectionate rubs any time she changes the litter or brings food or water. Denali and Aurora are also granted petting privileges by the feline.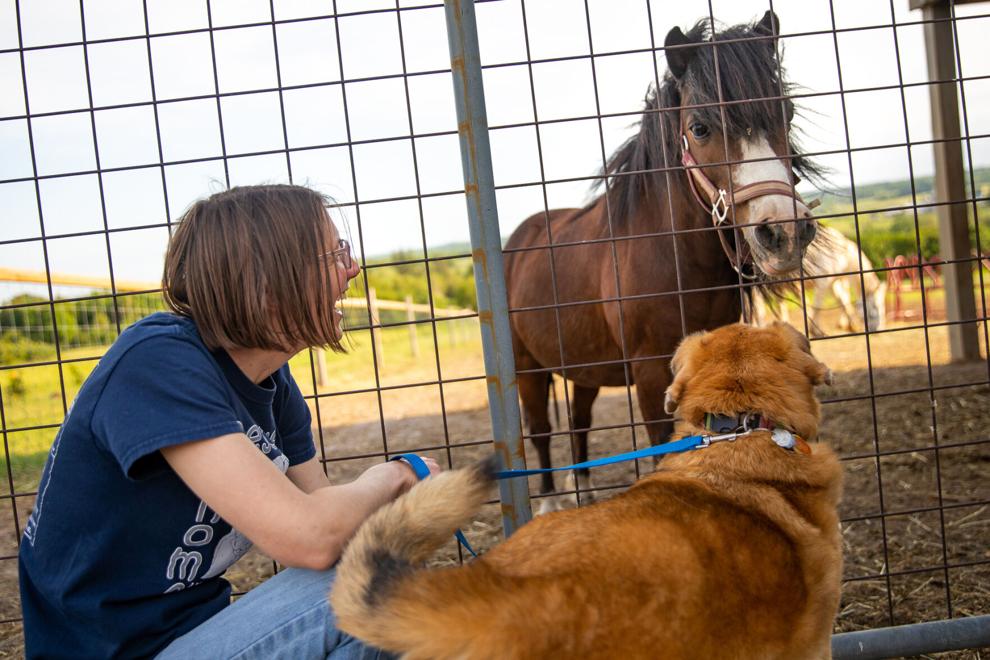 In July 2020, a mother and daughter goat team came to the family through Denali's friend.
"Apparently, when the mother — her name is Mama — was young, a guy driving by saw her tied up to a tree by herself in the winter. The guy bought her from the person and raised her. She ended up having a kid this past spring," Mr. Dietrich said, noting the friend's family got the goats from that guy. "And long story short, they found their way to our place."
Mama is credited with teaching Mr. Dietrich to build fences because she kept finding a way out. Xena, her kid and the youngest member of the menagerie at about 2 years old, didn't figure out how to escape and so became the bait to get Mama back in the fence each time.
One of the reasons they decided to bring the goats into the fold is that Mama was "very timid around people" so the family has been working to help her be more social and connect with humans.
An opened bag of baby carrots causes a multi-species, low-key stampede in the Hyder Rock corral. Mama, Xena, Bonnie, the 25-year-old Clydesdale, Duffy the 20-year-old mini-horse and Pete, the 17-year-old Percheron all want to get theirs before the delicious morsels are gone.
After completing their horse barn last summer, the Dietrichs put out feelers to find a horse that needed adoption.
"We were hoping to find a horse sometime in the spring, but we ended up with three horses before winter," Mr. Dietrich said.
With the help of Tom Kovach of Trixie Belle Farm, Mr. Dietrich connected with James and Deborah Rogers of Carthage, who became unable to take care of their three much-loved old horses properly and were trying to find them a new home.
Mrs. Rogers said they didn't want to separate Duffy, Bonnie and Toby because they were not just a part of the Rogers family. Having always been together, the horses formed their own family.
According to Mr. Dietrich, keeping them together was the right decision: Duffy, the mini, gets "separation anxiety" when he's alone in the corral without Bonnie.
The horses arrived at Hyder Rock on Oct. 25, and the family has been learning everything horse-associated hands-on. Their distinct personalities and their intelligence has wowed the Dietrichs.
Duffy is very attached to his "mom," Bonnie, while she is quite happy to get a break from Duffy when she can.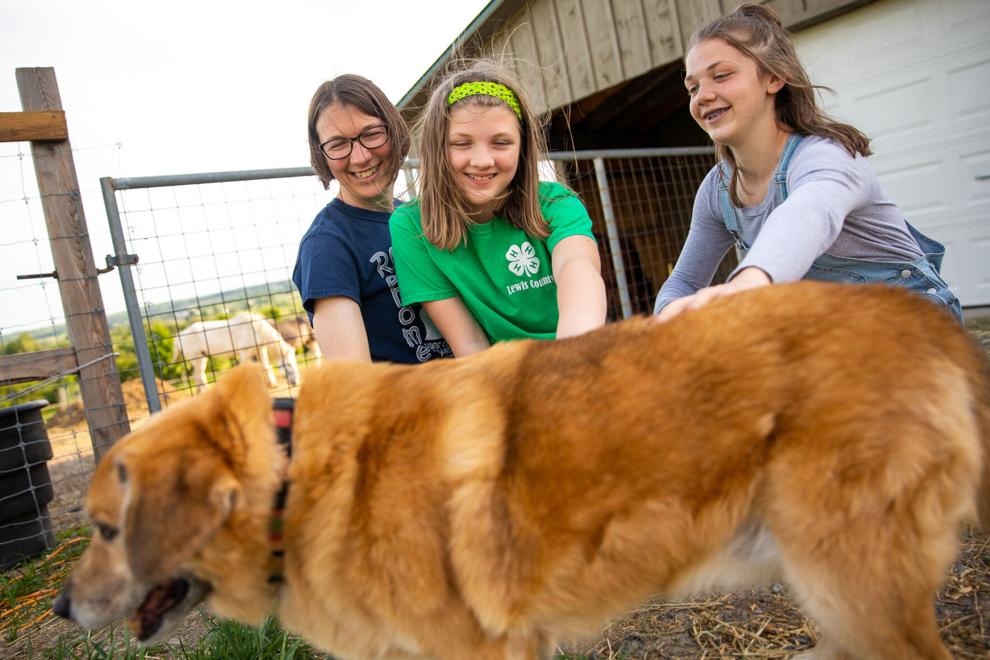 Mr. Dietrich said she is excellent with a saddle and has no patience with delays in her meals.
"She is impatient when it comes to feeding time and will bang her hoof on the gate or stall door," Mr. Dietrich said.
Toby, however, was "a little more settled," Mr. Dietrich said, and excelled at pulling a cart either on his own or with Bonnie.
With animals, like humans, age creates more health challenges, so the Dietrich family is mindful to keep track of and treat those issues in all the animals that have come to them.
Little Duffy, for his part, has "founder" in his hooves. Founder is when a bone rotates in a horse's hoof and points toward the sole of the foot, resulting in swelling that is debilitatingly painful. It can also be life-threatening according to equimed.com and other online resources.
Bonnie receives frequent treatment for an injury to her nose by a halter that rubbed hair off, creating a sore.
As much as the Dietrichs and Hyder Rock have been growing this year, the first half of 2021 was also marked with loss.
Cookie, the longest standing four-legged member of the family, died at the end of February at the age of eight. The dog came to the Dietrichs from the Lewis County Humane Society in 2015, after being found "wandering alone" and very skinny by the side of a road. The Dietrichs were won over by her instant-ask for a belly rub when she met them at the Glenfield shelter.
"People say we rescued you, but we feel it was mutual, that you also rescued us by showing us the love we needed through good and bad times," the Dietrichs wrote in tribute to Cookie on the Hyder Rock Ranch Facebook page. "We know you are now pain free. Make sure to keep the couch in heaven warm for us when it is our time to reunite with you."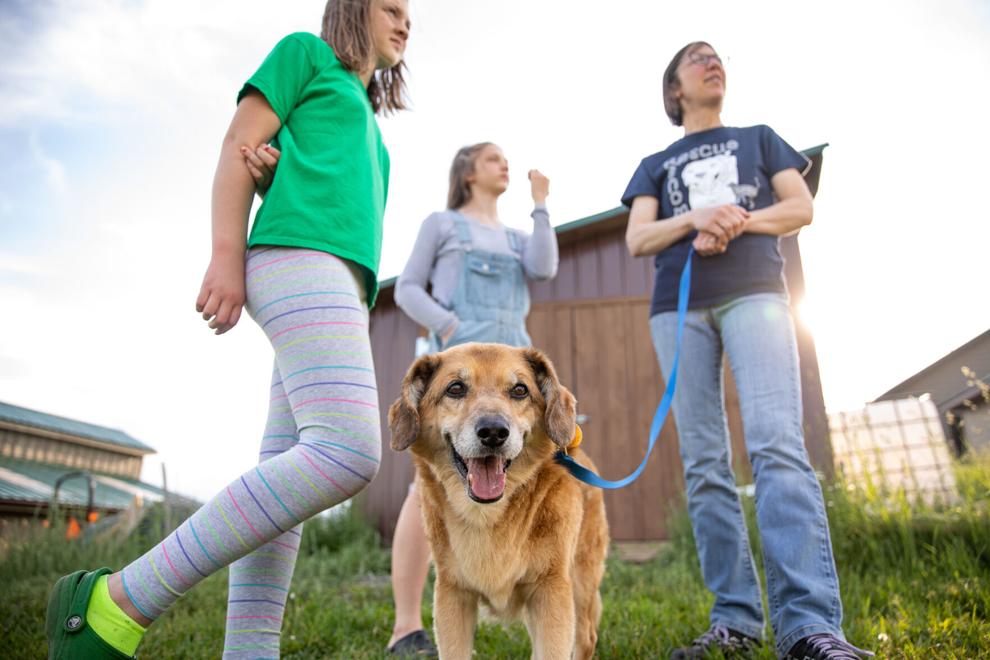 On May 1, tragedy struck again.
The Percheron, Toby, lost his appetite and was found to have twisted gut syndrome for which, considering his age and distance from the nearest surgical option, there was no hope of recovery.
Even in this loss, Mr. Dietrich said their community came together to help them.
Mr. Kovach brought a piece of heavy equipment to dig Toby's grave and help place him in it and a neighbor who has been especially helpful teaching Mr. Dietrich the ins and outs of draft horses, allowed Toby to be buried on their land. Hyder Rock Ranch really is built on rock, Mr. Dietrich said, so digging down deep enough for a horse grave was impossible.
"Toby will be greatly missed. He was a gentle giant and he always liked to be pet. In a way, we lost some of our hopes and dreams with him," the Dietrichs wrote on the farm's Facebook page when the big horse died. "It is hard to adopt older animals because they can be more prone to health issues, but we are glad that we did. We couldn't have imagined not having him and he taught us a lot in the short time he was here with us."
The losses couldn't discourage the family from opening their doors and their hearts for other animals in need of a home.
Rex, a 14-year-old mid-size, mixed-breed dog from Staten Island, was taken to a shelter when his owner was no longer able to care for him.
Mrs. Dietrich saw Rex on the North Country Pet Adoption Services Facebook page and she knew they could give the old boy a loving home. She also had the feeling that he was who they needed in their lives.
Mr. Dietrich said Rex's "very mellow and sweet" nature caused them to adopt him "without much hesitation."
Around the same time Mrs. Dietrich learned of Rex, Mr. Dietrich was told about Pete, a 17-year-old Percheron who stands about 17-and-a-half hands tall, which converts to about 6 feet tall at the whithers.
Pete was no longer useful as a work horse because he has breathing issues, which the Dietrichs hope to treat.
Those challenges don't keep him from wanting to pull a wagon or play with the other horses.
Just after getting Pete settled and overcoming a rocky start with the jealous mini-horse, another Clydesdale came into the Hyder Rock family.
Seventeen-year-old Hailey was used as a breeding horse but because of her asthma, it was believed by her previous owners that she could no longer earn her keep and they started to look for someone else to take her.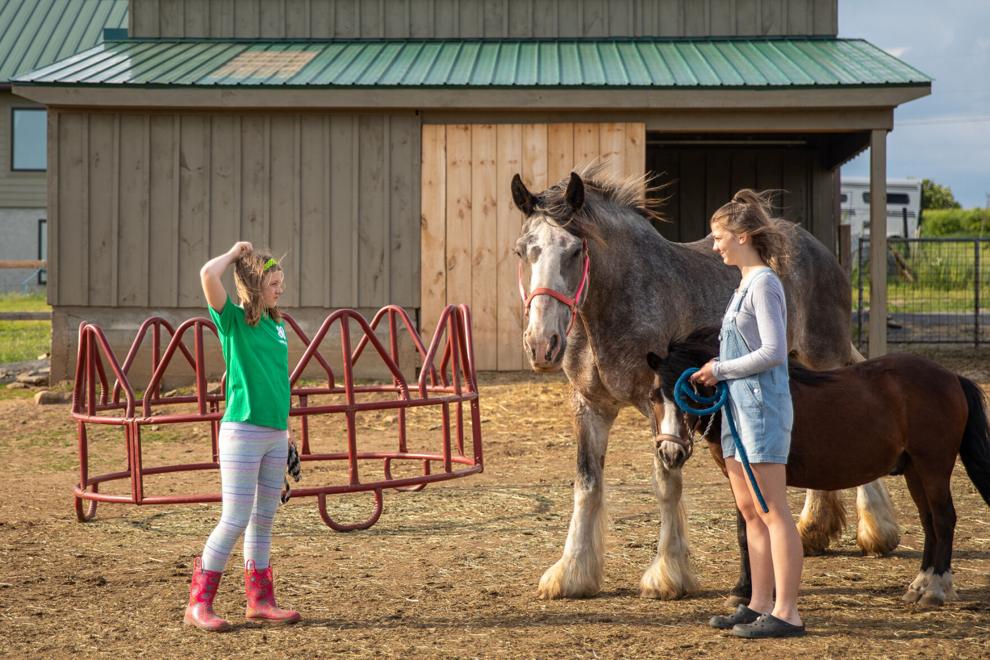 Enter Mr. Dietrich, again, who claims it is his wife who can't turn away an animal in need, but in action makes it clear that they are a well-matched pair.
While they didn't want to add Hailey too quickly to their still-bonding horses at first, an Amish neighbor housed her and took such good care of her that she began gaining much-needed weight. As of Monday, Hailey was brought home to Hyder Rock in a fenced off section of the small pasture to let the horses all get acclimated to each other.
Because she was used for breeding, Hailey hasn't been trained with a saddle or to pull a wagon so the neighbor has also been using his training talents to see what she can do.
For the Dietrich girls, the arrival of the horses and expansion of the animal family has taught them a number of things.
Aurora said she loves being with the animals, and she is learning to ride. While originally Mr. Dietrich was hoping to have her learn on Bonnie, the sheer size of the Clydesdale made it a bit intimidating, so she is taking lessons with a different horse for now.
She is active in 4-H and will be leading Hailey in a competition at the Lewis County Fair.
Denali will be helping to groom and braid the horses' manes for the show, however, an early accident that led her to get stepped on by one of the huge animals has caused her to keep more of a distance than her sister from the Clydesdale and the Percheron. The mini-horse is her guy.
But the experience with all of the animals has taught her one thing.
"I like cats," Denali said with a deadpan face before breaking into a grin.
Denali, who is a pianist and a writer, helps to edit some of the videos and pictures she and her family take for the Facebook page and everyone in the family contributes to the written content.
"We really do try and incorporate all our family's interests and talents into the barn," Mr. Dietrich said.
At this point in Hyder Rock's genesis, Mr. Dietrich said the biggest challenge is finding some extra grazing land for the horses. He has been searching for between two and six acres to buy or rent relatively nearby where they could take the horses to let them roam in the day.
So far, they haven't had luck finding anything, but he is still hopeful.
Word of their "retirement home" has spread far and wide through social media. A horse rescue from the western part of the country has reached out to see if the Dietrichs might be able to help find homes for horses "headed to kill pens."
Mr. Dietrich is still vetting the organization but said it's something he's considering.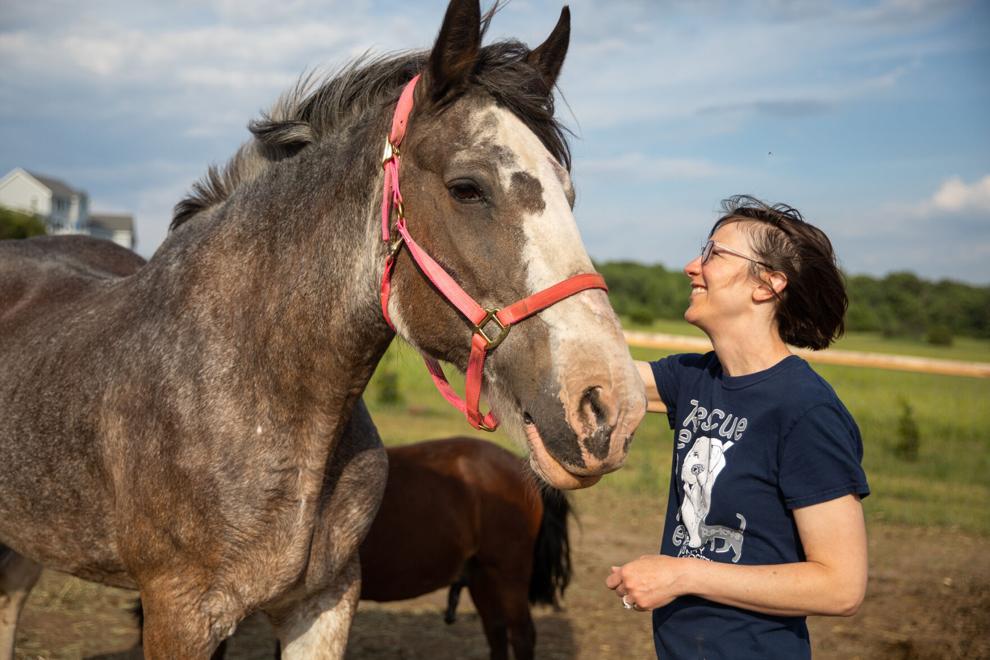 "It may be an opportunity to connect people up with horses needing a home. At this point, we would be doing it to help out the horses if we do it."
He also said the primary reason they created the Hyder Rock Ranch Facebook page was to share their story and to give other people interested in helping old or infirm horses some insight into what worked, and didn't, for them.
"We have never owned horses before, so we are learning as we go and want to share that with others, especially because so many people have shared their knowledge and more with us," Mr. Dietrich said.
The Dietrichs haven't had to ask for donations to help them rescue animals and have no plans to do so unless there is a specific medical treatment for one of the animals that is out of their reach.
"We do other things to help recoup some money for feed, like selling horse manure for fertilizer," Mr. Dietrich said.
Mr. Dietrich works for the Tug Hill Commission as the circuit rider for the River Area Council of Governments, or RACOG, and Mrs. Dietrich is a resource consultant teacher at BOCES' Howard G. Sacket Technical Center in Glenfield.
The Dietrichs' ranch motto is, "Hyder Rock Ranch: Where Animals are Treated Like Family."