CHAMPION — An early October evening found Christine E. M. Nolan out tending to her pumpkin patch, post-harvest, demonstrating that in the world of competitive pumpkin growing, she's not one to let her gourd down.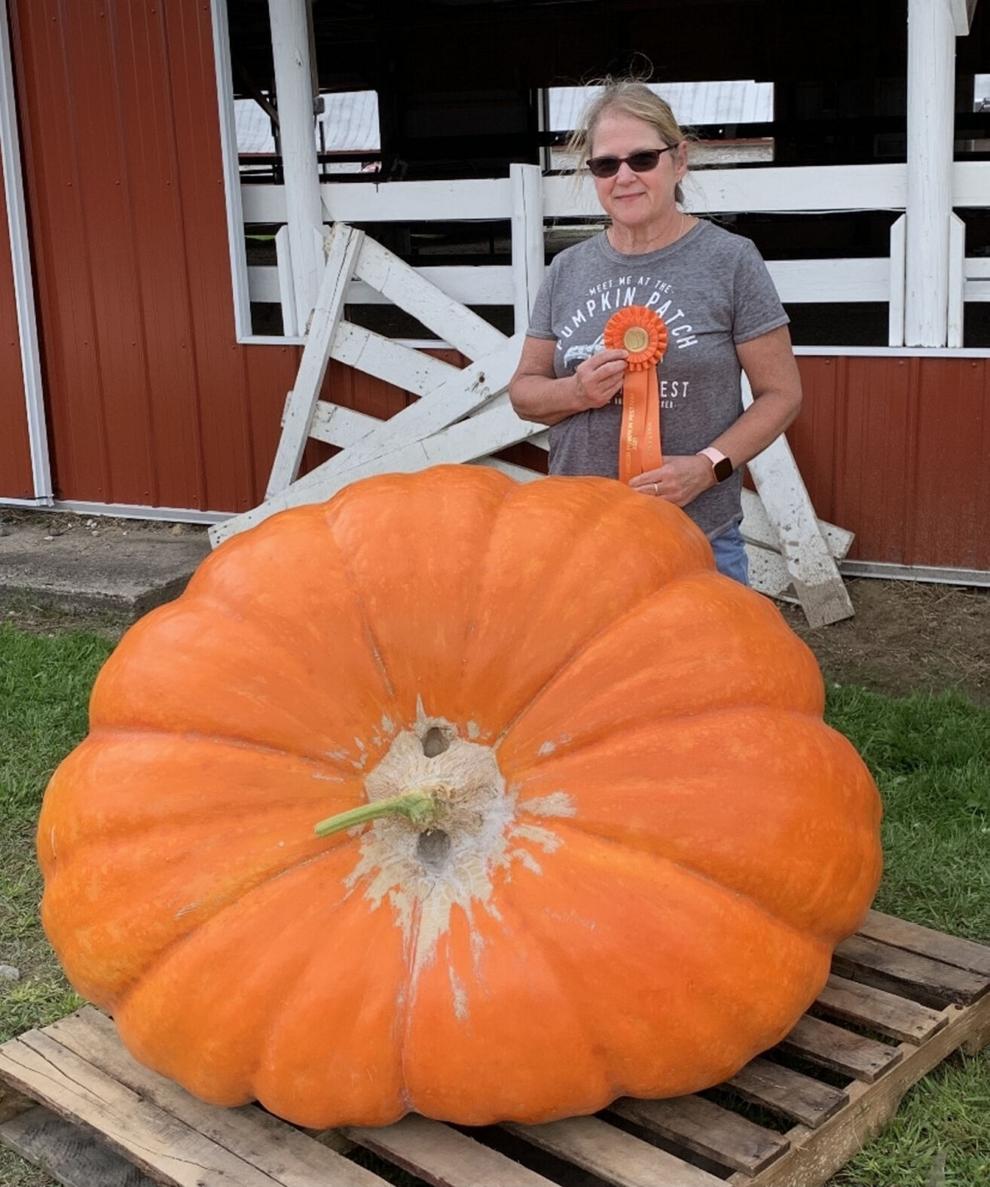 She was fresh off a victory in Saratoga Springs, where its sixth annual Giant PumpkinFest on Sept. 25 attracted growers from New York, Massachusetts, Vermont and Pennsylvania. Ms. Nolan's winning entry grown in her Champion patch off County Route 47 weighed in at 1,561½ pounds. It harvested $1,500 in prize money.
"I was very happy because it's hard to place first," Ms. Nolan said. "There's a lot of experienced growers who have been doing this way longer than me."
She also took first place with a specimen weighing 838 pounds at the 10th annual Pumpkin Festival in Gouverneur on Sept. 26. Her son-in-law, Travis Clemons, with an entry of 757 pounds, came in second at Gouverneur.
Ms. Nolan could not enter her heaviest pumpkin at both contests.
"It's against the rules with the Great Pumpkin Commonwealth," she said.
The Commonwealth, according to its website, "cultivates the hobby of growing giant pumpkins throughout the world by establishing standards and regulations that ensure quality of fruit, fairness of competition, recognition of achievement, fellowship and education for all participating growers and weigh-off sites."
Meanwhile, a husband-wife rookie team of giant pumpkin growers in Cape Vincent took home ribbons and plaques at the annual World Pumpkin Weigh-Off in Clarence, Erie County, on Oct. 2. David McIntyre's pumpkin weighed 1,091 pounds, good for fourth place in Clarence. David's wife, Amie, won the Howard Dill Award at the contest for the best-looking pumpkin. The award is named after Mr. Dill, known as the "Father of Giant Pumpkin Growing," from Windsor Nova Scotia, Canada.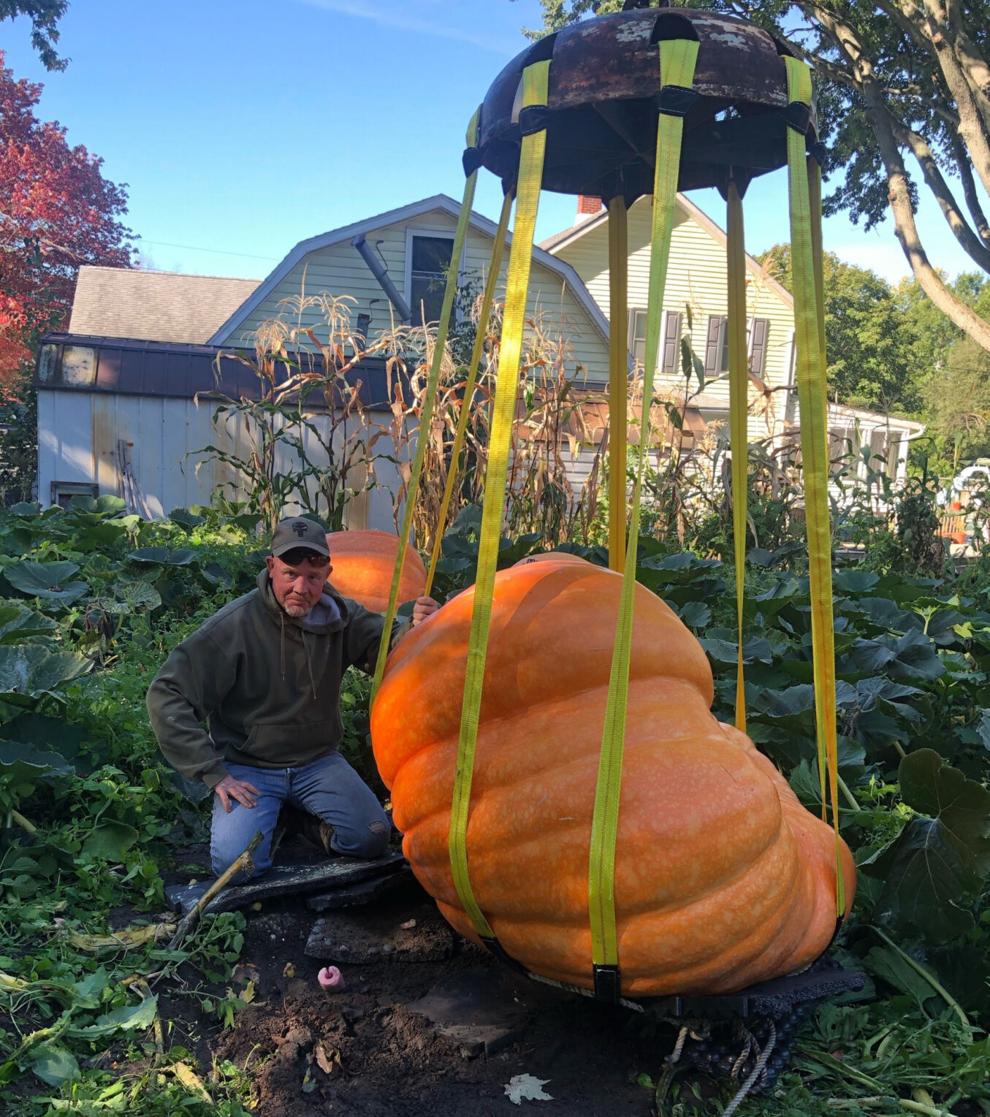 The seeds of competition run deep in the world of competitive pumpkin growing. Even though Mr. McIntyre just finished his second year in the hobby, he has larger goals, and particularly eyes the giant gourds grown by Ms. Nolan.
"We're going to have a little competition next year," Mr. McIntyre said. "I'll see if I can beat her. She does a heck of a job."
Ms. Nolan, asked if she was looking forward to beating Mr. McIntyre, said, "I'm looking forward to maybe keeping Dave from beating me!"
She started growing pumpkins about a decade ago in Gouverneur, where she used to reside. An article in a Cooperative Extension newsletter piqued her interest. Her first pumpkin weighed about 500 pounds.
"I didn't really know anything about growing them that year," she said. "I took it to the Gouverneur festival and an experienced grower there told me that it was pretty good for my first year."
"It's kind of a hobby that you get a little bit addicted to because every year, you're trying to do better," Ms. Nolan said.
Her pumpkins grew heavier, and one year, she took a specimen to the Great Pumpkin Festival in Oswego.
"I placed 10th that year. At maybe 1,042 pounds," Ms. Nolan said.
She now starts with at least two pumpkins every year — one as a backup.
"You have a lot of problems between critters, the weather and pests," she said. "It's a hard hobby. Some years, I only end up with one. This year, I was lucky and had two."
When contacted by the Times last week, she had just returned from her patch after tilling it.
"You have to prepare your patch for next year, which is a huge chore in itself," Ms. Nolan said.
She tills her patch more than once.
"And then I plant winter rye," she said, which helps to prevent soil erosion over winter and loss of nutrients.
Like clockwork, she begins her pumpkin seeds in her house on April 16 every year. But she doesn't like to keep them inside for more than two weeks.
"To do that, I have to have heating cables that I put in the ground," she said. "You have to have your soil warm."
She also has a greenhouse-type structure that she places over her patch, and when needed, illuminates a heat lamp.
The gourds gobble lots of water to make it in their competitive world.
"They can take 100 gallons a day," Ms. Nolan said.
"And then we have our secret little things that we feed our plants," she said. "Everybody has something different. Dave has already planned on beating me next year, so if I tell you all my secrets, then he'll be stealing my secrets."
Ms. Nolan experienced some obstacles when it came time for her giant pumpkin, which she named Faith, to make the trip to Saratoga Springs for the contest. A larger tractor than used in previous years had to be summoned to lift it. When it was lifted, it was discovered it was too large for its intended wood pallet. She and son-in-laws, Matthew Sech from Champion and Travis Clemons from Croghan, helped her to build a larger pallet.
She usually borrows Mr. Sech's pickup truck to transport her pumpkins to Saratoga Springs. But Faith was too large to fit in the bed of the truck.
"So I had to rent a U-Haul trailer to put the pumpkin in," Ms. Nolan said. "It's a crazy hobby."
After winning in Saratoga, her pumpkin was sold to the owner of Valley View Farms in Cockeysville, Md., where it was put on display. To her dismay, they renamed it Uncle Chuck.
"All these pumpkins are female," Ms. Nolan said. "I told him its name was Faith, and he said it was going to be named something different."
But Ms. Nolan said its new owner had planned to send her seeds found in Uncle Chuck. Valley View Farms is having a contest to see how many seeds are in the pumpkin. Ms. Nolan is unsure if she'll use any of them for her next crop.
Mr. McIntyre said acquiring good seeds are key to growing championship-caliber giant pumpkins.
"There's actually seed auctions for these giant pumpkins," he said.
Mr. McIntyre and his wife became interested in the hobby last year as a pandemic pastime. He was inspired by Ron Wallace a Rhode Island resident and one of the world's premier giant pumpkin growers. Mr. McIntyre gave him a call and they chatted.
Like Ms. Nolan, Mr. McIntyre begins his seeds indoors.
"Once they get out and get going, I spend probably an hour to two hours a night in the garden," he said. The work includes vine maintenance, weeding, fertilizing and battling insects.
"You can throw a seed in the ground and walk away from it and get pumpkins that will grow to 100 to 200 pounds, but if you want a big one, it takes a lot of effort and attention," Mr. McIntyre said. "It's quite a project."
One of the biggest challenges in the hobby is moving the pumpkins, he said.
"A good friend of mine, Bill Pond, our town highway superintendent up for re-election, he took an entire morning off from campaigning and stuff to bring his own personal equipment in here to help me pick these things up," Mr. McIntyre said. "We actually loaded it with a mini-excavator he owns."
The McIntyres has to keep their winning pumpkins on display through Sunday in Clarence. He'll then bring them back to his Cape Vincent home.
But if he wants a pumpkin pie, he'll have to look elsewhere for the raw material.
"These are ornamental," he said. "They classify them as a pumpkin, but technically, they're an ornamental squash. They're not really edible."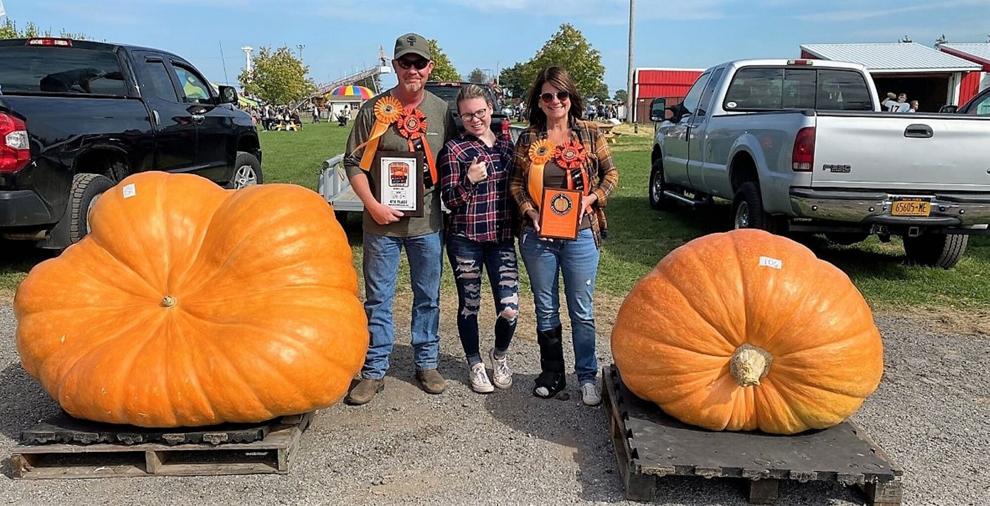 The following are the results of two competitions mentioned in the accompanying story.
The 10th annual Gouverneur Pumpkin Festival:
Adult category: First place, Christine Nolan, 838 pounds; second, Travis Clemons, 757 pounds and third place, Lyle Hotis, 570 pounds.
Youth category: First place, Brayden Clemons, 277 pounds; second place, Harper Sech, 185 pounds, and third place, Jonathon Webb, 142 pounds.
  Saratoga County Chamber of Commerce's sixth annual Giant PumpkinFest
First place, Christine Nolan, 1,561½ pounds; second place, 1516½ pounds, Tony Ciliberto of Bear Creek, Pa., and in third, Donald Black, Winthrop, at 1515½ pounds. Mr. Black is a former world record holder. In 1993, he grew one at 884 pounds to claim that record.
OF NOTE: In 1996, Nathan and Paula Zehr of Watson, Lewis County, grew a pumpkin weighing 1,061 pounds, a world record at the time.
In September, the world record in pumpkin growing was earned by Stefano Cutrupi of Italy, who grew one at 2,702 pounds.