HOUNSFIELD — For years, as people purchased milk at the visitors center store at Old McDonald's Farm here, a common question asked by customers grew on the farm's owners.
"Everyone asks, 'Is it your milk?'" said Robbins Family Grain-North Harbor Dairy spokesman Jake Ledoux.
In addition to the agri-tourism destination of Old McDonald's Farm, the dairy operation, now in the sixth generation of the Robbins family, includes a 1,200-cow dairy farm, North Harbor Dairy; a 7,000-acre crop operation, Robbins Family Grain; and a small bulk commodities trucking fleet.
But none of those cows, fed from crops grown a few miles down the road from the farm, produced the milk sold on site. That changed on Wednesday. In addition to "creamline" milk for sale bottled in Lewis County, the Robbins family has begun making ice cream at their farm at 14471 County Route 145. Both will be available on Wednesday.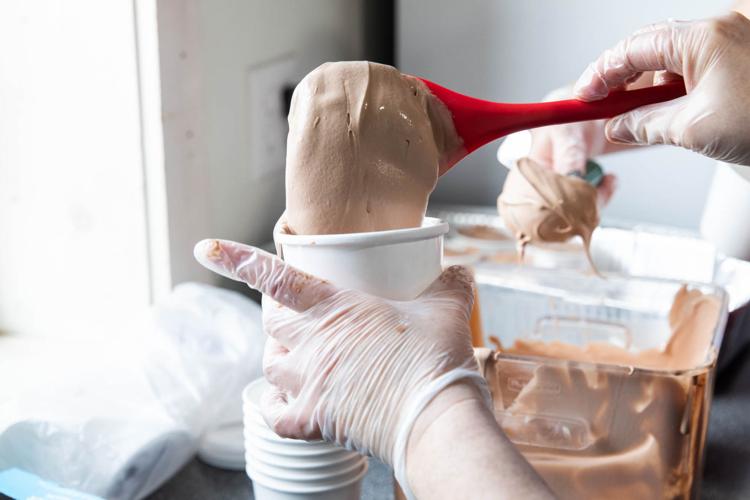 "They knew they wanted to get their own milk," Mr. Ledoux said. "It's not something you just go and do. You either have to build your own processing plant, which is very expensive and time consuming with a lot of regulations, or you have to find someone to do it for you."
That "someone" has been found in James Munn at Black River Valley Natural in Lyons Falls. Mr. Munn and his wife and business partner, Bethany, started their dairy processing business about 19 months ago and moved into the only salvageable section of the former Lyons Falls paper mill in March 2019. Such a plant was on the wish list of the Lewis County Industrial Development Authority.
Black River Valley Natural has also begun to bottle milk from the Grimshaw Dairy Farm in Adams.
Mr. Ledoux said that Mr. Munn impressed the Robbins family with his knowledge.
"We knew this was a man who could make our dreams a reality," said Mr. Ledoux, fiancé of Julia Robbins.
With corporate backgrounds in manufacturing and marketing, the Munns decided to return from out of state to Lewis County where Mr. Munn was born and raised and where he grew up on his grandfather's dairy farm.
"We basically decided we wanted to do something more and we decided to give back," Mr. Munn said. "To be part of the local food movement and helping the farmers — it's so much more rewarding and fulfilling than our lives before this."
He said Black River Valley Natural now works with about five farms fairly consistently with more in the pipeline, capacity permitting.
"We've really tapped into something here," Mr. Munn said. "Farms, historically, haven't been able to sell their own products from their own farm. They often-times don't have the money, permits or whatever to process their own milk and sell a safe product."
A truck from Black River Valley Natural arrives at the Robbins farm to pick up the milk and it returns with it bottled and ready for sale. To begin with, a couple of hundred half gallon jugs were purchased for filling.
"That was our starting point," Mr. Ledoux said. "With this whole coronavirus situation, Old McDonald's Farm won't be open until July."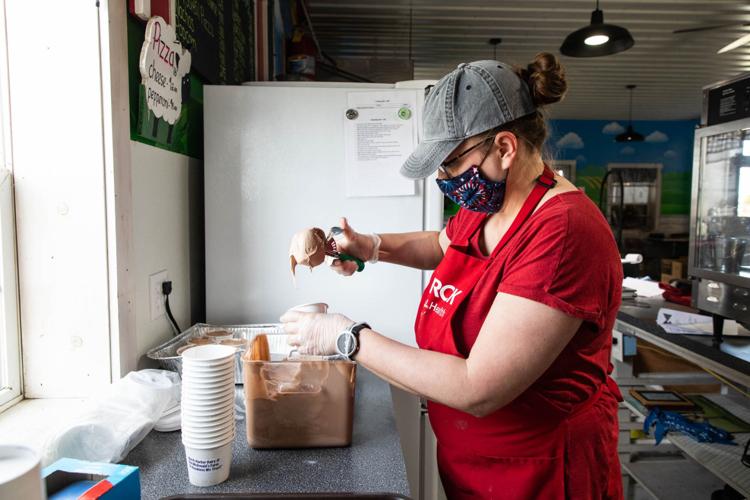 However, North Harbor Dairy "creamline" milk and ice cream is available for pre-order through the farm's website. The farm's store at its visitors center will be open 10 a.m. to 5 p.m. Wednesdays through Sundays beginning May 20. Also, "curbside pickup" is available by request.
The creamline milk is pasteurized, but non-homogenized. When milk is homogenized, milk fat globules are reduced in size and dispersed uniformly through the liquid.
"With creamline, your cream rises to the top, so you've got to shake it," Mr. Ledoux said. "People love it because it's a very full milk."
The milk also comes in chocolate flavor.
"We found that this is a great way to get local milk in front of folks, and I know some farms are doing the same," Mr. Ledoux said. "We've been fortunate where we haven't had to dump milk consistently. But we're always looking for ways of how do you bring the consumer back to the farm and how they connect with the farm."
The new ice cream line at the farm is produced and packaged on site — at the visitors center.
"It's investing in new opportunities," Mr. Ledoux said. "Some businesses add more cows. We've looked at how you can capture this market that comes right to the farm and sell them products right off the farm and how we can build the need for the local community."
He described the ice cream as "full ice cream, just like the milk."
"This is something you want to indulge in," Mr. Ledoux said. "I won't call this a diet ice cream. But it's good for you and it's got real ingredients."
For example, the farm's "Honey Vanilla" contains a gallon of local honey in each batch. A batch at the operation is 35 to 40 pints. The flavor will use both honey made from bees on the Robbins farm and honey from bees on Jake Ledoux's farm in Lewis County.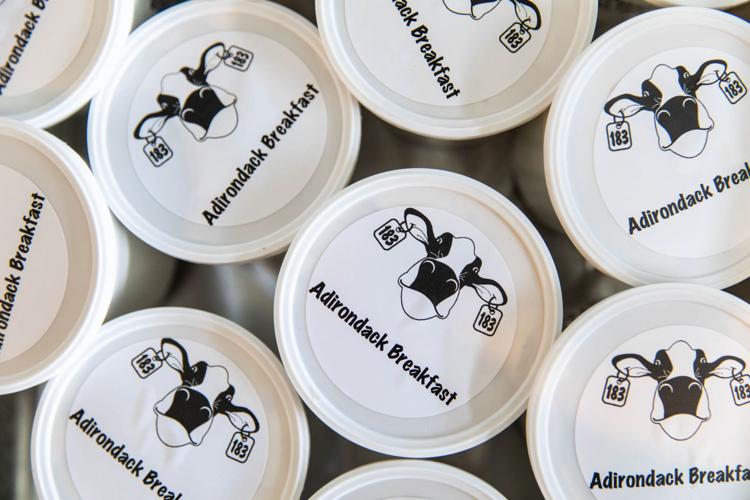 For the "Adirondack Breakfast" flavor, the farm uses local maple syrup. To complete the "breakfast" recipe, bacon bits and waffle cone bits are added.
The "Cowlick Chocolate" will have nearly 7 pounds of Nutella in each batch, in addition to Ghirardelli liquid chocolate.
Farm owners have also been having fun with naming the ice cream flavors. One is called "Carl's Caramel."
Carl Robbins, third generation farmer at the family business, died in February at the age of 83.
"It's a little sweet and salty, just like the man," Mr. Ledoux said of the flavor. "People fell in love with that."