Shoppers will no longer hear the question "Paper or plastic?" from cashiers at checkout after the statewide ban on disposable plastic bags takes effect March 1.
If they ask for a paper bag, their request may be followed by, "That will be five cents, please."
State legislation adopted last year will forbid most stores from offering customers the lightweight film plastic bags for carrying food, clothes, office supplies, tools, knickknacks or any other goods, although some exceptions apply.
When New York announced the plastic bag ban last year, it was the third state to do so, joining Hawaii and California. Since then, bans have been approved in Connecticut, Delaware, Maine, Oregon and Vermont, according to the National Conference of State Legislatures. In Minnesota, each plastic bag costs a nickel.
In response to the New York law, some stores and chains will implement a five-cent charge on each paper bag consumers request, as well as sell and highlight their own polypropylene, cloth and mesh fabric reusable bags.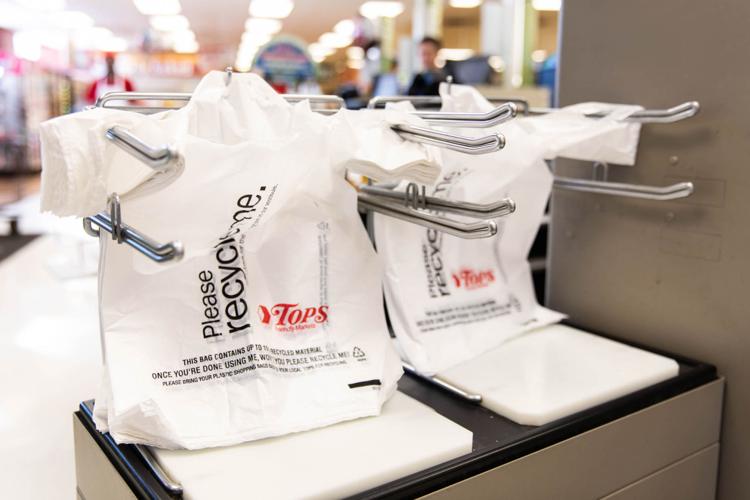 THE ROLLOUT
While most consumers have known about the upcoming ban for months, some may not know everything about it. Some retailers have criticized the state for not providing enough information to consumers, although the state now plans to take action.
Judy Vespa, who was shopping at Tops Friendly Markets in Watertown this week, said she was familiar with the ban, but she was unaware that stores could still offer plastic bags used for carrying produce. Despite some changes and confusion, Ms. Vespa, Watertown, said the ban will have little effect on how she shops.
"I have my own (reusable) bags," she said.
Gov. Andrew M. Cuomo signed the Bag Waste Reduction Law, which institutes the ban, in April in an effort to help protect wildlife and their habitats by reducing plastic waste, which animals can ingest. About 50 percent of plastic bags used nationwide become litter, and New Yorkers have used 23 billion annually, according to the governor's office.
The plastic bag ban applies to stores, or any individual person, that are required by law to collect taxes. Despite the ban, the state requires stores to continue accepting consumers' plastic bags and film plastics, such as plastic wrap over various products and bread bags, for recycling, according to the state Department of Environmental Conservation.
Judy Olsen, who was also shopping at Tops this week, said she approves the plastic bags ban, but will miss having them for her bathroom wastebasket, cleaning up dog droppings and "other extra things around the house." She purchased reusable bags from stores and canvas bags from yard sales for shopping, but said she forgets them whenever she shops at ALDI.
"If you haven't grabbed a couple, you should," she said.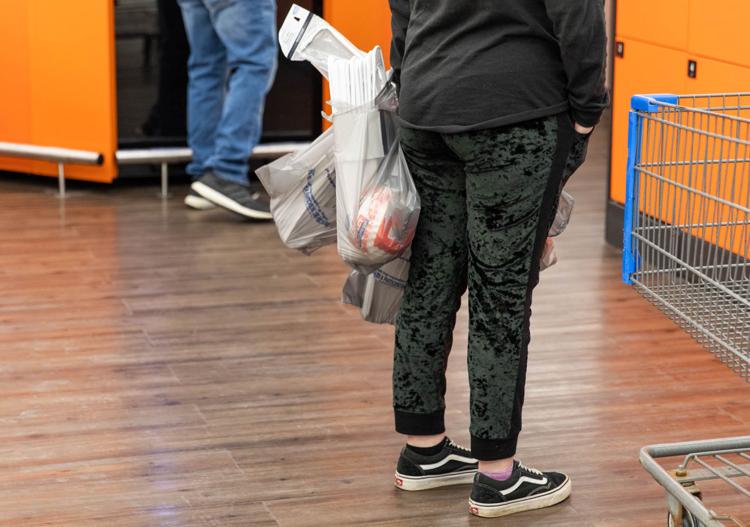 WHAT'S INCLUDED
Not all plastic bags have been forbidden for distribution in stores. According to the DEC, trash bags, food storage bags, thin plastic bags for newspapers and bags for holding uncooked meat, produce and prescriptions are among the permissible bags.
Watertown florist Scott A. Gray, who owns Gray's Flower Shop in Watertown and Carthage, said he worried about whether he could still give customers their arrangements in dry cleaner bags, which protect them against the rain and other inclement weather. Mr. Gray, who also chairs the Jefferson County Legislature, only found out recently that dry cleaner bags are exempt.
"As only Albany can do, it (state lawmakers) has overcomplicated this," Mr. Gray said.
Anthony J. Doldo, who owns the General Store in Watertown, said he questioned whether he could provide customers with plastic carry-out bags for their Krispy Krunchy Chicken, a national brand of takeout fried chicken sold in convenience stores like his. Krispy Krunchy Chicken representatives originally informed Mr. Doldo that he could use plastic bags, but he said they have since questioned it.
According to the DEC, exempt bags include any "provided by a restaurant, tavern, or similar food service establishment, as defined in the state sanitary code, to carry out or deliver food."
"As a consumer, the only thing I've ever seen is the switch that goes on March first," Mr. Doldo, also a county legislator, said. "They don't educate the public on (the specifics) very well."
The DEC, in cooperation with agency partners, plans to launch an informative campaign about the upcoming ban through community and media outreach, it wrote in a background statement. The department also plans to distribute reusable bags to low- and moderate-income residents.
Some shoppers, including Ms. Vespa and Ms. Olsen, said this week they felt they learned enough information about the legislation for their shopping needs, even if they had not known everything about it.
"I feel like all of the information is out there," Ms. Olsen said.
NICKEL FEE
The law banning plastic bags also allows counties and cities to enact a mandatory five-cent fee on each paper bag a customer takes. Retailers must collect the fees, which the DEC has called "paper carry-out bag reduction fee(s)," on behalf of the municipalities.
While some have elected to adopt a policy, Jefferson, Lewis and St. Lawrence counties, as well as the cities of Watertown and Ogdensburg, have not. Lewis County Manager Ryan M. Piche said lawmakers decided against enacting the fee because they "felt it would be an additional burden on taxpayers in Lewis County" and the Department of Social Services.
"It's not something that has been an item anybody here wants to discuss," said Ogdensburg City Manager Sarah Purdy, adding that officials don't want to enact a policy that would "cost residents even more."
Counties and cities receive 40 percent, or two cents per bag, according to the DEC. The revenue from the paper bag fees must be spent toward reusable bags for residents, with priority given to low- or fixed-income constituents. The state will keep the remaining three cents collected per bag, or 60 percent, to deposit in the state Environmental Protection Fund.
Any money garnered from the mandated fee that county and city officials do not spend by the end of the fiscal year will be deposited into the state general fund, and will be used for reusable bags for residents, according to the DEC.
Shoppers who rely on Supplemental Nutrition Assistance Program, or SNAP, and the Special Supplemental Nutrition Program for Women, Infants and Children, or WIC, will be exempt from paying the paper bag fee. The department ultimately wrote on its website that "One way to avoid paper bag fees no matter where you are across New York state is to always bring your own bag."
St. Lawrence County Legislature Chairman Joseph R. Lightfoot, R-Ogdensburg, said the county would not collect as much revenue from a five-cent paper bag fee because about one-third of residents rely on public assistance, many of whom would be exempt. The Legislature disagrees with the revenue distribution, with more going to the state than counties, and because lawmakers lack the desire to regulate shopping, Mr. Lightfoot said.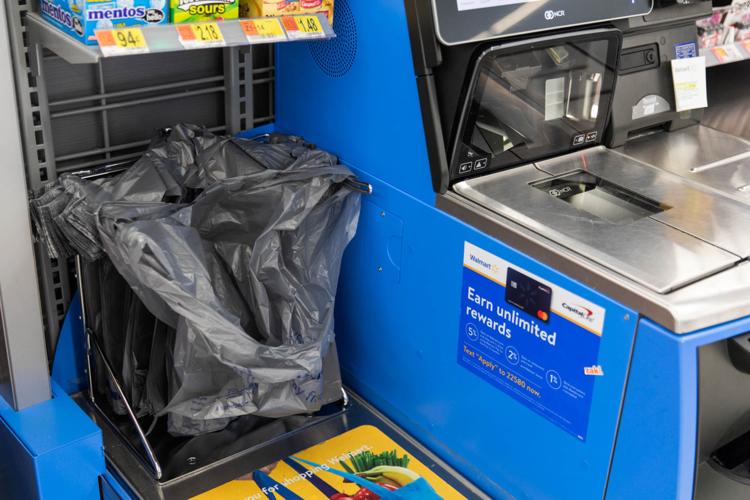 CHAIN REACTION
Several chains, including Price Chopper, Tops Friendly Markets, Hannaford and Stewart's Shops, have elected to charge a five-cent fee per paper bag at New York locations. Local stores, such as the North Country Store, Philadelphia, also followed suit.
Mona Golub, vice president of public relations and consumer services for Golub Corp., which owns Price Chopper and Market 32, said paper costs four or five times more than plastic, yet one percent of her clientèle uses paper. Tops spokeswoman Kathleen Sautter also wrote in an email that paper bags cost more than plastic.
"Our experience has been that plastic bag bans tend to move people to single use paper — which is energy intensive to manufacture and transport," wrote Hannaford spokeswoman Ericka Dodge in an email.
Several chains, including Price Chopper, Hannaford, Tops and Stewart's Shops, have been selling reusable bags, some for years. With the upcoming plastic bag ban soon taking effect, these grocers and retailers have doubled down on promoting their reusable bags to consumers.
Heidi Simpson, who was buying takeout from the General Store in Watertown this week, said she may have to buy more reusable bags. While Ms. Simpson, Adams Center, owns a couple of them for shorter shopping trips when she has less items to buy, she said she will need to buy more for longer trips when she has to purchase many goods. She also said she will not buy paper bags.
"If I go to Walmart, I do use quite a bit," of plastic bags, she said.
The five-cent fee, for some stores, serves as a mechanism for encouraging customers to purchase reusable bags. For much of last month, the North Country Store has encouraged customers to buy its $2.99 reusable bags by offering a 10 percent discount on every item, save gift corner products, they could fit in each bag. Matthew Montroy, general manager for the store, said offering customers reusable bags saves them and the store money on paper bag purchases. Some stores' effort to promote reusable bags in lieu of paper also aim to reduce possible waste from thrown-away paper bags.
"Our aim remains to discourage the reliance on bags that become garbage after one or two uses," Ms. Golub said.
Some retailers, like Price Chopper and Tops, have installed hangers and display racks for their reusable bags near their store entrances to enhance their promotion efforts. They have retrained associates to more efficiently pack groceries in them and paper bags. Ms. Golub said Price Chopper has also taught employees how to inform consumers about the upcoming ban.
Price Chopper and Tops plan to relocate their remaining plastic bag inventory at New York stores to locations in other states where no ban has taken effect, both Ms. Golub and Ms. Sautter said. Relocating existing plastic bag inventory, however, could prove challenging as other states either have upcoming laws banning them, like Vermont, or are considering possible legislation.
"We operate in five states — where some states have or will soon have plastic bag bans and others do not so the business has adjusted inventory accordingly," Ms. Dodge wrote in her email.
Both Ms. Golub and Mr. Montroy criticized the state for failing to provide sufficient education about the upcoming ban. They said they have tried to remind customers about the ban and provide information themselves. When asked about the DEC's plan to launch an education campaign, Ms. Golub said it would have helped months ago.
"New York state has not really been a good partner in the effort to inform and educate customers, at least up until this point," she said.
The plastic bag ban has been met with opposition, consternation, indifference, support and optimism. Mr. Montroy said he believes the North Country Store could cut costs by no longer having to buy single-use plastic bags.
"It'll probably be a savings," he said.
The state's fight against waste has not stopped at plastic bags. Gov. Cuomo in December announced proposed legislation that would ban the sale of polystyrene, or Styrofoam, food containers and packing peanuts. The ban would take effect in 2022.
"Styrofoam is one of the most common pollutants and a public health hazard that impacts humans and the environment alike," Gov. Cuomo wrote in a prepared statement in December. "From take-out containers to packing peanuts, this material is everywhere and it will continue to pollute our waters and harm our wildlife for generations to come if we do not act."
Plastic bags exempt from the statewide ban
Bags for customers to package produce, grains, candy, small hardware items, live fish and live insects
Bags used to contain uncooked meat, seafood, other unwrapped food, flowers and other plants
Bags used for holding sliced or prepared food
Bags used for containing newspapers for delivery to subscribers
Trash bags for sale for customers
Food storage bags for sale to customers
Garment bags, including ones used at a laundry service or dry cleaner
Pharmacy bags for carrying prescription drugs
Bags provided by restaurants to carry food
Bags packaged for bulk sale, including bags prepackaged in individual boxes or containers
A bag "for which there is no reasonable or practical alternative for storing, containing or transporting items, as determined by the DEC," according to the department
Information provided by DEC
States with plastic bag bans
Plastic bag bans in effect:
Bans will soon take effect: