WATERTOWN — At 3 p.m. on New Year's Eve, with a hearty shout of "One…two…three…Donegal!" the shaving ceremony for the tenth annual Donegal King of Beards Contest began.
Sportsman's Barbershop, 310 State Street, has hosted the shaving ceremony each year since the competition started. It's also the oldest barbershop in the city. The competition, which is part of the 35th annual North Country Goes Green Irish Festival, will run until judging day: Friday, March 13.
According to Connie Johnston, who owns the barbershop with her husband Thomas, the competition sees upwards of 30 participants each year. Contestants ranging in age from late teens to early eighties received a free shave on New Year's Eve from 3 to 4:30 p.m. and have until the judging in March to grow their beards out.
During the shaving ceremony on New Year's Eve, Mrs. Johnston's daughter, Rachel, and Shana Simmons, along with Mrs. Johnston herself, helped rid the men of their facial hair so progress can be tracked from clean shaven to bearded for the competition. Mrs. Johnston's other daughter, Ashley, donned the Donegal mascot head as she walked through the barbershop, entertaining everyone she passed.
26-year-old Jaymeson Smith is entering into the competition for the first time this year and had been growing his beard out for about three months before it was shaved off Tuesday afternoon.
Though he admitted to being a bit nervous about shaving off his beard and going against seasoned competitors, Mr. Smith said he is looking forward to his first competition.
"I've had a lot of people in my family encourage me to do it, I have a very Irish family, hence the name Jaymeson," he said. "My grandmother is actually very Irish and she always liked it, and she just passed away almost a month ago, so I just thought it would be something kind of cool to memorialize her and support the family."
Entering into his sixth year of competing and sporting a bushy beard paired with his own Donegal t-shirt, David Grandjean said he had only been growing the beard for about five months. Though he has placed in the top ten in past competitions, he has yet to win one and is very hopeful for this year.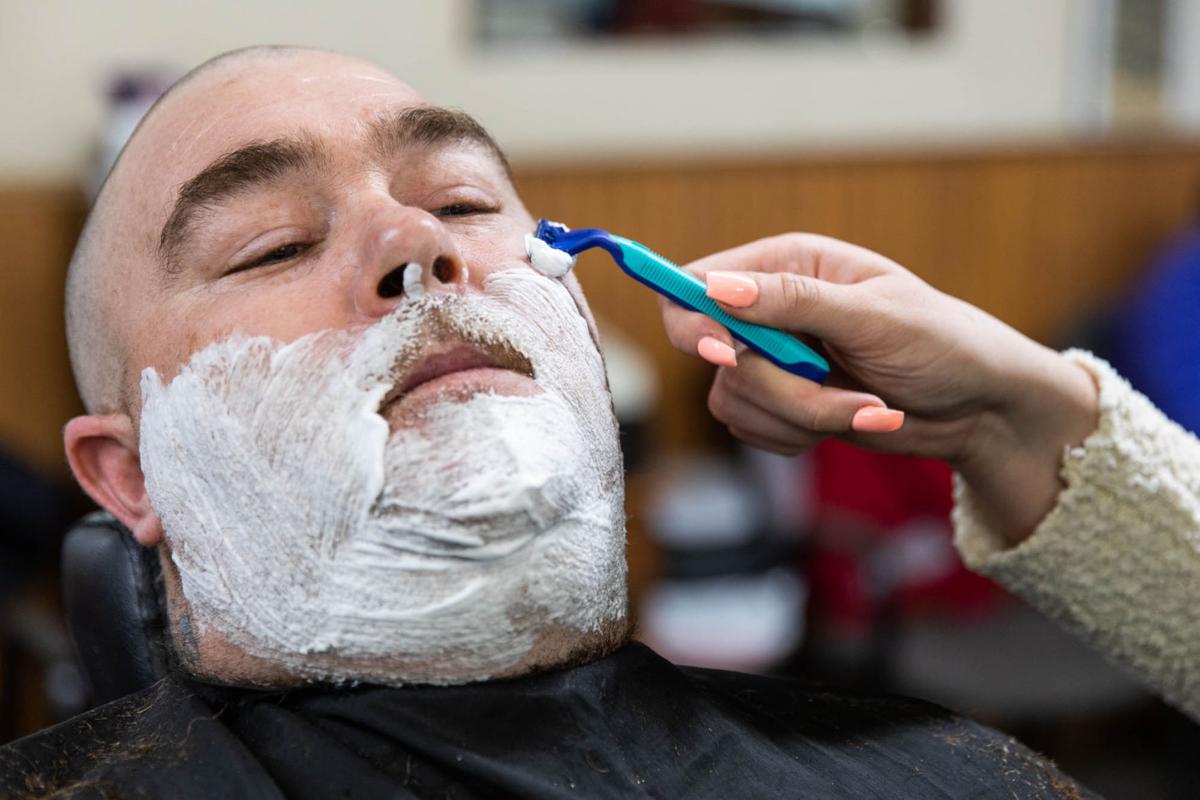 The only thing he plans to do differently this year while growing his beard out is to "use more beard oil."
Donegals, or beards that hug the jawline while avoiding the mustache area, will be judged on things like length, fullness, color, shine, texture, style and more.
The man with the best Donegal beard at the Irish Festival, dubbed the 'King of Beards,' will take home the grand prize trophy, as well as some serious bragging rights. The winner will also lead the march of the beards in the festival's parade on Sunday, March 15.
Prizes will be handed out to the winners of each category: King of Beards, Most Colorful, Best Accessorized, Senior and the 18 and Under Division.
According to Mrs. Johnston, the senior category was added this year in order to accommodate contestants who are 70 or older and felt they 'couldn't keep up with the younger guys.'
Guy Forbes, the only contestant that has been in all ten competitions, said he usually comes in close to being a finalist every year, but hopes this will be his year to take the win.
As for the best part of the competition in his eyes, getting together with all the guys and having the crowd get really into the competition takes the cake for him.
The 82-year-old, wearing a green knit cap and a grinch sweatshirt, doesn't have much of a beard regimen, but did share some wisdom passed along to him by his doctor.
"My doctor told me to use a lot of iron so I'm gonna get me a little iron spike and chew on it," he joked while waiting for his turn in one of the barbershop's chairs.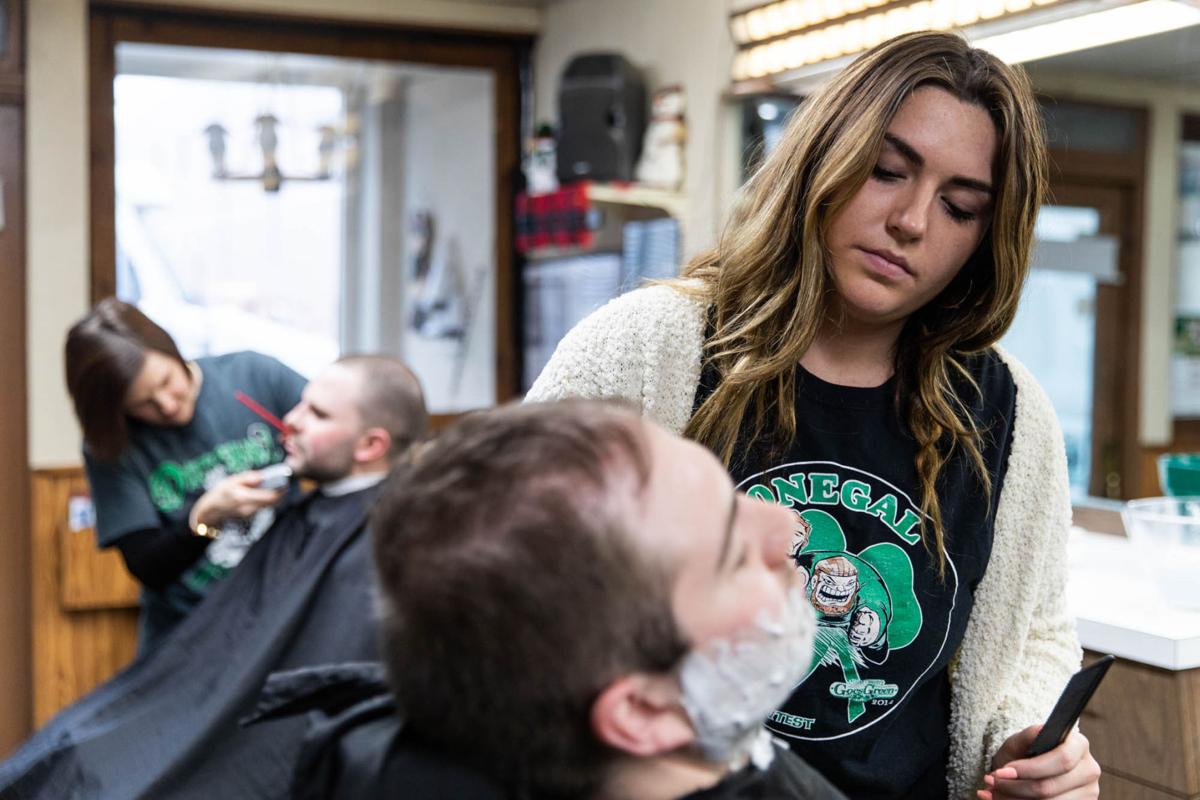 Though this will be Robert Mevec's first time as a judge for the local beard growing competition, he is no stranger to beard contests.
Mr. Mevec competes in worldwide competitions and is the current British National Beard and Mustache champion for a Donegal or Whaler Beard, as well as coming in as a third place finalist in the World Beard and Mustache Championship for his Whaler Beard in Antwerp, Belgium, this past May.
In terms of Watertown's King of the Beards competition, Mr. Mevec took home that particular title in 2016.
"I think the best part is the camaraderie of your fellow guys who compete with you and against you, and although they are your competitors, you're still friends and no matter where everybody places you're still friends, it's a great fun time," he said.
Registrants must be clean shaven by Dec. 31 or after in order to have their beards judged in March. For those who couldn't attend the shaving ceremony, a photograph proving their clean shaven-ness as of Dec. 31 or after, with a dated newspaper or news website, may also be submitted with the registrant's name to ncirishfest.com/events/Donegal or by calling (315) 782-2442.