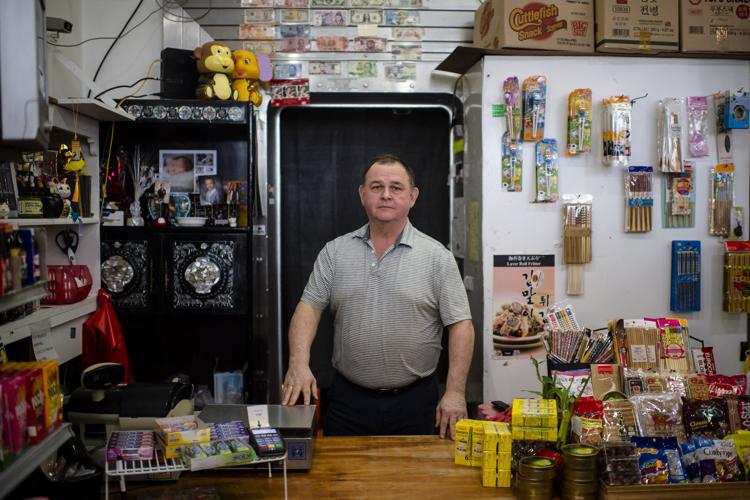 WATERTOWN — Bright red snapper, frozen, peek out of a display case. A colorful sign on the wall displays the price of sokkori, samgyeopsal and ojingeo, all written by hand in Korean hangul. The English translation — ox tail, pork belly and squid — help those shoppers who may be stumped.
On nearby shelves, cartoon characters on various packages reflect an animated product line.
With its diverse products, ranging from biscuits to brooms, Asian Market, 552 State St., is an enclave of cultural cuisine and things that many people don't expect to find in a city the size of Watertown.
"The first time customers come in and say, 'Wow, I can't believe this is here,'" said Rich "Jake" Jacobsen, who owns the store with his wife, Mikyong.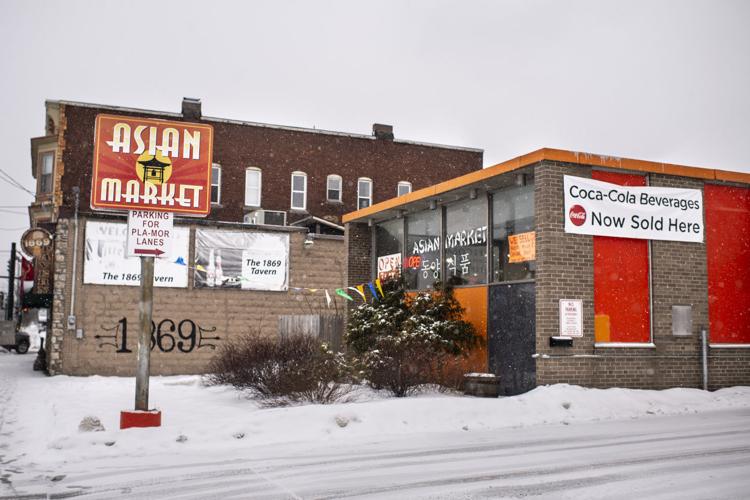 Asian Market is where you'll find bok choy, bitter melon, Jamaican jerk sauce, bottled bubble teas from Taiwan and Korean kimchi, as well as row after row of ramen and udon noodles. Mr. Jacobsen boasted of the store's vast noodle varieties, as well as a rotation of sweet treats .
"We just got these in," Mr. Jacobsen said, pointing to a box of tiny, biscuit-shaped chocolate cookies near the register. "They're from Japan."
Mr. Jacobsen, a native of Watertown, met his wife in South Korea while he was serving in the military overseas. He spent six years there. After he returned, he and his wife purchased the store from a Korean woman when her husband died and the store was too much for her to run on her own.
"We're a small enough business that most of my customers, I know them and they know me," he said. "It's usually just me and my wife, and sometimes my son."
As Mr. Jacobsen was explaining how many of the products in the store come directly from customer requests, Jacque Mundt stopped Mr. Jacobsen to ask about raw peanuts.
"I didn't see them," she said, shopping with her husband, Gary. After looking, Mr. Jacobsen told her they must be out, but he promised he'd add more to his order the next day.
Ms. Mundt, originally from the Philippines, has lived in the area for 27 years with her husband, who is originally from the Rochester area.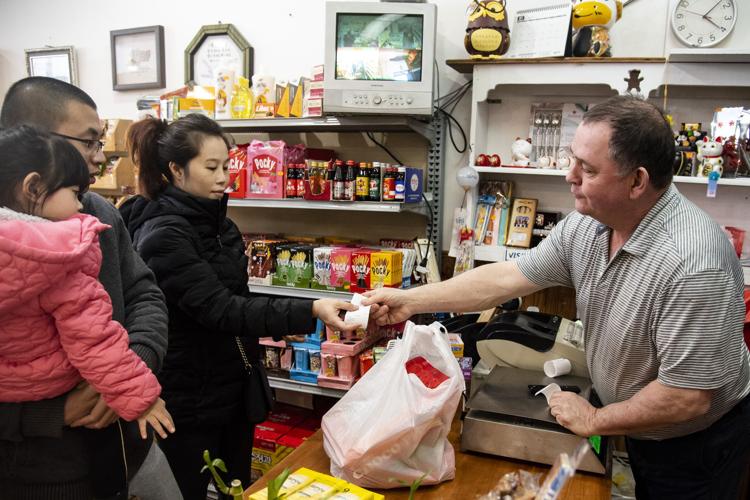 "This is the only Asian store we have. We were so happy that we have one," she said. "It's hard to find food from our country."
If not for Asian Market, Ms. Mundt said she would take an hour-long trip to Syracuse if she wanted to keep making the dishes from her home, that connect her to her culture.
"I would not be able to make my food," Ms. Mundt said.
Aside from food, customers might pick up a steel wok or an Asian tea set — hallmarks of domestic life back home, or items they're just curious to try.
While most specialty Asian grocery stores predictably see a majority of customers from Asian countries, only about a quarter of the customers who visit Asian Market are from Asia, Mr. Jacobsen said. The foreign-born population of Watertown is only 4 percent, according to the most recent census, but the military community from Fort Drum brings people to the region who have lived in places all over the world.
One challenge of serving such a niche market near a large military base is the rotating cast of customers who move to other bases every few years.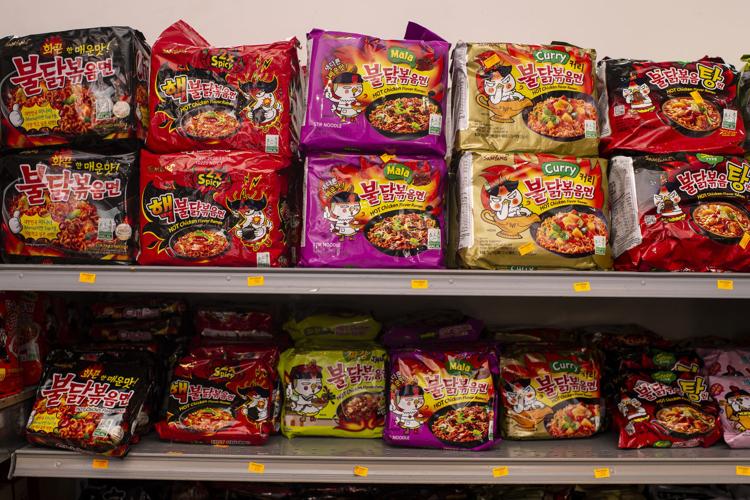 "They come in and say, 'Ah, we're going to miss you. We'll be gone,'" Mr. Jacobsen said.
Fortunately for his store, "there's always new customers, always someone new coming in," he added.
The majority of his customers are those who have an appreciation for world cuisine, whether they be service members or those in the neighborhood. For many of them, Asian Market is the only place to find speciality products such as goat meat, chicken feet or pig tails.
"Those are all things that are hard to find," he said.
To keep his store stocked from countries all over the world, Mr. Jacobsen can spend up to seven hours a week on the road to meet suppliers. "As I go out, I look for different things, so that every time customers come in, they're seeing something different," he said. "One month, we'll get a case of this. One month, we'll get a case of that."
An increasing number of Americans are traveling overseas, according to figures released by the U.S. Commerce Department. In 2018, Asia alone saw an 8.4 percent increase in travelers from the U.S. In total, 41.7 million travelers from the U.S. visited other countries, an overall increase of 9 percent from the previous year.
The exposure to Asian culture isn't just from people traveling abroad. Last weekend, the Korean film "Parasite" won four Academy Awards wins, including the Oscar for Best Picture. It was the first time a non-English language movie has won the Academy's top award.
In April, Korean pop music boy band BTS became the first Asian group to surpass 5 billion streams on Spotify. They performed at ABC's "Dick Clark's New Year's Rockin' Eve" in Times Square. And in 2019, they were named the fourth most successful group on the Billboard chart, ahead of the Beatles, Queen and Imagine Dragons.
As evidence of how pop culture can influence food trends, look no farther than the 2018 Netflix teen romantic comedy "To All the Boys I've Loved Before," which featured an Asian-American protagonist, Laura Jean Covey. At least 80 million viewers tuned in to watch the film, in which the iconic Asian probiotic yogurt, Yakult, had a starring role in one storyline.
By the end, the non-Asian American heartthrob Peter Kavinsky falls in love with both Laura Jean, as well as her favorite drink — and he wasn't the only one. According to Bloomberg, the film helped propel a 6 percent decline in the Yakult company stock to a 2.6 percent increase after the release of the Netflix romance that year. The film's sequel, "To All the Boys: P.S. I Still Love You" was released Wednesday.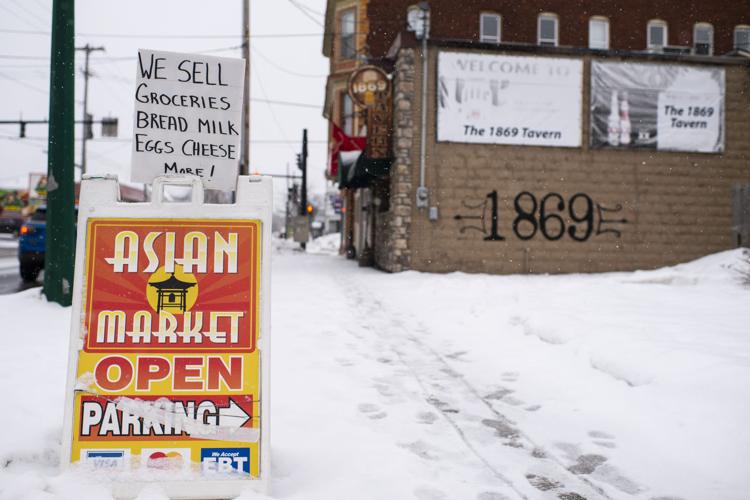 A particular Beijing-based social media company has also helped inspire food trends as well, causing a rush on Straw and Fruit Jelly candies.
"Do you know what Tiktok is?" Mr. Jacobsen asked. "Well, I went last week and bought a case of straws and a case of the jellies. And they're gone."
Mr. Jacobsen said he's always on the lookout for what other trends customers might be interested in. These might include bubble tea drinks, Ramune, Japanese soda that comes with a marble as a stopper; Pocky or Pepperro, thin cookie sticks dipped in chocolate; and hard-to-find varieties of Kit Kat bars not usually found in the U.S.
"We're very proud of the fact that we have a big ramen variety. It's a bigger variety than even the big Asian market down in Syracuse."
Jacque and Gary Mundt left the Asian Market with a small bag of groceries, highlighting another aspect of smaller convenience stores: It's easy to stop by, grab the few items needed and step out again without the travel or long lines at major grocery stores.
Mr. Jacobsen has suppliers from Korea, Japan and China, but they also stock items from the Philippines and Jamaica. And after the Great American closed a half a block away, the Asian Market started carrying grocery staples, too: milk, butter, eggs and bread.
"My idea was, we were already selling groceries," he said. "Let's add (this) as a convenience."
Since the larger grocery store closed, the nearest full-line grocer is at least a half mile away.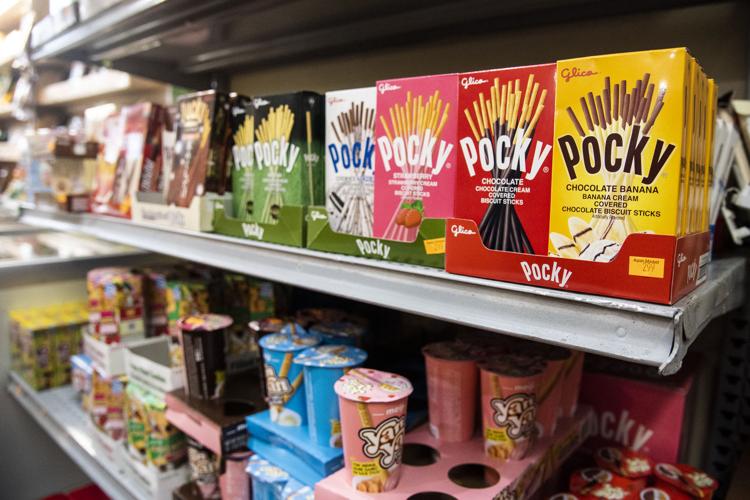 "People that live in the (Midtown) Tower, people that live in the houses in this neighborhood, who don't have vehicles, who used to walk to the Great American to get groceries, now have to get a taxi or an Uber or a friend to take them up to Arsenal Street or up to Save-A-Lot."
For his part, Mr. Jacobsen's family doesn't shop at other grocery stores, which is another way he's able to keep products in rotation. Aside from variety, "it's about keeping things as fresh as you can."