CANTON — Rows of colorful yarn and fibers, more than 50 flavors of Sno-Balls and 20-and-counting flavors of juices and smoothies characterize just a few of Canton's Main Street retailers.
But peering into the storefronts, Canton's downtown businesses have a striking commonality: most are owned and operated by women.
"I often find myself — when I'm working with economic development offices and business owners — starting with: I'm a business owner myself," said Brooke Rouse, executive director of the St. Lawrence County Chamber of Commerce. "It gives me a perspective closer to the folks we're serving."
Mrs. Rouse, who owns Grasse River Outfitters at 45 Main St. and 24 East Main St. Bed and Breakfast with her husband, Charles, said retailers in Canton consider customer needs and tend to "refer rather than duplicate." For instance, she said, Grasse River Outfitters, which specializes in outdoor gear and equipment, would choose not to provide health products typically sold at Nature's Storehouse at 21 Main, and would instead refer customers to Nature's for those products.
"It's really important in any community for small businesses to be working together," Mrs. Rouse said. "Finding ways to collaborate ultimately brings everybody up."
Of the 23 small businesses along Main Street between Riverside Drive and Park Street, at least 16, or 70 percent, are owned or operated by women, and many are members of the Canton and St. Lawrence County Chambers of Commerce.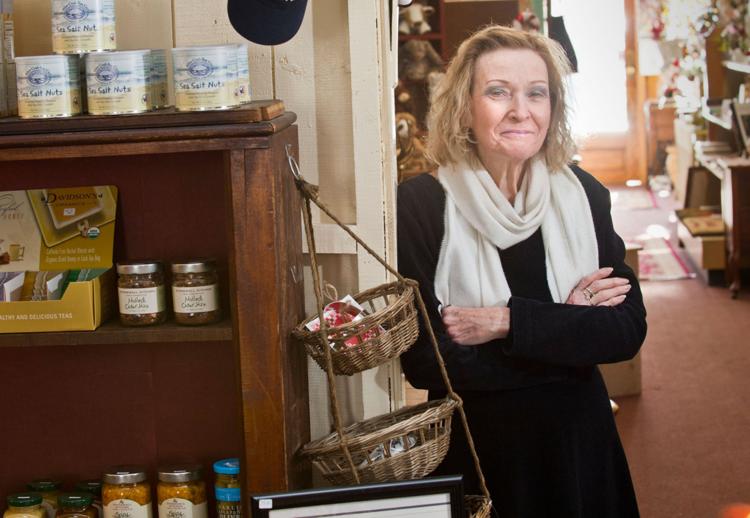 Though the Canton and St. Lawrence County Chambers do not typically collect demographic data from owners of their member businesses, both Mrs. Rouse and Canton Chamber Executive Director Tammy Mackin said Canton is home to several women-run small businesses.
With a 114 percent increase in women business owners in the United States since 1972, about 40 percent of businesses are now women-owned, according to the Women's Business Enterprise National Council. According to 2012 Economic Census data, the state and national portions of women-owned businesses were around 36 percent, and in St. Lawrence County about 30 percent.
In Canton, SUNY Canton's Small Business Development Center, part of state and national programs, offers advisory assistance to small business owners and those looking to begin small business projects.
Supported by the state, the Small Business Administration and the SUNY system, the SBDC also hosts two Women's Business Bootcamps each year, typically in the spring and fall.
Michelle Collins, a business adviser at the SBDC, estimated the day-long bootcamp events have been hosted in Canton for about 15 years, and evolved from an SBA initiative designed to empower businesswomen and offer support to women-owned businesses.
A pile of small birch trees inside the entryway of Canton's Celtic Knot on Black Friday dwindled until only a few twigs remained.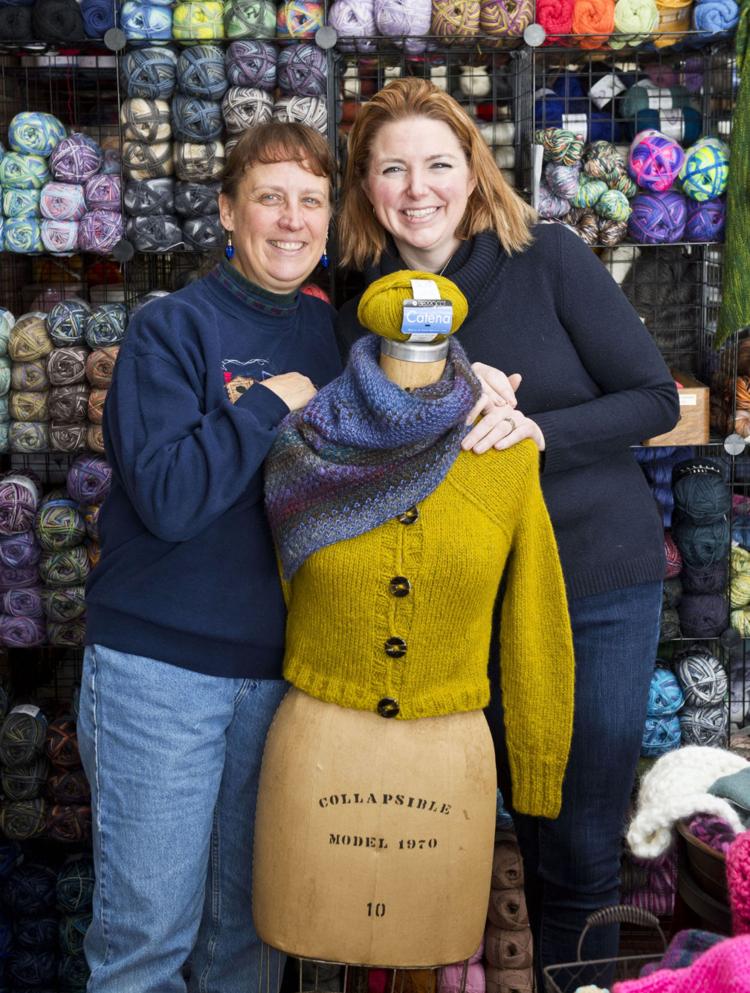 Cut to fit the height of the store's window display in preparation for the annual Canton tree lighting and storefront decorating contest Black Friday night, the birch tree cutting and arranging in the front window was just one of countless crafting endeavors for Celtic Knot's team of women over the last five years.
Celtic Knot owner Erin Alguire and manager Dayna Lancaster celebrated the store's five-year anniversary in November. Ms. Alguire had previously worked with her mother, Michelle Scanlin, to manage Sposa Bella, a bridal and special occasion shop at 81 Main St., for about eight years of the shop's 17-year history.
Sposa Bella closed earlier this year following the November 2018 passing of Ms. Scanlin.
Celtic Knot hosts regular knitting and spinning groups and sells hand-quilted and hand-knitted items, as well as locally-sourced yarn. Ms. Lancaster even supplies alpaca fiber, spun into yarn, from her herd of alpacas at Rock Hollow Farm in Herman.
"I didn't knit or quilt when I opened (Celtic Knot), I just knew business and retail," Ms. Alguire said. "Now I do all of the above."
Up the street from Celtic Knot, The Pear Tree, owned by Canton native Marilyn I. Mintener, has been in operation for more than four decades, specializing in home decor items and gifts. "It's a more challenging time," Mrs. Mintener said, when looking back over her 40 years in business.
"Online shopping has certainly affected businesses all over the country," Mrs. Mintener said. "The terrific thing here is the young women going into business, with so many ideas. It's a wonderful advantage for Canton."
To meet the challenges of competing with online marketplaces and maintaining a strong community presence, patron support makes all the difference, according to Mrs. Mintener. And that support should not only be described by how many sales are made or how many customer visits are reported, but by the support of return customers and of customers who become friends.
"Almost everyone who walks in the door, I know them," she said. "It's been a long, wonderful time with this store."
Before she purchased Nature's Storehouse from Georgeann Mollett in 2002 with her husband Joshua, Rainbow Crabtree had a long-standing interest in natural healing and healthy living — and she knew she wanted to one day be her own boss.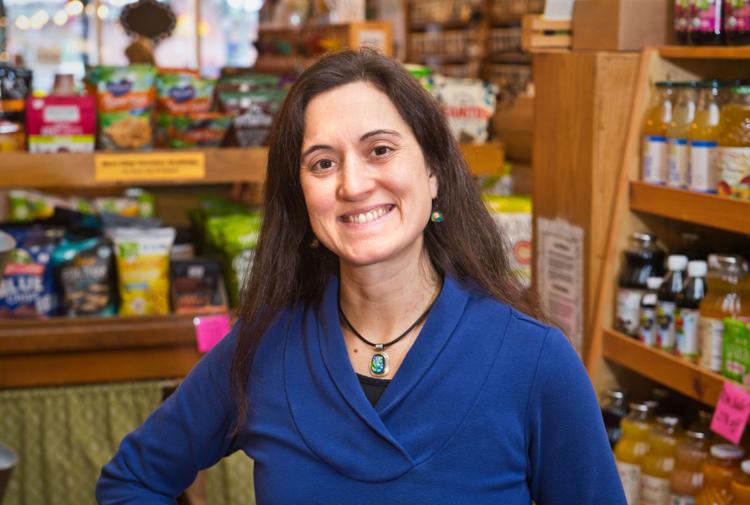 Combining her interests and her dream of being self-employed, Mrs. Crabtree said after nearly 17 years of ownership, she still "feels passionate about everything Nature's (Storehouse) is based on."
"One of the most fun and interesting things about being self-employed is that as the business grows, you grow, because the growth of the business demands that you grow with it," she said.
The Crabtrees and a staff of seven employees, keep shelves stocked with dry goods and the kitchen smelling of sweet and savory selections. A few doors down, a similarly small staff buzzes about a French Quarter-inspired shop.
With more than 50 flavors of New Orleans-style Sno-Balls, NOLA's General Store brings a taste of the Crescent City to Canton at 11 Main St. The Sno-Balls are flavored ice, with a fluffy consistency. NOLA's special take on the traditional treat: a stuffed Sno-Ball, with ice cream in the center.
"I wanted to shake up Canton with something fun," said Elizabeth Pier, who opened NOLA's a little over a year ago after purchasing the building and renovating it from a maze of dated cubicles to a cafe with candies and goods lining the brick walls.
Ms. Pier, who is an accredited appraiser through the International Society of Appraisers, also owns Fleur de Lis Estate Services and Appraisals above NOLA's.
Describing Canton as "the perfect community, the perfect spot" to open a small business, Ms. Pier said "Canton has a lot to offer."
"Women have started to realize what they can do and how they can be a force for the community," she said.
Just a block away at 81 Main St., Flying Lotus Yoga Center owner Kelly Newman Burnham said the support from the community at large and the community of business owners in Canton has made a business dream come true.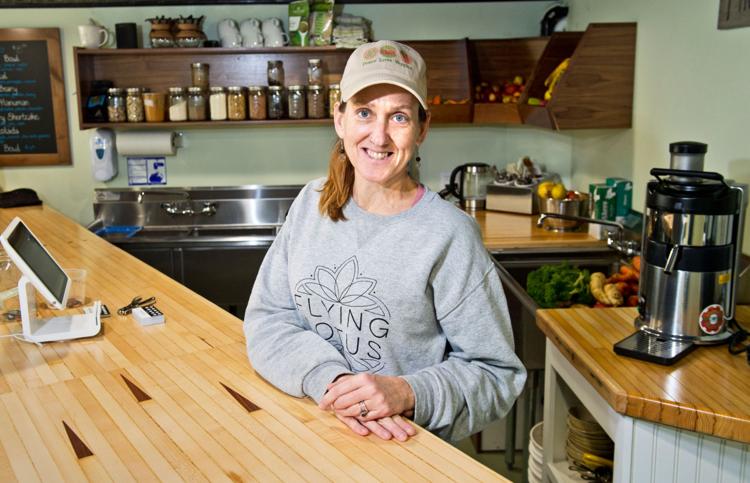 "It's been very empowering for me to envision this dream and to watch it come into reality," Ms. Burnham said. "I'd just like people to come here and feel at home."
Ms. Burnham began planning the Flying Lotus project about two years ago, and it has manifested into two separate, but connected, parts. The lower-level Juice Bar, also called the Root Cellar, opened in September and offers a variety of juices, smoothies and smoothie bowls sourced from mostly local and organic ingredients — as local and organic as possible, Ms. Burnham said.
The Golden Beary smoothie, Ms. Burnham said, is the Juice Bar's best-seller, with blackberries, blueberries, bananas, spinach and almond milk.
With the street-level studio still under construction — work on the floor was started this week — Ms. Burnham has gathered a group of area yoga teachers in preparation for a late December or early January opening. Ms. Burnham herself teaches aerial, ashtanga and yin yoga, and other teachers will host aroma flow, kundalini, zumba and belly dance classes.
Across the street from the Flying Lotus, Denyse and Stephen Russell have managed Hair Designs for nearly 20 years — Hair Designs' 20th anniversary at 76 Main St. is in February, though Mrs. Russell has been offering salon services in the area for almost 40 years.
"She goes non-stop," Mr. Russell said of his wife. "They all do."
The four-person team, including the Russells, offer a variety of salon services and products, ranging from cuts, colors and manicures, to selling fashion wigs, head scarves, braids and shampoos.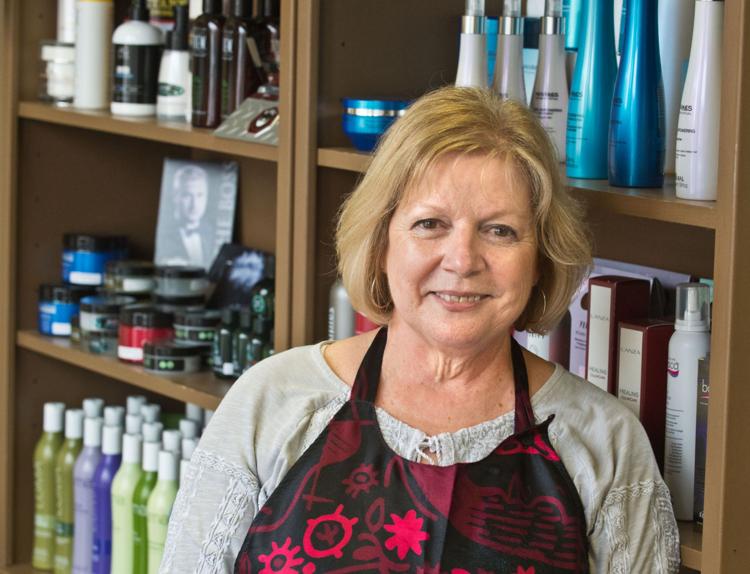 Mr. Russell, a self-described "front desk manager and resident troublemaker," said the business has only ever been closed one or two days over the years, due to weather conditions.
"When you start doing someone's hair and you watch them grow up, get married and have kids of their own, it's really full-circle," Mrs. Russell said.
The women on Canton's Main Street, Ms. Pier said as she talked inside NOLA's last week, are so successful because they have varying skill sets and experiences — beyond business. A love of crafting and the outdoors, a knack for creating distinct juices, long-standing community ties, a nostalgic taste and an appraiser's eye, all give Canton its flavor.
"Make sure it's something you love," Mrs. Crabtree said, offering some advice to young people just entering the business world. "Make sure the business is something that lights you up."