WATERTOWN — Nexamp, together with National Grid, is addressing increased energy demand at the Coffeen Street substation in Watertown with the construction of a new solar-plus-storage facility, with no wires attached.
The project includes Megapacks, created by Tesla.
The new solar and storage facility will eliminate the need for additional transmission lines or substation upgrades through a non-wires alternative (NWA) approach.
The local project is dubbed the Watertown Renewables Project. It's the first NWA project of its kind for Nexamp.
"Nexamp designed the solar-plus-storage project, is constructing it, and will be the long-term owner/operator," Keith Hevenor, Nexamp communication manager, said Tuesday in an email to the Times.
He added that the Tesla Megapacks will be installed and will operate on the Nexamp site, which is just a short distance from the National Grid substation.
"Nexamp chose the Tesla Megapack systems as the storage solution for this particular project but does work with a handful of storage technology providers across its portfolio," Mr. Hevenor said. "National Grid is contracting directly with Nexamp to provide power as needed to address increased demand on that substation."
National Grid's first NWA activation came in suburban Syracuse in May, through a partnership with Convergent Energy. The Watertown project would be one of its next installations to come online.
"It's a relatively new technology," National Grid spokesman Jared Paventi said on Tuesday. "NWAs remove or defer the need to build additional transmission or distribution infrastructure, as they add capacity to the grid. In the case of Watertown, we're adding capacity through energy storage."
The technology upgrade is centered upon Megapacks, manufactured by Tesla. The Tesla Megapacks are being tasked with supporting a 31-megawatt-hour expansion of the Coffeen Street substation.
NWA projects are designed to eliminate complexity and reduce costs by using distributed energy resources like solar and energy storage systems. These are more advantageous than traditional generation and infrastructure enhancements and may be more relevant to the overall energy grid and its demands in the coming years as more solar projects are being considered.
The Watertown Renewables Project features more than 20,000 solar panels generating 8.4 megawatts (MW) of renewable energy and 10 Tesla Megapack systems providing the 31 megawatt hours of energy storage. Together, the solar and storage components of Watertown Renewables are engineered to give National Grid the ability to call on the system for up to 5.7 MW/29 MWh up to 25 times per year either from the panels or the batteries.
"This project is significant because it represents a number of important firsts," Chris Clark, chief development officer of Nexamp, said in a news release. "It's our first NWA project and is the result of a lot of hard work and collaboration between Nexamp and National Grid. With solar-plus-storage technology advancing so quickly, NWA projects represent new opportunities to innovate the way we solve demand issues on the grid. As we work on additional NWA solutions in other locations, we anticipate many exciting milestones ahead."
"National Grid is committed to reducing greenhouse gas emissions by increasing the amount of renewable energy on the grid while improving reliability and affordability for customers," Brian Gemmell, National Grid's chief operating officer for electric in New York, said in a news release. "Our recently released Clean Energy Vision plan outlines a pathway to achieve a fossil-free future to our energy systems that incorporates renewable sources of energy and storage solutions such as this non-wires alternative in Watertown. Nexamp's expertise in developing and operating energy storage solutions that benefit utilities and communities made them a natural fit for this project."
Mr. Paventi said the Watertown project is not related to Convalt Energy's proposed development of a 300,000-square-foot solar panel manufacturing plant in the town of Hounsfield near the Watertown International Airport.
"It will support all customers connected to that substation," Mr. Paventi said.
Mr. Hevenor said it's expected the Tesla Megapack systems will be delivered and installed at the Watertown Renewables site over the next few weeks.
"At the same time, the Nexamp team is installing the solar racks and modules, work that will continue into early next year," Mr. Hevenor said. "At that point, we will work with National Grid to complete the required testing and interconnection and turn the project on."
He added the Tesla Megapacks will be installed and will operate on the Nexamp site, which is just a short distance from the National Grid substation.
Nexamp says that the Watertown Renewables Project is part of its extensive portfolio of distributed solar and storage assets and will also serve area residents through the company's Community Solar program, providing energy costs savings to subscribers while delivering a new source of renewable energy to the local grid. This project is capable of offsetting the energy needs of more than 1,000 local residents who get their electricity from National Grid.
Nexamp has dozens of other solar-plus-storage projects already in operation across the Northeast and around the country.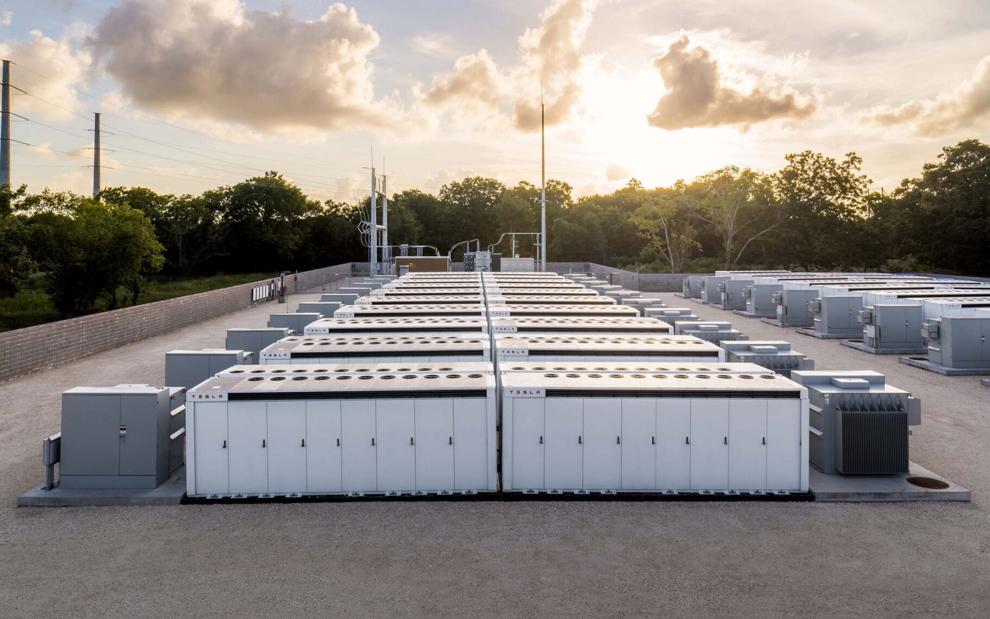 A Megapack is a powerful battery that provides energy storage and support, helping to stabilize the grid and prevent outages. Each unit can store over 3 MWh of energy, enough energy to power an average of 3,600 homes for one hour.
Tesla originally developed the Megapack to match global demand for massive battery storage projects. Its first project was a few years ago in Australia, after a 50-year storm in September 2016 damaged critical infrastructure in the state of South Australia, causing a statewide blackout and leaving 1.7 million residents without electrical service. According to a Tesla news release, further blackouts occurred in the heat of the Australian summer in early 2017.
In response, the South Australian government sought a sustainable solution to ensure energy security for all residents. In 2017, through a competitive bidding process, Tesla was selected to provide a 100 MW/129 MWh powerpack system to be paired with global renewable energy provider Neoen's Hornsdale Wind Farm near Jamestown, South Australia.
Tesla says that each Megapack unit ships fully assembled and ready to operate, allowing for quick installation and reduced complexity. Systems require minimal maintenance and include up to a 20-year warranty. The dimensions of the units: 23 feet, 5 inches by 5 feet, 3 inches.
"Energy storage has been increasing in availability and popularity as the technology improves," Mr. Hevenor said. "The ability to combine energy storage with renewable energy generation technology such as solar extends the efficiency of each project and allows operators to more precisely control the timing of when that energy is available, making it easier to address peak demand."