WATERTOWN — At 56 years old and immune deficient, Dawn Soluri is afraid to look for a new job. And her friend who she started working with 11 years ago now doesn't have daycare for her children.
But that's the situation they found themselves in after the Denny's location on Arsenal Street closed permanently this week, shocking more than 30 employees who worked there.
"I'm scared to death because they were good to me," Ms. Soluri said. "I went through losing a child there, from having health issues, from gaining my grandson for a while, and they always worked around my schedule. You couldn't ask for a better place. I'm dumbfounded by all this."
When the PAUSE order went into effect, Denny's decided to close it's location temporarily and laid off its employees. The employees there understood they would get their jobs back when the economy started reopening. Just recently, Sondra Arquiett, the acting general manager of the restaurant, was on a conference call with corporate management when she was told employees would have to train on new health guidelines once the restaurant reopened. That sparked optimism that the Denny's would, in fact, reopen.
But then two weeks later, as the state enters Phase I of reopening, Ms. Arquiett texted a group chat with most of the employees saying the restaurant would close permanently.
"I'm the oldest one there," Ms. Soluri said. "They're kind of like my kids. It's a sad situation. I planned on retiring there."
Ms. Soluri started working there around 11 years ago at the same time as Ms. Arquiett. Ms. Soluri was a server, while Ms. Arquiett gradually ascended through the ranks. She had finally become acting general manager when the store closed.
"You couldn't ask for a better boss," Ms. Soluri said. "She is the most fairest, kindest person. She worked with everybody."
Ms. Soluri, who lives in Clayton with her boyfriend and has a son and three grandchildren, said she was able to obtain unemployment insurance. And, since she works mainly on tips and unemployment is determined based on salary, Ms. Soluri said she wouldn't be able to live had it not been for the additional $600 weekly from a federal stimulus package.
Ms. Soluri feels especially bad for Ms. Arquiett. The former general manager is now out of work and lost the daycare for two of her three children.
"She had a good position and she was great at it," Ms. Soluri said. "It's hard for everybody, but there are certain ones who had a good position, and it's hard to get that stuff back."
Ms. Soluri and her former coworkers are among the first wave of people directly impacted by the economical fallout from COVID-19. And she's tired of the political scraps that are coming with it.
"I'm not too much into politics, but I mean, come on, what are we showing our children? Our grandkids? Disrespect," she said. "I'm hoping this will make people look at things differently and appreciate what they have. 'Cause I tell you what, I appreciate my job and now I don't have it. It's my second family. It's devastating."
Ms. Arquiett said the closure was a shock to most who worked there, and she cried for days afterward. She had worked her way up from server to person in charge, to assistant manager to manager to general manager.
"It was more like my family, my second home," Ms. Arquiett said. "We all work with each other. There's older people who worked there. I'm sad about that. Dawn (Soluri) has health issues, so sometimes she has to take weeks off at a time, and we all understood that. We all just helped each other out."
Ms. Arquiett said she had to apply for two different daycares for her younger children. She had one, and applied for a second while she was pregnant. The baby wasn't accepted until after she was born. With no present need for daycare, however, the children have lost their slot in their daycare program. If she finds a new job, the search for daycare would be renewed.
"It takes so long to get your kids in daycare. It could take months until I get my kids into daycare," she said.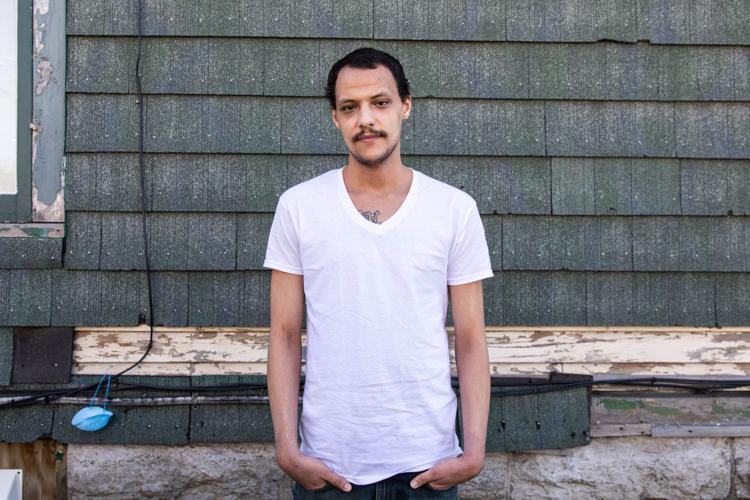 Jordan Paine, 27, also worked at Denny's. He had been there for nearly two years until he left in late 2019. He was gone for a few months before he was hired back as a service assistant in January — right before they were laid off.
He said fellow employees seemed like they weren't too worried about losing their jobs.
"I think everybody expected that they were going to get their jobs back," Mr. Paine said. "Two days before the announcement came, I had sent a text message to (Ms. Arquiett) asking her if she heard anything about the store opening back up. She texted me back and said, 'As far as I know everybody still has their jobs, but if anything changes I will let everyone know.'"
And even though decisions by the state to close restaurants led to the permanent closure of the restaurant, he still thinks it has the people's best interest in mind.
"I don't think they're trying to violate our civil liberties," Mr. Paine said. "I think it's more about protecting the most vulnerable population. If you have to do things like wear a face mask or stay six feet away, I don't really think that's too much to ask."
Above all, Mr. Paine and his coworkers now directly know what a pandemic can do to people and their families.
"When I found out, a part me felt like I wasn't even surprised," he said. "But, yeah, I am upset about it. I lost my job just like my coworkers. But for me, the scariest thing through this whole situation, not just the fact the Denny's closed, is how many more businesses are going to close down because of this."