OGDENSBURG — Vacant and deteriorating for the last nine years, the closed Ogdensburg cheese plant will be assessed and eventually razed through a process between the city and the U.S. Environmental Protection Agency.
EPA personnel met with city officials Tuesday morning at the site, 30 Main St., for an initial tour and to begin a Superfund assessment process funded by the federal Emergency Response and Removal subprogram.
Informally called the Superfund program, the Comprehensive Environmental Response, Compensation and Liability Act was passed by Congress in 1980. The legislation created a fund for emergency cleanups and established a framework for the EPA and state environmental agencies to evaluate and remediate contaminated properties, mostly manufacturing plants, mining operations, landfills and other industrial facilities.
Of the more than 600 active Superfund cleanup sites in New York, including priority locations and those needing basic removal of materials, full assessments or corrective actions, four sites in Jefferson County, two in Lewis and nine in St. Lawrence are listed by the EPA.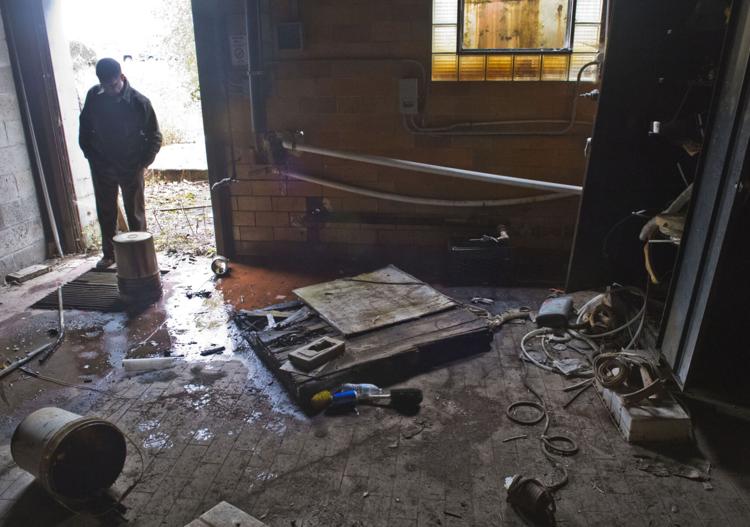 "As much of a mess as it was 10 years ago, it hasn't gotten better with time," Ogdensburg City Manager Stephen P. Jellie said of the maze of production rooms at the former cheese manufacturing plant.
EPA On-scene Coordinator Carl Pellegrino said the plant's primary contaminants are chemicals used in an ammonia refrigeration system and materials contained in drums.
"Any time you leave any hazardous chemicals in a building that's not still operated or maintained, there is a potential for a release or threat to the surrounding community that we want to abate," Mr. Pellegrino said. "From what we've seen so far, everything seems to be contained in its location."
Once hazardous materials have been inventoried this week, he said, a removal plan will be developed. The city Department of Public Works will then facilitate asbestos analysis and remove remaining debris, metal and equipment before an anticipated demolition.
Though a timeline is unknowable at this point, Mr. Pellegrino said the Main Street site appears to house much less overall material than other projects he has coordinated.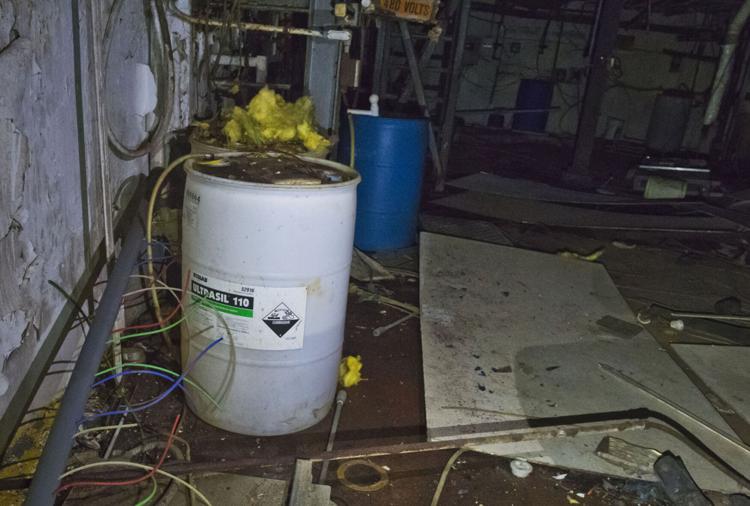 Last operational under ownership of brothers Menachem and Schneur Bistritzky, of Tubroburg LLC, the plant employed about 50 people and produced kosher cheese and milk for two years until National Grid cut power over unpaid bills in 2011. Tubroburg acquired the Ogdensburg plant and a facility in Lowville in 2009, after the California-based Ahava Food Corp. went out of businesses a year earlier. The former Ahava plants in Ogdensburg and Lowville are now both part of the Superfund program.
Following Ahava's folding, the city took over the Ogdensburg plant, selling it to Tubroburg in 2009, but the two parties have been embroiled in litigation for nearly 10 years in St. Lawrence County, partially resulting in a $340,000 judgment against Tubroburg. Mr. Jellie said the city has so far received about $125,000 of that sum.
The city originally agreed to sell the facility to Tubroburg for a $125,000 down payment, $12,000 monthly rent for 13 months and a closing payment of up to $900,000. When full payments weren't made, lawsuits began. The city claimed the company owed 78 months of unpaid rent, an unpaid tax bill of more than $200,000 and unpaid water and sewer charges. The company claimed the city unfairly charged for water and sewer services at the plant and did not provide paperwork needed to finalize the property purchase.
As legal disputes carried on, the unmanaged plant fell into disarray. The "A" in "The Cheese Company" hangs inverted on the building's east facade. Acid and chlorine drums remain, conveyor lines are rusted, cheese packaging is stacked on pallets and broken glass flecks the concrete floor of the many-roomed, once successful plant.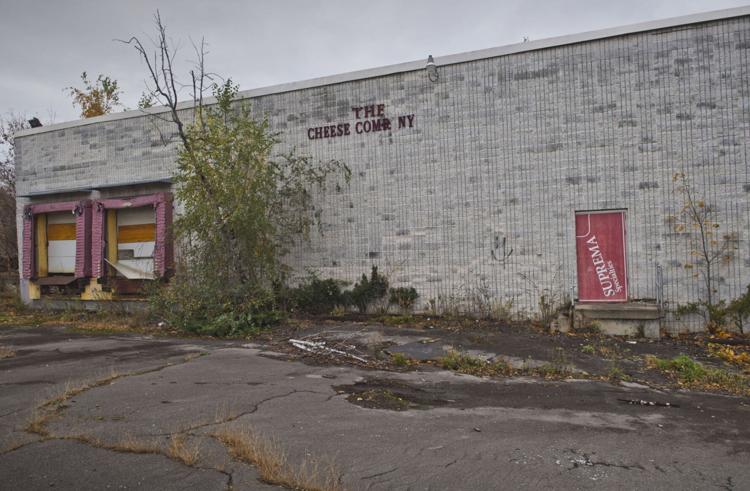 City firefighters have been called to the building since its 2011 closure, and remnants of one-pot methamphetamine labs, left by unlawful entrants, have been discovered inside.
"Stabilization and safety," Mr. Jellie said, are short-term goals, and though he would not speak specifically to previous manager decisions to leave the building standing, he speculated pending litigation prevented action.
Mayor Jeffrey M. Skelly estimated the city has paid about $250,000 in property taxes over the last 10 years, and said he is pleased to "finally see something progressing here."
"The hope would be that the property is cleaned, the building is removed, brought back to raw land," Mr. Skelly said, "so that we can redevelop it into something new."