WATERTOWN — For the fifth year in a row, shoppers filled the Paddock Arcade to check out the goods on offer for Watertown First's annual Holiday Market, which coincides with Small Business Saturday each year.
From 10 a.m. to 4 p.m., a selection of craft vendors was available as well as donation based gift-wrapping, carolers from Northern Blend Chorus, and Santa Claus to entertain guests of all ages.
As patrons filled the space, they were given red or green tote bags from Watertown Savings Bank with -ShopLocal and -BankLocal emblazoned on the sides. Guests were also given maps showing the locations of other businesses participating in Shop Local Saturday outside of the market.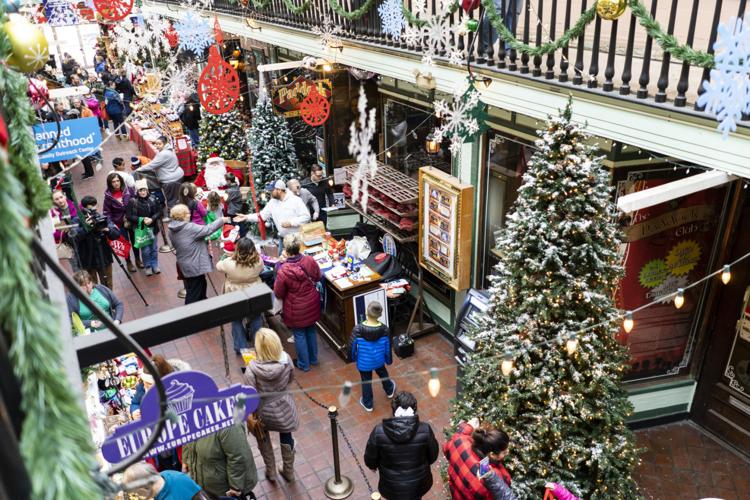 Other businesses participating in Small Business Saturday outside of the Holiday Market included April's Cake Shop, The Crystal Restaurant, Spokes Craft Beer & Tapas, Downtown Local Lounge and the Tarot Café, among others.
"It's called Shop Small Saturday, but we feel like shop small has a little undertone of spend less, so we called it Shop Local Saturday," said Founder and Executive Director of Watertown First, Cody Horbacz. "Our goal is really to kick off the holiday shopping season by encouraging people to shop at locally owned, independent businesses, that's the purpose of this event."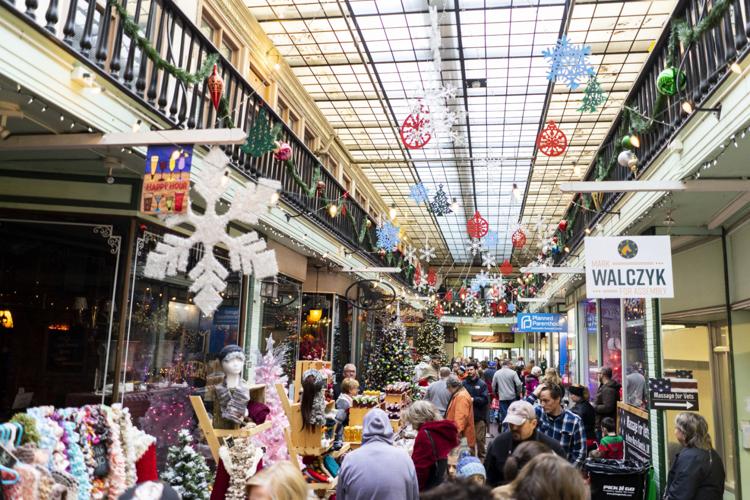 Leslie Keefer, of Popcorn & Sweet Treats, 1015 Water St., said the business has been up and running for the past four years, and has participated in each Shop Local event since then because of the importance for the community.
"We all work very well together, we all support each other in our local businesses and I think it's important that people are able to come together and it's not a big box store where it's not one on one," she said. "Everybody knows mom and dad and grandma and grandpa, they all know the businesses, so I think that's really important; it's families working together."
With over 50 different flavors of popcorn on offer ranging from watermelon jolly rancher and taco flavors to salt and vinegar and buffalo along with more traditional flavors like caramel corn, as well as fudge and other goodies, there's something for everyone at Popcorn & Sweet Treats.
A business that began with Julie Snyder in 1984, CraftSanity is now run by Mrs. Snyder as well as her daughters Brandy Snyder-VanRy and Denise Garno, and offers everything from sewn and crocheted items and glassware to seashell and wood items.
According to Mrs. Snyder-VanRy, they have been here for all five Holiday Market events and keep coming back for the atmosphere that she describes as pushing everyone into the holiday spirit.
"We understand the importance of shopping local because we benefit from it, but we also try to turn around and do that as well," she said. "We do craft shows all Christmas season and that's where I primarily do my Christmas shopping."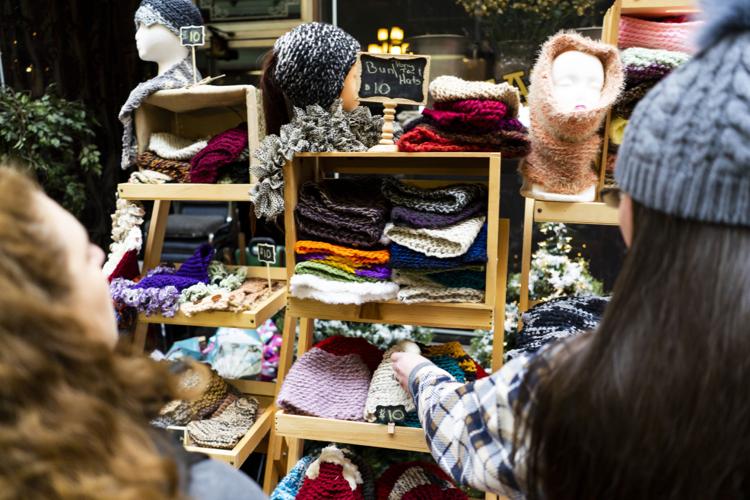 The Twisted Knitter herself, Michelle Titus of Watertown, sat knitting during the event at a table where she was selling handcrafted wares like hats and scarves. In business for the past four or five years, she said she keeps coming back each year for the people and the Paddock itself.
"My grandfather worked at WWNY so we used to come here and get caramel corn so that's mostly it, the history," she said. "It's such a beautiful building and there's so many great places, it's just nice."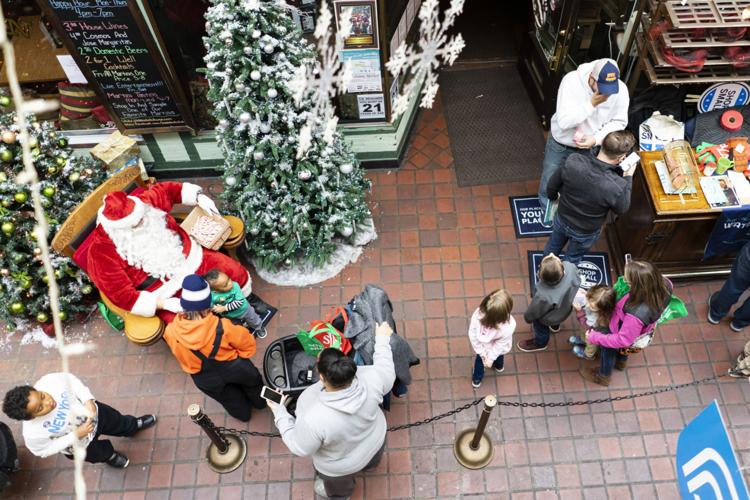 This year's Shop Local Saturday and Holiday Market partners included -giveNNY, Watertown Savings Bank, NBC Watertown, Magic 103.1, The Border 106.7, WPBS, Watertown First and Tunes 92.5, among others.
"When you shop at local, independent businesses more of your money stays right here in our economy and that's what we want people to do," Mr. Horbacz said. "We want people to shop locally all season long, not just today."