Some local vaping product shops are closing in the wake of state legislation banning the sale of fruit, candy/dessert and other types of flavored electronic cigarettes and e-liquids, and those that remain expect to experience significant fallout from it.
The state Public Health and Health Planning Council's ban, adopted Sept. 17 in an attempt to curb the number of teenagers using vaping products amid reports of suspected cases of vaping-related lung injuries, will take effect Oct. 4, the same day S&A Vapes, Watertown, will close its doors.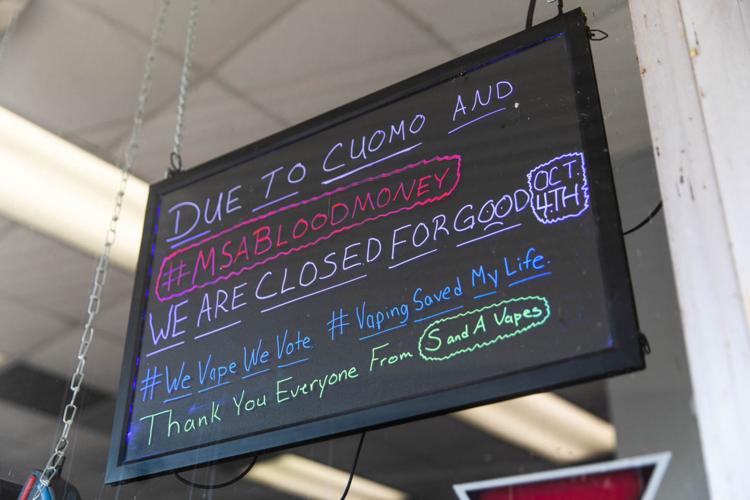 The Clouds Over chain recently closed shops in Potsdam and Philadelphia, along with its local e-liquid manufacturing facility in Philadelphia. Its employment base, which included workers at locations in Watertown, Evans Mills, Pulaski, Cicero, El Paso, Texas, and Las Cruces, N.M., dropped from 32 to nine, said General Manager Matthew Salter.
For several retailers that specialize in e-cigarette products, flavored ones other than menthol and tobacco generate a majority of their revenue, meaning the loss of those brands threatens their financial stability.
Mr. Salter said sales of flavored products generated 90 percent of Clouds Over's revenue. Clouds Over offers 112 product variants of e-liquid that its owner, Marcus Gifford, now plans to produce in New Mexico. Jared Stuckey, manager of S&A Vapes, 22088 Route 11, said 99.5 percent of the shop's revenue derives from flavored-product sales, including 45 of its own e-liquid flavors displayed prominently on two shelves behind the front counter. The store, owned by Joseph Breyette, employed Mr. Stuckey and another employee.
"It's kind of heart wrenching to see a business I've worked at for three years closing," Mr. Stuckey said. "In the state of New York, thousands of vape shops will close down."
Vaping products have garnered national attention due to a rise in pulmonary illness associated with them, as well as increased use among teenagers. In response, Massachusetts banned e-cigarettes for four months and Michigan has banned flavored e-cigarettes. Other states and President Donald J. Trump have also considered banning flavored e-cigarette products.
New York also raised the legal age for purchasing tobacco and e-cigarette products from 18 to 21, which will take effect in November. The state is considering banning menthol e-cigarette products.
The Centers for Disease Control and Prevention reported the number of suspected cases of vaping-related illnesses nationwide has reached 530, which includes eight deaths, according to the New York Times. A conclusive cause has not yet been determined, although Vitamin E acetate has been connected with many cases. Eighty-one suspected cases have been reported from various regions of New York state, including three in Jefferson County, but none have been reported in Lewis or St. Lawrence counties.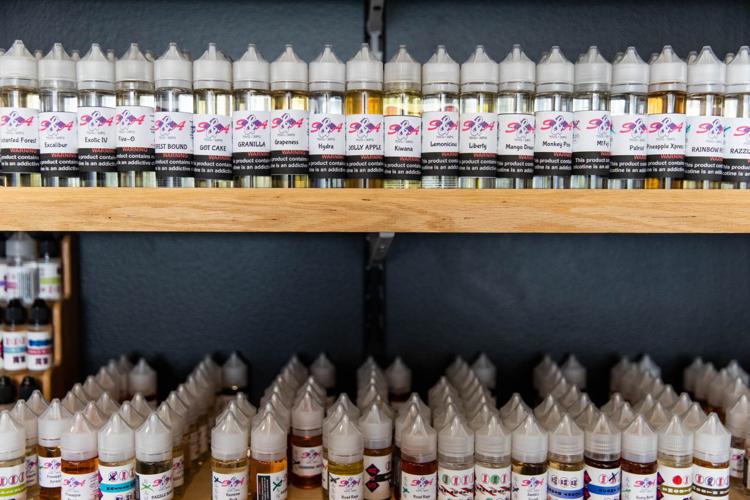 Mark LaFountain, owner of Eruza Vape in Potsdam and Massena, and Mr. Stuckey said the vape industry has taken the fall for consumers using THC-infused vaping products sold on the black market. Legal vape products typically don't carry Vitamin E, Mr. LaFountain said. Mr. Salter said the ban will cause a boom in black market vaping products, increasing consumer and manufacturer safety risks.
Several vape product sellers, including Mr. Stuckey, Mr. Salter and Mr. La Fountain, find motivation in selling what they claim is a product that helps consumers quit smoking traditional cigarettes. Mr. LaFountain said he served customers who contracted lung cancer as a result of smoking, and Mr. Stuckey, a former smoker, said he served a 92-year-old woman who switched from smoking to vaping.
"I've watched thousands, thousands of diehard combustible tobacco users switch," Mr. Salter said, adding the industry has also "literally given me skills I never thought were possible for me to obtain."
Mr. Salter, who also owns the firm Vape Rescue, whose e-cigarette shops, manufacturers and distributors meet state and federal compliance measures, said open source products, which requires users to insert e-liquids themselves, allow consumers to control the amount of nicotine they inhale, including none at all. Both he and Mr. Stuckey have reiterated Public Health England's claim from a 2018 report finding that e-cigarettes were 95 percent less harmful than regular cigarettes.
Lawmakers such as Gov. Andrew M. Cuomo have accused e-cigarette companies of using flavored products to attract underage users, prompting the statewide ban, but Mr. Salter, Mr. Stuckey and Mr. LaFountain all said flavors help smokers wean off of traditional cigarettes. All three said they check customers' identification before selling products.
"I think it's too readily available and not regulated online," Mr. LaFountain said. "I don't think closing brick and mortars is going to solve anything."
While some shops have closed in the face of recent state legislation, the owners of others aim to persevere. Two chains, Perfection Vapes and Benevolent E Liquids, both of Depew, have joined the Vapor Technology Association in filing a civil action against the state for the ban, which they claimed was unlawful, according to report from the Albany Times Union.
Mr. Salter said he hopes discounts on equipment and tobacco and menthol e-cigarette product sales will help keep their Evans Mills location open. The company also plans to diversify its products at the Watertown location, possibly adding cannabidiol, or CBD, oil. Mr. LaFountain said he hopes to preserve his Potsdam and Massena stores, which employ three workers, but has explored other business ventures in case he has to close.
"It's going to put a lot of people out of business simply because they can't make overhead," he said about the flavored products ban.