HERMON — Before Friday's persistent rain and final April freeze, thousands of microscopic nematodes soaked into the soil at Our Little Grewve.
Owners John J. Anson and Elizabeth R. Seeley first seeded their idea for a regenerative flower farm about two years ago, with Our Little Grewve having grown into a collection of raised beds and flat gardens over two acres outside their County Route 21 home — and they're growing still.
Commonly called a beneficial nematode control, the spray applied to the gardens Thursday is one component of the farm's regenerative approach to small-scale agriculture. The tiny, parasitic worms target soil-dwelling pests and serve as an alternative to pesticides that can leave a devastating imprint on soil, water and every reach of an ecosystem. Nematode applications, Mr. Anson said, have been especially effective in controlling the invasive Japanese beetle larvae that infest some of the flat gardens.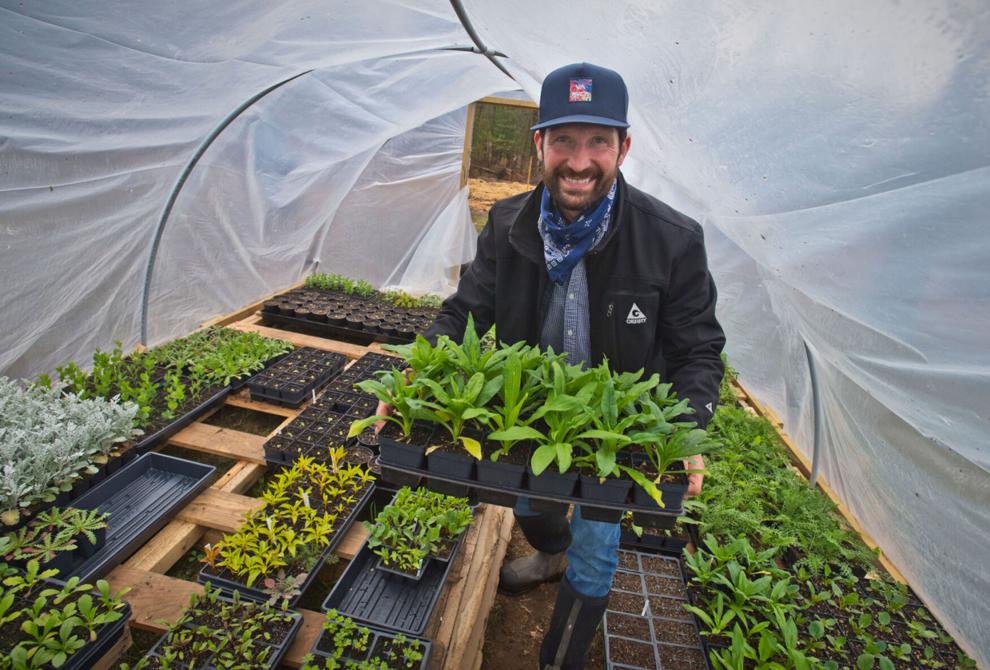 With Mr. Anson's background in finance and a degree from Clarkson University, and Ms. Seeley's expertise in zoology and degree from SUNY Oswego, the pair decided to research and explore the possibilities of a home-grown north country flower farm.
More than 100 flower varieties will soon be blooming: dahlias, zinnias, snapdragons, ranunculus, lisianthus, sunflowers, sweat peas, petunias, peonies, delphinium.
"There's been a lot of learning, that's part of what makes it exciting and fun," Mr. Anson said. "The more you fail, the greater your likelihood to succeed."
Mr. Anson is a St. Lawrence County native, and Ms. Seeley grew up just south of Rochester, where they both lived for almost 20 years before landing in Hermon. By the time the COVID-19 pandemic gripped the region last spring, the duo had been experimenting on their property, 15 miles south of downtown Canton, and preparing to launch Our Little Grewve for three months.
"We're growers, that's what we do," Mr. Anson said Friday, standing in the rain among sleeping seedlings. "One of the challenges of regenerative agriculture is meshing it with the aesthetic and commercial elements of flowers that consumers are used to seeing."
Local, small-scale farming is wholly different from the packaged-and-shipped model of growing that underpins the sale of $8 mature tropical plants from Walmart Garden Center shelves or grocery store bagged kale from across the country.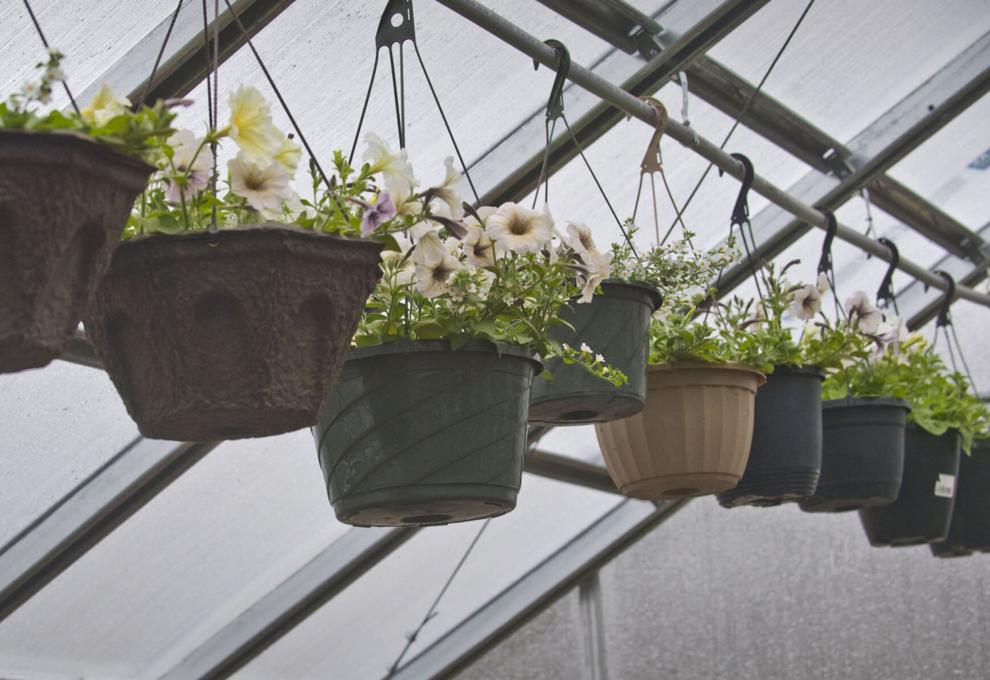 All of Our Little Grewve's plants are started from seeds or bulbs, planted directly into flat gardens or nurtured inside the farm's greenhouse and hardened off in hoop houses to fortify roots and stems against fluctuating weather. Soil is mixed on site and the farm's own garden compost boosts soil health. Manure compost is sourced from Canton's Northern Limits Farm.
The focus on regeneration — which is rooted in restoring soil biodiversity to counter climate change — is about "encouraging nature," not fighting against it, Mr. Anson said.
"Considerations for the health of our ecosystem are part of every decision made on the farm," he said. "Robust produce, beautiful flowers that nourish the land. No shipping, no chemicals, fresh."
Roughly 80% of flowers sold in the United States are imported, primarily from industrial flower operations in South America, according to the U.S. Department of Agriculture. Sourcing and buying locally reduces producer and consumer carbon footprints and stimulates community economies. It's a cycle integral to small growers and their regeneration contributions, Mr. Anson said.
Sustainability, which can sometimes feel like a catch-all term or a means to greenwash an organization's environmental promises, is an ultimate Earth-minded goal. But regeneration, Mr. Anson said, must come first.
"Regardless of the terms you use, it's about what the next 50 or 60 years look like for the planet," he said. "We have to regenerate in order to be able to sustain."
Often requiring more front-end work — including strategic erosion prevention through no-till planting and garden layouts that reflect topography — regenerative practices yield the best long-term benefits, Ms. Seeley said.
Still discovering their groove, Mr. Anson and Ms. Seeley are planning to broaden the farm's offerings. They hope to add pathways for visitors and host garden education outings for kids and adults.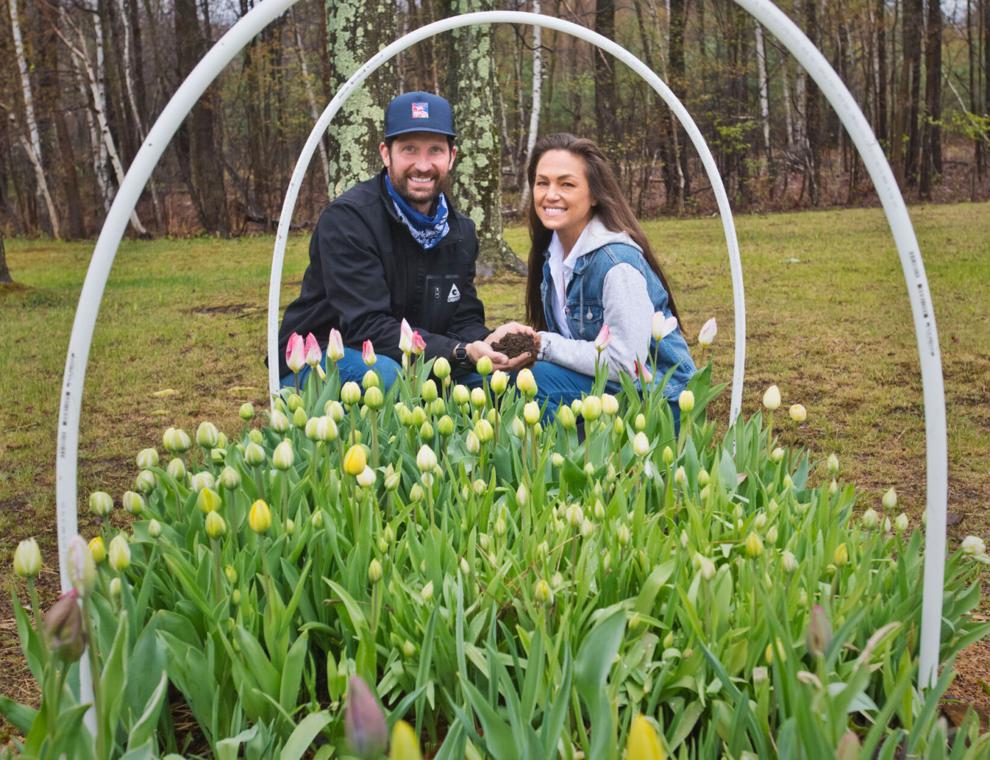 Ms. Seeley also tends vegetable beds, growing staples and less common produce varieties like dragon's toe hot peppers this year.
The farm's harvests are mainly supplying local weddings, with options available for other events, restaurants and hotels. Website sales for individual orders are active, and Our Little Grewve will have a Canton Farmers' Market stand this season.
Mr. Anson and Ms. Seeley are full-time cultivators now, inspecting their work at each daybreak and hand-picking insects off their young crop.
"There's nothing better than getting up in the morning and seeing birds land beside you, bees active all around you, and the ecosystem in motion," Mr. Anson said. "We're witnessing the miracle of life every day. It's magic."
Mother's Day mixed tulip bouquets can be reserved through the farm's website or by calling 315-274-2049. To learn more, visit ourlittlegrewve.com.