The Ramelia, a nearly 500-foot ship in brilliant red and white, turned some heads this month when it headed west on the St. Lawrence Seaway, toward Lake Ontario. Observant ship watchers noticed two large tanks on its deck, with the letters LNG painted on them.
LNG — liquefied natural gas — is making major inroads for ocean-going vessels, but a much smaller one for those on the St. Lawrence and Great Lakes.
Ramelia, homeported in Sweden, was launched in 2019 and was making its maiden voyage on the Seaway. It's more environmentally friendly than the traditional ships on the St. Lawrence and Great Lakes, many which burn "bunker" fuel oil. Bunker oil, distilled from crude oil, can be broken down into different categories. A 2018 report published by the Yale School of Environment described the fuel as being made "from the dregs of the refining process. It's also loaded with sulfur — the chemical that, when burned, produces noxious gases and fine particles that can harm human health and the environment, especially along highly trafficked areas."
Seeing a LNG-powered ship cruising on the Seaway and Great Lakes remains a rarity. They are more common in European countries, especially Norway and Sweden.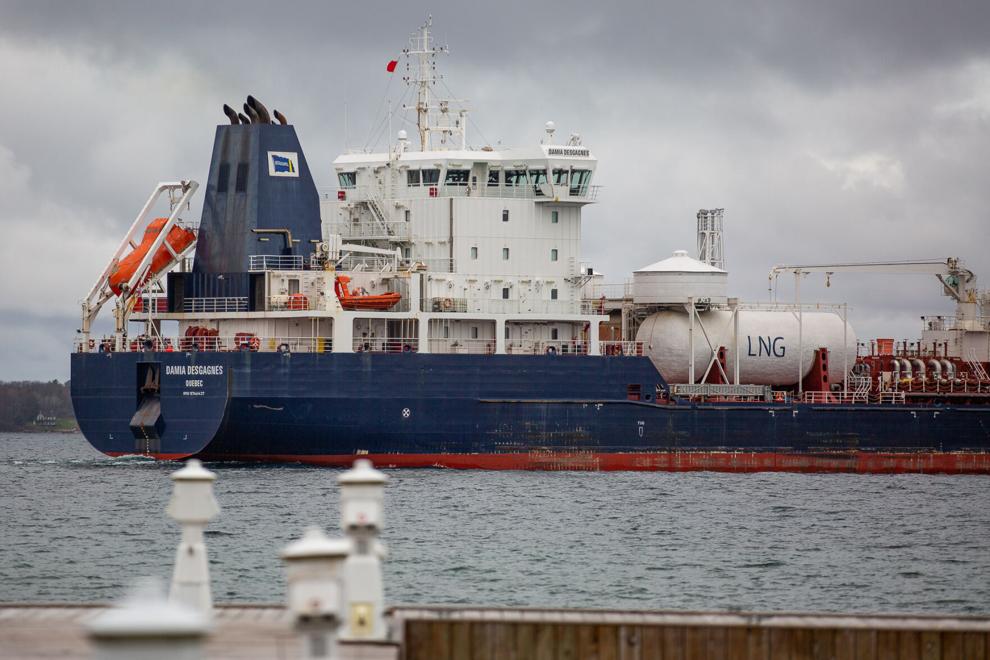 According to data collected by Statista, "As of 2019, Norway accounted for roughly half of the LNG-fueled fleet in use worldwide. The number of ships on order is tipped to reach 135 units by 2025. The global demand for liquefied natural gas-propelled vessels is expected to grow considerably in the coming years, as a response to the increasing pressure on the shipping industry to reduce its emissions."
Christian Nilsson, a spokesman for Rederi AB Älvtank, the Donsö, Sweden-based owner of Ramelia, said the company's normal trade route is in Northern Europe. On her most recent trip that found her in the Seaway, he said the Ramelia, a chemical tanker, loaded in Amsterdam, partly unloaded in Montreal with her remaining load to be taken off in Mississauga, Ontario. As of Friday morning, the ship was at anchor at Port Weller, Ontario, on the southwest end of Lake Ontario.
Mr. Nilsson said the Ramelia, under LGN power, emits 85% less nitrogen oxide (NOx) particulates and 99% less sulfur oxide (SOx) particulates and 55% less carbon dioxide.
"They're definitely more environmentally friendlier and a good way to reduce emissions," Mr. Nilsson said in an email. "Hopefully, in the future, LBG (biogas) could be more available and then, our CO2 emission will be eliminated."
The Ramelia also has the capabilities for its engine to be fueled by diesel fuel. It can hold about 400 tons of diesel. Each LNG gas tank on Ramelia's deck, Mr. Nilsson said, can hold 125 tons of LNG.
"With a speed of 11.5 knots, the consumption is about 10 tons of LNG per day," Mr. Nilsson said. "That means fully bunkered and with a safety margin of 50 tons, the range will be about 20 days at sea."
Michael J. Folsom, founder of the St. Lawrence Seaway Shipwatchers Facebook group, said Quebec-based Groupe Desgagnés launched the first LNG vessel to transit the Seaway, the Damia Desgagnés, in 2017.
"Their fleet with LNG capabilities is expanding and there is commitment from other fleet operators such as Interlakes and CSL to operate more efficiently in the near future," Mr. Folsom said. "Many of the DesGagnes vessels built in the late 2010s now operate with some form of LNG and/or a dual fueling system. It's the wave of the future for sure."
Christopher King, director of operations for Montreal-based Petro-Nav, a subsidiary of Groupe Desgagnés, said the shipping company's LNG fleet has grown to five vessels. Four of them were built in Turkey: the Damia, the Mia, the Rossi A. and the Paul A. Desgagnés.

"Then, we purchased a less-than-one-year-old ship in 2019 from a Swedish company," Mr. King said. "That's now called the Gaia Desgagnés."
The Gaia, Mr. King said, spent the winter in Europe.
"She'll be coming up through the Seaway in the next week or so, with a cargo to go to Hamilton," Mr. King said, making five Desgagnés LNG ships operating in eastern Canada.
"We wish there were other companies going that way," Mr. King said. "We thought it was the way to go to reduce our carbon footprint."
The Great Lakes Maritime Research Institute has studied the possibility of switching the power source of ships to LNG and there are several factors that hamper the development along the Great Lakes and the Seaway, from supply chains to the basic economics involved.
A study by the GLMRI on converting the U.S. flag fleet to natural gas was funded by the U.S. Maritime Administration, Lake Carriers' Association members, the U.S. Coast Guard, the natural gas industry and agencies and businesses.
The institute was established in 2004 to pursue research efforts in marine transportation, logistics, economics, engineering, environmental planning and port management. It represents a consortium of the University of Wisconsin-Superior Transportation and Logistics Research Center and the University of Minnesota Duluth Swenson College of Science and Engineering and Labovitz School of Business and Economics.
Richard D. Stewart, co-director of the GLMRI, said their studies began in 2011.
"We embarked on this study with the whole-hearted support of the maritime industry here, the Lake Carriers Association and ship owners," Mr. Stewart said in a phone interview from his office at the University of Wisconsin-Superior, where he is also professor of transportation and logistics in the school of business and economics and director of the college's Transportation and Logistics Research Center.
The GLMRI notes that European countries such as Norway are more advanced in all areas of using LNG as a marine fuel and that tapping into their expertise could reduce costs and time.
"This is a big deal to do it and the industry is open and willing to look at anything," Mr. Stewart said. "They're actually very progressive from a want-to-be-environmentally-better point of view. The issue is, you've got to come up with the money to do this. And the way you make money in transportation is by hauling freight. If nobody is going to pay you a dime more to be green, you've got to wrestle with, 'How am I economically going to adopt this new system if it's not cost-effective?'"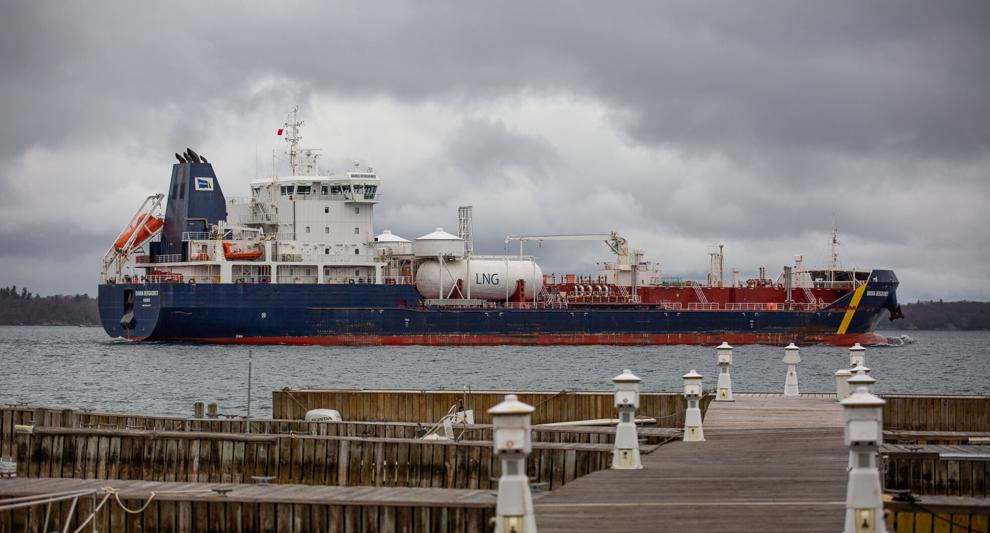 The GLMRI report found that increasing the amount of LNG-fueled ships on the Great Lakes faced major obstacles.
"It was found to establish a supply chain with fueling locations for the ships would be very expensive and in many cases, the availability of LNG simply wasn't there," Mr. Stewart said. "There weren't plants within an economical distance to set up a supply chain for the lakes."
Mr. Stewart said the study found that two less expensive options would reduce the pollution, which are not unique and in use in other parts of the world: the use of cleaner fuels such as diesel and to install scrubbers on ships such as found on stationary power plants that scrub nitrogen oxide and sulfur oxide particulates out of their exhaust systems.
The Great Lakes shipping industry, Mr. Stewart said, has already successfully implemented a major fuel conversion. The train industry did the same, he noted.
"We converted coal to diesel," he said. "If this was 1950, we would have had a lot of ships on the U.S. and Canadian side burning coal. And there would be a lot of resistance from ship owners to converting to this newfangled fuel called oil because they'd have to make all kinds of changes."
Coal docks had to be converted, tanks had to be built and ship engines had to be converted.
"We didn't have a supply chain for oil in the Great Lakes in 1950," Mr. Stewart said. "It took us a long time to build that supply chain. So this is not new in the industry and it requires a lot of research and long-term commitments from ship owners to convert fuels."
But there are some signs that LNG is becoming more of an option on the Great Lakes. The nonprofit Chamber of Marine Commerce reported that in December, the Mia Desgagnés became the first vessel to refuel with LNG in the Great Lakes after docking at the Port of Hamilton in Ontario before departing for Detroit. Trucks carried the LNG and the truck-to-ship LNG "bunkering" operation was the first in Great Lakes history.
REV LNG, a liquefied natural gas services provider headquartered in Mendon, Monroe County, with operations in Ulysses, Pa., presided over the commercial and technical development of the project.
"We did a first bunkering last December, and of course, the Seaway was closing and it was getting a little sketchy to do any more," Mr. King said on Friday of the Hamilton refueling. "We actually started one last night and finished it at about 7:30 this morning in Hamilton. It was the second one."
The Hamilton Oshawa Port Authority noted that last year, the International Maritime Organization set out new targets for marine fleets to cut greenhouse gas emissions by 40% by 2030, and by 70% by 2050.
"The Great Lakes — St. Lawrence Seaway system is an important part of this international network," the Port Authority said in a news release. "Although LNG supply chains are still relatively new in the Great Lakes, demand for LNG is growing as ship owners work to meet or exceed national climate targets for greenhouse gas reduction and improved air quality, in addition to those set by the International Marine Organization."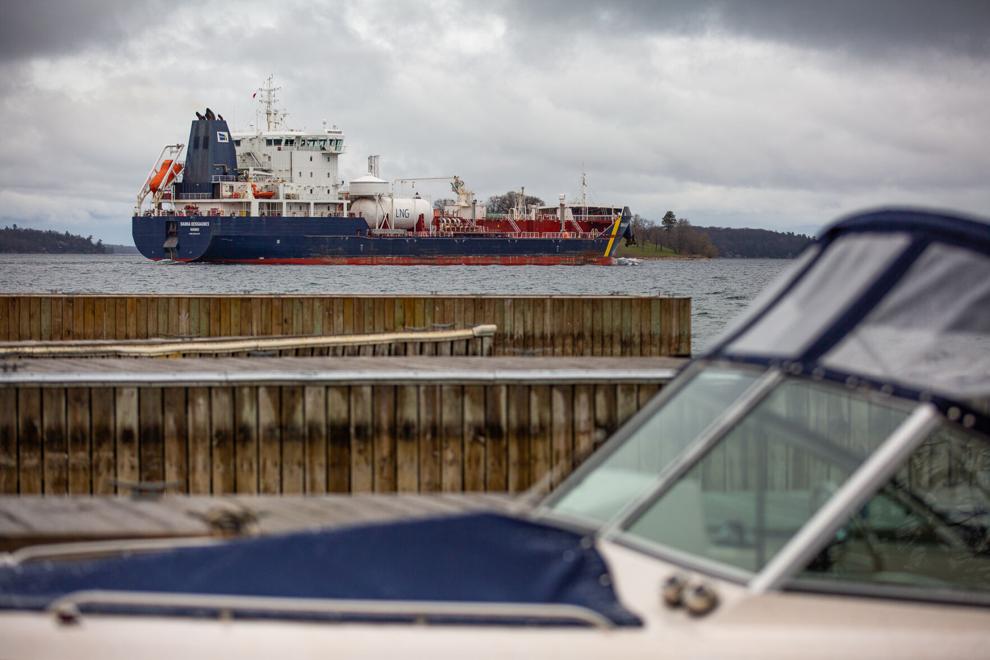 The Port Authority noted that the only other LNG capacity at ports in Canada are along the west coast in British Columbia and at the St. Lawrence River in Montreal and Quebec City. Mr. King said that between all refueling options on the St. Lawrence and Lake Ontario, Desgagnés has "bunkered" between 150 to 200 of its ships since 2017.
"LNG has been around for a while," said Eric Peace, spokesman for the Ohio-based Lake Carriers' Association. "The problem is finding a shoreside fueling facility. They are not very common and non-existent on the Great Lakes to my knowledge."
Mr. Stewart said truck-to-ship bunkering operations were looked at in the studies by the GLMRI.
"It takes longer to fuel the ships, and time is money," Mr. Stewart said. "A 60,000-ton Great Lakes vessel is costing thousands of dollars an hour to operate. To decide that for the remaining life of the ship we're going to add three or four hours to every fueling operation — that adds up to a lot of money over time."
Also explored, Mr. Stewart said, was establishing liquefaction plants, where natural gas is converted to a liquid, at major fueling points.
"In some cases, we ran into some of the NIMBY issues," Mr. Stewart said. "There's some irrational fear about liquid natural gas that hasn't been borne out by the science, but it's there."
Bunkering barges also refuel LNG-powered ships.
"It comes up alongside the ship and empties into it. That's what they do on the East Coast of the U.S. and the Baltic," Mr. Stewart said.
A bunkering barge is being built at Sturgeon Bay, Wis., in a partnership between Fincantieri Bay Shipbuilding and Polaris New Energy. The barge, the Clean Canaveral, will operate as an articulated tug and barge unit that initially runs along the East Coast, providing LNG bunkering solutions to NorthStar Midstream's customers. She is slated for completion late this year and will be homeported in Jacksonville, Fla., Mr. Stewart said.
The GLMRI study, Mr. Stewart said, looked at bunkering vessels as a possible fueling solution on the Great Lakes.
"But to have bunkering vessels, you would have to have ship owners that are dedicated to using that type of fuel," he said.
Mr. King said that he was in correspondence on Friday with a bunkering vessel out of Sweden for one of Desgagnés' overseas ships.
"We're bunkering over there in a matter of a couple of hours versus trying to do it off trucks over here," he said. "Until we get the critical mass of ships to be able to get a bunker barge or shore tanks, trucking is the only way to do it. I guess it's part of the price of being first."
The launch of Clean Canaveral is part of a trend to service a growing fleet of ocean-going, LNG-powered vessels. Sea-LNG, a coalition whose members work together to demonstrate the benefits of LNG as a marine fuel, says on its website that since 2010, the number of vessels fueled by LNG has grown consistently by between 20% and 40% annually.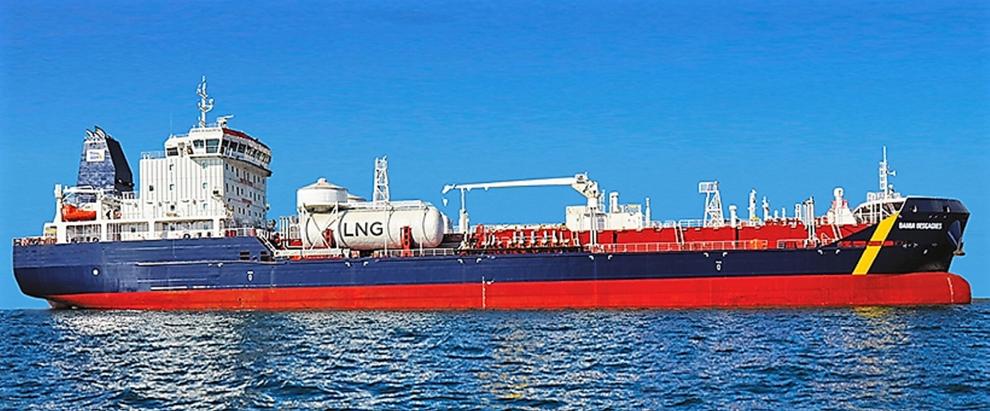 "An estimated 10% to 20% of the new order book is LNG-fueled," Sea-LNG says. "New vessel orders are increasingly focused on the deep-sea vessels including cruise ships, container vessels, crude and product tankers, and bulk carriers."
Looking to the far future, Mr. Stewart said that LNG could be seen as a "transition fuel" in the shipping industry.
"There's a lot of discussion and potential at looking at hydrogen as a potential fuel," he said. "We haven't done any studies in that area."
Also being researched are "sail-assist" vessels, in which solar "sails" would also generate energy, powering batteries.
"The maritime industry was looking at a lot of different options," Mr. Stewart said. "It's still the greenest of all modes of transportation you can use in terms of energy consumption and emission."