Pre-pandemic, this was the time of year when sugar shanties across the state opened their doors to allow the public to see first hand how sap becomes maple syrup. But for the second consecutive year, the New York State Maple Producers Association, organizers of the statewide Maple Weekends, has canceled the event.
"Our Board of Directors has been actively monitoring all official information concerning the COVID-19 pandemic and its effect on our ability to safely conduct public events like Maple Weekend," Executive Director Helen Thomas wrote in a statement issued by the association. "We recognize our obligation to public safety for any event that we officially promote and sponsor across all of our regions. Therefore, the board has unanimously decided to cancel the statewide official Maple Weekend for 2021."
Despite this, some local producers will still welcome visitors throughout the sugaring season.
Jane W. Yancey of Yancey's Sugarbush, 7981 Long Pond Road, Croghan, said it has always been her family's policy to welcome visitors.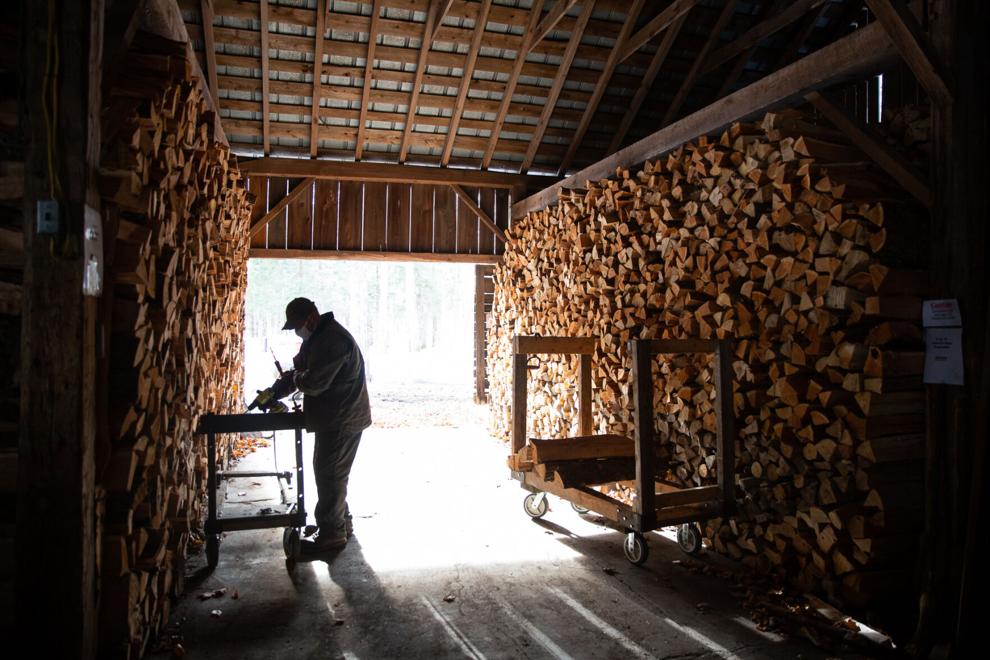 "Whenever we are up at the boiling shed, people are welcome," Mrs. Yancey said. "We do ask that this year they wear a mask and social distance."
The Yanceys continue to gather sap as their ancestors did dating back to 1844, utilizing horse-drawn sleighs or wagons. Tubing is also now used in the gathering process. Traditional methods of making syrup are still employed, with two large wood-fired evaporators boil the sap into syrup that is packaged fresh.
She said last year they had problems and ended up not having any horses to help with the production. They borrowed some horses for this year, but she said there's no guarantee that they will be there throughout the season. Mrs. Yancey said the horses are out only as weather permits.
Mrs. Yancey said the family produces about 800 gallons annually which is mostly sold retail, but some is sold in bulk going to producers in New Hampshire. In addition to syrup, they make maple cream, maple sugarcakes and maple granulated sugar. Mrs. Yancey said she has not yet made any of these products this year.
"I'm waiting for the new syrup," she said.
As for this year's sugaring season, Mrs. Yancey said it was "hard to say."
"It's been very cold — it will take a while to warm up," she added.
On the sugarbush's Facebook page it was noted that, "The old timers say that when we get a lot of snow in winter, we get sweet sap in the spring."
This year, the Yanceys had to shovel a couple of feet of snow off the shanty's roof in February.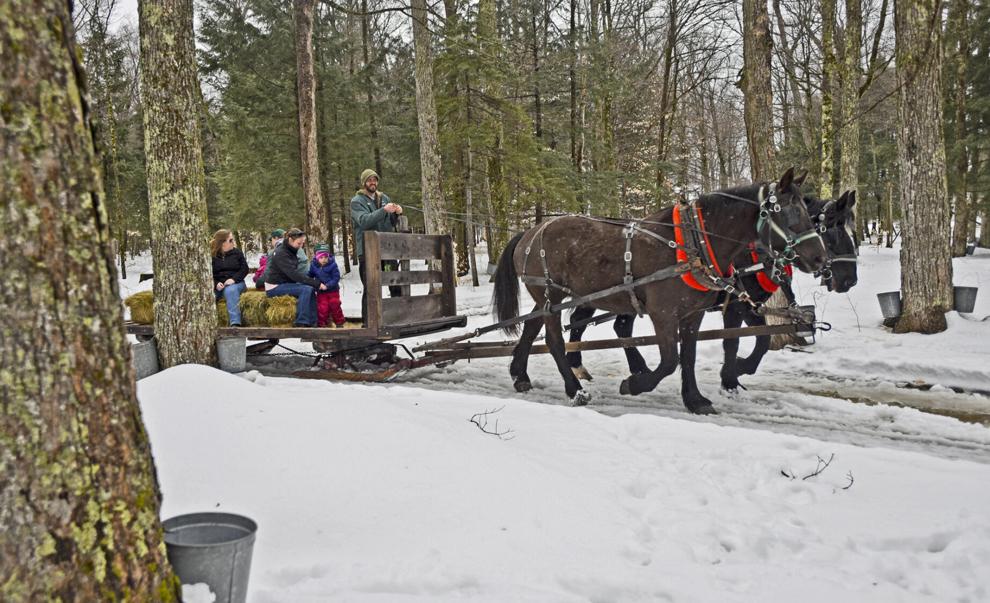 Yancey's Sugarbush is operated by Mrs. Yancey, her husband Haskell A., a fourth-generation maple producer, and their son, Timothy. For more information about the sugarbush, visit Facebook at facebook.com/yanceys.sugarbush. The sugarbush is generally in operation from 10 a.m. to 4 p.m. daily, but it's recommended that visitors call ahead to 315-346-6356.
Sterling Valley Maple, 9610 Croghan Reservoir Road, Croghan, has been making maple products for three generations. According to owner Josh Stamp, his father-in-law, Robert Keefer, grew up making maple syrup. For the past 10 years, Mr. Stamp and his wife Gena have carried on the tradition of making maple products as a family with help from Mr. Keefer and the hopefully third generation of maple producers, their son.
He said the sugarbush mostly utilizes tubing to gather sap but "tap a couple of buckets for show and fun."
A wood fire evaporator creates syrup from the sap.
"This way we can maintain social distancing and manage the number of people but still allow people to visit — it's the best of both worlds," he said. "Our goal is to schedule visits while we are boiling so there is something to see."
The sugarbush owner said he hopes the season lasts until mid April.
"It's coming fast and all at once then it will be over," he said. "We'll work really hard for a month — making a lot of syrup each week."
He said annually the Sterling Valley Maple produces 600 to 700 gallons which they sell commercially as syrup, maple cream, maple sugar, maple glazed walnuts, sugar cakes, bourbon barrel aged syrup and new this year cinnamon and orange infused syrup.
"We hope to produce more this year — we added more taps," he said.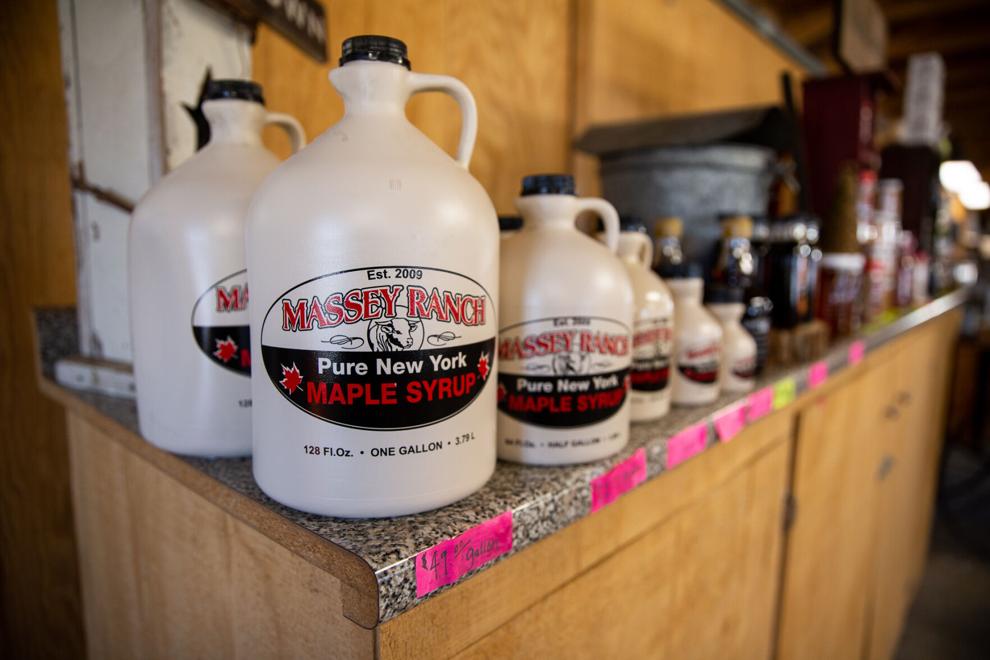 Karen Pierce of Pierce's Sugar Spigot, 11603 Route 812, Croghan, said unfortunately, they will not be open to the public this year. But she encourages people to call 315-543-2980 or 315-286-7999 to order their maple products.
With more than 45 years of experience making syrup spanning three generations, the family owned and operated sugarbush has a variety of maple products.
"We have most anything you are looking for," she said. "We have lollipops, maple cream, maple butter and maple covered peanuts."
In Jefferson County, Massey Ranch, 20605 Combs Road, Watertown, will also be allowing visitors seven days a week from 10 a.m. to 4 p.m. during the month of March. The owners ask that visitors wear masks and social distance while in the sugar shack.
Owner Shawn E. Massey said they have a mix of gathering methods utilizing buckets and tubing for gravity and vacuum processes. When possible, demonstrations of syrup production will be available and explanations of the different processes will be given.
In business since 2009, Massey Ranch produces about 500 gallons annually, which is all sold retail. In addition to syrup — including Maple Bourbon Barrel-aged syrup — Massey Ranch produces maple candy, maple cotton candy, maple cream, maple barbecue sauce, maple hot sauce and has maple taffy available.
Mr. Massey said Freeman's Treats in Lewis County produces the taffy using Massey Ranch syrup.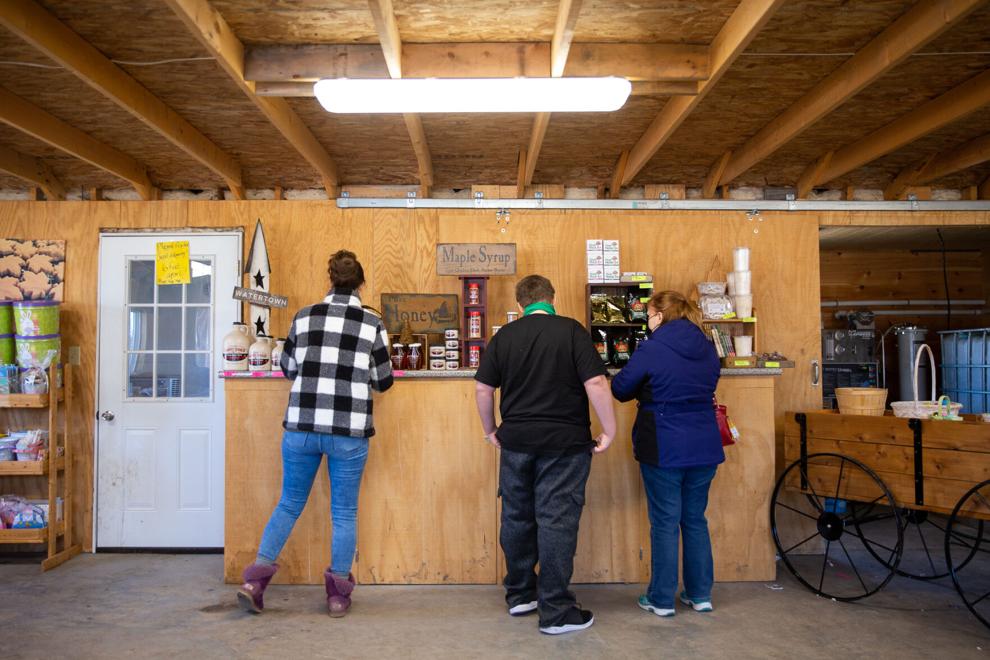 The maple producer said it was difficult to predict how this sugaring season will go.
"They say if there is snow in the woods, it will be a good season but we got a later start on the season," he said. "We have a limit — once spring starts and the trees bud we are done. I think we'll produce a lot in a shorter time."
To learn more about Massey Ranch, visit the website at masseysranch.com or on Facebook at masseyranch or call 315-783-5939.
For a listing of area maple producers visit the New York State Maple Producers Association website at nysmaple.com/buy-local.