POTSDAM — Thawing from months of dormancy, sugar maples are waking up this week in the north country.
Sap is running, and the sugaring process — from collection and disinfection to boiling and bottling — is under way at sugar bushes across the region.
With the COVID-19 health crisis continuing to evolve, the state Maple Producers Association canceled its official Maple Weekend statewide for the second consecutive year. The association Board of Directors unanimously voted to cancel the March staple, as "the risks presented by COVID-19 are making that tradition one that we all have to think about more carefully."
The association is comprised of more than 400 sugar-producing members with varying facilities and pandemic protocols — "to each their own," as Bruce C. Thompson, of Southville Maples, put it. Yet sugaring itself does not yield to a global pandemic, and when the sap flows, the syrup follows.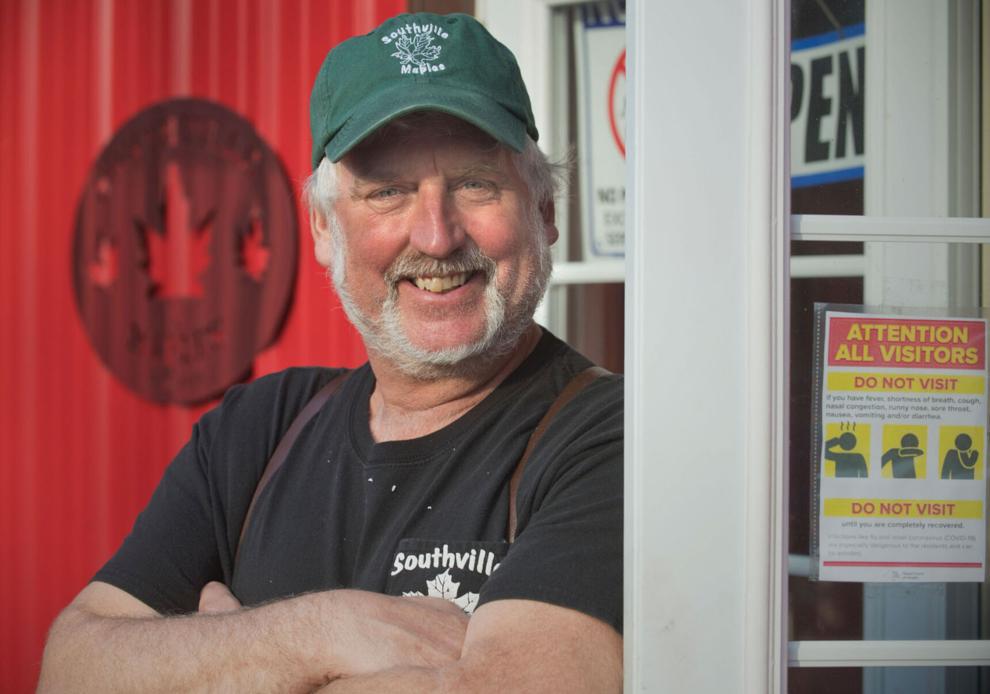 The St. Lawrence County Maple Producers Association has nearly 70 members, and President Gavin M. MacKellar said the region's producers "are just getting going," testing equipment and preparing for full sap runs this week.
Annually fluctuating syrup prices, largely determined by the Federation of Quebec Maple Syrup Producers, demand and the U.S. exchange rate, are expected to trend higher this year for bulk sales in the United States, Mr. MacKellar said, adding that "demand has been fantastic."
"The sales of syrup in the last 12 months are the best sales we've ever seen," he said.
Mr. MacKellar, who owns MacK Maple Supply on Route 11 in Potsdam, said the first pandemic year, now fading into a second, boosted hobby sugaring. A shortage of sugaring equipment — a more severe shortage than other years — reflects that surge in backyard operations, he said.
In DeKalb, the Jenness family operates Orebed Sugar Shack. Jeffrey E. Jenness, who turns 71 years old next month, manages 23 miles of plastic lines on a 110-acre farm with his wife, Lori McAdam-Jenness, and other family members.
"A short run last week was the first of it," Mr. Jenness said. "Just enough to get started."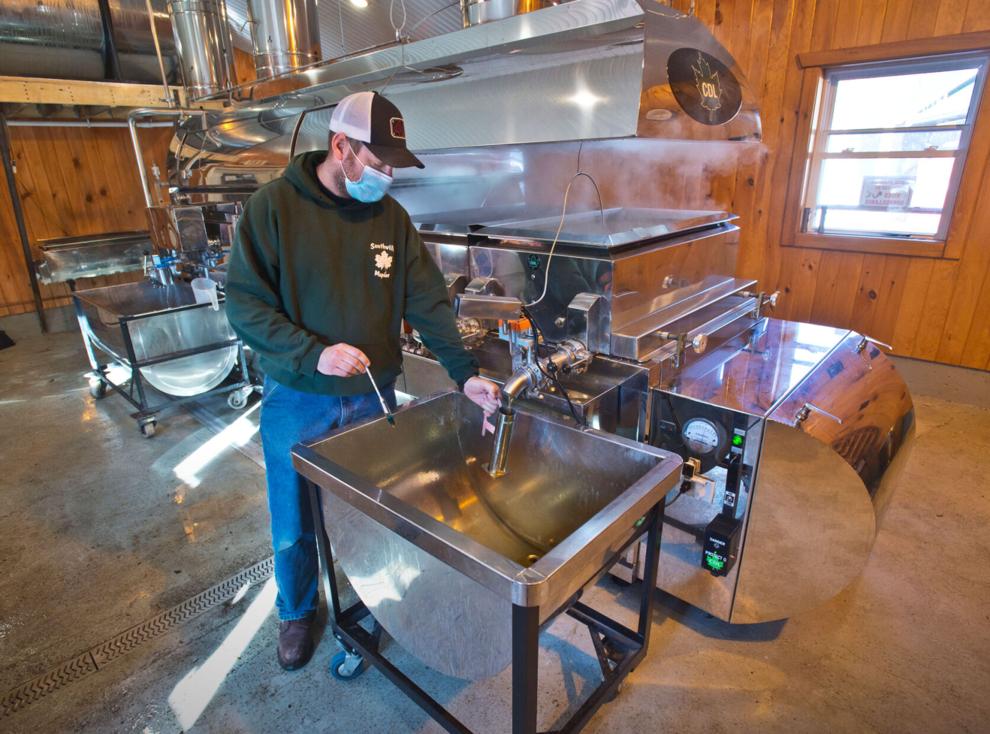 The decades-old and towering trees, he added, take time to thaw after consistently cold temperatures freeze their sweet potential.
"We need this sunshine," he said Wednesday morning, shortly before heading out to work in the woods on Orebed Road.
Mr. Jenness, a member of the state and county associations, taps some 2,300 trees using water-cooled vacuum pumps that lower the atmospheric pressure in the tubing system and prompt sap to flow more freely. Roughly 40 additional trees are tapped into gravity lines, a natural-flow setup.
The Jenness couple has remained isolated over the last year, Mr. Jenness noting his hair "hasn't been this long in 40 years." No visitors have explored the sugar shack, no regular customers in the same room, no one inside their home, though grandkids have trudged through the snowy aisles of sap-carrying lines.
They "joined together, far apart," Mrs. Jenness said.
Scheduled pick-ups for orders have been facilitated, Mr. Jenness said, but pandemic limitations have levied "a big hit to the pocket book" for Orebed. Now, the duo is looking ahead to April when they'll be fully vaccinated against the novel coronavirus and can formalize plans for a nine-week calendar of weekly outdoor activities when schools break for the summer.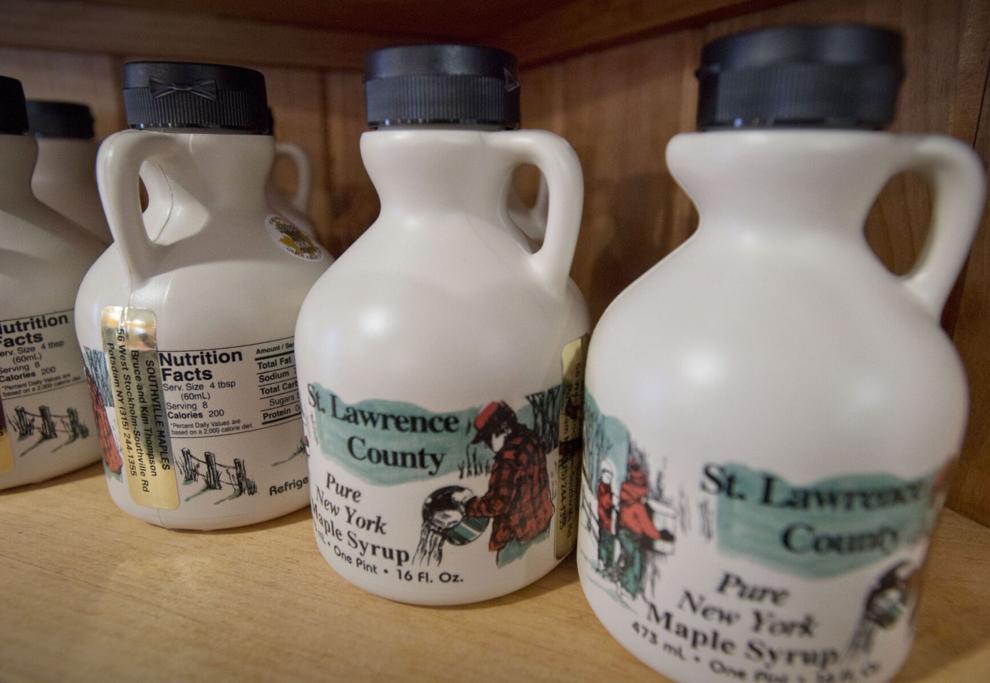 To the north, Mr. Thompson oversaw the second sap run of the season for Southville Maples on Wednesday afternoon. Last week, vacuum pumps collected 9,000 gallons of sap, which boiled down to 80 gallons of syrup. Typically more than 95% water, maple sap on larger sugar bushes is processed through a reverse-osmosis machine, which increases the sugar concentration by separating water molecules from the sap's sugar. Sugar content is further increased after boiling, with evaporators speeding up the process.
Mr. Thompson, who works early mornings as the town of Stockholm's highway superintendent, started purchasing tracts in the Southville hamlet more than 10 years ago, thinning the woodlot into a sugar bush. He grew up in the center of the county learning from his Uncle George's sugaring work off County Route 47.
"I just couldn't get enough," Mr. Thompson said.
When he started tapping his own trees, he thought: "I'll be happy if I get to 1,000 taps."
"That lasted a year," he said.
A total of 9,200 taps are webbed together now, and an expansion is planned over the next three years. The sugar shack where lines convene will be doubled in size, and the existing kitchen and store will move to the front of the building.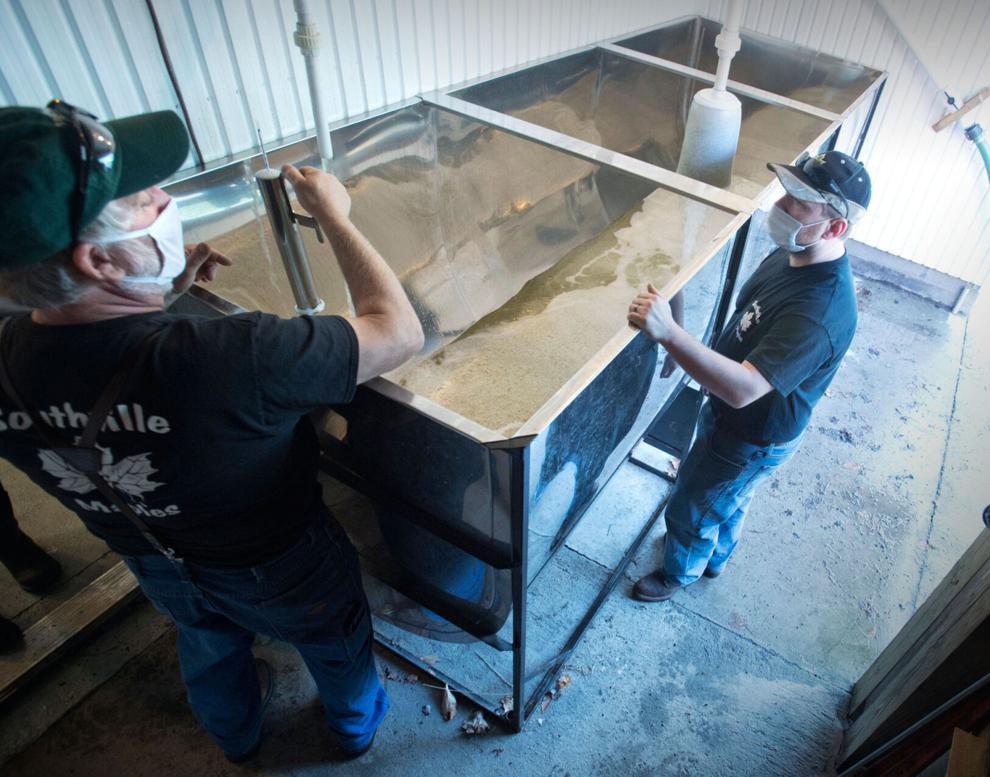 With his wife, Kim A. Thompson, six local kids and 21 grandkids, Mr. Thompson's maple production is a family business.
"Someday, I'll just sit, when I'm 20 years older, and watch the young ones continue," he said, before sampling fresh syrup.
"It's the best maple syrup in Southville," he said laughing. "It's also the only maple syrup in Southville."
For a complete listing of maple producers in the north country, visit the state Maple Producers Association website at nysmaple.com.