WATERTOWN — Chris Henry just wants to forget the havoc that COVID-19 caused to last summer's important tourism season.
The general manager of Singer Castle, the historic tourist destination on Dark Island, just wants to focus on his optimism of what's going to happen this summer season, which kicks off with the Memorial Day weekend.
"I don't want to think about last summer," he said at a brochure swapping event in the 1000 Islands International Tourism Council's parking lot Wednesday.
It seems like Mr. Henry — and others involved in Jefferson County's tourism industry — have a lot to be optimistic about for the summer tourism season and for Memorial Day weekend, traditionally one of the most traveled weekends of the year.
Both the number of reservations and inquiries for Singer Castle, the 118-year-old former hunting retreat on Dark Island for Frederick G. Bourne, fifth president of Singer Sewing Machine Co., have already exceeded any other year.
"We think there's a lot of pent up energy to be out and people just want to get out this season," he said.
The folks who run hotels, tourism destinations and attractions, and local chambers of commerce think the tourism industry will bounce back from what was a disastrous season last year when the state kept it from opening for two months because of the pandemic.
While he was hesitant to use the word "rebound" to predict the season, Corey Fram, director of the 1000 Islands International Tourism Council, said indications all show that people will be back to the north country to hang out in river and lake communities, enjoy the outdoors and visit such attractions as Boldt Castle and the Antique Boat Museum.
He's already heard anecdotally positive things about occupancy rates at hotels. The trend for outdoor recreation shows a 200% increase from last year. The area's state parks are outperforming all other parts of the state.
As he sees it, fuel prices and the weather are the only factors that could put a damper on the season and they cannot be controlled. Gas prices hover above $3 a gallon, about a dollar per gallon above last summer.
With about 60 typically annually attending it, about two dozen representatives from local chambers, the hospitality industry and tourist attractions showed up Wednesday to the tourism council parking lot to exchange boxes of marketing brochures, so they don't have to drive all over the county to swap the marketing pieces.
The difference in attendance from previous years?
The tourism council's "Canadian partners" could not drive across the Thousand Islands International Bridge because the border remains closed, Mr. Fram said.
At this point, no one knows when the Canadian market will open. It depends on enough Canadians getting the COVID-19 vaccine, he said.
Last year, attendance at Singer Castle was down 9,000 visitors, from about 23,000 in 2019 to 14,000 in 2020. Much of the decrease came from Canadian tourists who could not cross the border, either driving down, by charter boat tours or on their own vessels, said Jean Papke, the attraction's assistant general manager.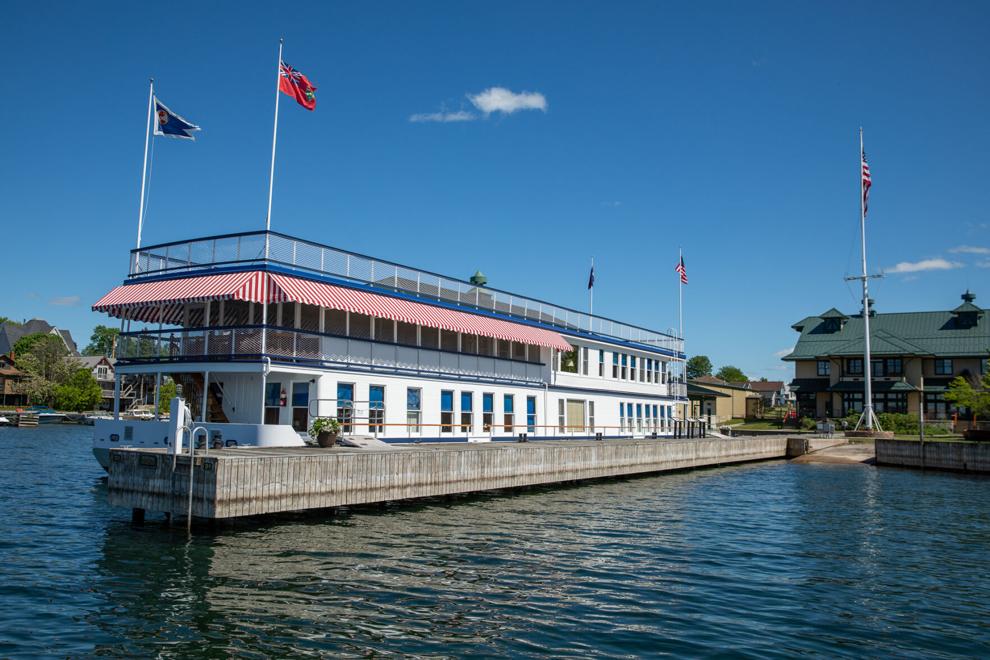 While Canadians might not be back to the north country this year, Kelly Layman, concierge for the 1000 Islands Harbor Hotel in Clayton, said the hospitality industry could only rely on visitors from the state last year because of out-of-state travel restrictions.
That situation has changed, she said. Out-of-state travel is back open and the Harbor Hotel continues to offer romantic weekends and other promotions, she said.
"We're filled up on weekends and we're much busier during the week than last year," she said.
While one of the main tourism destinations opened two months late with modified activities last season, Events and Communications Coordinator Caitlin M. Playle expects clear sailing for the Antique Boat Museum in Clayton this summer.
The museum, which had a soft opening on May 1 but remains closed on Wednesdays, has a full schedule of events this summer with less restrictive masking requirements. Museum operators have added more boat rides and tours of La Duchesse, a century-old river boat.
"We did well for the situation," she said, adding that attendance was at the 60% level last season.
On Thursday, Ruth L. and Edward T. Hackett brought their two granddaughters, Endura, 7, and Maagdalena, 8, to the boat museum on the final day of their three-week vacation.
The grandparents, who live in Western New York, had been to the north country before to visit their daughter and son-in-law, a Fort Drum soldier.
"We just said we had never been to the boat museum and we should get there," Ruth Hackett said.
They sat together on a bench and watched a video of the canoe competition in the 1948 Olympics while the grandfather pointed out some interesting tidbits about it.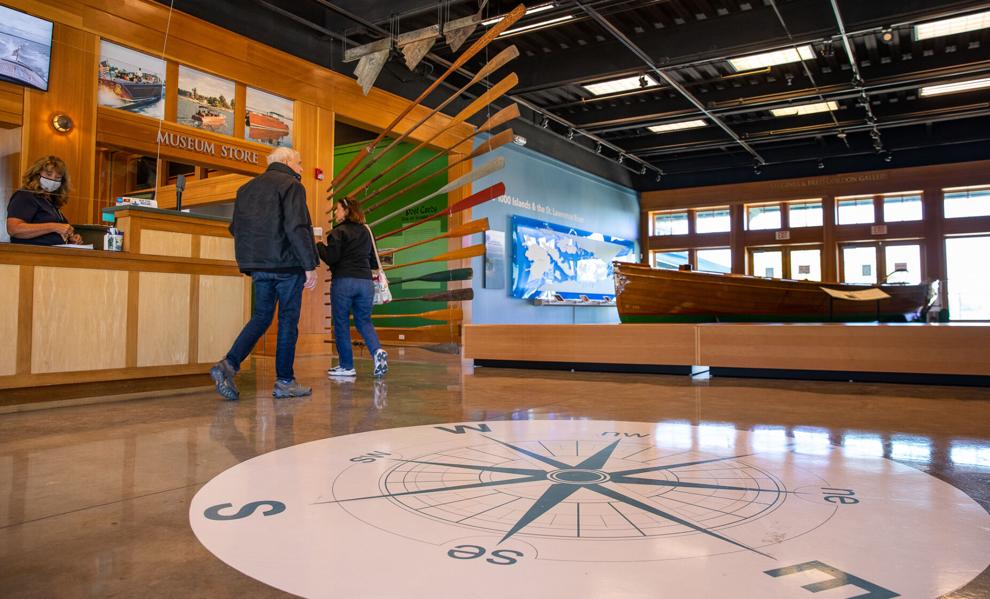 It was rough waters for boat charters and white water rafting companies last season. The social distancing requirements meant big changes in the way they operated.
To make it safe during the pandemic, not as many people could go on white water rafts and tour boats, operators said.
To compensate for fewer people going on rafts at a time, Steve P. Sutterfield, manager of Adirondack River Outfitters in Watertown, said the company went from four to five guided adventures a day down the Black River.
Only members from the same family or group could ride on the rafts together, he said.
The white water rafting company opened the season in Watertown and on the Moose and Hudson rivers in April, with relaxed social distancing rules.
"We've hit the ground running this year and are excited for a good season," he said.
It was clear sailing for Tom Gillette, owner of Classic Charters in Clayton, saying he had more guided fishing charters last year than any other season in his 33 years in business. Going out on the St. Lawrence River on his 28-foot Penn Yan boat with a dinette to seat four, a flushing toilet and flat floor was one of the few things that people could enjoy last summer. He expects the same kind of season in 2021.
"It was the busiest summer I ever had," he said.
Earlier this week, he was on a charter near Grindstone Island catching some pike and looking forward to the other five charters he's booked for the next five days. It's been so busy that he's referring customers to other fishing guides, he said.
But Garnsey's Classic Island Cruises went through more turbulent waters last year, owner Jeff Garnsey said.
"It was a nightmare," he said.
Blaming social distancing rules, the third generation charter captain and retired U.S. Navy officer was able to take out just one of his three antique boats on his chartered trips along the St. Lawrence River.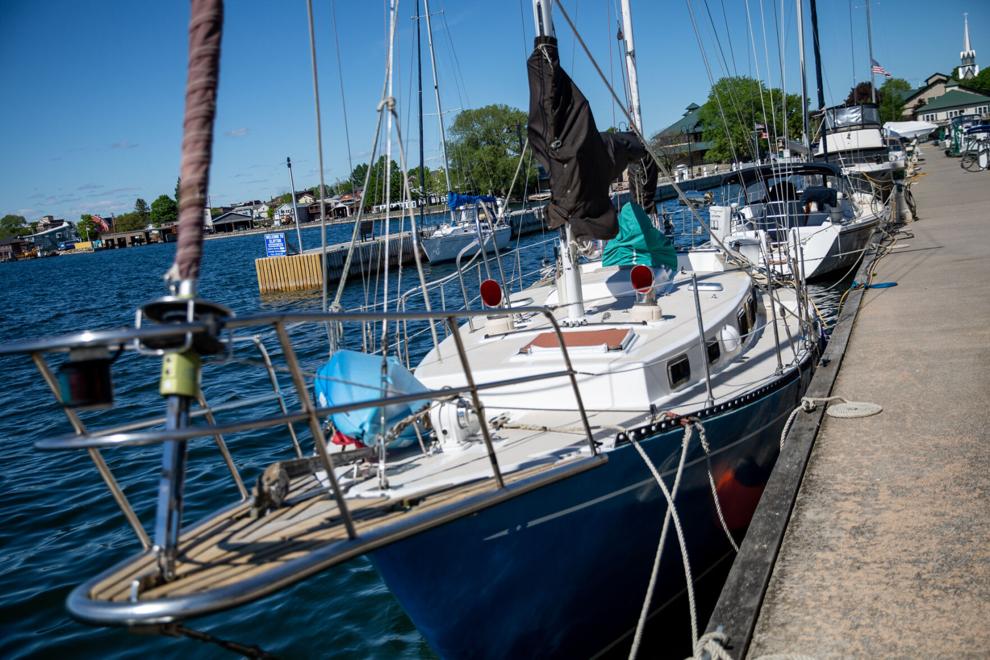 That left his flagship boat, a 1953 Chris Craft Sedan Muskie, laid up on shore for the season. Not in the river last summer, the Muskie then had to go through six weeks of special treatment to get the mahogany antique boat ready to go back in the water for this season.
Perhaps a wine and cheese charter for this weekend might be a good omen for things to come this summer. He's taking a young couple out to Boldt Castle during which the guy plans to propose to his girlfriend. For the retired master chief who served on submarines for 26 years in the Navy, the occasion will be special for him, too. It makes him optimistic for the upcoming season.
Merchants and chamber folks in Sackets Harbor and Alexandria Bay also are gearing up for a successful summer season.
Dave Alteri, treasurer of the Sackets Harbor Chamber of Commerce, has noticed the quaint village's main street is full of cars on weekends. All the restaurants have opened. This weekend, the village-wide garage sale and a War of 1812 re-enactment will be held. Organizers have planned a scaled-down Can-Am Festival for July.
"We're poised for a good season," he said.
Earlier this week, the main street in Alexandria Bay was a bit quiet on a summer-like morning.
But Judy M. Hess, manager of Good Dog Charlie's gift shop, expects big things, starting this weekend. The business just bought the building it's in now and the crowds should be out for a fireworks show, the first in two years.
"We'll have a lot of people," she said.
The tourism industry is ready for the crowds. They just now have to show up.