SACKETS HARBOR — In a few hours he will be in a tractor harvesting wheat, but Ronald C. Robbins is in his office in the meantime, rattling off the latest weather in different countries.
He has become a student of world weather patterns, which proves useful in such a volatile time during which grain prices have skyrocketed to the point where some smaller farmers are leaving the industry entirely. A bushel of grain could sell for anywhere between $6 and $7 today, and it was about $3.50 a year ago.
Mr. Robbins, the head of one of the largest farms in the north country, has an explanation for factors driving the price spike.
"In a 10-year comparison, it's either the highest or the second highest," said Stephen Winkler, a farmer in Rodman.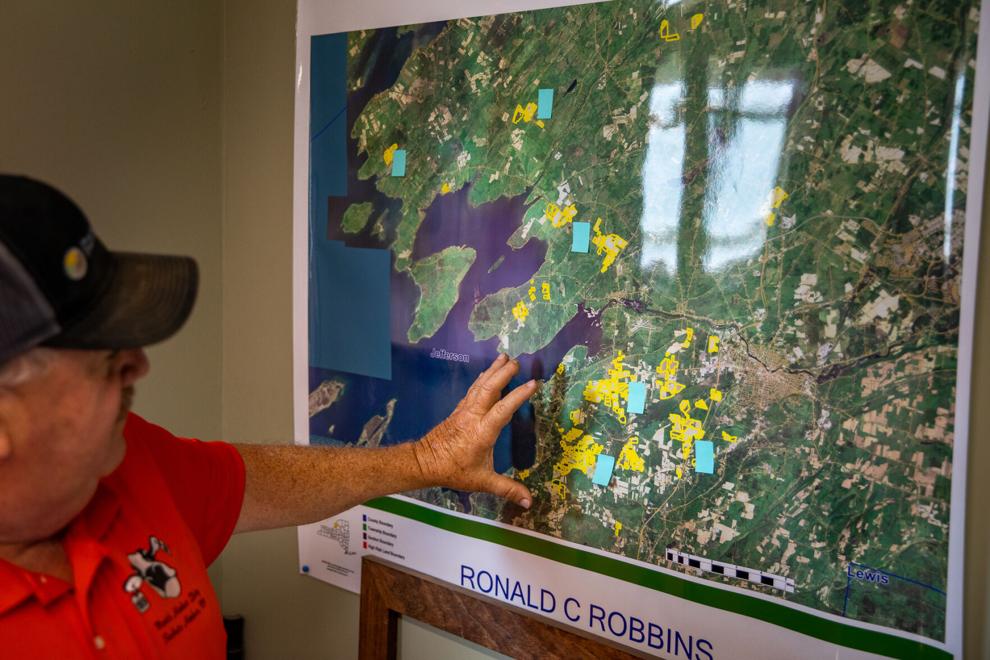 The global demand for grain has increased as countries suffer droughts, floods and panic buying. It is being called the perfect storm, and worldwide patterns set the prices for farming in the north country.
"Grain prices have been high since last fall," said John D. Peck, another farmer in Carthage, "and then it really ramped up at the beginning of winter, and then it just accelerated."
Whether that is good or bad depends on who is asked. A farmer who almost exclusively works in dairy — the No. 1 form of agriculture in the north country — will likely not be a fan of higher grain prices because it means paying more to feed their cattle.
Historically, high grain prices mean high milk prices, but that is not the case right now. The industry has entered something of a dead period where its waiting for farms to adjust to the high prices or for milk prices to increase. On the other hand, a cash cropper or grain grower would probably favor higher grain prices as they offer larger margins and better profit returns.
Mr. Robbins, the owner of Old McDonald's Farm, North Harbor Dairy, Robbins Family Grain and a trucking business, lives in both worlds.
"It's good for his grain operation," said Michael E. Hunter, a crop specialist with the Cornell Cooperative Extension. "But he also has all those mouths to feed."
Mr. Robbins is at the top of the Old McDonald's Farm, a name that acts as a foundation for customers to remember and trust. But really, there are several businesses he and his family run. There is Old McDonald's, where customers will find homemade and home-milked ice cream and milkshakes, burgers with beef from their farm, a corn maze that has shaped like a sunflower thanks to precision planting or educational opportunities for kids.
"Obviously it's a farm, but we have a high standard of cleanliness," said Jake Ledoux, who works on the farm and is Mr. Robbins' son-in-law. "People associate Old McDonald's Farm with good memories. It kind of gives a grounding and foundation of trust if you will."
They have North Harbor Dairy, which is headquartered across the street and houses roughly 1,200 dairy cows. They also have a trucking business. Across Jefferson County, the family also owns about 7,200 acres of land to farm hay, corn, soybeans and wheat, which brings us to their last business: Robbins Family Grain.
They will ship roughly 5,000 bushels of grain a week, or 300,000 pounds, to Pennsylvania. They produce the grain in a facility just down the road from their headquarters. Roughly half is used as feed for their cattle, while the other half is shipped. It gives Mr. Robbins looks into both worlds, where he is keeping grain for himself and selling it. That is why he is focused on what goes on around the world. He wants to be able to anticipate anything. There are several factors contributing to the shortage in grain, but the key driver is weather, Mr. Robbins said.
China was reporting that it had stockpiles of grain. The U.S. was producing a lot, as well as Europe and Russia. Consumers were happy as prices were low.
Then, there were floods in China and they lost many of their crops. On top of that, China reportedly did not have the stockpile of crops that they had initially reported. So China went to Brazil for crops, but Brazil was under a drought. They went to Argentina, but there was a drought there, too, Mr. Robbins said. None of them could export, so China went to the U.S. and started panic buying.
What is more, the United States' crop yield in 2020 was not as fruitful as the U.S. Department of Agriculture expected.
So, droughts and large buying from China have factored considerably in the shortage in grain, ultimately setting the prices for grain coming out of Sackets Harbor.
"It was like a perfect storm," Mr. Robbins said, "and it affects us. Every day I get up, I have to worry about what's going on around the world."
While his farm is large enough to absorb almost any volatility in grain prices, smaller farms might not be able to do so.
"That's going to put a lot of pressure on them," Mr. Robbins said. "You will see farms exit the business. I try to give them advice. I think we're all in this together no matter what size we are. We need to help one another."
If there is any bright side, it is that the expectations for the first quarter of 2022 for milk prices is they will get better.
"History will tell you that high grain prices will create high milk prices," Mr. Robbins said. "Low grain prices will create low milk prices."