WATERTOWN — Seth M. Hill already feels at home in his new tea and herbs store he opened Wednesday at the Salmon Run Mall.
For four years, Mr. Hill operated the Tarot Cafe in the Franklin Building on Public Square. After the ongoing COVID-19 pandemic began last year, he changed the direction of the business last June — from a cafe offering teas and coffees to an apothecary selling teas and a variety of remedies.
Now he's left the square and opened The Magick Apothecary in the former Gertrude Hawk Chocolates location in the mall.
"I couldn't be happier," he said. "It's been a dream of mine."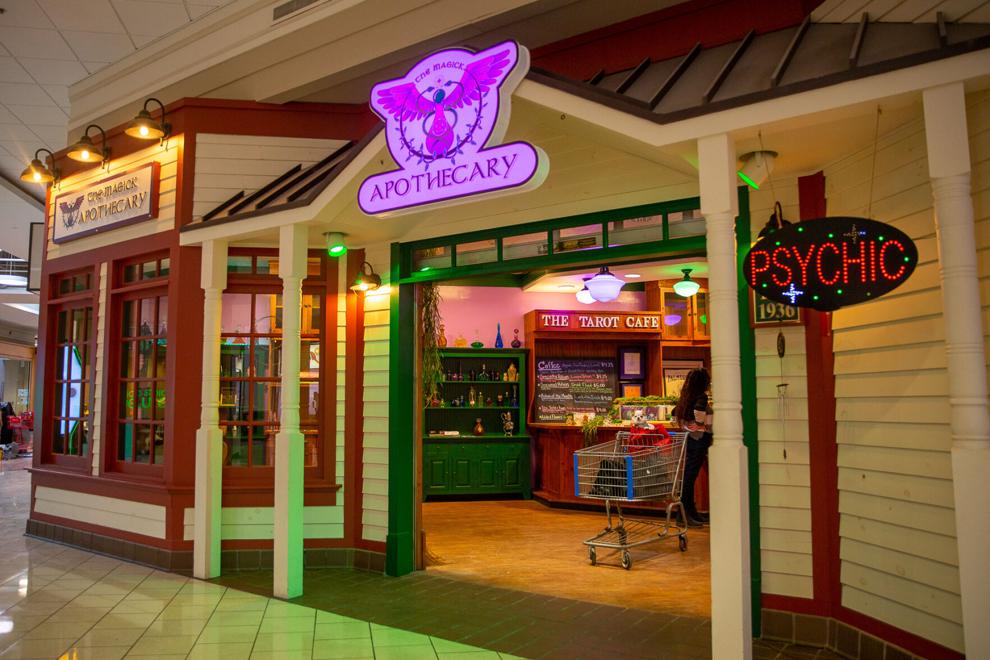 The Magick Apothecary offers a variety of goods and services such as psychic readings, herbal consultations, herbal products and remedies, unique tea blends, metaphysical items, workshops and more.
He's now a certified herbalist via an online course through The Herbal Academy and has a diploma in organic skin care formula so he can make organic facial creams, cleansers, toners, serums and other products using his own recipes. He'll also create organic chocolates of varying flavors, including lavender, from scratch.
"It brings it back to that Gertrude Hawk history," he said.
The business will also be a Wiccan supply store offering a variety of crystals, incense and charms. The teas will be sold by bulk and he'll continue to sell the coffees that were at the center of the Tarot Cafe.
As he did on the square, the store will feature fashion and drag shows, psychic readings and astrology charts, workshops and classes.
He moved from a cramped space of a little less than 400 square feet to the mall space that has about 1,500 square feet, where he can offer so much more.
"This is what I've always wanted the Tarot Cafe to be," he said.
To open, he had to gut the store and start from scratch with a new look. He also had to add a kitchen.
If you go into the store suffering from a stomach ache, depression or anxiety, Mr. Hill said he'll have a herbal alternative to help.
When the pandemic hit last March, he tried to do curbside pickup with the Tarot Cafe, but that wasn't working, so he had to do something for his business to survive.
He now feels like he's making a difference.
"I feel like I can be more help to my community," he said.
With an increase of foot traffic at the mall, he feels comfortable in the atmosphere of the Salmon Run Mall, where retailers want to help each other succeed. More "ma and pop-type" stores have opened in the mall in recent years, so it's not as corporate as he once thought.
"They're so nice," he said. "It was my first day and they all wanted to see how they could help."
As a teen, Mr. Hill hung out at the mall with his friends, so operating The Magick Apothecary brings back memories.
"The mall was the place to be to get a retreat from a small town," he said. "Now I have a store in the mall. It's my goal to be that place for others."
The Magick Apothecary is open from 11 a.m. to 7 p.m. Monday through Saturday and from 11 a.m. to 6 p.m. on Sundays.