WATERTOWN — Katie M. Hill knew it was adapt or die after sales at her Edible Arrangements store plummeted roughly 90% in March, resulting in a shift from elaborate bouquets of fruit dipped in chocolate to 50-pound bags of groceries made for delivery.
It was the week before all nonessential businesses were closed when sales at the Edible Arrangements location began to dip, all the way to the breaking point of a day that saw only $100 in sales.
"That doesn't even pay my food bill," said Ms. Hill, the owner, "or my electric, or rent, or anything."
She also became hyper aware of where positive COVID-19 cases were, considering more than 50% of her business is done on Fort Drum. When she heard about a few cases on base, coupled with the drop in sales, she decided to close her store. It was a week before Gov. Andrew M. Cuomo's decision to shut down nonessentials, and in hindsight, she's grateful for that move. Ms. Hill gave her employees severance packages and they were able to get a jump on applying for unemployment insurance.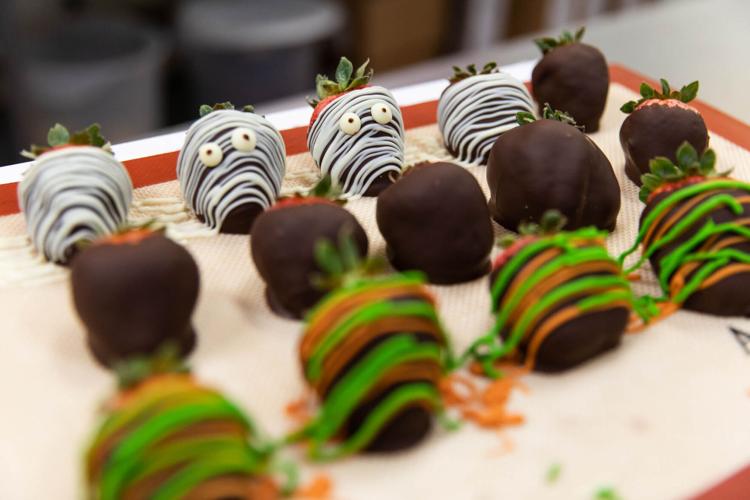 The store was closed for about two weeks before it opened again, and this time sales of edible arrangements were spiking. It was just ahead of Easter, but it was still a good sign. Business was good, but only for a while. Sales began dropping again as it neared the end of March, making it clear to Ms. Hill that adapting was the only option.
Corporate at Edible Arrangements had rolled out a grocery service in which customers could come pick up cases of vegetables. Ms. Hill, in deciding to adopt the idea, knew vegetables wouldn't be enough. She saw what other grocery delivery services were charging and wanted to offer more at the same price as buying at a grocery store. There wouldn't be much profit, but she said she would rather get groceries to loyal customers instead of charging $5 for broccoli.
So, she began ordering from three different vendors a week. She brought in milk and cheese from a local co-op. She called friends with chicken coops who would bring in eggs. She sold any vegetable a customer wanted, and she had 50-pound bags of potatoes.
There were several times that someone would call for groceries and she didn't know what to charge. It was all so new and fast-moving that there was a sense of "let's wing it and just stay open," not unlike many businesses at the time.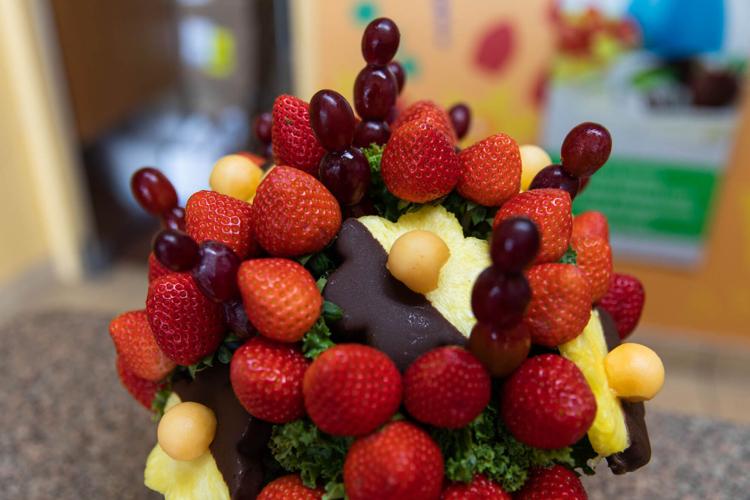 It ended up working. She said she had many regulars who wanted a delivery of groceries every week. It helped that she didn't have a radius. She routinely delivered produce to families in Carthage, Fort Drum and Adams, where she lives. In keeping prices low, it turned out the store didn't make much money from the idea. But the amount of networking she did was priceless, and the goal was to keep the store open and location strong so when some sort of normalcy returns, they'll still be there.
In fact, Ms. Hill said on Friday that sales of edible arrangements — which she has largely returned to selling since businesses have mostly opened — have been better than they were pre-pandemic. Whether it was the relationships she built while hauling groceries, surgeries being delayed and coming back now in droves, or the little girl in Depauville, Ms. Hill remembers, whose grandma got her an arrangement while she was quarantined, she's proud of her decision to lean into groceries and stick around.
"Now we're doing a lot more products, which has done very well," Ms. Hill said. "It all worked well, and if things got bad, we would do it again."