POTSDAM — Local, organic and with a mission of providing healthy, vegan food alternatives, Foster the Plant Cafe owners Scott M. and Lynzie S. Schulte, are looking to create not just a place to eat, but an experience.
"We don't want this just to be a place where you come in and you grab your food and you go," Mrs. Schulte said. "We want it to be like an experience."
That includes working with local artists, educational centers and retailers.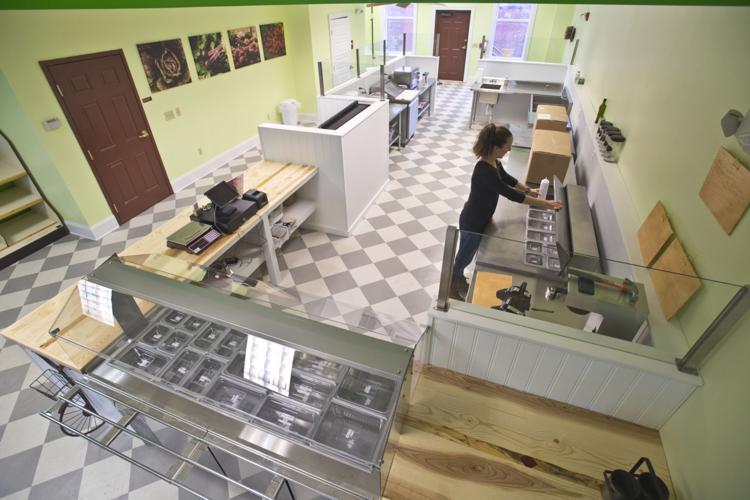 Located at the former Tread Mill Bicycle Shop at 55 Market St., the cafe's name was partially derived from the owners' love of the band Foster the People, but Mr. Shulte said "what you do when you foster the plant (is) helping the planet and doing things to have sustainable farming and organic agriculture."
"So I thought, Foster the Plant encompasses all of those things that we're trying to do," he said. "I also think that it's cool, too, that you can add an "e" and it's Foster the Planet, so there are some planet aspects of what we're doing so the name really meets our mission."
The couple, both 36 years old, moved to Potsdam from Cleveland, Ohio, when Mr. Schulte took a job as a nurse anesthetist at Canton-Potsdam Hospital. Mrs. Schulte has a doctorate in physical therapy and was working in her field in Cleveland, but they were looking for a change in life and more time with their two young children, Chase Michael, 6 and Mila, 4.
Part of the motivation behind the restaurant was their own plant-based diet, but they also wanted to provide healthy food alternatives and wanted to use local agriculture and businesses, working with organizations like North Country Growers and North Star Food Hub to connect with local farmers; Canton Apples; and St. Lawrence Valley Roasters.
The menu is 50-percent local, 50-percent organic, they said. It will have things like oatmeal bowls and smoothie bowls, "a super thick smoothie" made with acai berries or dragon fruit mixed with a base of more fruit, both with assorted toppings; a "grab-and-go" case; and "toast," which they said will be like an open-faced sandwich, like avocado toast, chick pea toast and a peanut butter and jelly with maple syrup toast.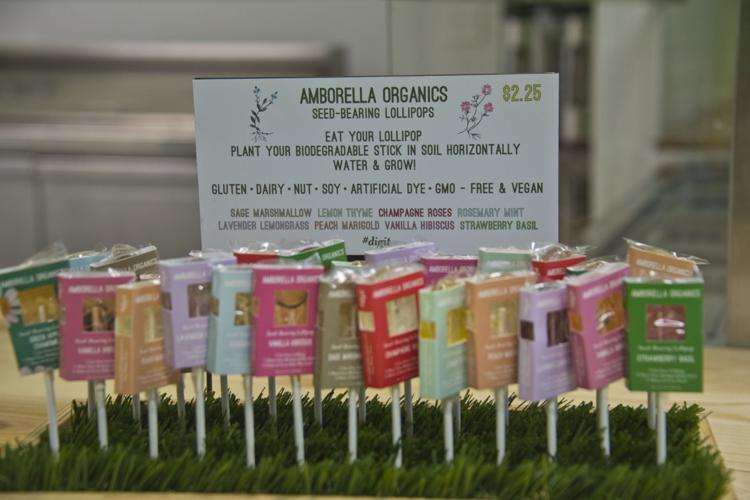 There also will be a rotating vegan salad bar with things like hummus, falafel, tofu based "eggless egg salad" and foods that are seasonally based.
While items from the salad bar will be $9.99 a pound, everything else in the cafe will be under $10, Mrs. Schulte said.
They are looking to open their doors next weekend. Beginning hours will be 9 a.m. to 2:30 p.m. Sunday to Thursday, and 9 a.m. to 7 p.m. Friday and Saturday, with those hours open to change.
The couple is sourcing as much as they can locally, they said, including their wooden counter tops made by local craftsman, Matt Rozler, and the artwork they have hanging on and painted on their walls.
A mural inside the door was painted by Potsdam native Dennis Smyth, depicting a vista of a snow-capped Adirondack Mountain range, as well as the forearms and hands of a person of no specific race, colored in various Earth-tone shades, planting seeds and growing.
"And I think that just captures what Foster the Plant means," Mrs. Schulte said. "Whether that be literally the seeds being planted or just planting here in Potsdam and helping it grow."
Another mission is to be environmentally conscious, with plastic chairs made from post-consumer waste plastic and a couch upholstered in up-cycle materials. Takeout containers are reusable and customers will get a 10 percent discount when they return to refill them.
"So we are shopping local and we are being environmentally aware of what we are doing with everything," Mrs. Schulte said. "We're here to build the community and help people learn about good food that is here in Potsdam and in the north country and we really want to treat our employees really well. Our goal is to make this a place people want to hang out in."