WATERTOWN — At first, it appeared that COVID-19 would be nobody's business in the Northern New York business world.
On Jan. 20, 2020, the first U.S. case was confirmed in Snohomish County, Washington, 3,100 miles away from Watertown.
On Jan. 30, 2020 the World Health Organization declared a global emergency. On Feb. 6, a person in California died from COVID-19, the first fatality from the disease in the U.S.
The first COVID-19 case in Jefferson County was confirmed on March 17, 2020. The crisis had to be dealt with, causing businesses to upend game plans in order to survive.
For this story, the Times focused on four key business segments: lumber and building supplies, grocery, automotive and dining by interviewing owners as they explained how they've dealt with the pandemic, changes they made and how they think the crisis will affect their future operations.
From ordering lumber for local builders to getting product on store shelves for angsty customers, the simplest operation became complex when the virus arrived. Many workers used to heading into the office found themselves doing their jobs at home as they did their part to remain socially distant.
"One of the first steps was to form a COVID committee of employees and owners, and everyone soon got used to communicating via text," said Michael M. Backus, CEO of Mort Backus & Sons Inc., an automotive dealer in Ogdensburg. "Zoom meetings became commonplace as kitchen tables turned into new office space."
At White's Lumber & Building Supplies on North Rutland Street in Watertown, company president and fourth-generation family member Bradford A. White last spring saw other building supply dealers in the Northeast seeing business declines of 30%, and those numbers were coming for him.
"My stomach turned," Mr. White said. "They were very anxious times."
"Our first thought was trying to keep everybody safe, not knowing anything about the virus and how it was going to effect each individual," said Kirk LaVigne, who with his brother, Todd, own IGA supermarkets in Brasher Falls, Chateaugay, Potsdam and Waddington.
In April, IGA officials told the brothers that the situation would last at least a year to a year-and-a-half.
"In our eyes, we didn't think it'd last that long," Kirk LaVigne said. "But they said, 'You're going to have to be in this for the long haul.' Those projections were showing nationally. It was the uncertainty. You didn't know what to expect."
Meanwhile, some north country restaurants closed temporarily or permanently, while many others found the time was right for a grand opening. At Savory Downtown, located at Best Western Watertown/Fort Drum on Washington Street, Savory owner Jay R. Baytos, like other eatery owners, is working to ride out the storm as his menu of family recipes beloved by catering customers and guests at banquets, took on a new mission: takeout orders. But in addition to dishes like meatballs and chicken Parmesan, one ingredient in dealing with the pandemic has been a salvation for him:
"The owners of the hotel have been tremendous," Mr. Baytos said of the Visions Hotels management company. "They've been unbelievable and reasonable, helping me to get through."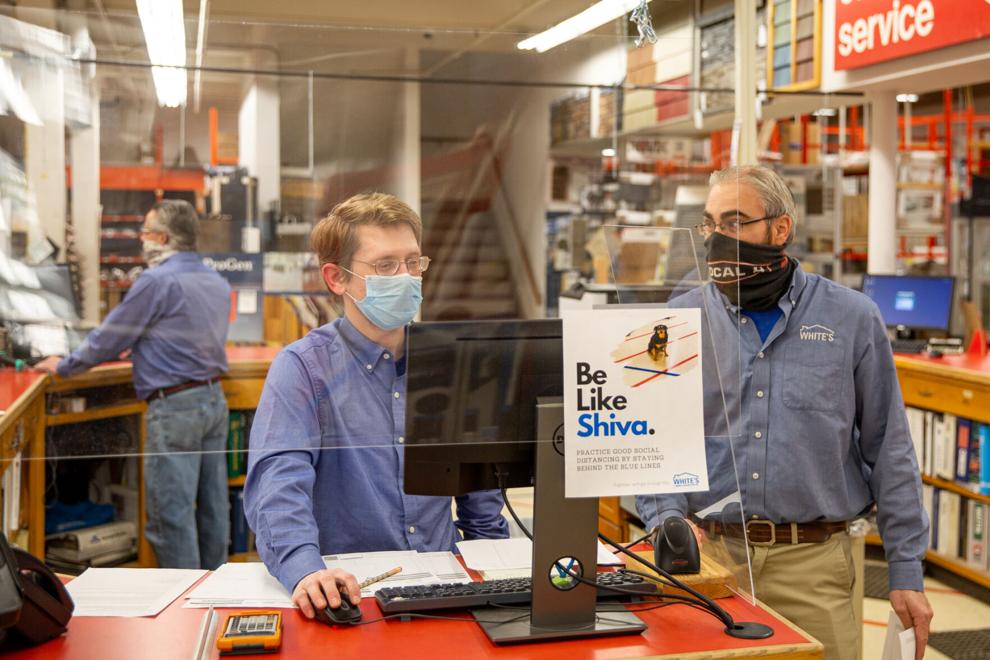 Not immune
Workers at White's Lumber & Building Supplies were busy late last winter with conventions and home shows held in different parts of the country.
"We had a total of eight staff who were intermingling with other dealers and suppliers both across the U.S. and North America," Mr. White said.
Each convention had several thousand people in attendance.
"Up until then, our feeling was that in upstate New York, we were pretty much immune from COVID and the virus and we were going to be fine," Mr. White said. "Everybody returned and was healthy."
But shortly after the conventioneers returned, the seriousness of the virus gained traction. White's decided to cancel its 2020 Home Show, scheduled for the last weekend in March.
"The decision was made to cancel it shortly before the governor announced that virtually all activities were shutting down," Mr. White said.
The family at Whites Lumber & Building Supplies, which also operates stores in Pulaski, Gouverneur and Clayton, is used to dealing with crises, from roof collapses to major fires. COVID caused the team to enter crisis mode again.
Mr. White and others at his company began having weekly calls with a group of lumber dealers from outside the region. Their reports of business declines weren't encouraging. Whites' sought a contingency plan, as Mr. White asked himself a question:
"If our business level went to this, what would we do?"
"What we ended up initially doing was looking at what our business levels were and reducing store hours, but still staying open for both our professional and consumer customers because we were deemed an essential business," Mr. White said.
But there was lots of "angst."
"The positive was, yes, we were able to stay open," Mr. White said. "The negative was the uncertainty of both the owners, staff and public: do I want to go into that business? Do I want to talk to that customer who came in? Are they carrying the virus? No one really knew."
Like other businesses, White's then implemented Centers for Disease Control and Prevention, as well as New York state guidelines for cleaning, reporting, testing, signage along with store policies on social distancing and masks.
Deliveries to job sites and at homes became "contactless."
But in late March, most residential and commercial construction was halted in the state, which caused more headaches at White's. Seasonal inventories had already arrived, and Mr. White asked himself another question: "What are we going to do with inventory if nobody is purchasing it and aren't doing any work?"
The construction order was lifted in early spring. But COVID policies in different parts of the country created a domino effect in regards to supply, especially for lumber.
"If loggers aren't able to log, the mills aren't able to cut the lumber to treat it and the treaters can't do the treatment on their lumber," Mr. White said. "If it gets treated, then they need the truckers to truck the lumber."
It's all part of "a cog," Mr. White said.
"When any one portion of that gets messed up, or any portion gets disrupted, it has a ripple effect. It's kind of like water running downhill. It just gets worse and worse."
The fact that suppliers didn't have a good handle on what they could supply caused a conundrum for Mr. White.
"How do I quote a large project if your supplier is telling you that your price is going to be priced at time of shipment? How does a contractor give a price? That just added to all the complexity," he said.
Mr. White, interviewed in mid-January, said, "Purchasing and procuring materials has been a challenge since this started. It's ongoing today. I don't foresee and end in the short-term future."
Industry shortages are anticipated in supplies such as lumber, plywood, insulation and sheetrock.
But there are several bright spots in how White's has dealt with and plans to deal with the pandemic situation. It has revamped its e-commerce website to make it easier to navigate and to order from. Customers can pick up curbside and free delivery was offered. About a year ago, its phone system was upgraded. To ease home bound family stress, things like free bird feeder kits for children became available and through social media, people shared photos of their craft projects.
As retail customers found returning to stores more comfortable and with more time spent at home, White's noticed that simple home improvement projects were seeing a spike. Painting and interior decorating were two of the first items to see an increase. Customers also paid more attention to their decks.
"Either a new deck, upgrading a deck or increasing the size of the deck," Mr. White said.
General repairs around the home were also being addressed. "Now, they had the time to do them," Mr. White said.
At the worst of the pandemic, White's applied for the first Paycheck Protection Program and was accepted. Its weekly payroll is about 85 employees. All workers remained employed, but White's modified schedules and/or allowed some to work from home, especially for those with particular family obligations.
"We need customers to drive the business, but we need employees to take care of customers," Mr. White said.
Mr. White said he anticipates a good year for his business in 2021.
"One of the things we learned, I think moving forward, is flexibility."
And looking forward, the company's annual home show has been tentatively scheduled for Sept. 17 and 18 at the Clayton Municipal Arena.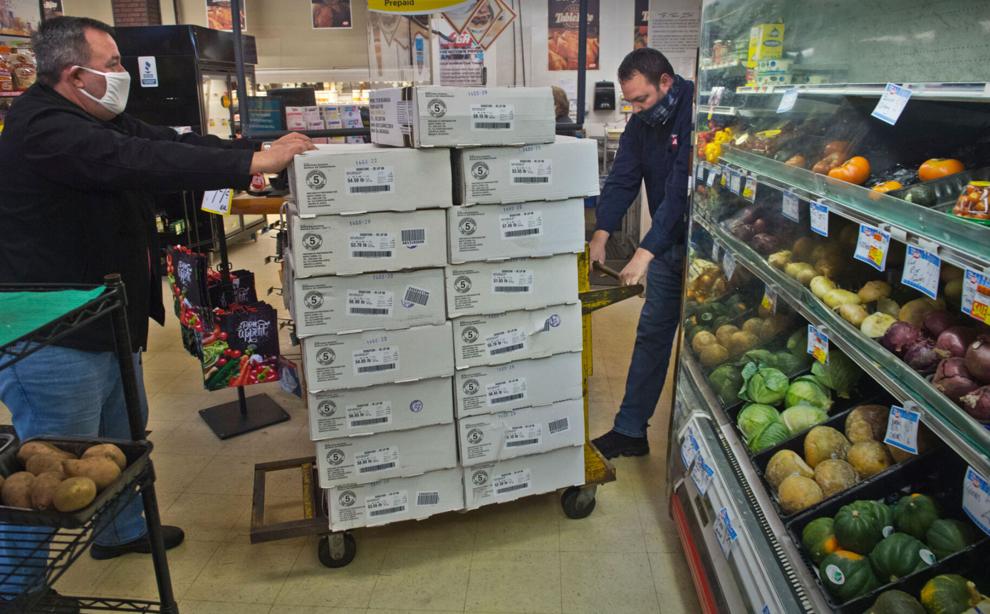 New ways of shopping
The LaVigne brothers said that at the beginning of the pandemic, customer counts dropped "immensely."
"People just did not want to be out interacting with people because of the uncertainty of the virus and how it was going to affect them," Kirk LaVigne said. "All you saw was the negativity on TV and the death rates continuing to rise and rise."
But like other retail stores, the LaVigne brothers put in safety protocols; theirs recommended by IGA.
"It was tough at the beginning until we had an idea of how to handle it, like making sure people were wearing masks, making sure we had stations for cleaning your hands," Kirk said.
For the most part, the new measures were accepted by their customers.
"There's always going to be one that bucks the system," Todd LaVigne said. "You have ones that believe one thing and you've got others that believe something else. But for the most part, I think once they realized that it's not just us, and it's everybody doing it, everybody has come aboard and we haven't had any issues."
The brothers introduced curb-side pickup, which was appreciated by customers.
"In the beginning, we didn't know much about it," Kirk said. "We were introduced to it by IGA. Basically, the customer will call up, give us an order."
The customer, Kirk, said, will be called back and told workers are getting the order ready or have it prepared for a specific time. The program, the brothers said, worked well compared to other food stores at the beginning because they weren't facing a backlog on pick-up orders. "The big stores were so far behind," Kirk said.
Todd said that curbside pickup is something that will likely continue for them, post-pandemic. The brothers also established a delivery program, but unlike curbside, it's not seven days a week.
"Delivery schedules are custom to the store," Todd LaVigne said. "I've delivered from Brasher Falls all the way to Mountain View. I have no problem going where we've got to go. Kirk and I travel a lot of miles. If we can help somebody who needs it, we'll be more than happy to do it.'
The brothers employ about 100 workers at their four stores. They applied for and were accepted for a Paycheck Protection Program grant last spring, resulting in no layoffs.
"We're taking it day-by-day as best we can," Todd LaVigne said. "Our customer counts are down, we've had to adjust scheduling, advertising. Every day poses a new challenge, whether it be having to scale back our ad, which in the beginning we ended up having to go without that for several weeks because the availability of product was very limited. You're scrambling to try to find things to fill your shelves to make sure customers receive what they need."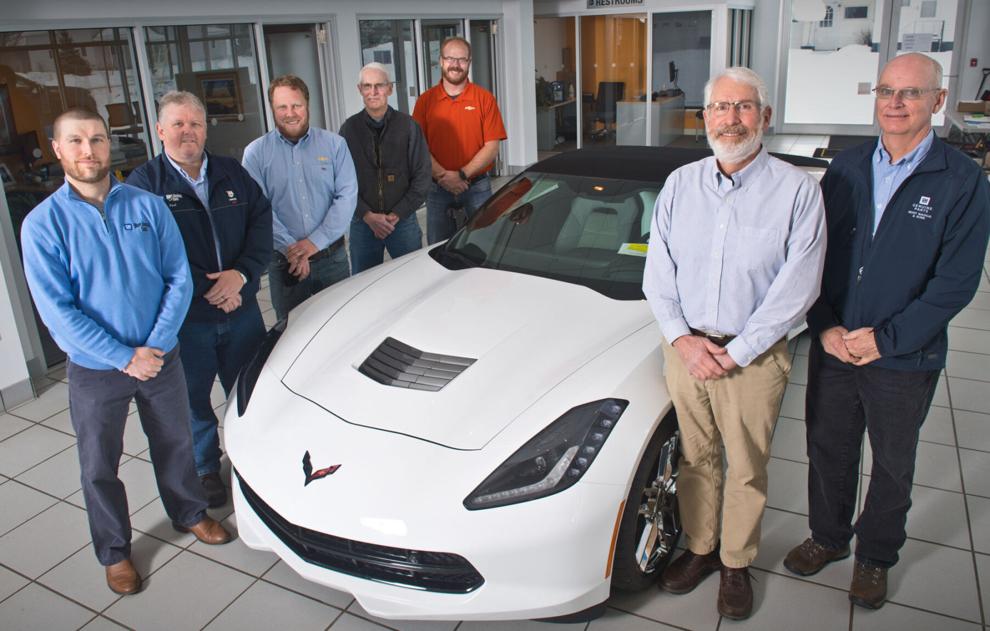 Health and safety first
At Mort Backus & Sons in Ogdensburg, its COVID committee went to work with one goal in mind:
"Every decision was made with customers and employees safety and health as the main concern," said CEO Michael M. Backus, part of the third generation of the family that has operated its business in Ogdensburg since 1954.
"Initially, our sales team worked from home and the service department continued to function, since the service department was considered as essential," Michael Backus said. "To protect technicians and support staff, employees were split into teams working alternating weeks in case we became infected, the whole shop would not be shut down."
The business completely shut down for about six weeks — from late March to May 7, 2020 because its COVID committee felt too much risk were being placed on employees and customers.
"The doors were closed and 36 employees got used to spending many days inside their own homes," Mr. Backus said. "During those weeks, everyone involved with the business attempted to balance the benefits of patience and safety with the anxiety of pent up energy."
When the dealership reopened, many changes and adjustments were made.
"Initially, service was by drop-off and pickup only," Mr. Backus said.
Sales were established by appointment and salespeople and customers met outside only to protect all parties.
"Most all paperwork was done by fax, text, email or phone and deliveries were adjusted to protect customers and sales professionals," Mr. Backus said. "Internally, new standards were set for sanitizing vehicles, not just for drop off and start of operations, but also including sanitizing before customer pickups as well."
The dealership, like others, was affected by supply chain disruptions last year. In late January, sales manager Jordan Backus said elements of those disruptions were continuing.
"This week, I guess there's a shortage of microchips for computers in four, five or six of our models and they're going to limit production of those," Jordan said.
On Jan. 27, Bloomberg Businessweek reported that the shortage, for the auto industry, "could lead to more than $14 billion in lost revenue in the first quarter and some $61 billion for the year, advisory firm AlixPartners predicts. "
Last year across the nation, quality used cars became hard to come by. In August, Forbes reported, "New vehicles are in relatively short supply because consumer demand bounced back faster than auto production could recover."
But there are some other reasons for the shortage, Jordan Backus said.
"We did see a lot of difficulty getting used stuff," he said. "We had people trading in pretty frequently, which was great. But around the country, I think some of the lease companies held on to their cars longer because they couldn't replace them."
In the Backus service center, technicians found themselves with additional "tool kits" that included rubber gloves, hand sanitizers, disinfectants and wipes.
"Very little has changed in terms of care and process since we first reopened," Michael Backus said. "We've been very fortunate avoiding cases. For that, we are grateful!"
This "COVID cloud," Michael Backus said, may have a silver lining.
"So many customers and employees have expressed to us the appreciation they have for the business's concern and care for health and safety," he said. "We plan to continue the same level of attention to those details and look forward to returning to a more normal, more personable, way of doing business."
Back-burner to forefront
Before the pandemic, Jay R. Baytos and his Savory Downtown establishment mainly depended on events like weddings, banquets and catering.
"That was 95 percent of my business," Mr. Baytos said.
Now, with a skeleton staff, his kitchen is focused on take-out orders, as public gatherings like weddings are banned under state guidelines.
"Some restaurants did very well with takeouts," Mr. Baytos said. "I did decent, but was never known for that. That was a back-burner."
His takeout menu options, Mr. Baytos said, are spread mostly by word-of-mouth. "All is homemade," he said. "I don't buy anything."
When he makes meatballs, it's in batches of 500.
"For me, it's more of the catering I lost and I had to adjust to lower staff, just trying to keep the business afloat, with tremendous help from the owners of the hotel," said Mr. Baytos, who last year applied for and his business was accepted into the PPP program.
Mr. Baytos may see brighter days in the spring. New York State will allow wedding receptions to resume March 15 at 50% venue capacity or a maximum of 150 people. Events must also be approved by the local health department.
"That makes a big difference in my establishment," Mr. Baytos said.