WATERTOWN — Last summer, an unusual-looking boat turned heads when it was spotted driving along the St. Lawrence River, near Cape Vincent, with what appeared to be no one driving it.
The side of the orange-colored 22-foot cutter said it all: "UNMANNED VESSEL — STAY CLEAR."
The prototype unmanned vessel was built for the U.S. Coast Guard by MetalCraft Marine US, a Kingston, Ontario-based company that moved last summer into a Watertown plant on Fisher Road in the Jefferson County Corporate Park.
"When you see that going along in the water, it's something to see," said Bob Clark, MetalCraft's contract manager who works out of the company's Kingston manufacturing and design facility.
The autonomous vessel is one of a variety of high-powered aluminum patrol, fire and work boats that are built right here in Watertown.
In April of last year, the company purchased the 14,600-square-foot manufacturing plant at 22620 Fisher Road for $800,000 from a real estate company that the Purcell family owns.
Operating out of a smaller structure in Cape Vincent for a few years, MetalCraft needed more space to grow, and the Fisher Road building became available after EZ Stack moved to Old Rome State Road.
It was a good fit because it had needed an overhead crane that ran across the top of the building and room for expansion, both inside and on the 2.3-acre parcel.
Today, MetalCraft employs a workforce of 18 employees at the Watertown facility and another 90 in three locations in Kingston. The company has contracts with the Coast Guard, U.S. Navy, Marines and with such countries as Kuwait, Brazil, Grenada and the Dominican Republic.
While it has acquired such crucial contracts, MetalCraft has a low-key presence in Watertown. The company even decided not to put up a sign on the building before moving into the facility.
"We already had enough business," Mr. Clark joked.
Plant manager Eric Webb will start work on Monday, an engineer was just brought in to do design work and the company is looking to hire eight to 10 riggers, specialized aluminum welders, electricians and others.
"It's a great company," said David J. Zembiec, executive director of the Jefferson County Economic Development Corp., who suggested MetalCraft take a look at the building in the corporate park for its new home.
The JCEDC also helped the company obtain grants from the Empire State Development to acquire equipment that made production more efficient, he recalled.
With 10% to 15% annual growth company-wide, Mr. Clark said Watertown can expect to see more of the work being done in Jefferson County. MetalCraft is looking at a couple local companies to paint the boats here, resulting in not having to truck the boats into Canada to complete that work.
"That's good," Mr. Zembiec said upon hearing the news. "It's spin-off business."
In the last year, MetalCraft has received some national exposure because of that autonomous vessel that glided through the St. Lawrence River this summer.
The company is leasing the prototype vessel to the Coast Guard, which used it to monitor a missile testing area about 40 miles off Oahu, Hawaii. The Coast Guard completed its testing of the unmanned craft in November to determine if it could be used to enhance its many maritime missions with its 30 days of autonomy and a detection for tampering and intruders.
Operated by GPS from a Virginia Beach company, the remote-controlled, diesel-driven vessel — appropriately called "The Watcher" — kept an eye on 20 square miles of seas for fishermen illegally entering the area, especially while missile testing was conducted.
"Totally bizarre," Mr. Clark said about its technology and capabilities of having a vessel without a driver.
With a formal name of the MetalCraft Marine Unmanned Interceptor 7M, the vessel passed the Coast Guard's test with flying colors, proving it's capable to operate in rough seas and white waves continuously at a 24/7 clip for 30 days, he said.
With technology continuing to improve, the market for autonomous vessels is growing, with harbor security, surveillance, national security and the military as their largest potential uses. For instance, Lockheed Martin has been tapped to study large unmanned vessels for the Navy.
"There's lots of potential. It's going to be very big," he said. "Manless vessels make lots of sense."
While Russia and Turkey have developed vessels with mounted cannons, Mr. Clark predicts that they will instead be used more with missile launches.
But the company is not receiving recognition only for The Watcher.
Another one of its vessels, the Interceptor43/44, was named WorkBoat Magazine's 2020 Significant Workboat of the Year.
The magazine is applauding the company for its design and craftsmanship for Interceptor43/44, a chemical, biological, radiological, nuclear detection vessel that it produced for the Los Angeles Port Police.
The $1.5 million boat is a high-performance, state-of-the-art patrol craft designed to carry out a range of tasks to support maritime security and border control. It also facilitates counter-terrorism and effective disaster relief.
The vessel is equipped with sophisticated military-grade equipment and computer software that can detect chemicals within a 3.1-mile radius and the presence of nuclear particles through the steel sides of a ship.
The Interceptor43/44, formerly called "Boat 42," is built for speed and stability, and can work safely in 13-foot to 17-foot waves. It has extra wide side decks with room to carry side arms, a portable 900-pound davit and seating for three officers with extra seating for a boarding party or mass rescue.
"For more than 30 years, we've developed a reputation as a leader in advanced technology, design and construction techniques and we are grateful for the recognition of innovation and excellence this award represents," Mr. Clark said.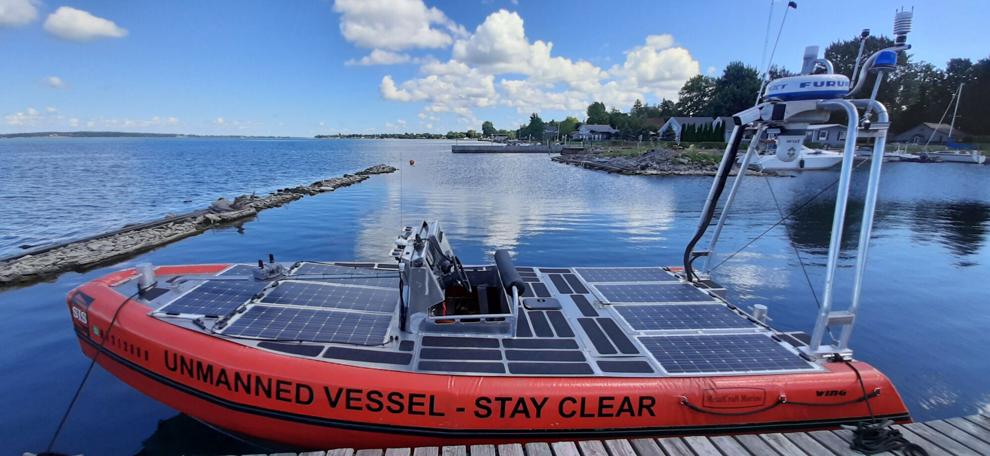 Every year, the editors of WorkBoat magazine compile a list of the 10 most significant boats of the past year. From that top 10 list, industry peers and the readers of WorkBoat magazine vote for the Boat of the Year.
In June, high-speed fireboats that the company built responded to a fire and then explosion of an auto hauler ship off Jacksonville, Fla. The port in San Diego also is manned by five more of its fire boats.
"We're the Number One fire boat company in the world," Mr. Clark said.
MetalCraft also provided the Navy with a boat that served in Iraq.
One of its biggest contracts is with the Navy. It delivered 30 boom boats that assist during oil spill responses. The Navy initially wanted 40 more of the boats and now MetalCraft will produce a total of 94 by the spring of 2022. One will end up in all of the Navy's bases.
Mr. Clark credits the company's success in the United States with trade restrictions with Canada getting lifted in recent years and more liberal ways of doing business between the two countries.
With a boat-building history dating back to 1676, the current version of the company began in 1987 when founder Monty Smith bought out Kingston Aluminum Yachts and changed its direction from yachts to a patrol and workboat market.
While it continually grew throughout the 1990s, MetalCraft began operations in Clayton before relocating up the river to Cape Vincent a few years later.