RENSSELAER FALLS — Situated a few miles east of Black Lake, nearly equidistant from Ogdensburg, Gouverneur and Potsdam, a small outpost is marked with painted signs and one digital fixture flickering "open."
Turn left into the parking lot to park a car, right to hitch a horse.
Oxxshire Creamery and Specialty Foods is a health food haven, a candy store, a discounted product distributor and a cheese-aging facility, soon to run its own creamery. It's a community watering hole in one of the north country's starkest rural food deserts.
"In our small little way, we want to bring affordable food to people," owner Jonathan Cole said.
Mr. Cole, a Syracuse native, and his wife Kimberly Regetz-Cole, from Lowville, operate the business together full time. They met working in retail in Watertown and moved north to start Oxxshire about eight years ago.
"As much as I enjoyed retail and retail management, I always found it difficult feeling stuck in a box," Mr. Cole said Friday at his store counter on County Route 17. "We've just let the business evolve and take us where it went."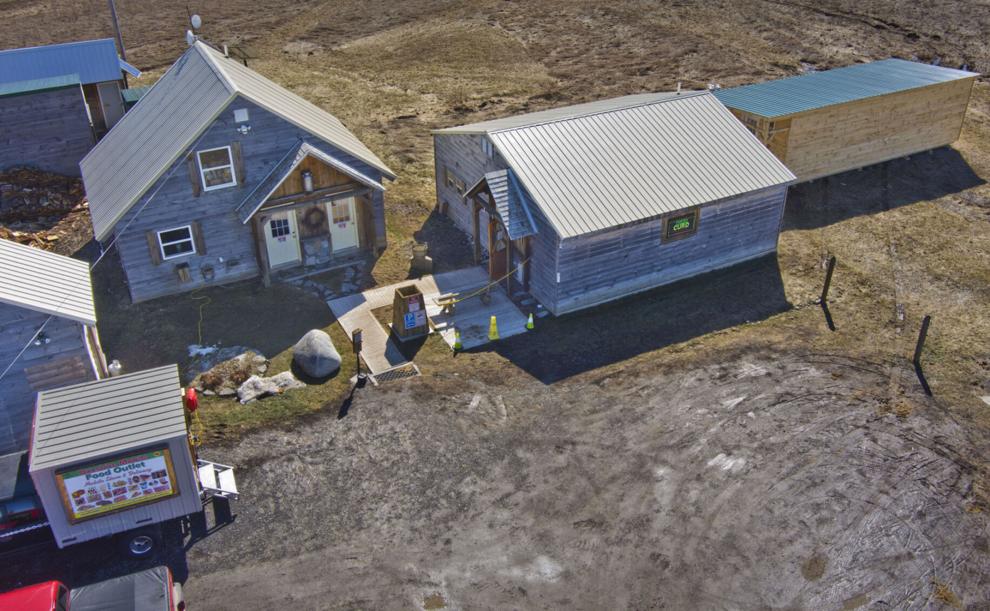 The pair, with now retired business partner and Lowville dairy farmer Edward Bard, started out with a two-family farm on the Rensselaer Falls property in 2013, first constructing a small-batch creamery and food auction space.
"As we were building, people driving by would stop and ask: 'Is this going to be a store?' almost every day," Mr. Cole said.
Three years later, the team opened a storefront for bulk foods and cheeses. With so many "used-to-be" shops — small grocery and deli closures are all too familiar — Mr. Cole said they saw the need.
Walmart, Price Chopper, Aldi and dollar stores fleck St. Lawrence County, but most are concentrated in one of five hubs: Canton, Potsdam, Massena, Ogdensburg or Gouverneur. For the in-between, food is miles away.
"What started with two freezers turned into more than a dozen freezers," he said. "What started with three spices has turned into a wall of spices."
The bulk and natural foods options, including original oregano, Italian seasoning and basil choices, are still on display nearly five years later, with an established gluten free, sugar free and baker customer base. But the couple has followed the business in new directions, too.
Discounted industrial foods — from hotels, restaurants and school districts, for instance — have become Oxxshire staples, though exact products vary depending on availability. Otherwise wasted, unopened surplus or items with slightly damaged packaging that doesn't affect the food can be resold to stores with the appropriate permits under state law.
Even quality control anomalies, like chicken cuts an inch too small, can be redistributed at such stores and food auctions.
"So we're able to get some really cool stuff," Mr. Cole said.
Utz and Little Debbie products from Ogdensburg have turned Oxxshire into an outlet for the brands, and most other products are sourced from suppliers in Syracuse and Pennsylvania. Bags and cases of frozen Tyson chicken, pre-cut school cafeteria cookies, Wendy's french fries, McDonald's sandwiches and other novelties have been delivered to the property's many-freezered buildings. Ben and Jerry's pints can be sold for 99 cents.
Resale stores, Mr. Cole said, are rare to find north of Syracuse, and whether a family's basket includes bulk nuts and grains or boxes of snack cakes, customers have options.
"At the end of the day, people just want to feed their families," Mr. Cole said.
Food auctions have largely been on hold over the last year as a COVID-19 precaution, but a 100-page catalog with a few thousand expected store items is typically published monthly on the Oxxshire website and Facebook page.
This weekend, Mr. Cole is shelving Oxxshire's eighth building and hopes to have freezers moved in by the end of the week. A multi-phase expansion comes after "pandemic business skyrocketed." Customers searched corporate retailers for out-of-stock flour, yeast, canning supplies and other basics. They found them at Oxxshire.
"General awareness grew so much that we needed more space," Mr. Cole said, adding that the current collection of small buildings is not conducive to efficient customer flow.
Planning for the expansion began in the fall, and by the end of this year, the couple hopes to have constructed a ninth building adjacent to the newest addition. The pair of buildings will be roofed with solar panels to power the chest freezers housed inside.
Existing solar power, motion sensors and geothermal heating are crucial to Oxxshire's business model. For an entire winter season, costs for the heated buildings can total as little as $200, Mr. Cole said.
"The cheaper our costs are," he said, "the cheaper our prices can be."
Inside the cheese cave, roughly 20 feet deep, the ground's heat sustains temperatures between 40 and 50 degrees Fahrenheit year round. A more common aging practice in Europe, geothermal cave-aging is faster and yields more dynamic flavor and texture profiles than commercial cold storage, Mr. Cole said.
The cave is a concrete-based, underground tunnel they built to age Oxxshire's own small batches and selections from Great Lakes Cheese in Adams. Sharper than a serpent's tooth, Oxxshire's first blocks of cheddar are now 6 years old.
In the next few years, when licensing is complete for an on-site creamery, visitors will be able to watch the cheese-making process from cow and sheep milk. A second aging cave will house shorter-term varieties, and Mr. Cole plans to make raw milk cheeses and pasteurized cheese curds.
Cheese age is sometimes noted with an "x" to represent each year of maturity. Oxx reflects the business's predominant cow cheeses with an extra "x" for sharpness. Shire represents the family's folksy transition from city retail life to Rensselaer Falls.
Yet another arm of the Oxxshire name, a nonprofit is in the works to support a small food pantry within the retail space and projects to reduce food assistance stigma. You might also spot Oxxshire's Mobile Food Outlet at the Ogdensburg Farmer's Market this summer.
Oxxshire can be reached at oxxshire@yahoo.com or 315-614-2916. Closed on Sundays all year and currently Tuesdays for the winter, store hours are otherwise between 8 a.m. and 6 p.m. daily. Masks and social distancing required. Visit oxxshire.com for more information.