CANTON — Browsing rows of spruce and fir Saturday morning, the Bush family considered a few options before selecting "the chosen one."
Courtney A. and Alexander D. Bush, led by 8-year-old son Cohen A., returned to the first tree they noticed at Bear Dance Tree Farm in Canton, and the sawing began.
"It has a little bald spot on top, but we can turn that to the back," Courtney said as the family gathered around the nearly 10-foot-tall fir.
At 401 Lincoln Road, a midpoint between the village of Canton and DeKalb Junction, Bear Dance Tree Farm spans 144 acres and is dotted with 10,000 trees.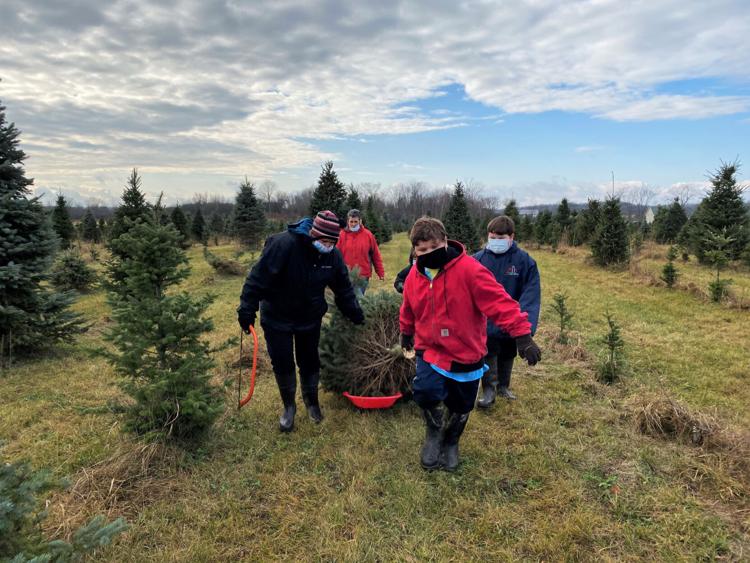 Owners Marilyn E. and Hans C. Welbergen settled at the property in 2003, and first planted about 1,000 trees in 2004. The Welbergens' family farm now offers pre-cut trees, $40, $50 or $60 depending on size, fresh wreaths and garland, complimentary hot chocolate and a cut-your-own deal.
At $35 per tree, no matter the size or species, the cut-your-own offering brought dozens of families to the farm Saturday morning. Bear Dance provides the bow saw and sled. Friday, Mrs. Welbergen said, may have been the farm's "busiest Friday ever."
Typically one of the farm's most active weekends — along with the first in December — Thanksgiving weekend can be a holiday all its own, with families maintaining a years-old tradition.
"My dad and I planted Christmas trees on our farm when I was a girl," Mrs. Welbergen, a Canton native said. "We'd always pick out our own together."
The farm started out with only spruce in 2004, but now grows blue spruce, white spruce, Fraser fir, Canaan fir and Balsam fir. With the regional drought stressing seedlings this year, Bear Dance saw a 30% loss of its spring plantings, Mrs. Welbergen said.
"That just means we'll plant more next year to make up for it," she said, adding that it takes about eight years for farmed spruces and firs to mature into decorative picks.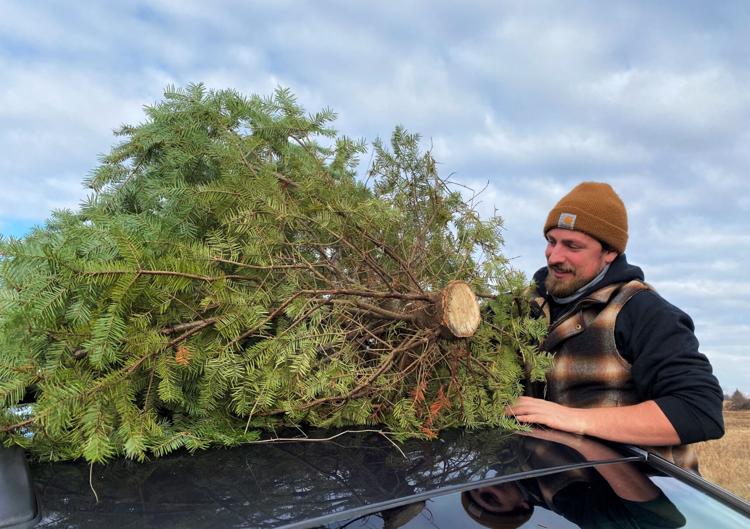 The COVID-19 pandemic continues to threaten public health, and with the north country — trending with the nation — seeing a swell in cases this month, fresh air and new experiences feel crucial.
Several families, with hats bobbing among trees, said they added another year to an annual tree-cutting custom this weekend. Others walked the farm for the first time, choosing carefully and fastening trees to car roofs, more carefully still.
"It's been a rough year," Mrs. Welbergen said. "I think everybody has been waiting for something fun they can do together."
Bear Dance Tree Farm is open 10 a.m. to 6 p.m. every day, and those interested in cutting their own tree are asked to arrive by 4 p.m. to cut in daylight. Inside the store, where holiday wares, wreaths and garland are sold, masks are required. The Welbergens' have extra masks and hand sanitizer free of charge.