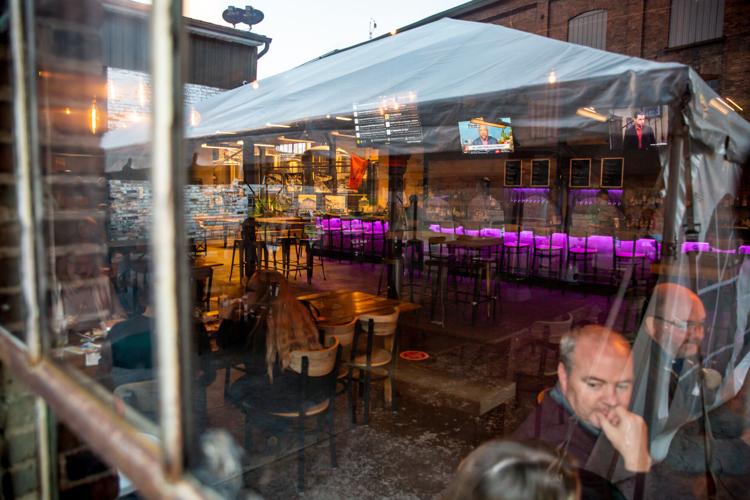 WATERTOWN — Picnic tables dot the city's Public Square, tents have popped up outside chain restaurants on Arsenal Street and special outdoor seating decks have even been built.
This has all occurred over the last four months as dining in New York state resumed following the shutdown of nonessential businesses in March. At first, indoor dining wasn't allowed as the risk of spreading the novel coronavirus remained prevalent. This caused restaurant owners and local officials to get creative in order for these businesses to continue to turn a profit and stay afloat as the economy continued its rapid downward trend. Indoor seating has since resumed, but capacity limits remain in place, which poses problems for smaller restaurants and bars that are used to having customers within close proximity to one another.
Over the last few months, many restaurants in the north country have been relying on outdoor seating to keep customer capacities up. But as temperatures cool down and the infamous north country winter moves in, local restaurants are looking for ways to keep their businesses chugging along.
Some restaurants are closing their outdoor seating options, while others are keeping the spaces open. But the impact of losing outdoor seating in the age of COVID — when some people are still on the fence about sitting inside at a restaurant — remains up in the air.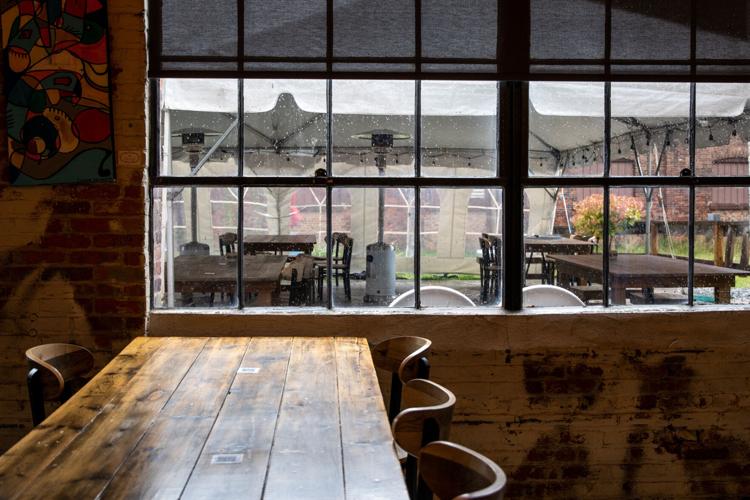 At the onset of the state's pandemic shutdowns — dubbed PAUSE — restaurants were only able to sell food for takeout. But at the beginning of June, restaurants in most of upstate New York — including the north country region and Central New York — were permitted to open for sit-down service at outdoor tables, while maintaining at least six feet of space between open tables. Just days later, Gov. Andrew M. Cuomo announced indoor dining would be permitted in most of upstate at 50 percent capacity.
Maggie's on the River, 500 Newell St., offered takeout service during the initial shutdown, and reopened indoor and outdoor spaces as early as they were able to. With the capacity restrictions in place, restaurant manager Shaun L. Farrell said they were able to seat 40 people outside and up to 96 in their downstairs dining room.
Mr. Farrell said the outdoor dining was helpful, but he isn't worried about losing it when the cold weather sets in — which is fast approaching. He said the restaurant has been doing about the same amount of business as it did last year, even with the capacity restrictions, so the business is well positioned.
"Once the weather changes here, we will close the deck down," he said. "But that's not really going to hurt us."
He said the upstairs part of the restaurant has space for about 40 more patrons as well, so when the deck closes, they will start using the upper floor more.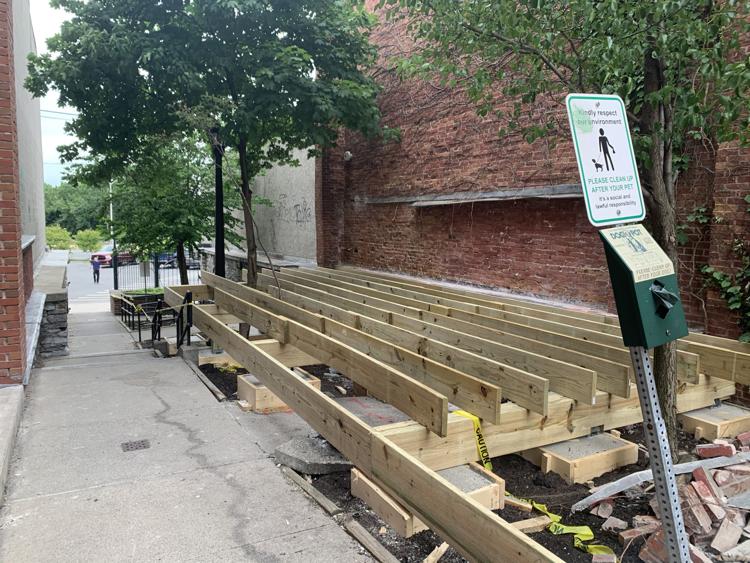 Spokes Craft Beer & Tapas, 81 Public Square, built a deck on the side of its building to expand seating options after restaurants were permitted to take sit-in customers again. The deck sits attached to the building, on the right side of the Strauss Memorial Walkway, which connects Public Square to the J.B. Wise parking lot. City Council members last year agreed to sell the walkway to the owners of a vacant Public Square building who want to use it for outside seating for a planned restaurant. Those owners are also two of the owners of Spokes, Michael Pierce and Kenneth Bodah, who have been working on redeveloping the former Wind and Wire building at 75 Public Square, which is across the walkway from Spokes Craft Beer & Tapas.
Eva Pierce, also a co-owner of Spokes, said between the new deck space and their existing sidewalk seating, the restaurant has space for at least 60 outdoor diners when tables are spaced six feet apart. Mrs. Pierce said the restaurant has space for about half that amount of people inside.
Spokes' indoor seating limit is ingrained in her head, she said, which is 34 people, per COVID.
Mrs. Pierce said capacity restriction, along with the requirements that customers purchase food with alcohol and the ongoing economic and supply chain issues have all stressed the business model. It feels like the whole operation is hinging on the governor's orders, she said.
"Our game plan changes day by day because everything else changes day by day," she said.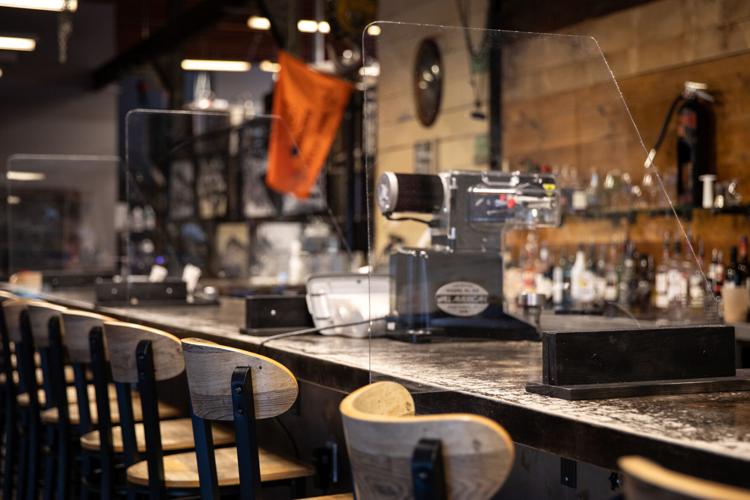 Garland City Beer Works, 321 Howk St., has had outdoor seating available for years now. When dine-in service was permitted again at half capacity, the restaurant had space for 80 people at the outdoor tables and 95 inside. Their indoor capacity is normally 190 people at one time.
Nancy C. Henry, co-owner of the brewery and restaurant, said she believes the restaurant's indoor capacity is enough to sustain the business model through the colder seasons.
"I think because of our capacity inside, I don't think it will hurt us as much," she said. "The thing that is happening more is that people still aren't comfortable eating inside. That's more of an issue than capacity is, for me."
She said outdoor seating has been much more popular over the warmer months than indoor seating, and she worries closing their patio seating will close off their most attractive asset right now.
Both Mrs. Pierce and Ms. Henry said they're planning to keep their outdoor seating spaces open year-round. At Spokes, Mrs. Pierce said they have put out gas-powered, free-standing heaters, and will give blankets to whoever asks for one.
"If a customer is more comfortable sitting outside — I don't care if it's January — I'll seat them where they want to sit," she said.
Ms. Henry said she and her team were considering a number of different options to make outdoor seating more enjoyable year-round, but a full plan hasn't been developed yet.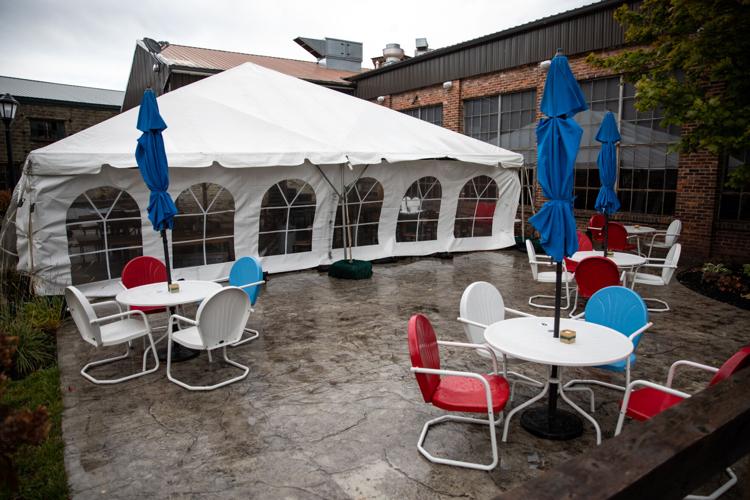 "Depending on costs, and whether it's gonna be viable, we're looking at some ideas," she said. "I'm more worried about having to close down inside. That's my biggest fear."
Ms. Henry said Garland City would likely return to takeout service if the indoors seating had to close again, which would slow the business to a crawl and stress her business model even more than it already has.
Fortunately for her, she said even if her plan for outdoor seating in the winter doesn't pan out, there's enough space inside to keep the restaurant moving along. "Because of our capacity outside, I don't think it would hurt as much," she said. "The space is what it is, and we can make do inside, as much as possible."