WATERTOWN — Greg Steiner is about an hour from opening his cider mill for the second weekend of the season.
He's preparing for droves of customers tired of staying inside.
"In an hour there's going to be a full parking lot and line out the door," said Mr. Steiner, co-owner of the Burrville Cider Mill on County Route 156 in Watertown. "It's going to be chaos but fun here shortly."
He wasn't kidding. By about 9 a.m. Saturday, a line had grown out the door. Customers from all over the north country were waiting to get into the store full of apple cider and doughnuts and products from local crafters. The crates full of freshly-picked apples were surrounded by customers before they headed over to check out the waterfall behind the mill.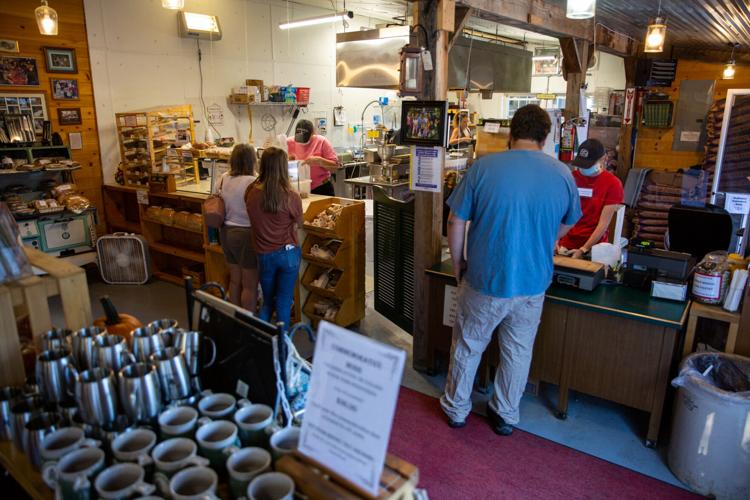 "It's just local," said Patricia Green, who traveled an hour with her family from DeKalb Junction. "I love our north country. "As long as we wear masks and social distance, it's fine. And I'm glad this place is still going. You always wonder, especially when everything shut down."
The cider mill opened for the season on Aug. 27, and it'll likely run through Thanksgiving, Mr. Steiner said.
"Right out the gate it took right off," he said. "I think everybody is, while they're cautious because of COVID, they're also pent up and have cabin fever and this is a tradition in the north country, and I think once we opened people appreciated that."
He said an inspection agency advised the cider mill on providing signs indicating to wear masks and social distance. They also provide hand sanitizer.
"We're expecting the public to adhere to those rules that are out there, but it is not my job to be an enforcer on helping notify the public of what is going on," he said. "But the public on its own are policing themselves and they're doing a great job."
So it's not business as usual, but there sure has been more so far this year.
"We've only been open just over a week, so it's pretty hard to evaluate what the season is going to be," he said, "but our goal every year is to just pay the bills. So as long as those get paid then we're doing good."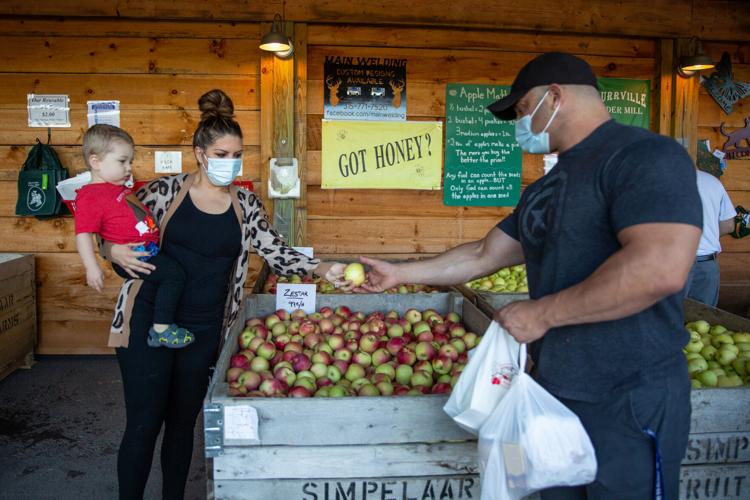 Courtnie and Chris Sames were there with their son, Maximus. They are from California but have been stationed on Fort Drum for around four years.
"It's become our fall tradition, and I feel like it's that way for a lot of people," Ms. Sames said. "We tried coming last weekend but the line was way too long."
Even seeing the cider mill at its busiest, Ms. Sames said it is doing everything it can to keep customers and staff safe. "They abide by the rules so it makes it easy for everyone," she said. "We absolutely love it here. Every year, as soon as it opens I tell my husband we have to go to the cider mill."